How to make a panini with turkey, cheddar cheese, sliced apples and a crunch from granola. Jump to the Granola Crusted Apple and Turkey Panini Recipe or read on to see our tips for making it.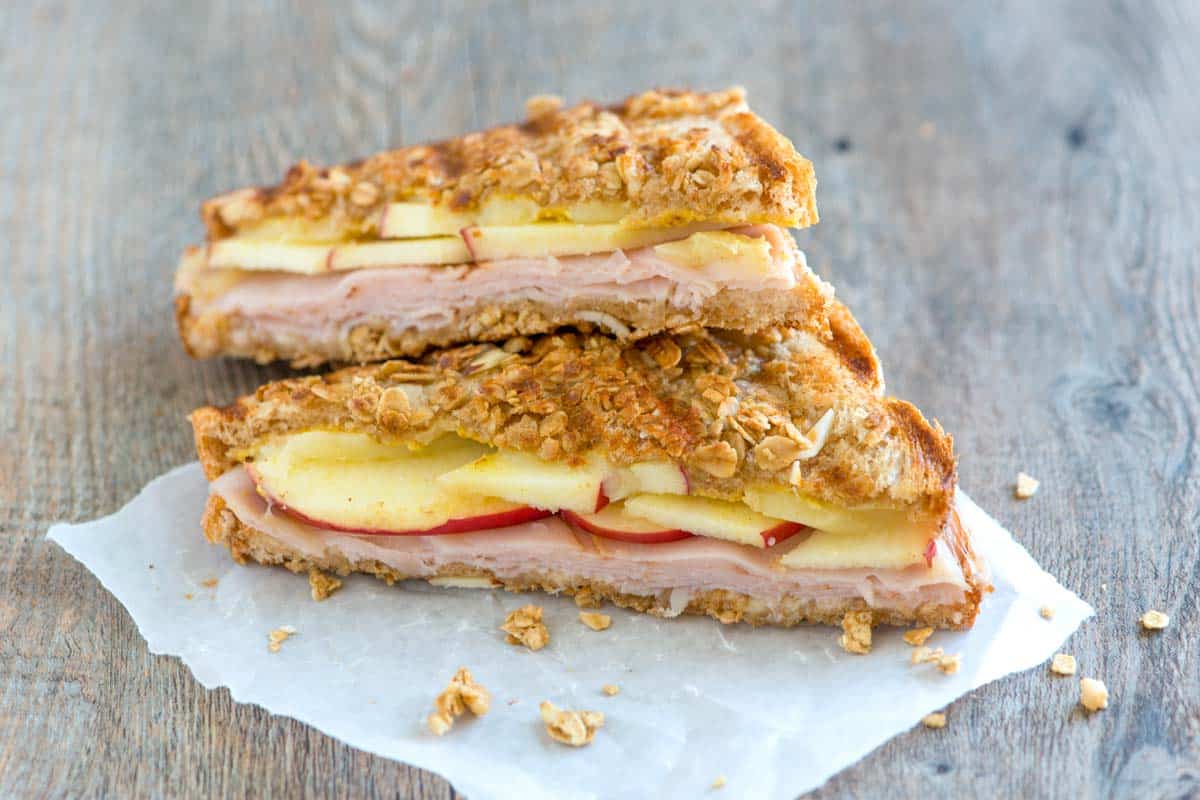 YOU MAY ALSO LIKE: How to make granola with rolled oats, almonds, honey, and vanilla. Save a little money and make granola at home. Jump to the Homemade Honey Almond Granola Recipe.
Why You Should Add Granola to Your Paninis
I'll admit the idea to add granola is a little odd. Trust me, though, it's awesome. Especially when you are already playing with sweet and salty.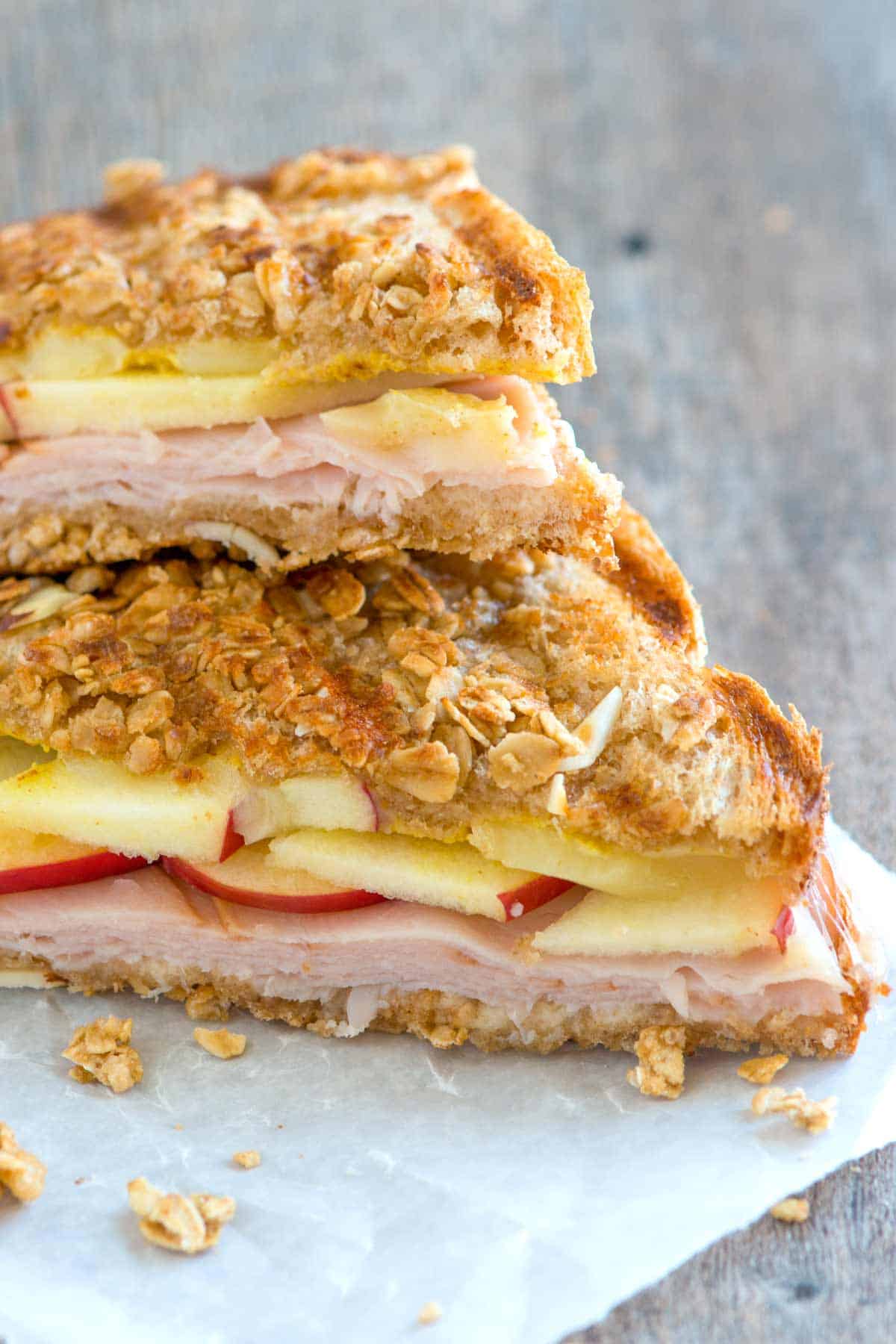 We use a panini press, but you could certainly use the stove top for this. Line up slices of smoked turkey, sharp cheddar cheese and apples on mustard and mayo slathered bread.
Butter the outer sides of the bread and press a bunch of granola into the butter. Onto the panini press it goes and in minutes you have one seriously amazing sandwich. Melted cheese, warm turkey, a sweet crunch from apples and crunchy buttery granola!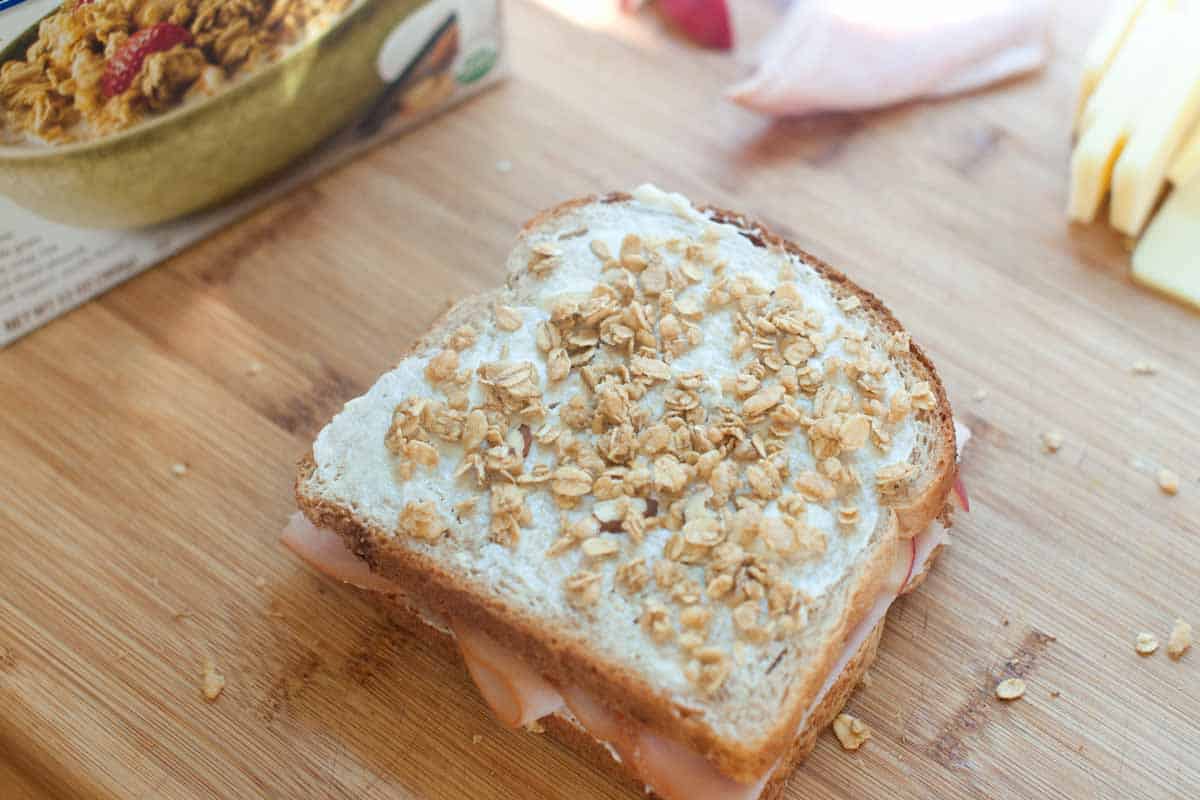 YOU MAY ALSO LIKE: How to make easy pesto chicken quesadillas in under 10 minutes for a perfect lunch or snack. Jump to the 10 Minute Pesto Chicken Quesadilla Recipe.
Recipe updated, originally posted November 2012. Since posting this in 2012, we have tweaked the recipe to be more clear. – Adam and Joanne
Granola Crusted Apple and Turkey Panini Recipe
This easy panini recipe has melted cheese, turkey, a sweet crunch from apples and crunchy buttery granola! If you do not have a panini press, use the stove top – heat a skillet to medium heat then cook panini until golden brown on both sides and cheese has melted.
You Will Need
4 slices multigrain bread
1 tablespoon mayonnaise, see our homemade mayonnaise recipe
2 teaspoons brown mustard
8 slices deli-style turkey
4 ounces sharp cheddar cheese, sliced
1 medium apple, cored and sliced
1 tablespoon butter
4 tablespoons granola (click to see our homemade granola recipe)
Directions
1Preheat a panini grill. (Or use a skillet over medium heat.)

2While the grill heats, spread two bread slices with mayonnaise, and then spread two more bread slices with mustard. Place half of the turkey, cheese and apples onto bread slices with mayonnaise. Cover with bread slices spread with mustard. Smear top and bottom of sandwich with butter then press about 1 tablespoon of the granola onto the butter.

3When grill is heated, place sandwiches on grill. Close grill and grill 3 to 5 minutes or until bread is golden brown and cheese is melted.
Adam and Joanne's Tips