How to make roasted tomato soup with fresh lemon, garlic and thyme. Jump to the Roasted Tomato Soup with Lemon and Thyme or read on to see our tips for making it.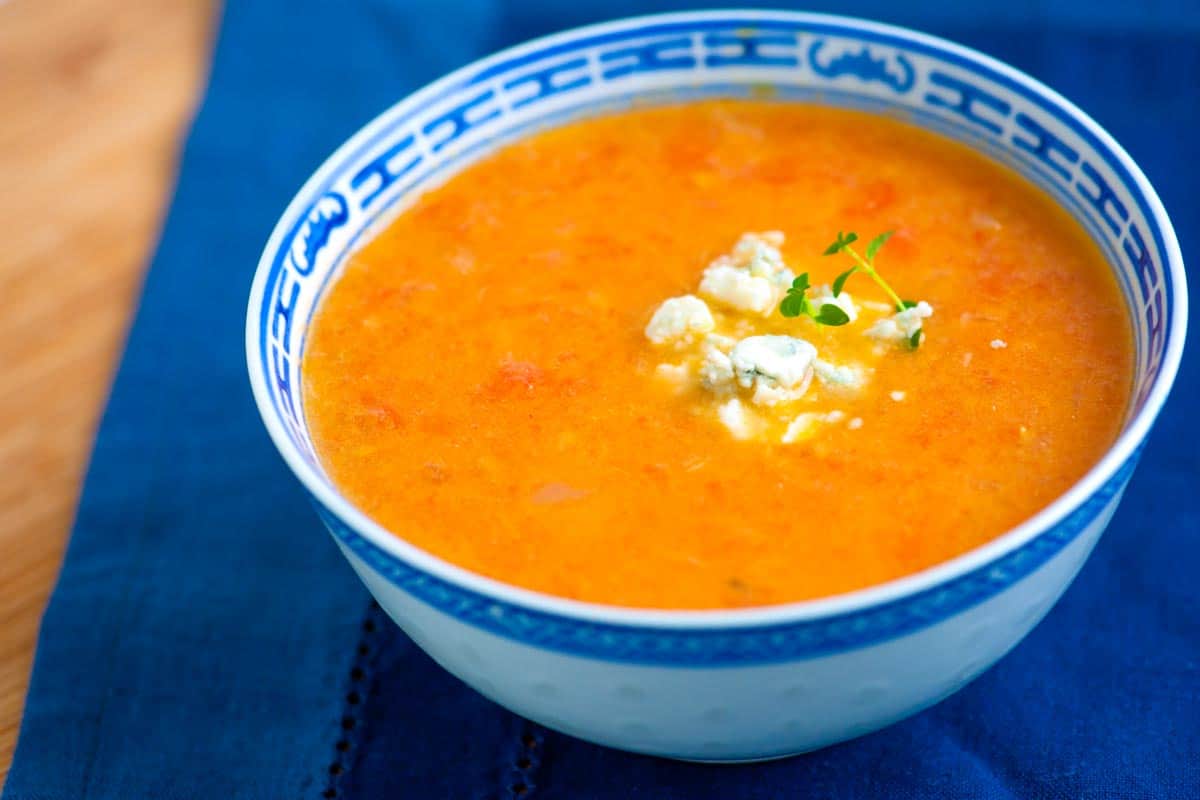 After sharing this Cardamom Roasted Tomato Pasta we wanted to try another recipe combining roasted tomatoes and citrus. Instead of cardamom and lemon (like in the pasta), we went with lemon and fresh thyme for this easy roasted tomato soup. We thought about calling this "adult soup" since it is a bit different from a more traditional creamy tomato soup. This soup is much lighter and tastes fresh thanks to the lemon.
How to Make Roasted Tomato Soup with Lemon
To make the soup, we used our new favorite kitchen gadget, the OXO Food Mill on the coarsest setting. You can use a blender, but we prefer the texture you get from using the food mill.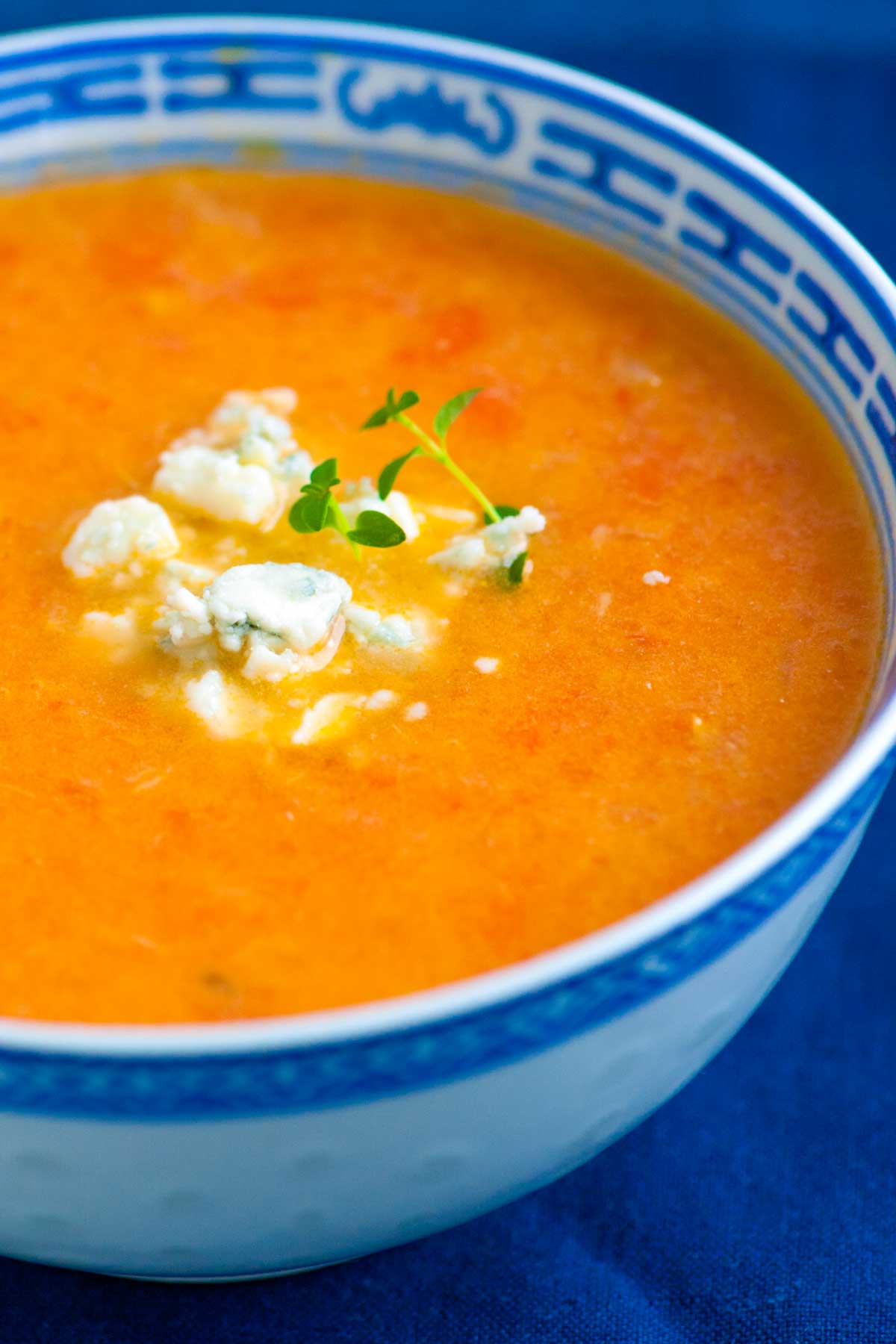 To make the soup, we start roast lots of tomatoes with thyme, garlic and a few strips of lemon zest. Since we're using the food mill, you don't need to remove the skin from the garlic cloves. It will catch the skin when we blend the soup. If you are using a blender, you might want to remove the skins now.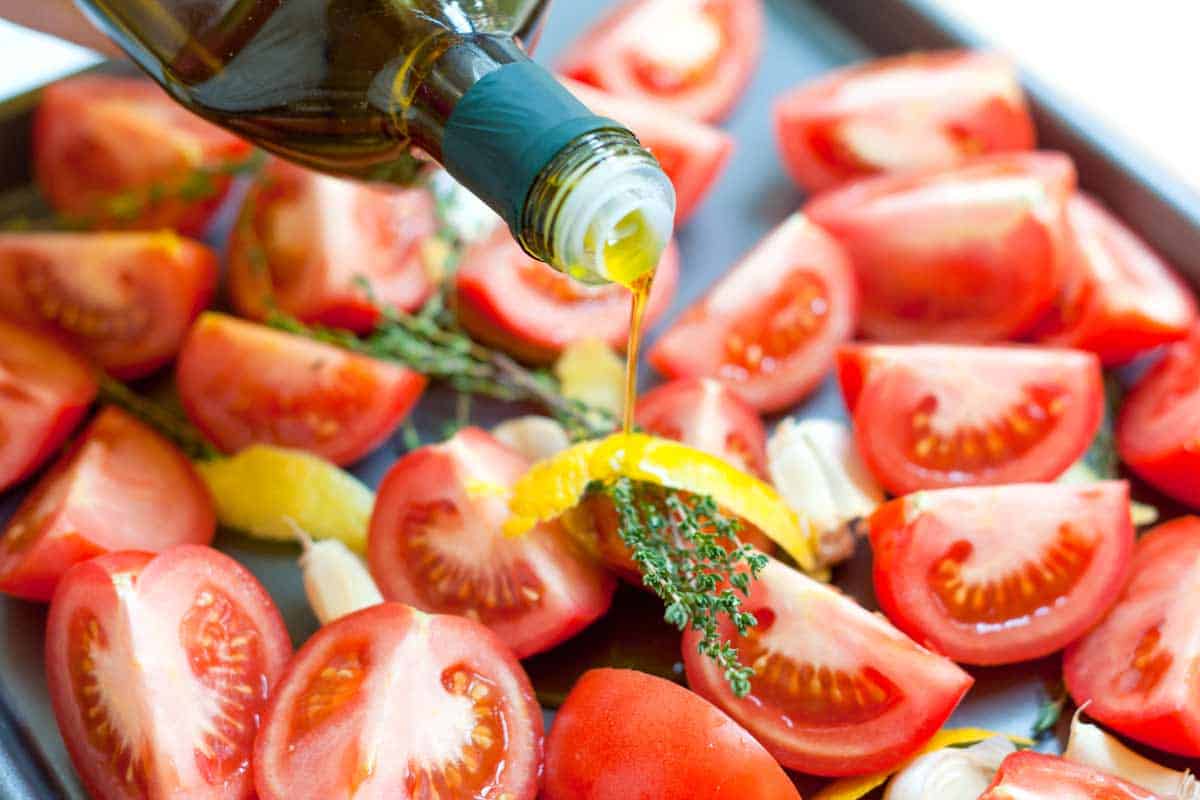 Add olive oil, salt and pepper then roast until the tomatoes begin to caramelize around the edges. While they roast, cook some onions in a large pot then add the roasted tomatoes and garlic. Here's another roasted tomato soup recipe, made with onion, garlic, and basil.
Pour in some chicken stock and a large can of tomatoes. Simmer then pass the soup through a food mill. By the way, if you do use a food mill, don't forget to scrape underneath the mill when you are done. You don't want to miss all that good stuff.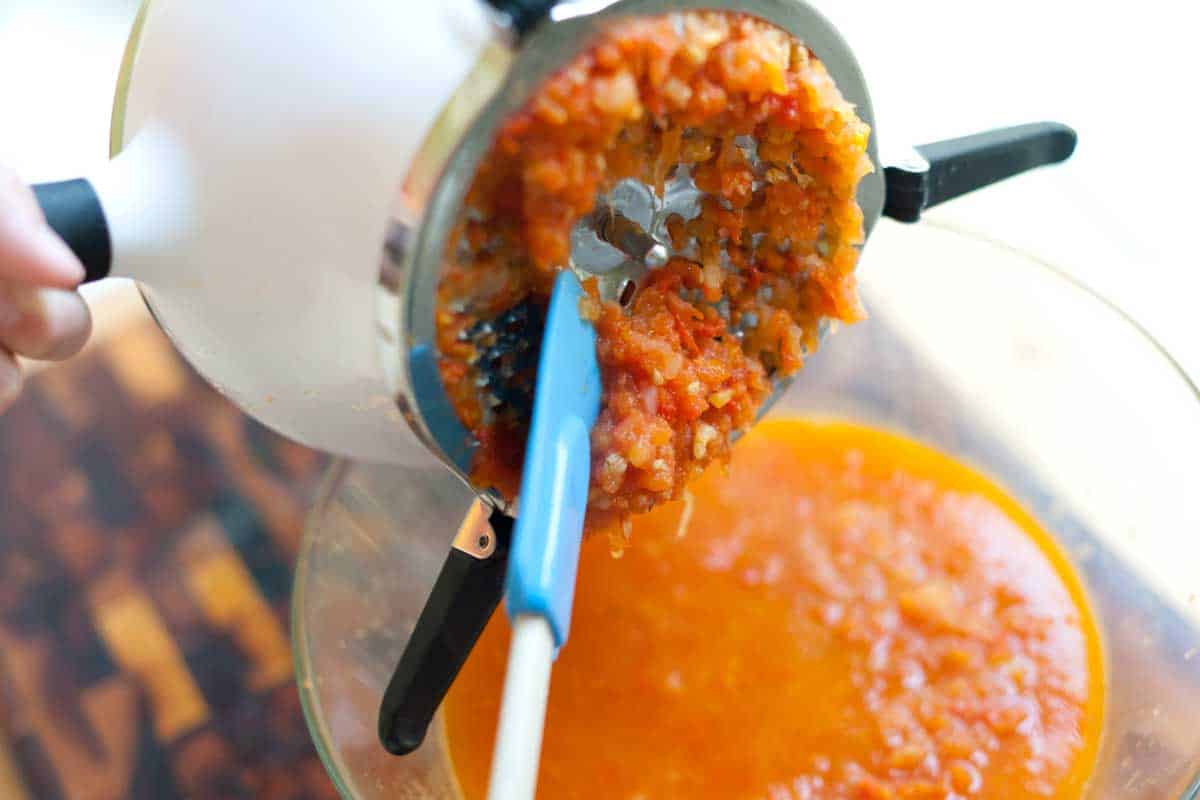 Add the soup back to the pot and pour in some half and half for a little creaminess — coconut or almond milk would work as well.
Recipe updated, originally posted December 2011. Since posting this in 2011, we have tweaked the recipe to be more clear. – Adam and Joanne
Roasted Tomato Soup with Lemon and Thyme
This tomato soup with lemon and thyme taste fresh and bright. When zesting the lemon, use a vegetable peeler for 1/4-inch wide strips of zest. If you have one on hand, a food mill, using the coarsest blade, creates nice thick texture. You can also use an immersion blender or blender as a substitute.
Makes approximately 6 servings
You Will Need
3 pounds ripe tomatoes, quartered
4 sprigs fresh thyme or 2 teaspoons dried
4 whole garlic cloves, skins removed
4 strips lemon zest, each 1/4-inch wide and 2 inches long
4 tablespoons extra-virgin olive oil
2 medium onions, chopped
1 (28-ounce) can whole tomatoes with juice
4 cups low sodium chicken stock or vegetable stock, see our easy chicken stock recipe
1/4 cup half and half or non-dairy milk such as almond and coconut
Salt and fresh ground pepper
1/4 cup feta or blue cheese crumbles for serving, optional
Directions
Roast Tomatoes

1Heat the oven to 400 degrees F.

2On a baking sheet, toss tomatoes, garlic, thyme sprigs, lemon zest, 2 tablespoons of olive oil and about 2 teaspoons of salt together. Spread into one layer and roast until the edges of the tomatoes begin to caramelize, about 45 minutes.

3Meanwhile, cook onions with 2 tablespoons of olive oil in a large pot until softened and starting to brown, about 10 minutes.
To Finish

1Add the oven-roasted tomatoes and garlic, including the liquid on the baking sheet, canned tomatoes and chicken stock to the onions. Bring to a simmer and simmer, uncovered, for 30 minutes.

2Pass the soup through a food mill fitted with the coarsest blade or blend using an immersion blender or blender. Add back to the pot then stir in half and half (or non-dairy milk). Taste the adjust with salt and/or pepper. Serve with cheese crumbles on top — optional.