This creamy mushroom risotto is the perfect dinner for two or to make for your next dinner party. It's easy to make and can be customized to your liking with different types of mushrooms and stock (try vegetable stock to make this vegetarian).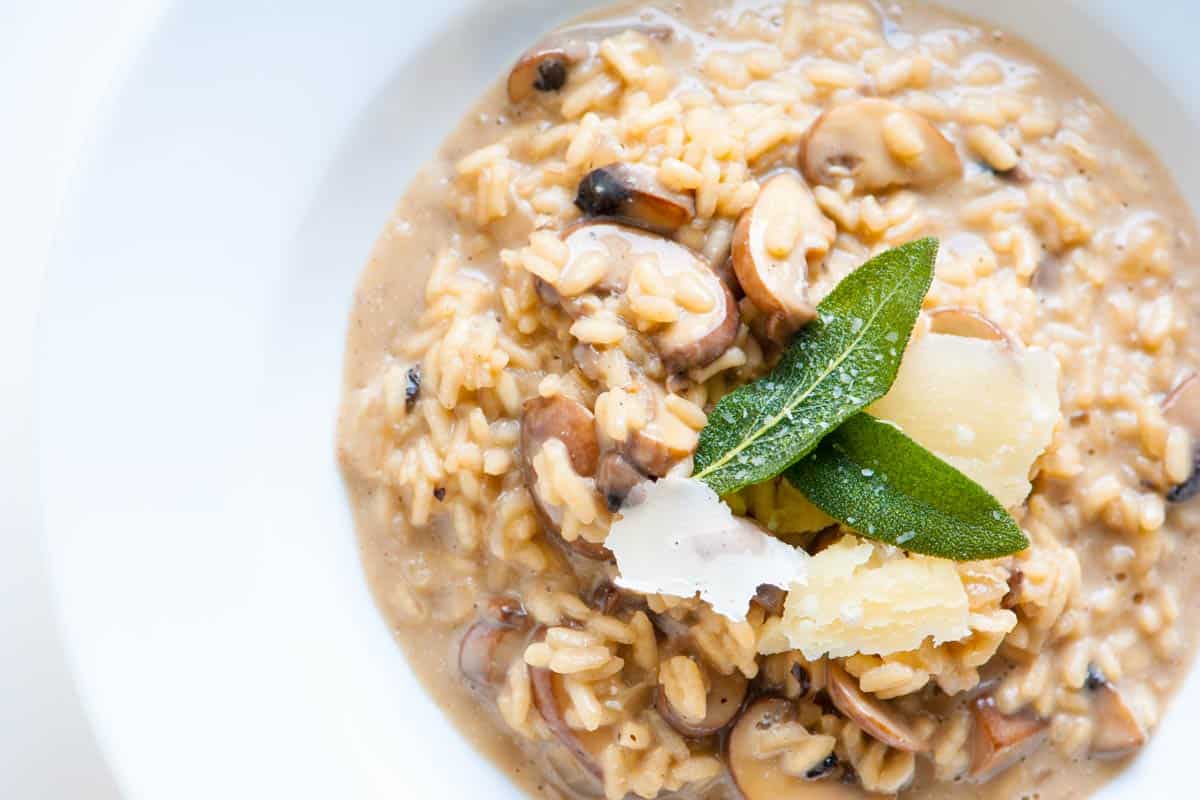 Related: We also love this fresh summer vegetable risotto.
How to Make Mushroom Risotto
Risotto is a labor of love, which is why we love it so much. This risotto recipe is not a "throw everything into a pan and walk away" deal. Instead, you need to be involved. Whenever we make risotto, there is almost always a glass of wine in hand, music streaming, and two chairs pulled up close to the oven. We chat, stir, add stock, and repeat until our risotto is ready.
Start by making a mushroomy stock. It's simple: add mushroom stalks, thyme, and a bay leaf to store-bought or homemade stock. We love using this Homemade Chicken Stock or our Vegetable Broth (vegetarian) as our base. A few pinches of our Essential Mushroom Powder Seasoning isn't a bad idea, either!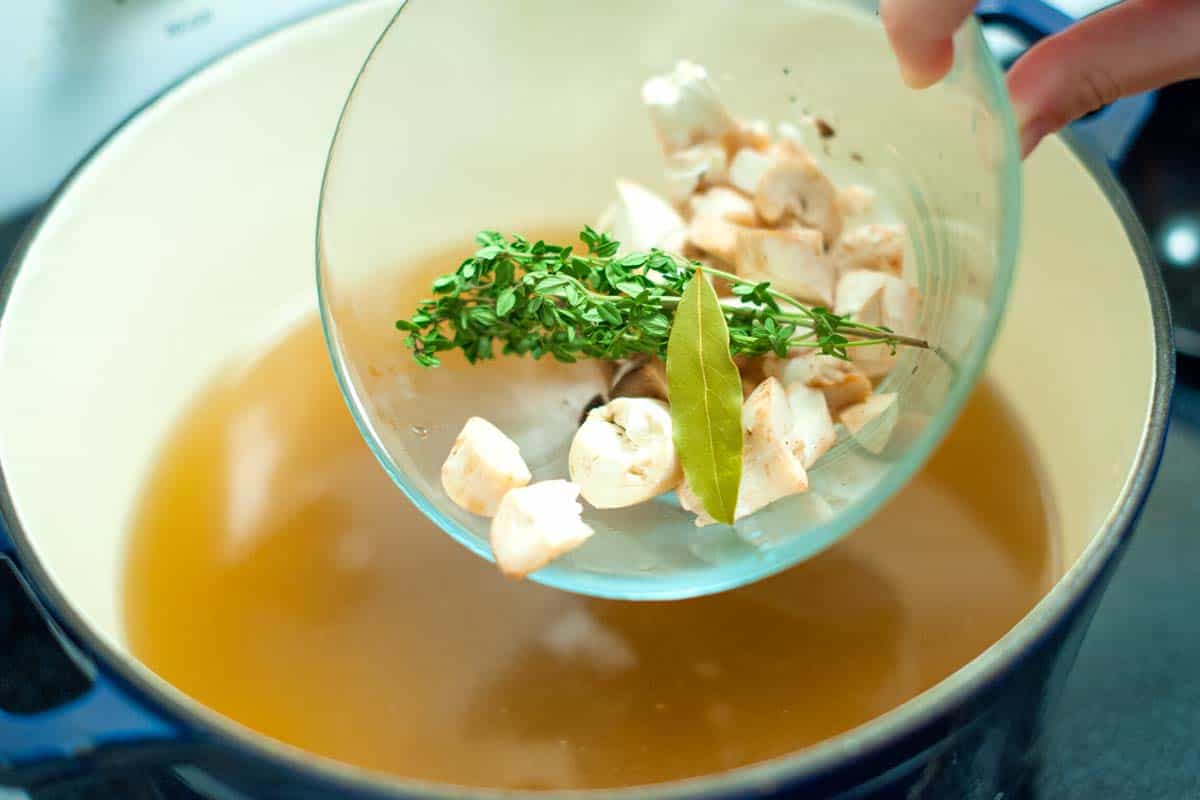 Next comes some soy sauce — it sounds odd, but it adds a richness we miss when we've left it out. After 30 minutes of simmering, strain the stock and make the risotto.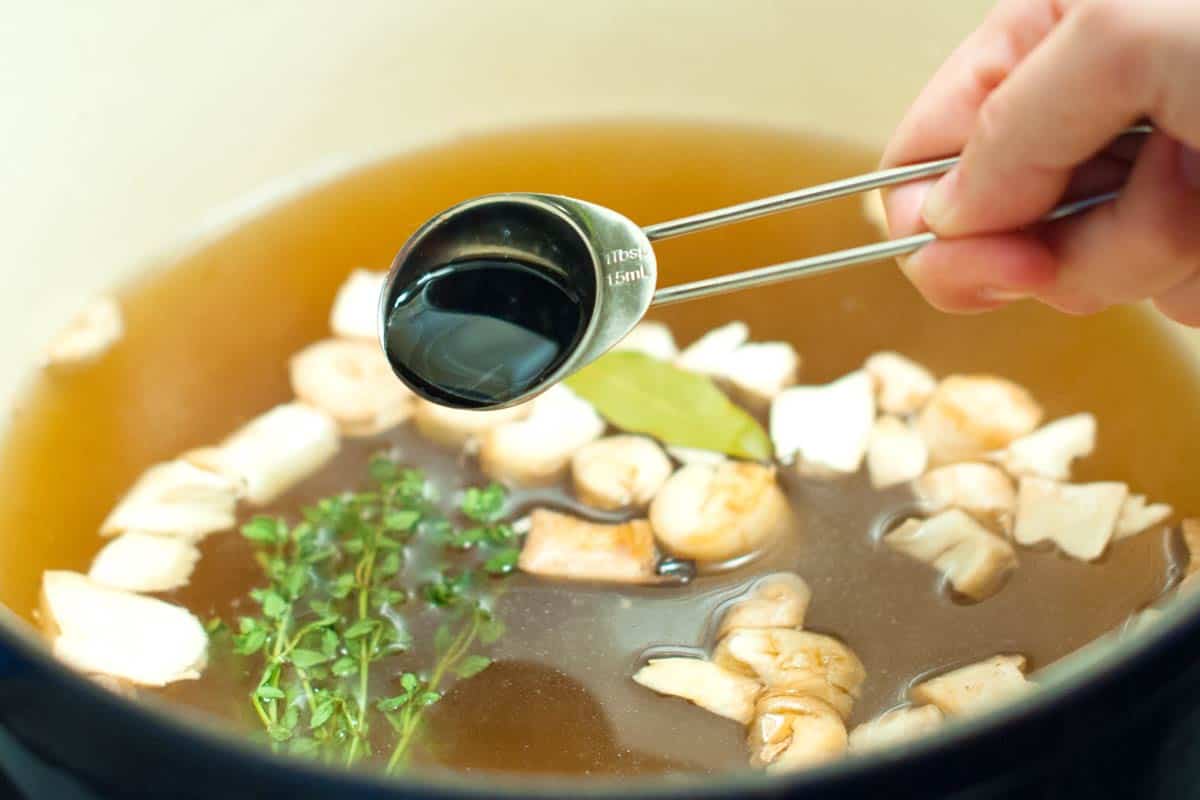 Cook sliced mushrooms and onions in some butter. When they are softened and starting to brown, add the arborio rice. Toss the rice around the pan, allowing it to toast in the butter.
In goes some white wine — choose a drier wine and make sure it is something you like to drink. When the wine reduces, it's time to incorporate the stock slowly. Add it a half cup at a time, waiting for it to absorb before adding the next batch. While all this is happening, you should be stirring the risotto — almost constantly. It's the stirring that makes risotto creamy and luxurious.
What is Arborio rice? Arborio rice is a short-grain rice native to Italy and is a popular choice for making risotto. It is high in amylopectin, a type of starch that gives risotto its creamy texture. When cooked, the rice releases its natural starch, resulting in creamier rice than other rice varieties.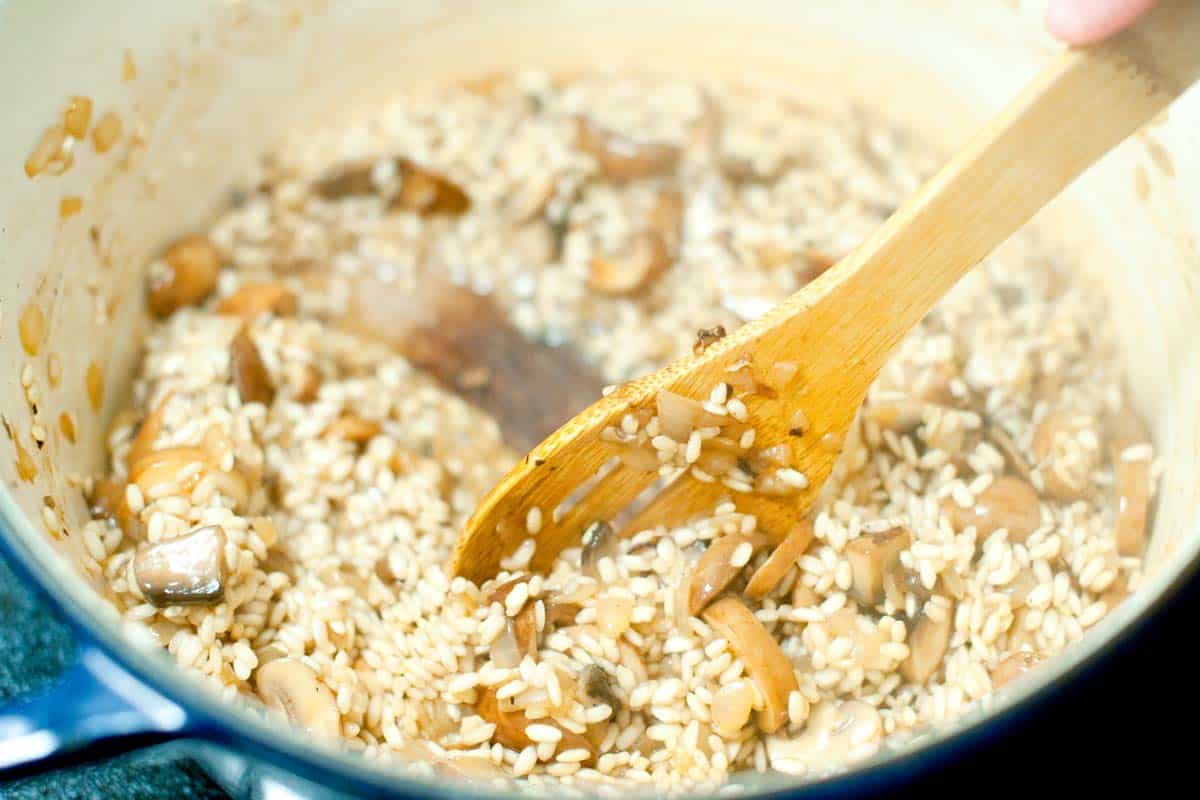 The rice is nearly cooked after 20 to 25 minutes of adding stock and stirring. So, you can stir in cheese and season to taste with salt and pepper. Of course, you could stop there, but if you are up to it, fry up a few sage leaves in oil to place on top of the risotto. It takes less than a minute.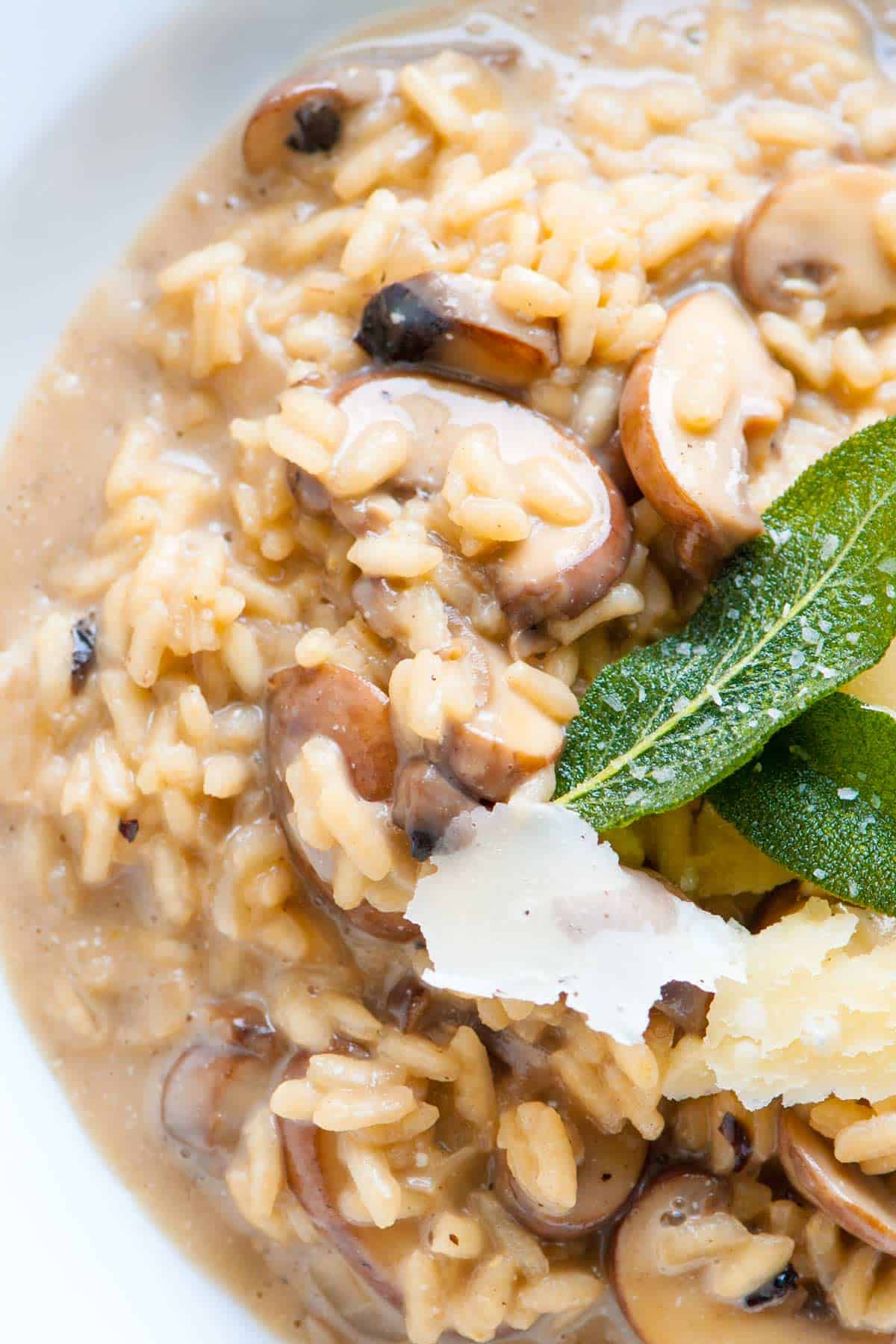 Back in the day we were contributors for Betty Crocker. We shared this recipe with them. We loved it so much we had to share an adapted version with you.
Creamy Mushroom Risotto
This luxurious and creamy mushroom risotto is the perfect dinner for two or to make for your next dinner party. It's easy to make and can be customized to your liking with different types of mushrooms and stock (try vegetable stock to make this vegetarian).
For wild mushrooms, clean them (if necessary) and tear or slice thicker mushrooms into smaller pieces. Smaller wild mushrooms can be left whole.
Makes approximately 4 servings
You Will Need
Risotto
4 tablespoons butter
2 cups fresh mushrooms such as portobello or cremini, cleaned
8 cups chicken stock or vegetable stock
2 sprigs fresh thyme
1 bay leaf
1 tablespoon soy sauce
1 medium onion, finely chopped (about 1/2 cup)
1 ¾ cups arborio risotto rice
3/4 cup dry white wine
1/3 cup mascarpone cheese or cream cheese
1/3 cup fresh grated Parmigiano-Reggiano cheese, plus more for serving
Salt and fresh ground black pepper
Homemade mushroom powder, optional
Fried Sage Leaves
1 tablespoon extra-virgin olive oil
12 sage leaves for garnish
Directions
Infuse Stock

1Clean mushrooms by wiping them with a dry paper towel. Remove mushroom stems, then coarsely chop them and set aside. Cut mushroom caps into 1/4-inch thick slices. (If large, cut into bite-sized pieces).

2Pour broth into a 3-quart saucepan. Add chopped mushroom stems, thyme, bay leaf, and soy sauce. Bring to a boil, then reduce to a simmer. Cook at a low simmer, uncovered, for 30 minutes. Strain stock and discard the stems, thyme, and bay leaf. You should have about 6 cups of broth; if not, add water or more stock.
Make Risotto

1In a 3-quart deep heavy saucepan, melt butter over medium-high heat. Add mushroom slices and onion, then cook for 5 minutes. Stir in the rice and cook for 1 minute. Pour in the wine, then cook until reduced by half.

2Add a 1/2 cup of the mushroom-infused stock and cook over medium-high heat, constantly stirring, until the rice has absorbed liquid. Repeat this until 5 to 5 ½ cups of broth has been added and the rice is cooked but slightly chewy.

3Stir in the mascarpone cheese and grated Parmesan cheese. Season to taste with salt, pepper, and 1/2 to 1 teaspoon of our essential mushroom powder seasoning (here's the easy recipe).
To Finish

1To make fried sage leaves, in an 8-inch skillet, heat the olive oil over medium-high heat. Add sage leaves, a few at a time, in a single layer; fry for 15 seconds, but do not brown. Transfer leaves from the skillet to paper towels and sprinkle with a pinch of salt.

2Serve risotto in individual shallow bowls. Top each with a few sage leaves and parmesan cheese shavings.
Adam and Joanne's Tips
Make-ahead: The mushroom infused stock can be made up to 2 days in advance. Keep it in an airtight container in the refrigerator. Warm before adding to the risotto.
Nutrition facts: The nutrition facts provided below are estimates. We have used the USDA database to calculate approximate values. Sodium will vary based on the which brand of stock you choose.
If you make this recipe, snap a photo and hashtag it #inspiredtaste — We love to see your creations on Instagram and Facebook! Find us: @inspiredtaste
Nutrition Per Serving
Serving Size
1/4 of the recipe
/
Calories
461
/
Total Fat
25.7g
/
Saturated Fat
14.1g
/
Cholesterol
61.7mg
/
Sodium
592.1mg
/
Carbohydrate
35.9g
/
Dietary Fiber
0.9g
/
Total Sugars
2.7g
/
Protein
17.1g