How to make chocolate bark with salted pretzels, dried cranberries and toasted coconut. Jump to the Dark Chocolate Bark with Coconut and Pretzels or read on to see our tips for making it.
I wish we could say that we made this to give as a gift (this would be a great gift) or to have on hand when friends come over (it would be great for that, too), but we really only made this so I could have it in the house. You really can't go wrong with chocolate bark, it's easy and so customizable. This one combines salty pretzels with a dark chocolate, it's such a great combination.
YOU MAY ALSO LIKE: How to spruce up Rice Krispie treats with big chucks of Reese's candy and a shiny chocolate glaze. Jump to the Chocolate Covered Reese's Rice Krispie Treats Recipe.
To make the best chocolate bark, use a high quality chocolate. We've always felt Ghirardelli is a good option without breaking the bank. Just cut it into small pieces then throw the chocolate into a microwave-safe bowl.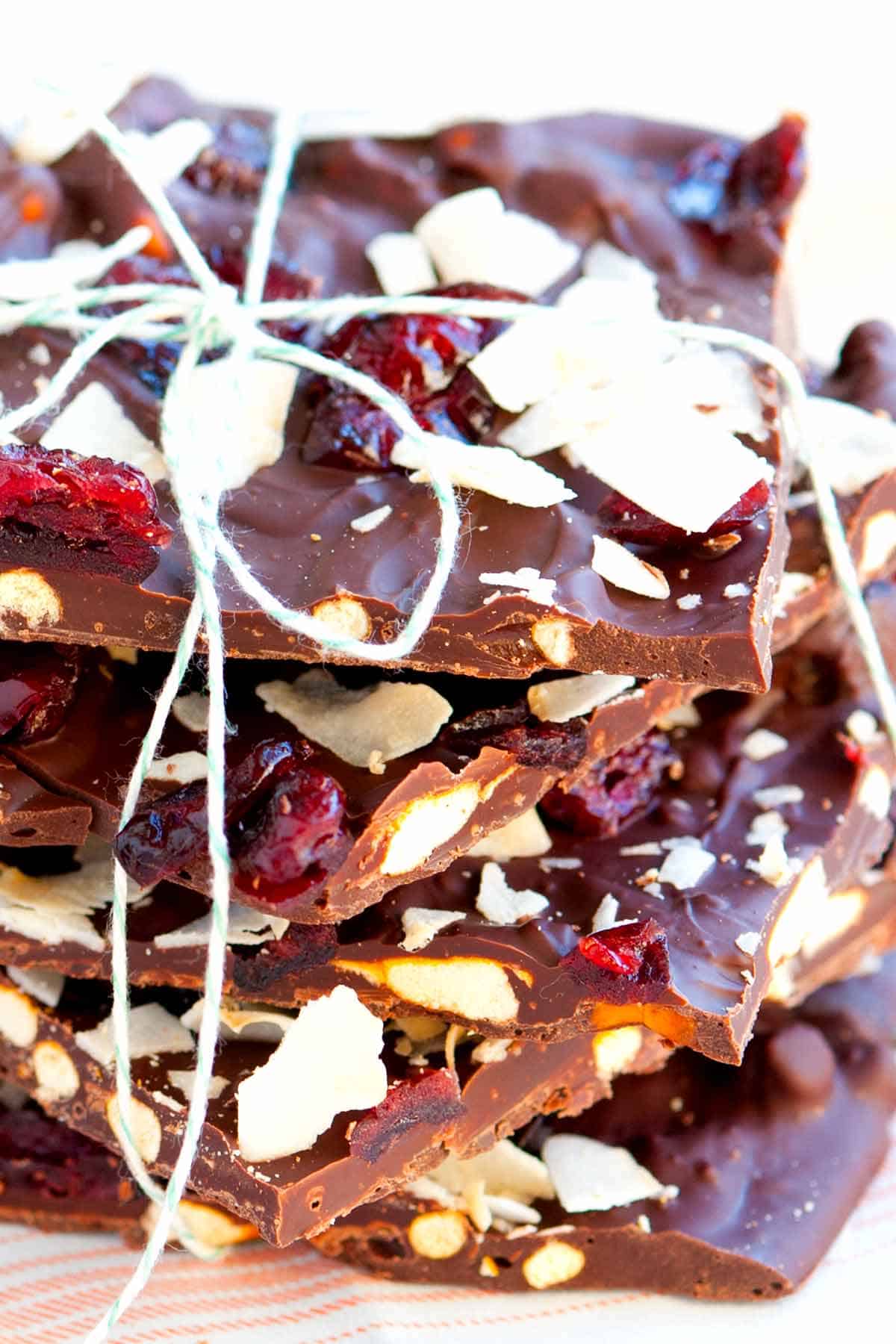 Microwave most of the chocolate for 20 seconds, stir then add back to the microwave. Repeat this until the chocolate has melted completely. To help keep the chocolate shiny, stir in the reserved chocolate until it melts.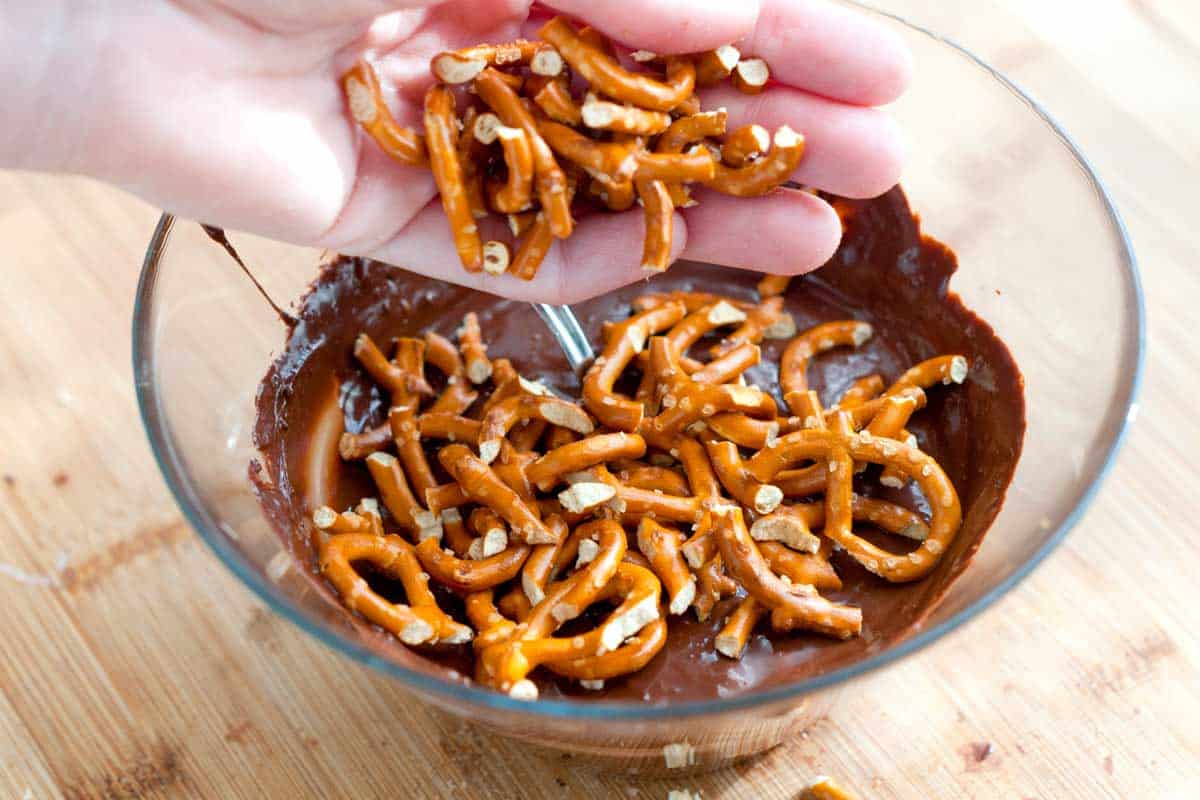 Stir in a handful of broken up salted pretzels — I love the crunch they add. Then spread the chocolate onto a baking sheet lined with parchment paper. Spread it out then top with dried cranberries and toasted coconut.
YOU MAY ALSO LIKE: How to make the best homemade chocolate truffles. Jump to the Dark Chocolate Truffles Recipe with Video.
Recipe updated, originally posted December 2011. Since posting this in 2011, we have tweaked the recipe to be more clear. – Adam and Joanne
Dark Chocolate Bark with Coconut and Pretzels
The combination of salty pretzels and dark chocolate make this bark addictive. We loved the recipe as is, but an extra sprinkle of coarse sea salt on the top of the bark before cooling isn't a bad idea.
You Will Need
12 ounces bittersweet chocolate, chopped
1/4 cup unsweetened coconut flakes
1/2 cup salted pretzels
1/4 cup dried cranberries
Directions
Toast Coconut

1Heat oven to 350 degrees F. Spread coconut, in an even layer, on a baking sheet, bake until lightly browned, 2 to 3 minutes.
Make Bark

1Line a baking sheet with parchment, leaving an overhang on long sides.

2Melt chocolate in the microwave or using a double boiler. To melt chocolate in the microwave, add all but 2 tablespoons of the chocolate to a microwave-safe bowl and cook 20 seconds, stir then cook another 20 seconds. Repeat until chocolate is melted completely. Stir in reserved chocolate until melted. To melt chocolate using a double boiler, set a heatproof bowl over a pan of simmering water. Add chocolate and stir until melted.

3Break the pretzels up into small pieces then stir into the melted chocolate. Spread chocolate and pretzels onto baking sheet, forming a rough rectangle. Scatter dried cranberries and toasted coconut over the chocolate. Refrigerate until firm, about 1 hour. Peel off parchment, and break bark or cut into pieces.