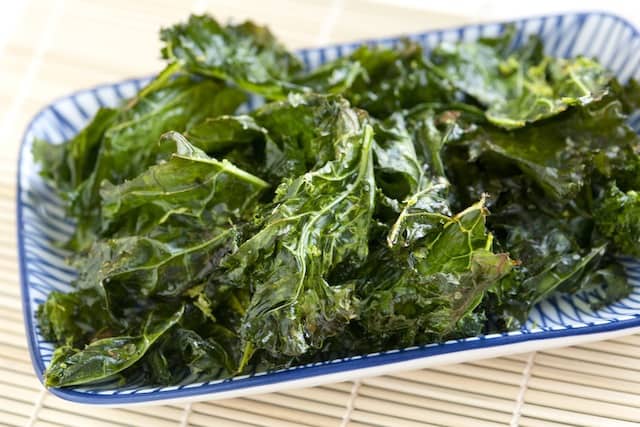 When we first made kale chips at home, we were shocked at how easy it is. All you need is kale, a baking sheet and about 15 minutes. So easy.
Learn How to Bake Kale Chips
Kale chips are crispy, light and quite addictive. Here's how to make them:
Remove Stalks and Ribs
First, step — remove thick, woody stalks and any thick ribs from the kale. You could save these for stock or something else later, but really don't want to include them when making the chips.
Then, tear the kale into smaller pieces — they shrink a little when baked.
Rinse and Dry, Dry, Dry
Next, rinse the kale really well then dry it. It is really important the kale is as dry as possible, here. If it is still wet when baking, it will steam — which means floppy kale, not crispy.
If you have one, use a salad spinner to remove all the water. Or, use a clean kitchen towel/paper towels to pat dry.
Add a Little Oil and Salt
Before baking, toss the kale with a little oil and a sprinkle of salt — we like to use olive oil, but use what you love.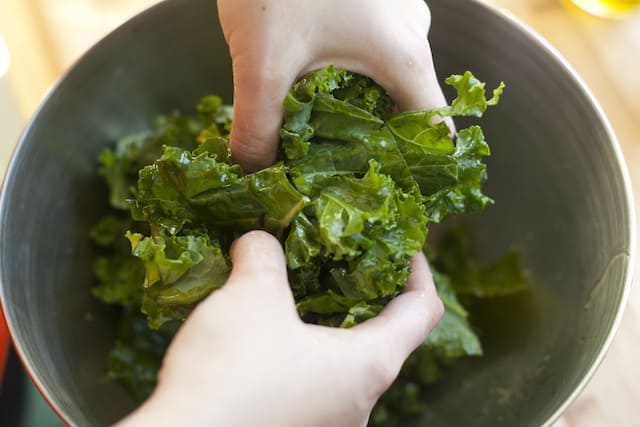 If you're planning to add additional seasonings to the chips, we usually do that after baking. You could, however, add it now.
Bake 10 to 15 Minutes
Now, slide the kale onto a large baking sheet (or two small baking sheets). It's important the kale is in one layer, otherwise it might steam instead of becoming crispy.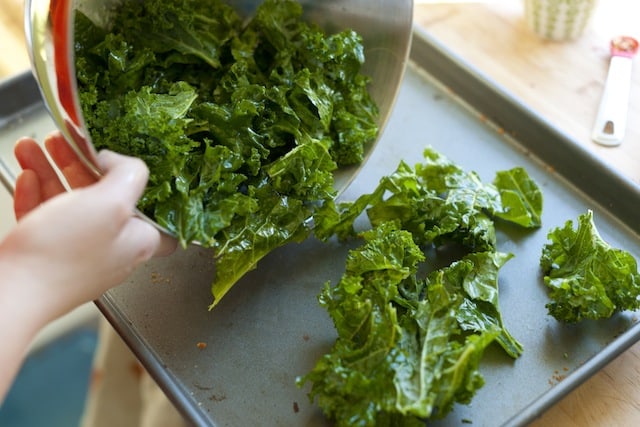 Bake kale chips in a 350 degree F oven for 10-12 minutes. When baked, the kale will be crisp and crunchy.
Seasoning Suggestions
We love the simplicity of olive oil, salt and pepper. There are lots of other options, though. Here's a few that sound fun:
Chili Lime — While the kale bakes, zest one lime and measure out 1/4 teaspoon of chili pepper. Then, sprinkle over baked chips.
Old Bay Seasoning — Replace salt with Old Bay before baking.
Curry Powder — Try sprinkling over kale before or after baking.
Spicy Cayenne Pepper — Add along with the salt before baking
Sesame Seeds — Add along with the salt before baking.
Brown Sugar — Add along with the salt before baking.
Cheesy Popcorn Seasoning — Add after baking.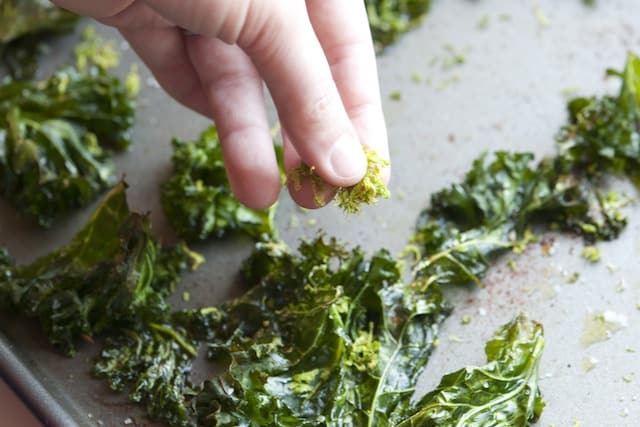 What do you think? Tell us, how would you season kale chips — feel free to share in the comments below.
You May Also Like
How to Bake Kale Chips
Baked kale chips are so quick and easy. You can season with almost anything -- we shared ideas in the article "
How to Bake Kale Chips
." Remember to dry kale very well before baking for the crispiest chips.
Created By:
Adam and Joanne Gallagher
You Will Need
1 bunch kale
2 tablespoons olive oil
1/4 teaspoon kosher salt
1/8 teaspoon ground black pepper
Directions
Heat oven to 350 degrees F (177 degrees C).
Remove the thick, woody stalks and ribs from kale leaves and tear leaves into smaller pieces. Discard stalks and ribs or save for another use.
Wash leaves thoroughly then use a salad spinner or clean kitchen towels/paper towels to dry them completely. (If the kale leaves are not dry, they will steam instead of becoming crisp).
Toss leaves with olive oil, salt and the pepper.
Arrange kale, in one layer, on a large baking sheet (you may need to work in batches). Then, bake in the oven until crisp, 10-12 minutes. If after 10-12 minutes the kale is not yet crisp, bake another 2-3 minutes. (Stay close to watch for the kale becoming overcooked/browned).
Remove from oven and let cool 5 minutes.