How to make pasta tossed with homemade kale and almond pesto.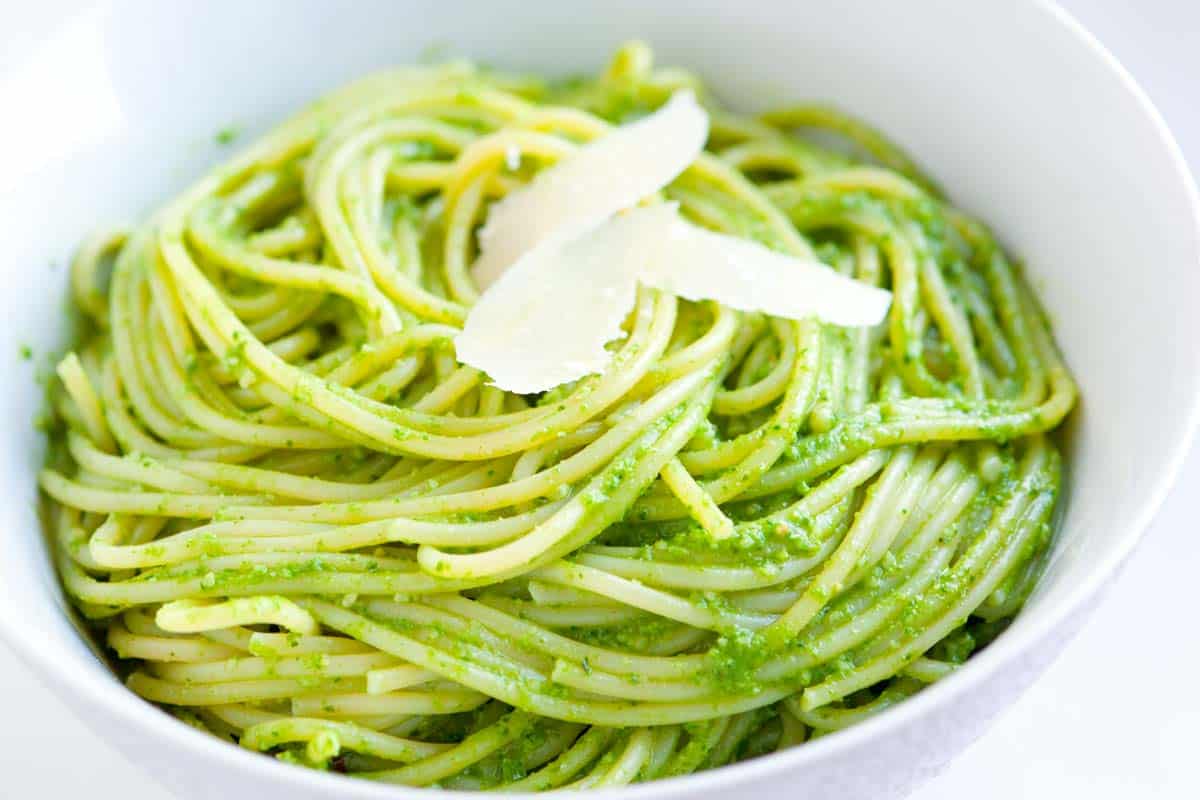 Pasta is a common dinner in our house, so we're always on the lookout for new ways to enjoy it. We are big fans of pesto, but don't always have fresh basil on hand. We do usually have kale or spinach in the fridge though. So kale pesto it is!
How to Make Kale and Almond Pesto Pasta
One of the best things about pesto is that you can adjust based on what you love or what you have lying around in your pantry. This kale pesto is no different.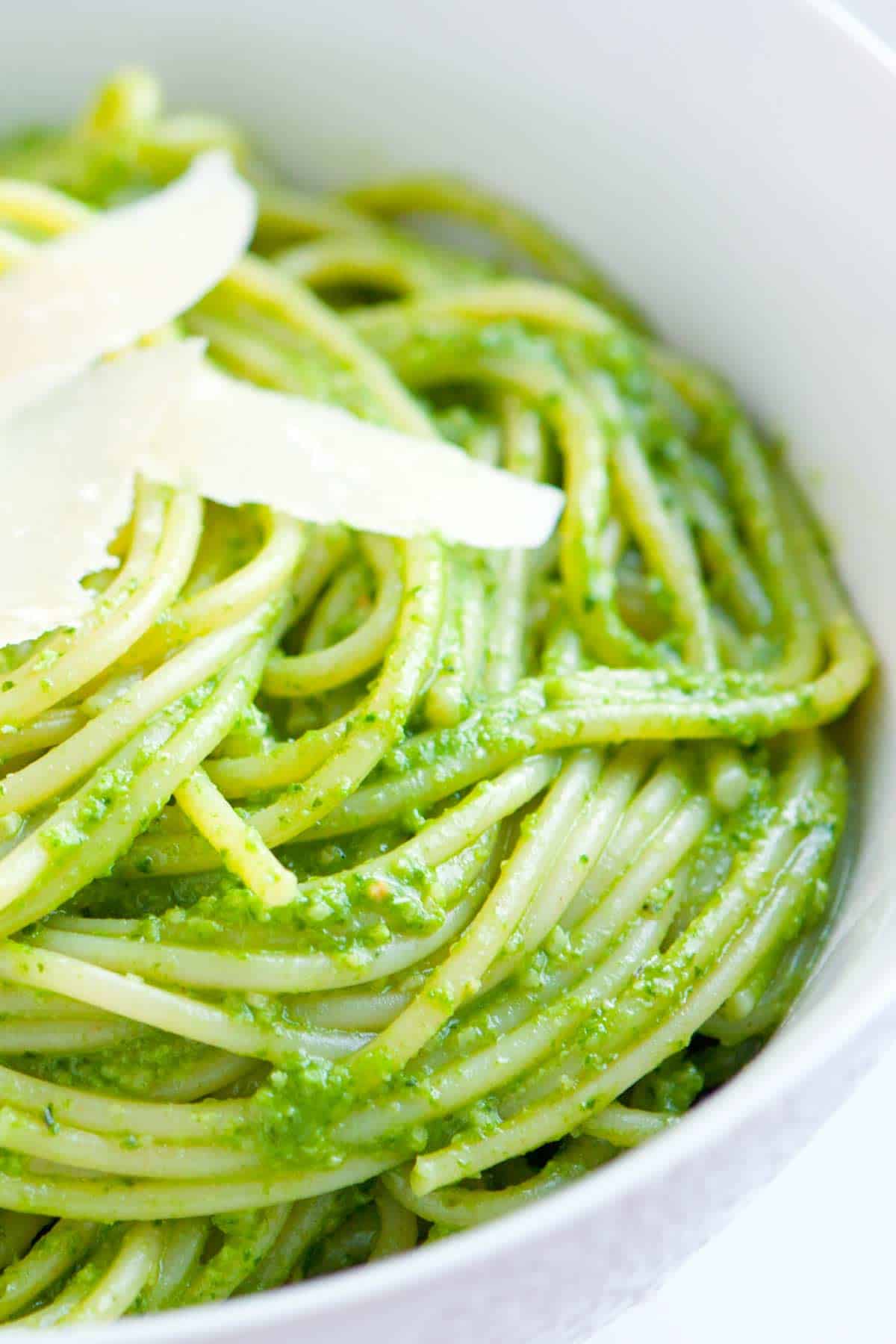 In most basil pesto recipes, pine nuts are used. Instead of pine nuts, we love using almonds with the kale. One thing to remember when using nuts, toast them first. Toasting nuts adds so much flavor — it brings the nuts back to life. If you don't have almonds on hand, walnuts, pecans or even peanuts would be great.
Whenever we cook with kale, we like to give it a good wash. In this case, we also remove any thick stems or ribs as well. Then we add the kale is to boiling water to cook for about 10 minutes.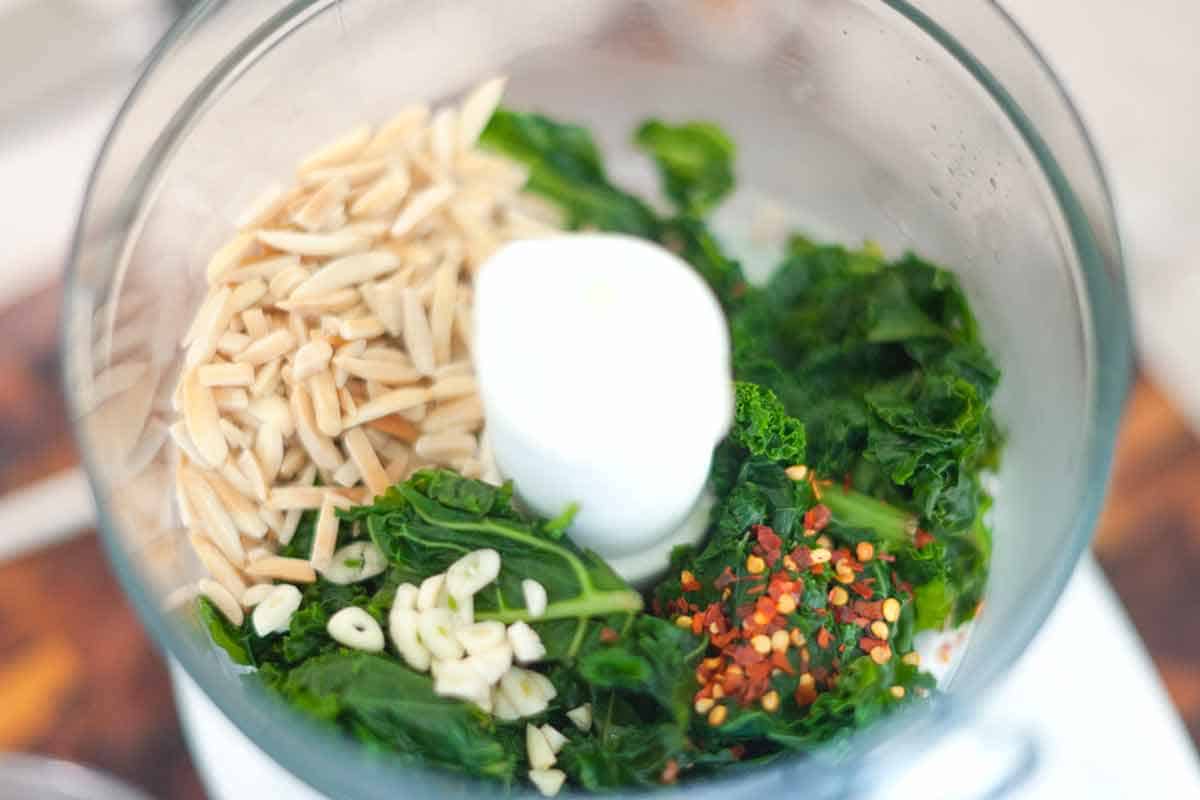 Once cooked, we drain and squeeze excess water from the kale and add to a food processor along with the toasted almonds, garlic, and a pinch of red pepper flakes. After adding oil and pulsing the pesto is the perfect consistency to toss with hot pasta. Although, this pesto would be amazing tossed with cooked vegetables or spread onto toast and served as an appetizer.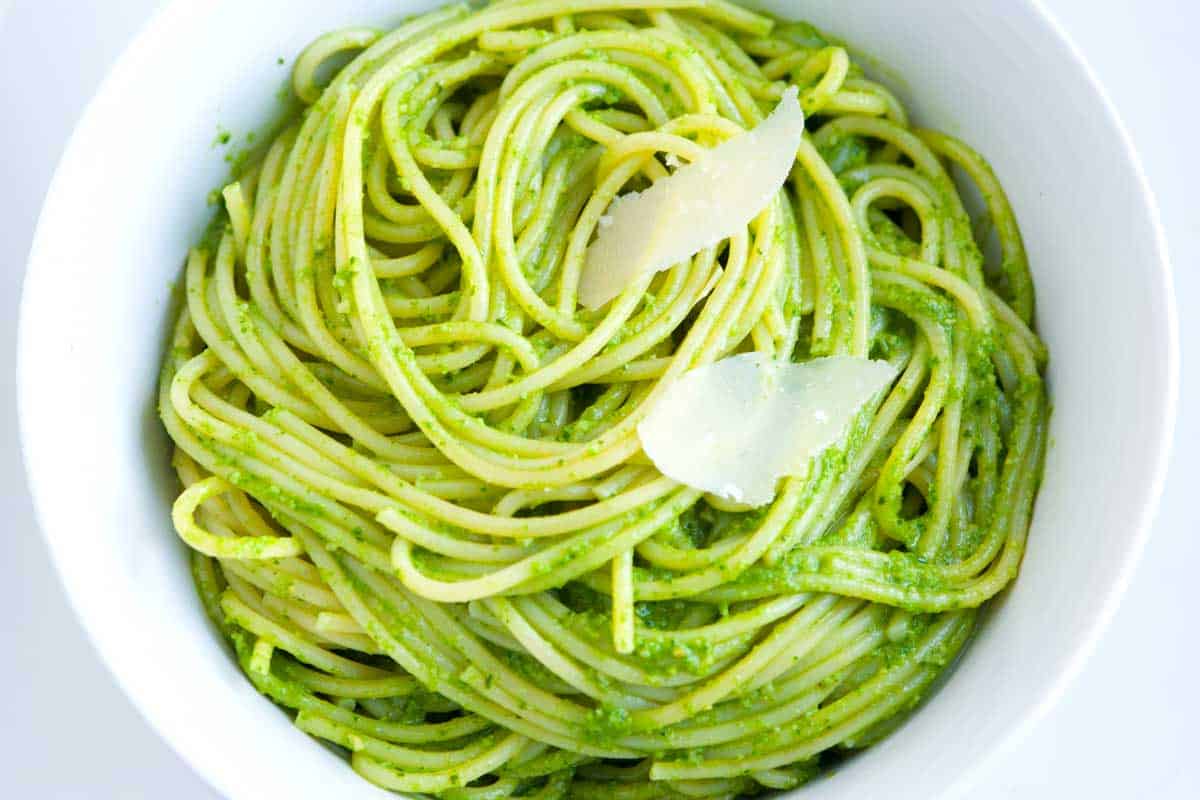 For more crave-worthy kale recipes try our Kale and Bean Salad with Tahini Dressing and Walnuts, these Easy Homemade Kale Chips, our Brown Butter Kale Pasta or this recipe for Braised Kale, Bacon and Egg on Toast (it's utterly delicious).
Kale and Almond Pesto Pasta
In traditional basil pesto, you'll usually see pine nuts used. Instead of pine nuts, we love using almonds with the kale. If you don't have almonds on hand, walnuts, pecans or even peanuts would be great.
Makes approximately 4 to 6 servings
You Will Need
1 large bunch of kale, rinsed with stems and ribs removed
1/2 cup blanched almonds
2 cloves garlic, roughly minced
1 teaspoon red pepper flakes
2/3 cup extra-virgin olive oil
1 1/2 ounces Parmigiano-Reggiano cheese, grated (1/2 cup)
1 pound pasta, any shape
Salt and fresh ground black pepper, to taste
Directions
Make Pesto

1Bring a pot of salted water to a boil. Add kale and cook 10 minutes. Drain and squeeze dry.

2Meanwhile, toast almonds in a dry skillet over medium heat, shaking frequently, until fragrant, browned, and not burned.

3Add the kale, almonds, garlic, and the red pepper flakes to the bowl of a food processor. Pulse a few times so everything is chopped small. With the processor running, slowly pour the olive oil into the bowl. Once all the olive oil has been added, check the consistency of the pesto — we like it to have some texture. If you prefer it smoother, pulse a few more times.

4Transfer pesto to a bowl then stir in cheese and season to taste with salt and pepper. Use immediately or store for later.
To Finish

1Cook the pasta in boiling salted water until it is tender but not mushy. Toss with the pesto, thinning with a little of the hot cooking water as necessary. Serve immediately with more cheese on top.
Adam and Joanne's Tips
Spinach is a great substitute for the kale. If you use spinach, you should not need to cook it in advance.
How to Store Pesto in the Refrigerator: Add a thin layer of extra olive oil to the top (to prevent any air from getting to it), cover with a lid or plastic wrap and refrigerate up to 2 weeks.
How to Freeze Pesto: If freezing, leave out the cheese. Fill ice cube trays with pesto, freeze until hard. Then store frozen cubes in freezer-safe plastic bags. Freeze up to 1 month.
If you make this recipe, snap a photo and hashtag it #inspiredtaste — We love to see your creations on Instagram and Facebook! Find us: @inspiredtaste