Meatballs call to us, we love them, adore them, crave them … Anything stuffed does pretty much the same thing. So, these little babies had no chance once they came out of the oven, no chance. Make these with ground chicken, turkey, beef, pork or sausage and stuff them with goat cheese or even feta cheese, it is totally up to you, just promise us one thing. Promise you will add these to you do-to list, please?
You Will Also Enjoy these Easy Slow Cooker Chicken Meatballs with lean ground chicken, parmesan cheese, and a simple garlic and basil tomato sauce. Perfect for making in advance!
How to make Goat Cheese Stuffed Chicken Meatballs
Add dried breadcrumbs, dried oregano, two garlic cloves that have been finely minced and some salt. For the breadcrumbs, we used Japanese Panko breadcrumbs, which you can find in the international section of your grocery store. If you have Italian or regular breadcrumbs on hand, use those, they will work beautifully!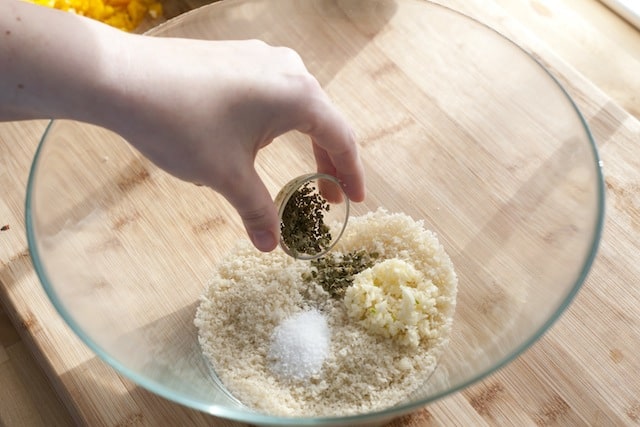 Next, we chopped up a few roasted peppers and threw them into the meatball party. We buy roasted peppers in a jar from the store, but you could also make your own.
Now, add one egg and pour in some milk. The egg will help bind the meatballs and the milk will keep them moist.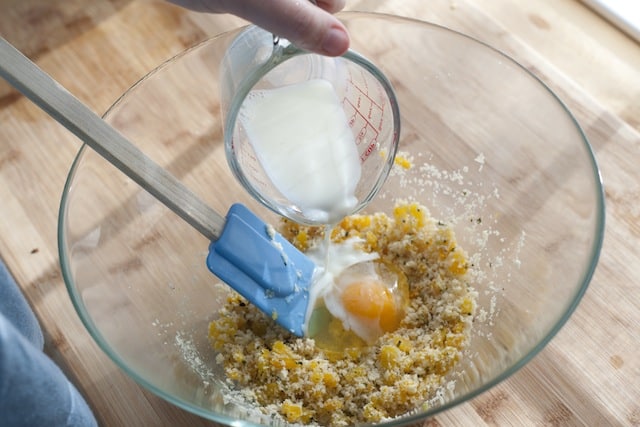 Add about a pound of ground chicken or your ground meat of choice, you could choose turkey, beef or even pork.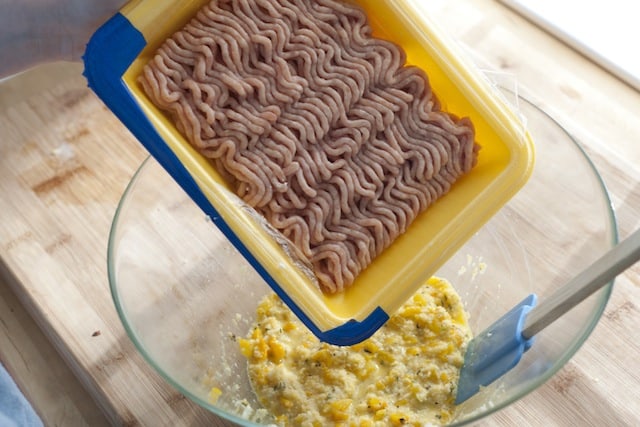 Mix everything together, but try not to over do it. The longer you work the meat, the tougher the meatball (nobody wants a tough meatball). Use your hands to make 16 meatballs (about 1 ounce each). The mixture is pretty loose, but a ball will come together for you.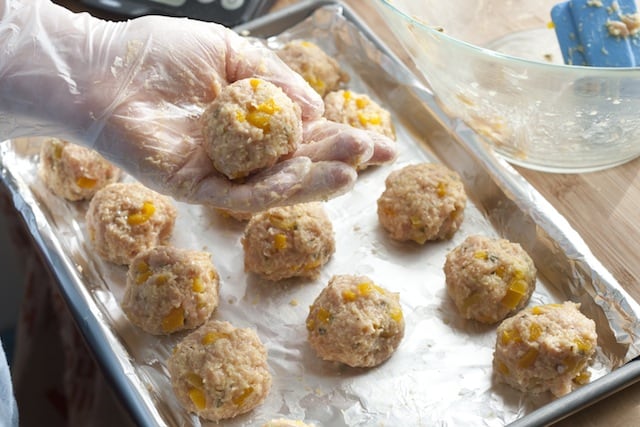 Find some goat cheese and press a little bit into the top of each meatball. By the way, you could totally use feta cheese here, too!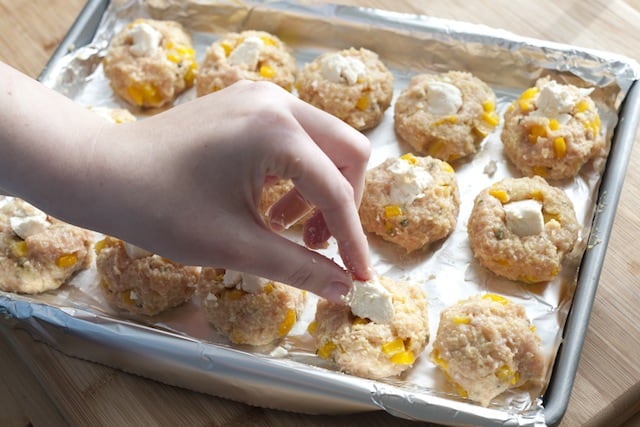 Just before baking, we drizzled a little bit of olive oil over each meatball to make sure they brown. You could skip this step if you are trying to lower calories, though.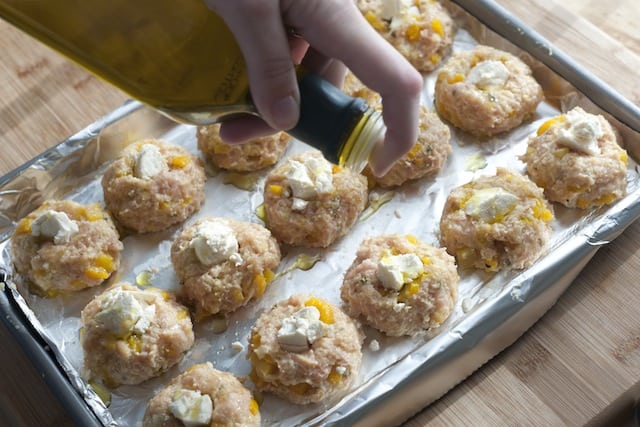 Bake the meatballs until cooked through, about 15-20 minutes. To serve, we heated up some of our favorite pasta sauce and poured it into a serving dish then we placed the meatballs on top. They just look prettier that way.

Goat Cheese Stuffed Chicken Meatballs
Serve these cute little meatballs as is at your next party or place them on a bed of warm marinara sauce and serve with pasta, rice or polenta. You can replace the ground chicken with ground turkey, beef or pork and the goat cheese with feta cheese.
Created By:
Adam and Joanne Gallagher
You Will Need
3/4 cup dried breadcrumbs
2 garlic cloves, minced
1 teaspoon salt
1 teaspoon dried oregano
1 egg
1/4 cup milk
1/4 cup roasted sweet peppers, chopped
1 1/4 pounds ground chicken
2 ounces goat cheese
1 tablespoon olive oil
Directions
Preheat oven to 350 degrees F. Line a baking sheet with parchment paper or aluminum foil.
In a large bowl, combine the breadcrumbs, garlic, oregano, salt, egg, milk and roasted sweet peppers. Add chicken and lightly mix. Try not to over mix the chicken, over mixing will result in a tougher meatball, so use your fingers or even a fork to mix just until the chicken has been distributed amongst the wet ingredients.
Form 14-16 evenly sized meatballs and place onto the prepared baking sheet. Break the goat cheese apart into evenly sized pieces and press one or two small pieces of goat cheese into the top of each meatball. To help with browning, lightly drizzle the meatballs with olive oil then bake, in the oven for 18-20 minutes or until cooked through.