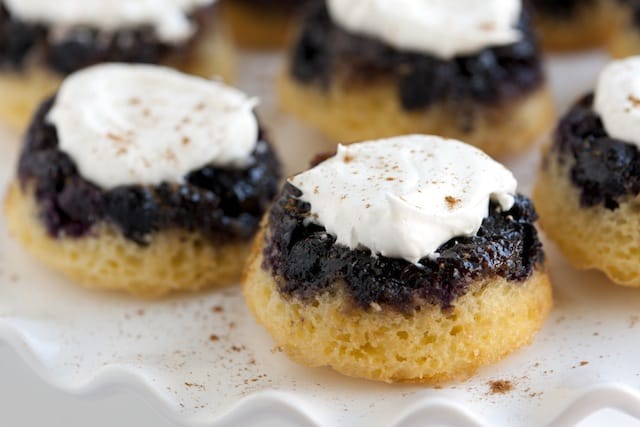 Anything "mini" totally scores points on the cuteness scale, these mini upside down cakes are no exception! A muffin pan helps out to make the most adorable little cakes, perfect for mid-morning, late afternoon or dessert. To make things easy, we used a boxed cake mix, you certainly could supplement your favorite yellow cake recipe, though.
The secret to these is a grapefruit. We used the zest and juice to add just a touch of citrus and tang, it lifts the flavor of the cake just enough to make you question, what is in this? The cakes themselves are addictive, especially since we bake them with a layer of brown sugar, butter and blueberries on the bottom.
How to make Mini Blueberry Upside Down Cakes
You're going to need a yellow or vanilla cake mix, we used Betty Crocker's French Vanilla mix. You will also need some vegetable oil, eggs, a grapefruit, frozen and thawed or fresh blueberries, butter and brown sugar.
Zest the entire grapefruit, then juice it. The cake mix calls for 1 cup of water, instead of the water, we replace that with grapefruit juice.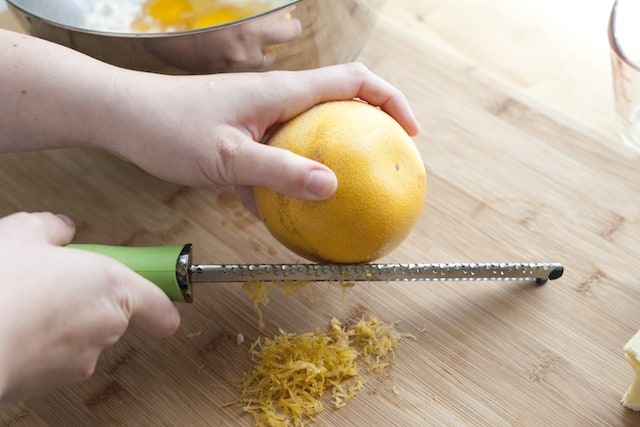 Add the cake mix, oil, eggs, grapefruit zest and juice to a large bowl and beat until combined.
Now, add a little bit of butter to the bottom of each muffin cup then place in the oven for about 1 minute – just until the butter melts. Take the pan out of the oven and add a layer of brown sugar and blueberries then top with the cake batter. Finally, bake 20 minutes until the cake is done!
Allow the cakes to cool in the pan for about 5 minutes then run a knife around the edges of each cake to release them from the pan. Invert the pan and allow each cake to fall out then cool completely. Serve each cake with a dollop of whipped cream or cool whip and a sprinkle of cinnamon.
*recipe developed for Betty Crocker

Mini Blueberry Upside Down Cake
Brown sugar and blueberries are added to the bottom of cupcake cups and then are topped with cake batter scented with grapefruit zest and juice. We use a Betty Crocker yellow cake mix for this recipe. You could use another brand and just replace the amount of water called for on the back of the box with grapefruit juice. In the case, the amount of water called for on the back of the Betty Crocker cake mix box was 1 cup.
Created By:
Adam and Joanne Gallagher
You Will Need
3 tablespoons unsalted butter, cut into 24 small pieces
3/4 cup packed brown sugar
2 cups frozen blueberries, thawed, drained
Juice and grated peel of 1 medium grapefruit
1 box Betty Crocker® French vanilla cake mix
Vegetable oil and eggs called for on cake mix box
1 cup frozen (thawed) Cool Whip or whipped cream
1 tablespoon ground cinnamon
Directions
Heat oven to 350°F (325°F for dark or nonstick pan). Place 1 piece of butter in each of 24 ungreased muffin cups then place the pan in oven until the butter has melted. Sprinkle brown sugar evenly over the melted butter and arrange a layer of blueberries on brown sugar.
Add enough water to grapefruit juice to measure 1 cup (or the amount of water called for on the back of cake mix box). Make then cake mix as directed on box, using oil and eggs, substituting grapefruit juice mixture for the water and adding grapefruit zest. Pour the batter over blueberries, filling each cup three-fourths full.
Bake 17 to 22 minutes (20 to 25 minutes for dark or nonstick pan) or until a toothpick inserted in center comes out clean. Immediately run small knife around the sides of each cake to loosen.
Cool on cooling rack 15 minutes; run knife around sides of cakes again. Place heatproof serving plate upside down over pan; turn plate and pan over. Then, allow cakes to stand 5 minutes so the brown sugar drizzles over cakes; remove pan. Cool 30 minutes.
Serve cakes warm or cool with a dollop of whipped topping or whipped cream and sprinkle of cinnamon. Store covered in refrigerator.