How to make homemade drop biscuits that are buttery, light and fluffy on the inside and golden brown on the outside. Make these with five ingredients and in less than 30 minutes! Jump to the Easy Drop Biscuits Recipe
Watch The Video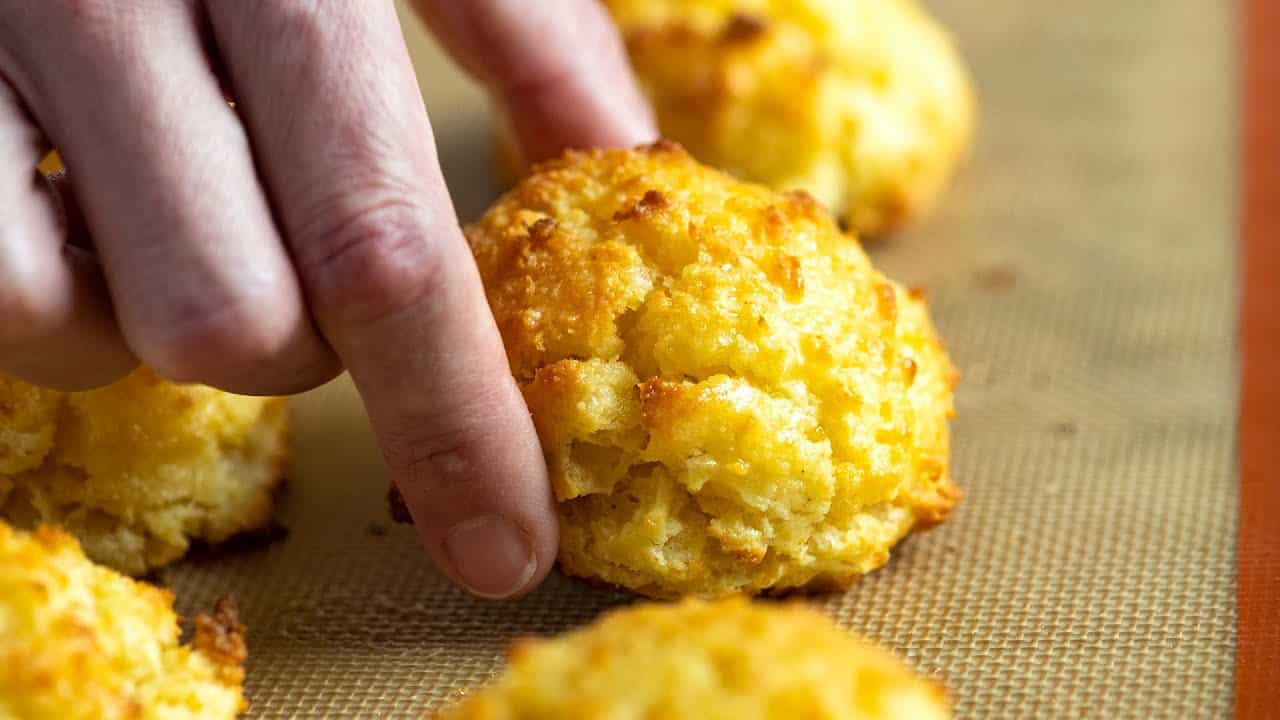 Making Homemade Drop Biscuits
These drop biscuits are ridiculously easy to make. Once you make them, I just know you'll be itching to make them again and again. The entire process can be done in under 30 minutes and they taste fantastic. If you love this recipe, try our Easy Cheese Drop Biscuits!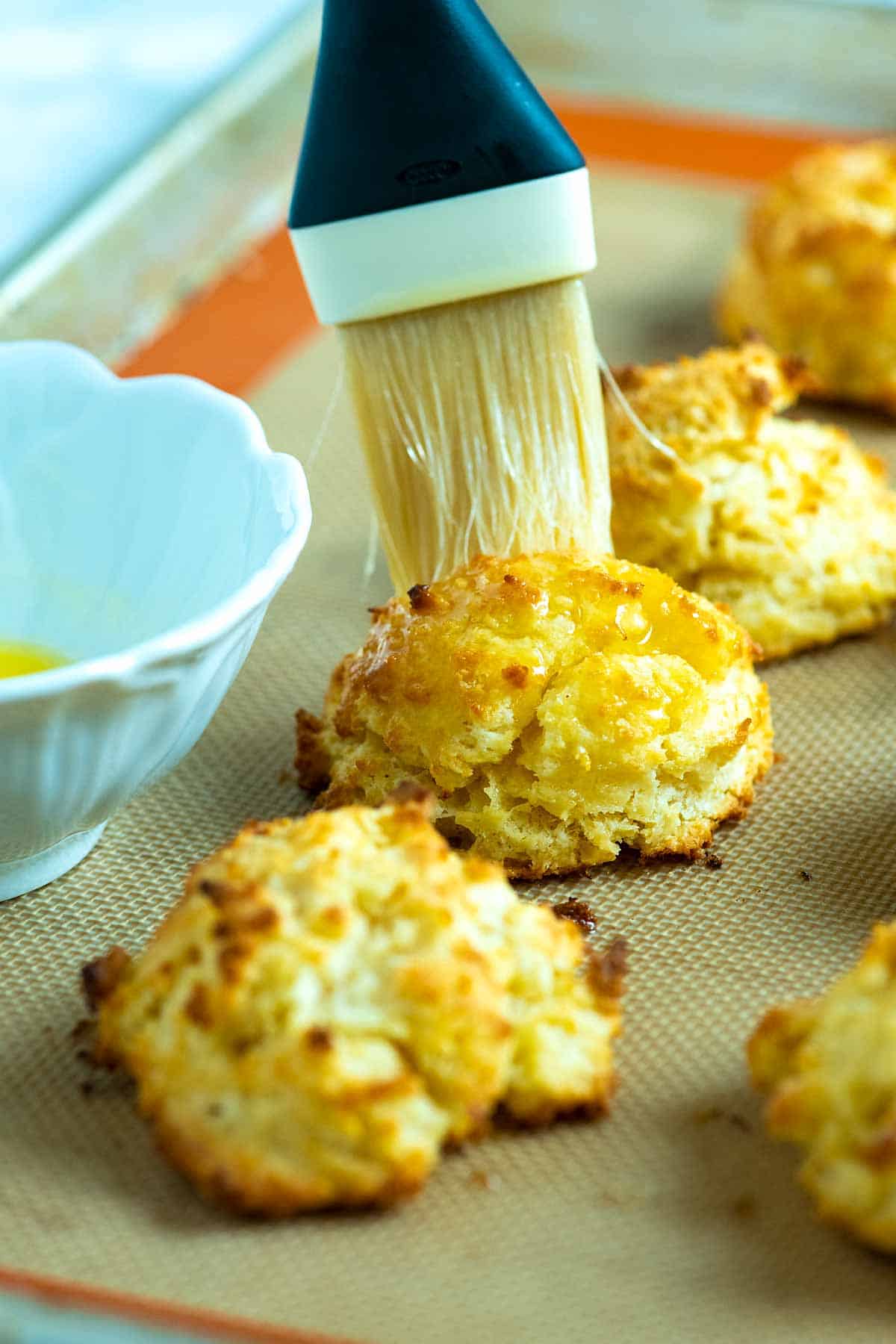 If you are not in the loop, drop biscuits are a quicker, simpler version of traditional biscuits (see our buttermilk biscuits recipe).
Instead of rolling out and cutting into shapes, all you need to do for drop biscuits is spoon (or drop) mounds of dough onto a baking sheet and bake. No patting out, no rolling and no cutting required.
The ingredients are very simple and pretty much the same as traditional biscuits. You'll need:
All-purpose flour
Baking powder
Salt
Unsalted butter
Milk
Can I use self-rising flour? I like to make my own blend of flour, baking powder and salt, however, self-rising flour should be successful in this recipe. Most store-bought self-rising flour blends already include baking powder and salt. Keep in mind that results may vary from brand to brand since the amount of salt and baking powder can be different.
The Method
The process for making them is simple. Here are the basic steps (the full recipe is shared below and we have provided a quick video above that walks you through each step).
Step 1, Start by whisking the flour, baking powder and salt together, and then add small cubes of cold butter. It's important that your butter is very cold, we don't want it to melt or warm up before hitting the heat of the oven.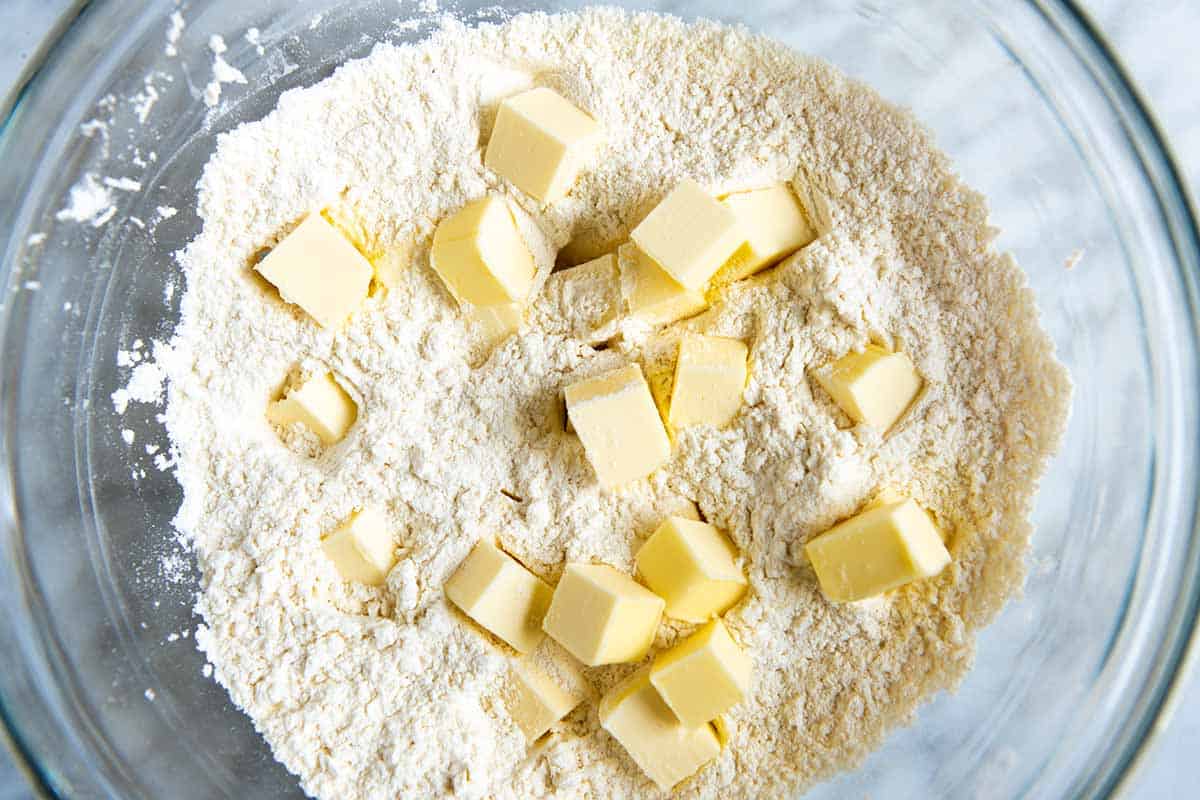 Step 2, Use your fingers to rub the butter into the flour mixture. Alternatively, use a pastry cutter to cut the butter into the flour. You can see us use both methods in the video. Another option is to use a food processor to pulse the butter into the flour mixture. We do this when making our all-butter homemade pie crust.
Step 3, When the butter and flour mixture looks like coarse crumbs, you can add the milk. We use whole milk (although, reduced-fat would probably be fine). Slowly pour in the milk while you mix with a fork. The key is to mix until a dough forms, but not to over do it. Watch us do it in the video, it only takes 30 seconds or so of stirring.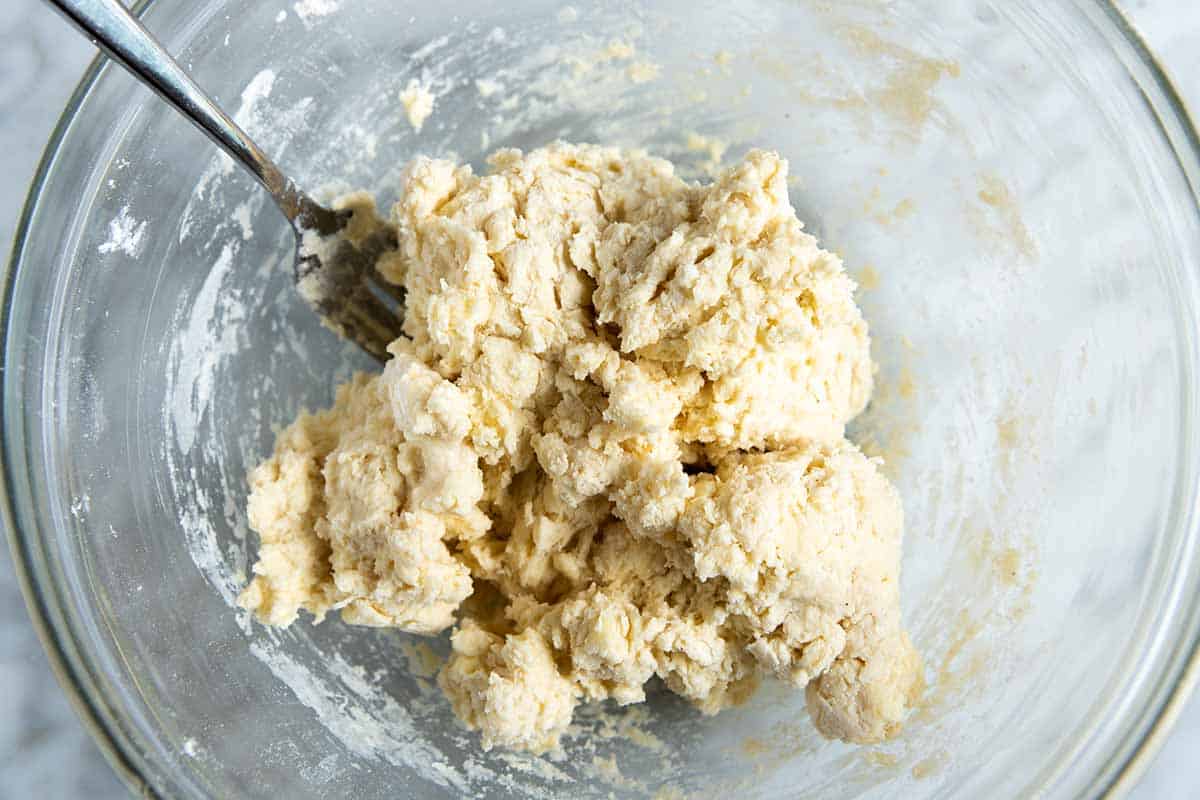 The drop biscuit dough will look shaggy and might be a bit sticky. That's okay, it is supposed to look that way! From here, we simply drop mounds of dough onto a baking sheet (or into a cast iron pan) and bake.
The biscuits take 10 to 15 minutes to bake, and then right after taking them out of the oven, we brush a little extra melted butter on top. It's just the right thing to do!
The biscuits will be light and fluffy in the middle and golden brown on top. I love serving them warm straight from the oven.
More Easy Baking Recipes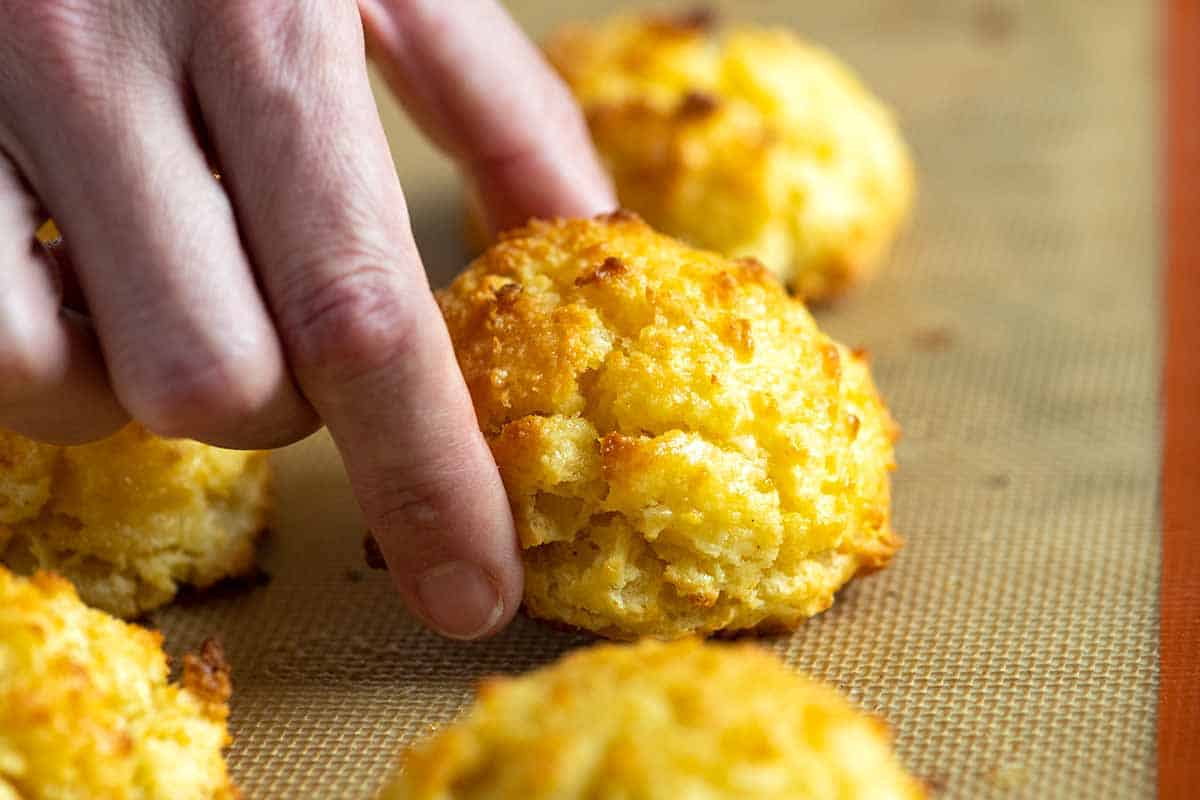 Seriously Good Drop Biscuits
These drop biscuits are ridiculously easy to make. Once you make them, I just know you'll be itching to make them again and again. The entire process can be done in under 30 minutes and they taste fantastic.
Watch Us Make the Recipe
You Will Need
8 tablespoons (115 grams or 1 stick) cold unsalted butter
1 1/2 cups (190 grams) all-purpose flour
1 3/4 teaspoons baking powder
1/4 to 1/2 teaspoon fine sea salt, see notes
1/2 cup (118 ml) cold whole milk, plus more as needed
Directions
1Heat oven to 400 degrees Fahrenheit (see notes for using a hotter oven). Line a baking sheet with parchment paper or silicone baking mat. Alternatively, set aside a medium cast iron pan for baking the biscuits in.

2Whisk the flour, baking powder and salt together until well blended.

3Remove one tablespoon of butter and set aside (this will be melted and brushed onto the biscuits once they are baked).

4Cut the remaining 7 tablespoons of butter into small cubes. If you are not immediately moving on to the next step, place the butter back into the refrigerator to keep cold.

5Scatter the cold butter cubes over the flour mixture then use a pastry blender or your fingers to cut or rub the butter in until the mixture looks like coarse crumbs (see photos or video for reference).

6Using a fork, gently stir the milk into the biscuit mixture until the dough comes together. It will be a bit sticky and look shaggy. If the dough is too dry, add a little more milk, a tablespoon or two should do it.

7Drop mounds of dough, about 3 tablespoons in size, onto the prepared baking sheet. Dough mounds should be about an inch apart from each other. Bake for 10 to 15 minutes or until the biscuits are puffed and starting to turn brown on top. If some butter pools out around the bottom, it's okay.

8Meanwhile, melt the reserved tablespoon of butter. When they come out of the oven, gently brush the butter onto the top of each biscuit. Serve warm.
Adam and Joanne's Tips
Salt: I love my biscuits to be well seasoned with salt, which is why I choose to add 1/2 teaspoon of fine sea salt. If you don't like your salt level as high, stick with 1/4 teaspoon instead.
Oven temperature: These can be baked at 400° F and at 425° F. I find that 425° F gives the biscuits a nicer golden brown crust on top, but some ovens vary and can be temperamental. If your oven runs hot, stick with 400°F and keep an eye on the biscuits as they bake. I check the biscuits at 10 minutes and stay close by until I am happy with the color on top.
Vegan variation: Use a cold vegan stick butter and non-dairy unsweetened milk.
Measuring the flour: Flour should be spooned and leveled in the measuring cup. Use a spoon to add the flour into your measuring cup, and then use a flat edge to scrape the top of the cup flat. This method of adding flour to your measuring cup makes sure that you do not add too much flour to the dough.
Nutrition facts: The nutrition facts provided below are estimates. We have used the USDA database to calculate approximate values.
If you make this recipe, snap a photo and hashtag it #inspiredtaste — We love to see your creations on Instagram and Facebook! Find us: @inspiredtaste
Nutrition Per Serving
Serving Size
1 biscuit (1 of 8)
/
Calories
199
/
Total Fat
12.3g
/
Saturated Fat
7.5g
/
Cholesterol
32.1mg
/
Sodium
155.9mg
/
Carbohydrate
19.6g
/
Dietary Fiber
0.7g
/
Total Sugars
0.8g
/
Protein
3g
More Biscuit Recipes