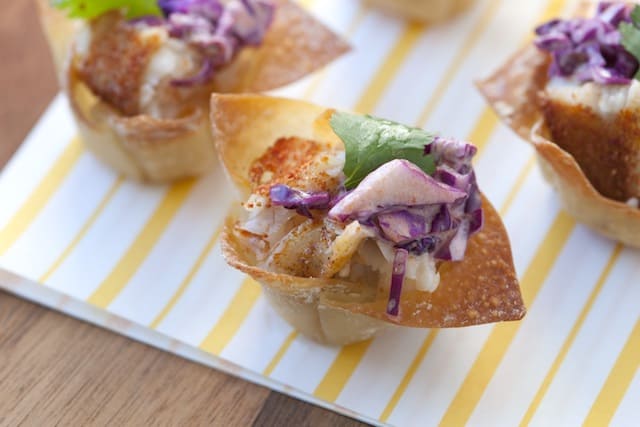 These should come with a warning, make a double batch. I promise they will fly off the plate. Wonton wrappers are turned into mini taco cups, cups that you can fill with anything you desire. In this case, we fill them with flavorful fish and a spicy cabbage slaw. For the fish, we chose tilapia, it is really inexpensive and holds up well when baked. You could replace tilapia with another  flaky white fish or even salmon. The red cabbage slaw has a bit of spice, we add a small amount of chipotles in adobo sauce, something you can find in most grocery stores, just look in the international aisle. They usually come in a small can. We have used chipotles in adobo sauce before, give our Salmon Burgers with Chipotle Mayo or Oven Roasted Corn a try.
How to make Mini Fish Tacos
It's really easy to transform store-bought wonton wrappers into mini cups. Start by lightly brushing each side of the wrapper with some olive oil.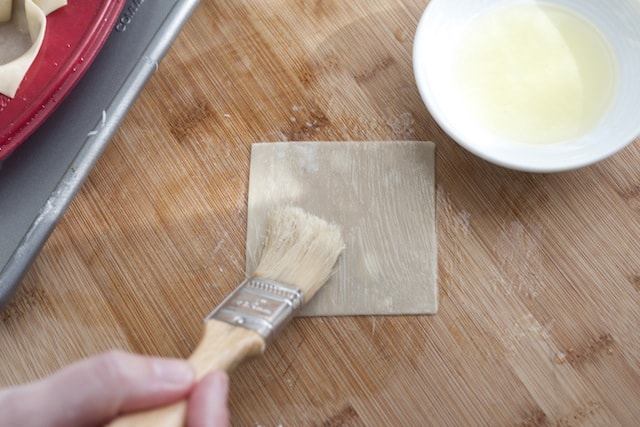 Then, just press the wrappers into mini muffin/cupcake cups and bake in a 350 degree F oven for 5-7 minutes. They will become crisp and stable enough to fill with whatever you desire.
While the wontons are baking, bake the fish, which takes just about 12 minutes. Easy! Season both sides with some salt then rub  a mixture of garlic powder and ancho chili powder all over both sides.
Add a tablespoon or so of olive oil to a baking sheet then place the fish on top. Don't add any oil to the top of the fish. This way, the spices will dry out just a bit, making the tacos really pretty in the end.
While the fish bakes, you can get your slaw together. Finely chop some red cabbage.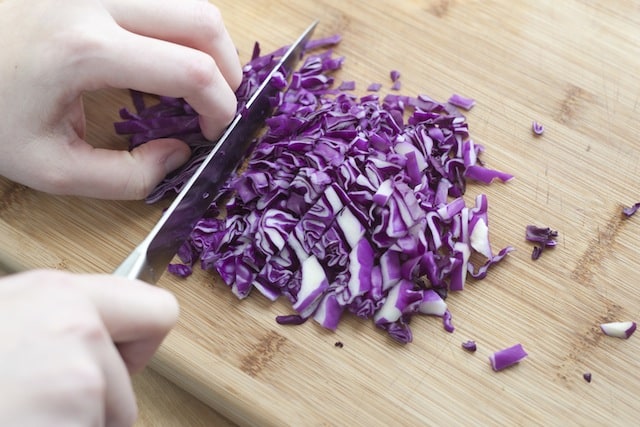 Then toss with sour cream, salt, lime and spicy chipotles in adobo sauce (you can find that in the international aisle of the grocery store).
Then, assemble and enjoy!

Mini Fish Tacos
These would be perfect to serve at a party, these mini tacos are great warm or at room temperature. Make the wonton shells a day in advance, just keep in an airtight container. For the slaw, we use chipotles in adobo sauce, which can be found sold in small cans in the international section of your grocery store (Goya is a good brand).
Created By:
Adam and Joanne Gallagher
Yield:
Makes 12 mini tacos
You Will Need
12 wonton wrappers
2 tablespoons olive oil
2 tilapia filets
1/2 teaspoon salt
1/4 teaspoon garlic powder
2 teaspoons ancho chili powder (also try chipotle chili powder)
1 cup finely chopped red cabbage
1 tablespoon sour cream
1 teaspoon minced chipotles in adobo sauce
1 lime
12 fresh cilantro leaves
Directions
Preheat oven to 350 degrees F.
Lightly brush wontons with 1 tablespoon of olive oil and arrange in 12 mini cupcake cups. Bake 5-7 minutes until golden brown and crisp.
Combine 1/4 teaspoon of salt, garlic powder and chili powder in a small bowl then rub both sides of the fish. Add 1 tablespoon of olive oil to the bottom of a baking sheet then place the fish on top. Bake uncovered 10-12 minutes until the fish is cooked and the flesh flakes with a fork.
While the fish bakes, make the slaw. In a small bowl, combine cabbage, 1/4 teaspoon of salt, sour cream, chipotles in adobo sauce and the juice of half a lime.
Assemble mini tacos by dividing the fish among 12 wonton cups then top with a spoonful of slaw, cilantro leaf and an extra spritz of lime.