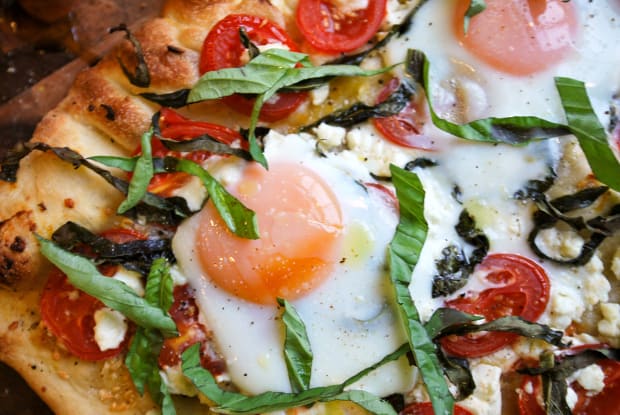 So a few months ago, my parents went to Grand Cayman for a vacation (I know, I was jealous too).  When they came back we were not surprised to hear about the sun and the sand, the sunset cruise and the lazy beach days, but one thing we were not anticipating was my parents raving about a breakfast pizza they had while on the island. 
I thought to myself, okay so someone puts breakfast on a pizza …. can we please get back to talking about the beach now …. slowly please and in a calming voice …  as I close my eyes and imagine myself on one of those blue beach chairs under a brightly colored umbrella while I listen to the waves slowly rolling onto the warm sun-kissed sand….
But they didn't stop talking about it, it apparently was just that amazing, so slightly intrigued I began to explore this 'breakfast pizza' concept.  It can not be a bad thing, I mean I like pizza and I like breakfast so why not put them together.  With that said, my first attempt at this breakfast pizza was a complete disaster, no really, it was awful!  I started out okay with some pizza dough then sprinkled on some cheese, onions and a little bacon (a little cliche, but I went with it), then came the bright idea to whisk some eggs and pour it over the cheese, onions and bacon.  Thinking back, I have no idea why I thought this would work.  I placed the pizza on a preheated baking stone then poured the eggs on top. As I was pouring I realized that the eggs would not stop before the edge of the pizza. I now have eggs overflowing over the edges of the pizza and completely taking over my pizza stone…oops.  The final result was a charred egg pizza base, an egg covered stone and an extremely boring mix of melted cheese, onions, bacon, and dried out eggs on top of the pizza.  Needless to say, that was not my best day in the kitchen.
After such a disaster, it took me a while before I wanted to attempt this 'breakfast pizza' again, but I finally got up the nerve yesterday and was glad I did.  Based on the results of my last attempt, pouring whisked eggs on to the pizza was not the best option (duh) and instead opted for a less runny approach.  I also decided to go for a more, lets say, refined plan of attack for the toppings.  Cheese, onions and bacon were a good thought, but I decided to take it to another level. I decided to used crumbled goat cheese, garlic, sweet plum tomatoes and basil.  Not only was the result delicious, with the combo of the creamy and slightly sharp goat cheese matched with the sweet tomatoes, but it looks pretty impressive too.
I started with a store-bought pizza dough, given my last disaster. I was not willing to go through a pizza dough making process only to end up with a charred and dried out pizza.  I stretched the dough out into a rectangle, then brushed some olive oil over the dough.  Then, I seasoned the dough with some salt, pepper and lemon zest (the lemon zest really adds a nice touch).
Next, I topped the pizza base with sliced baby plum tomatoes, crumbled goat cheese and basil that I had cut into strips (fancy word: chiffonade, which basically means cutting a leaf such as basil into strips or "shredding").  To chiffonade basil, layer the basil leafs on top of each other and roll them up like a cigar, then, use a sharp knife to slice the basil.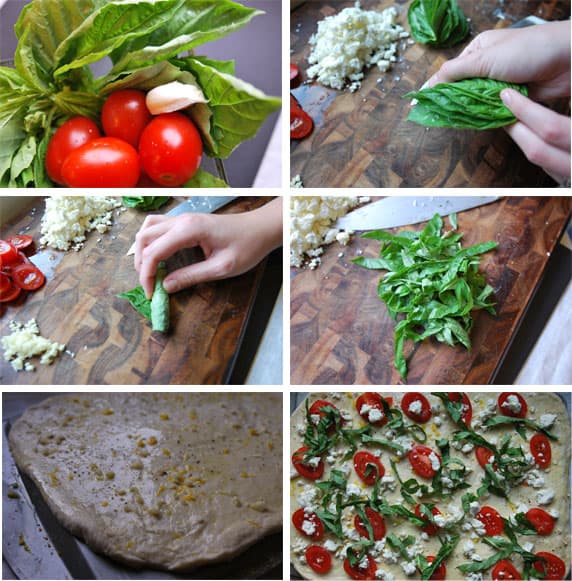 After covering the base with all my toppings, I placed my pizza into a very hot oven and let it bake for 5 minutes.  During that 5 minutes, I took 3 eggs and cracked them into 3 seperate bowls.  Then, once the timer went off, I quickly opened the oven door, braced myself for the heat and carefully added the 3 eggs to the top of the pizza, then I closed the oven and baked for another 6 minutes.  The result: Excellent, I was very proud.
Breakfast Pizza: A disaster turns into a triumph
Created By:
Adam and Joanne Gallagher
You Will Need
1 store-bought pizza dough
1 tablespoon olive oil plus some for drizzling pizza once cooked
1 garlic clove, minced
1 teaspoon lemon zest
3/4 cup sliced plum tomatoes
3 ounces crumbled goat cheese
1/2 cup basil
salt and pepper
Directions
Place a pizza stone in the oven and preheat to at least 500 degrees F.
Allow the pizza dough to rest for 20 minutes on counter while the preparing garlic, tomatoes and goat cheese.  Next, chiffonade the basil.  Once the dough has rested, stretch out the dough to a 16X12 inch rectangle (or about), then brush the olive oil all over the dough.  Next, sprinkle the dough with a little salt, pepper and the lemon zest.  Arrange the tomatoes, goat cheese and half of the basil on top of the dough, then place the pizza in the oven for 5 minutes.
While the dough is cooking, crack 3 eggs into separate bowls and set aside.
After 5 minutes, open the oven and slide each egg on to the top of the pizza in a row, then close the oven and bake for an additional 6 minutes.  Remove the pizza after 6 minutes or until the crust is golden and the egg whites are cooked.  Allow to cool for a couple of minutes, sprinkle with the remaining basil and drizzle with a little olive oil, then serve
Notes and Tips
If you do not own a pizza stone, still preheat the oven to 500 degrees F.  Then assemble the pizza on a pizza baking pan with holes, this will help with a crispier crust.