Burgers topped with homemade queso sauce made with Monterey Jack cheese, avocado and fresh salsa. Jump to the Queso Blanco Burger Recipe or read on to see our tips for making it.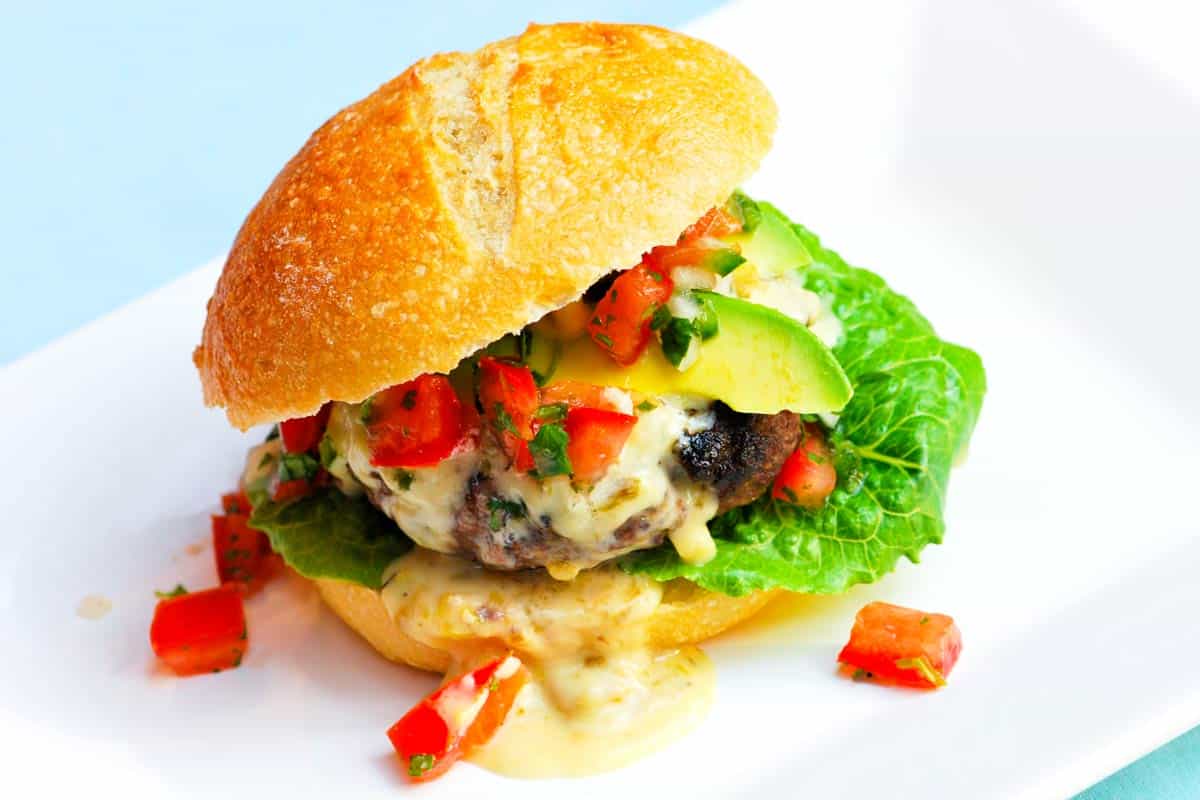 We love a good burger and usually keep them pretty simple — See our No Fuss Hamburger Recipe. That being said, this burger topped with homemade queso sauce is one of my favorites.
YOU MAY ALSO LIKE: Get ready for an outrageous burger. Burger patties are topped with an omelet filled with cheese, slices of ham, as well as sauteed onions and peppers. Jump to the Outrageous Burger Recipe with Egg, Ham and Peppers.
The star of this burger is the cheesy sauce. Before making it we char peppers on the grill until blistered and almost black. The peppers are thrown into a bag to steam and fifteen minutes later we can tear away the charred skin. Depending on how spicy you like things, you can remove the seeds and membrane from the peppers or leave them. The more you leave, the spicier the sauce will be.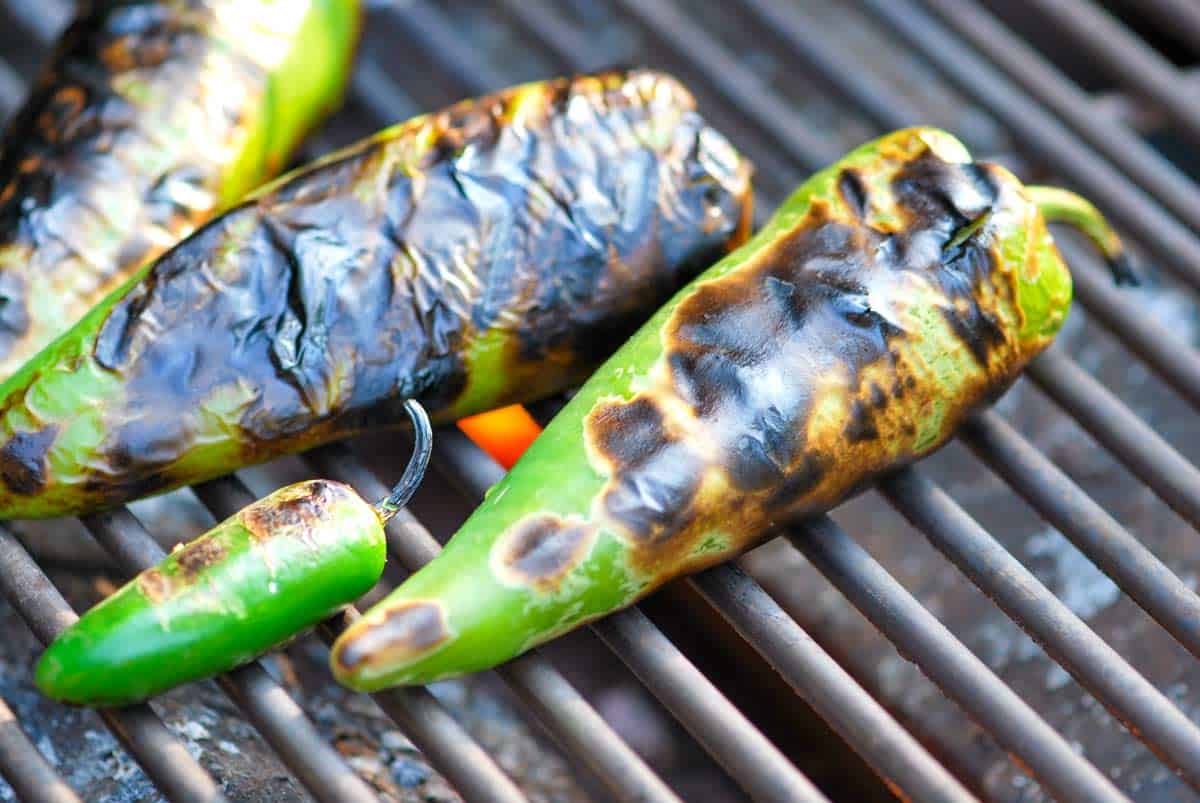 When the peppers are roasted you can made the queso sauce. If you have ever made our macaroni and cheese recipe, the steps are very similar. Melt butter in a pan, add some flour then whisk in milk. After a few minutes of it bubbling away, the sauce will be thick and creamy. That's when it is time for the cheese — three whole cups of grated cheese is melted in. The last step is to season with salt and pepper then stir in the roasted peppers. The roasted peppers flavor the sauce and add spice.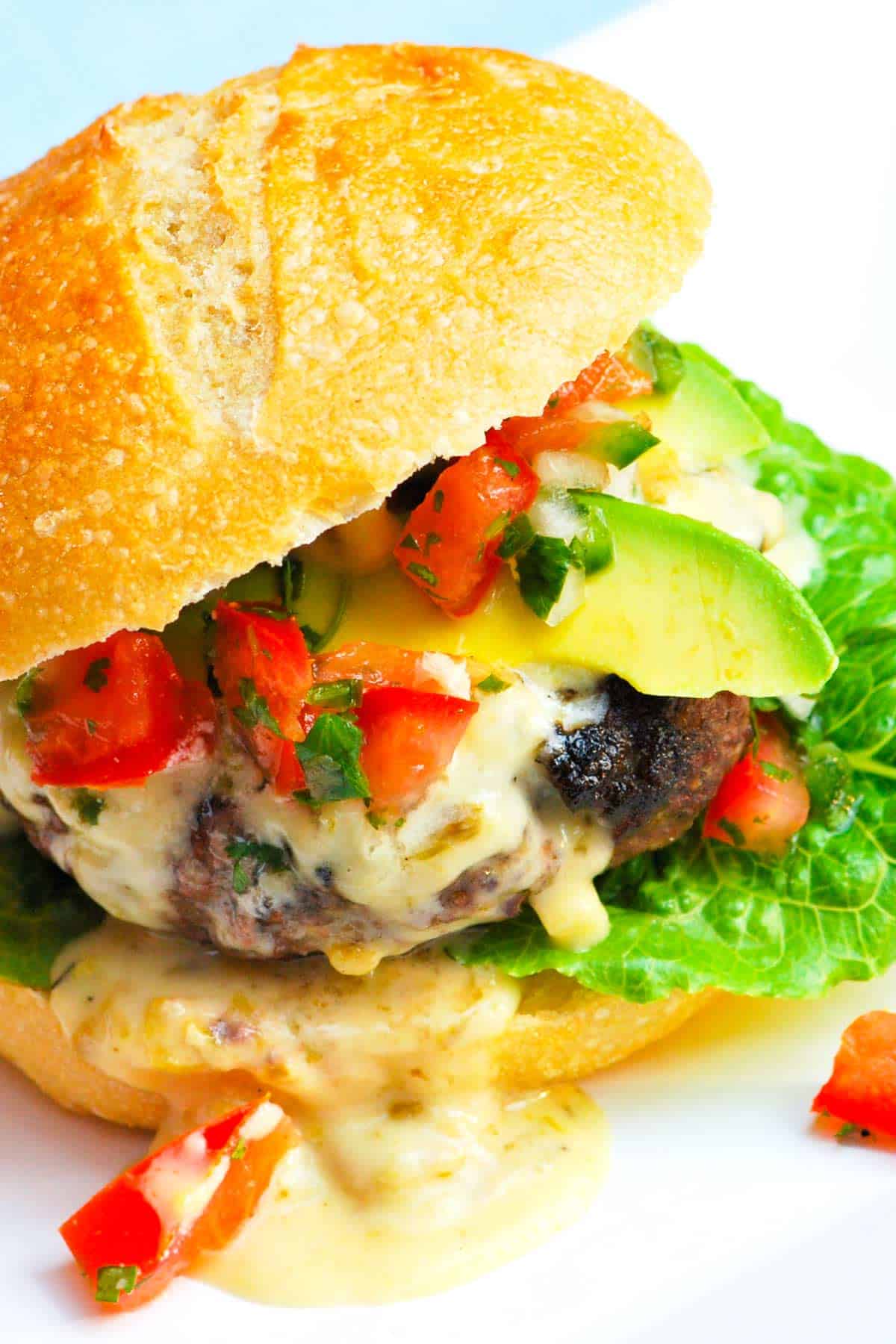 After grilling the burgers, we top them with an obnoxious amount of the cheesy sauce and finish with sliced avocado and a heaping spoonful of fresh salsa.
YOU MAY ALSO LIKE: How to make pico de gallo — a fresh tomato salsa — with tomatoes, onion and cilantro. Jump to the Homemade Pico de Gallo Recipe.
Recipe updated, originally posted June 2010. Since posting this in 2010, we have tweaked the recipe to be more clear. – Adam and Joanne
Queso Blanco Burger Recipe
This burger is over the top, but so delicious. When making burger patties, choose ground chuck or round that is 20% fat content. This makes the juiciest burgers.
You can make the queso sauce up to 3 days in advance. Cool then press plastic wrap directly onto the top of the sauce to prevent a skin from forming. Keep refrigerated. When you want to use it, place it over moderately low heat to slowly warm up.
You Will Need
Queso Sauce
3 Anaheim or poblano peppers
1 jalepeño pepper
2 tablespoons butter
1/4 cup chopped onions
1 tablespoon all-purpose flour
1 1/2 cups milk
3 cups grated Monterey Jack cheese
Salt and fresh ground black pepper
Burgers
1 1/2 pounds (680 grams) ground beef chuck or round
Salt and fresh ground black pepper
Butter, as needed
4 burger buns, lightly toasted
1 avocado, pit removed and sliced
1 1/2 cups fresh tomato salsa, see our homemade pico de gallo recipe
Directions
Make Queso Sauce

1Place peppers onto the grill over moderately high heat. Cook, turning occasionally until most of the skin has blistered and turned dark brown or black.

2Transfer peppers to a bowl and cover with plastic wrap so they steam. After 15 minutes peel away the blistered skin from each pepper then remove the stems. Scrape away some or all of the seeds and white membrane inside the peppers depending on how spicy you want the sauce. Chop the peppers into small pieces ready for the sauce.

3Melt the butter in a large, high-sided pan over medium heat. Add the onions and cook until softened, about 5 minutes.

4Meanwhile, add milk to a large microwave-safe measuring jug and microwave 1 to 3 minutes until warm. Alternatively, you can add milk to a large saucepan over medium heat then heat milk until warm.

5Add the flour to the onions and cook, whisking constantly 1 to 2 minutes until the butter smells fragrant and nutty — the color of the butter-flour mixture will be light brown.

6While whisking, slowly pour the warm milk into butter and flour mixture. Continue to cook, whisking constantly until the sauce bubbles and thickens.

7Remove pan from the heat and add the cheese. Stir until the heat from the sauce melts the cheese. Add the peppers, a pinch of salt and a few grinds of black pepper. Taste for seasoning, and then adjust with additional salt.
Make Burgers

1Form beef into four 6-ounce hamburger patties. Use your thumb to imprint a dimple into the middle of each burger. (This prevents the middle of the burgers from puffing up while cooking). Season both sides of the hamburgers with salt and pepper.

2Melt 1 tablespoon of butter in a cast iron pan over medium heat. Cook hamburger patties, 3 to 4 minutes on each side, depending on how well done you like it. Or grill burgers on an outdoor grill. Rest burgers covered loosely with aluminum foil for 5 minutes then serve with sauce and toppings.
To Finish

1Assemble burgers. Spread a little queso sauce onto bottom halves of each bun. Place the hamburger patty on the bottom half and add a quarter of avocado and salsa. Top with more queso sauce and the top of the bun.
Adam and Joanne's Tips