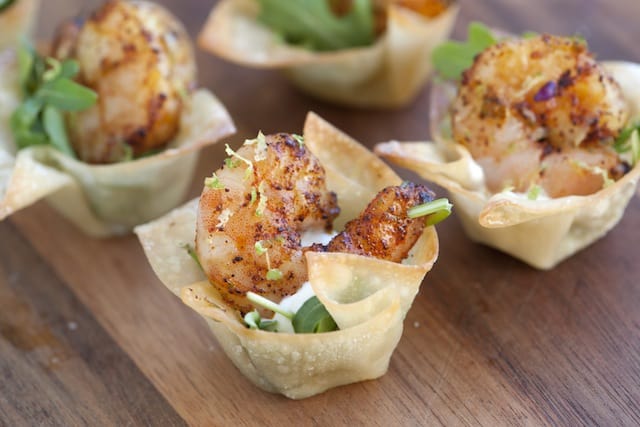 We thought our Mini Fish Tacos needed a friend. You know, someone to snuggle up with.
Enter Chili-Lime Shrimp Cups.
You'll love these. Wonton shells are baked in the oven (so easy) then are filled with a few arugula leaves and sour cream THEN are topped with a chili lime shrimp. It's one-bite madness, I tell ya, one-bite madness!
How to make Chili Lime Shrimp Cups
Get your wonton cups ready. Just brush each side with a little oil…
… and then arrange in mini cupcake/muffin cups and bake in the oven until crispy and golden brown.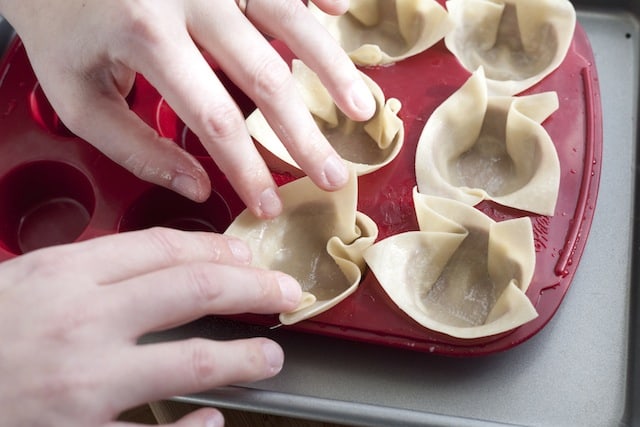 While the wonton cups bake, season the shrimp. You'll need a lime and some chili powder and of course a little salt.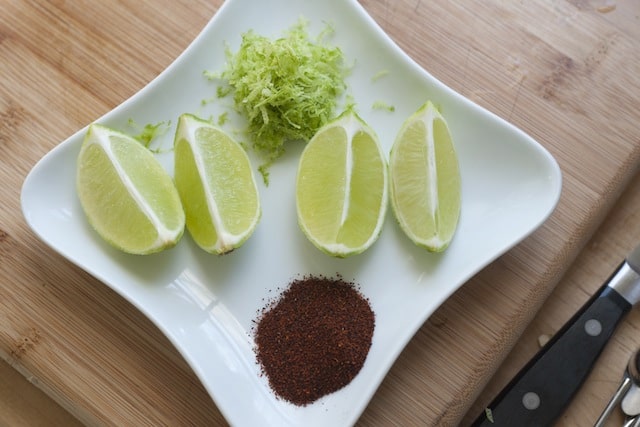 Arrange the shrimp onto a baking sheet and toss with a touch of oil, salt, lime zest and chili powder. Then, bake in the oven until cooked through.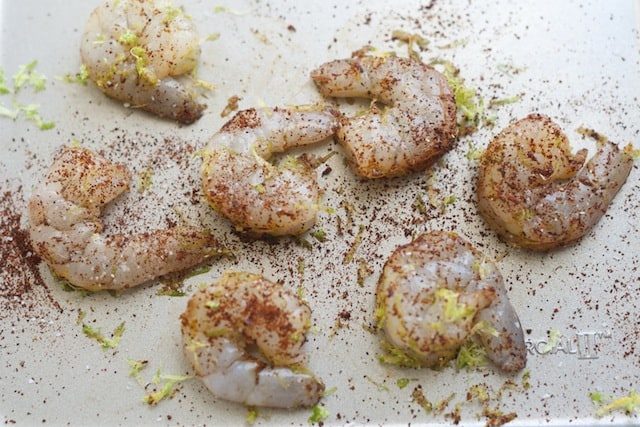 Assemble the cups by placing a few arugula leaves in the bottom with a small dollop of sour cream and finish with a whole shrimp and a squeeze of lime juice.

Chili Lime Shrimp Cups
These mini cups are perfect to serve at a party and are great warm or cold. You can make the wonton shells a day in advance; just keep at room temperature in an airtight container.
Yield:
Makes 24 Shrimp Cups
You Will Need
24 wonton wrappers
2 tablespoons olive oil
24 medium shrimp, peeled and deveined
1/2 teaspoon salt
1 teaspoon Chili powder (we really like to use Ancho Chili Powder or Chipotle Chili Powder)
2 limes
1/2 cup baby arugula leaves
3 tablespoons sour cream
Directions
Heat oven to 350 degrees F.
Prepare wonton shells: Lightly brush wontons with 1 tablespoon of olive oil then arrange in 24 mini muffin/cupcake cups. Bake until golden brown and crisp, 5 to 7 minutes.
Prepare Shrimp: Toss the shrimp with 1 tablespoon of olive oil, salt, 2 teaspoons of lime zest and chile powder. Bake shrimp until opaque throughout, 5 to 8 minutes.
Assemble Shrimp Cups: Fill each wonton cup with a few leaves of arugula, a small dollop of sour cream, one shrimp then top with a spritz of lime juice.