Ridiculously Good Shrimp Pesto Soba Noodles Recipe
We love quick, fresh dinners. These soba noodles tossed with basil pesto hit the spot. Jump to the Pesto Shrimp Soba Noodles Recipe or read on to see our tips for making it.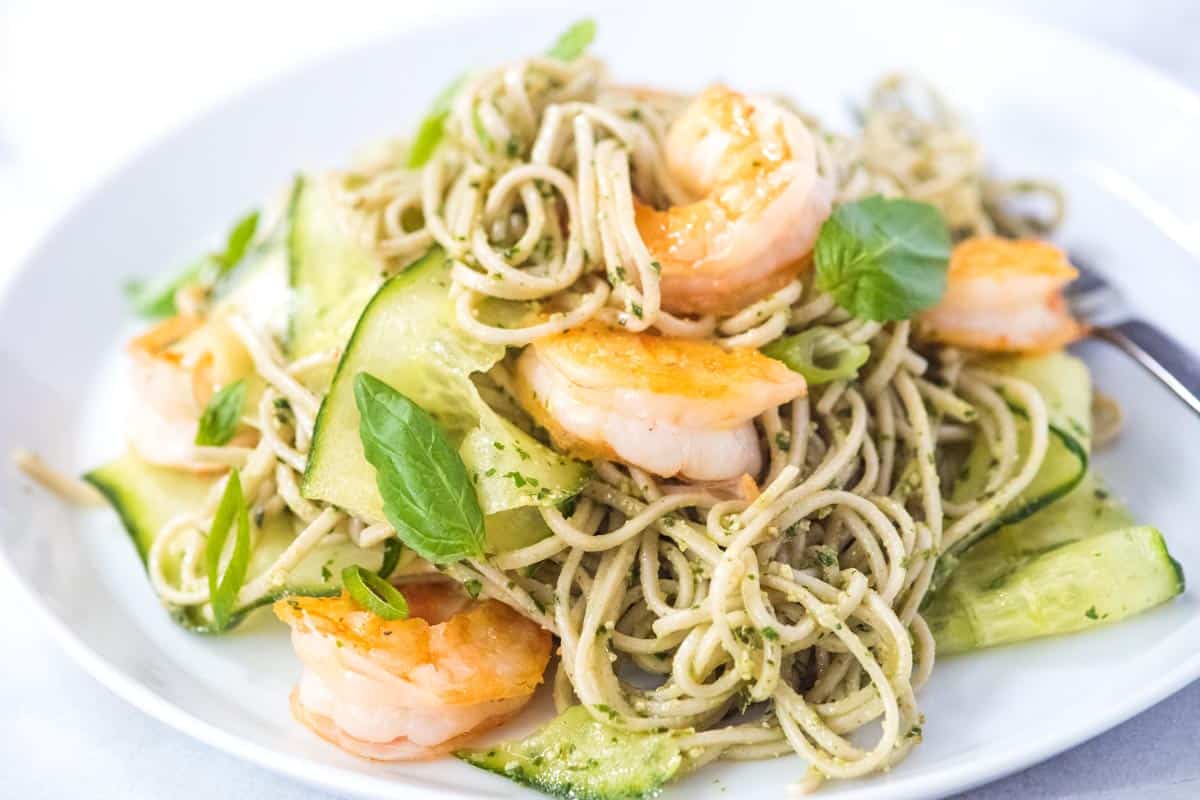 If you're not 100% sure about soba noodles, let's get that out of the way first. We love them! They are made with buckwheat flour, which makes them taste nutty and also contributes to the brownish color. If you are gluten-free, these are a for you! Check the packaging, though. While you can find 100% buckwheat noodles, some brands still sneak in some wheat.
YOU MAY ALSO LIKE: How to make our 20-minute zucchini noodle pasta recipe with garlic, tomatoes, basil, and parmesan cheese. Jump to the Zucchini Noodles Pasta Recipe.
How to Make Pesto Shrimp Soba Noodles
These noodles can be served cold or hot — we're partial to cold, but that's just us. Let me show you how simple they are to make.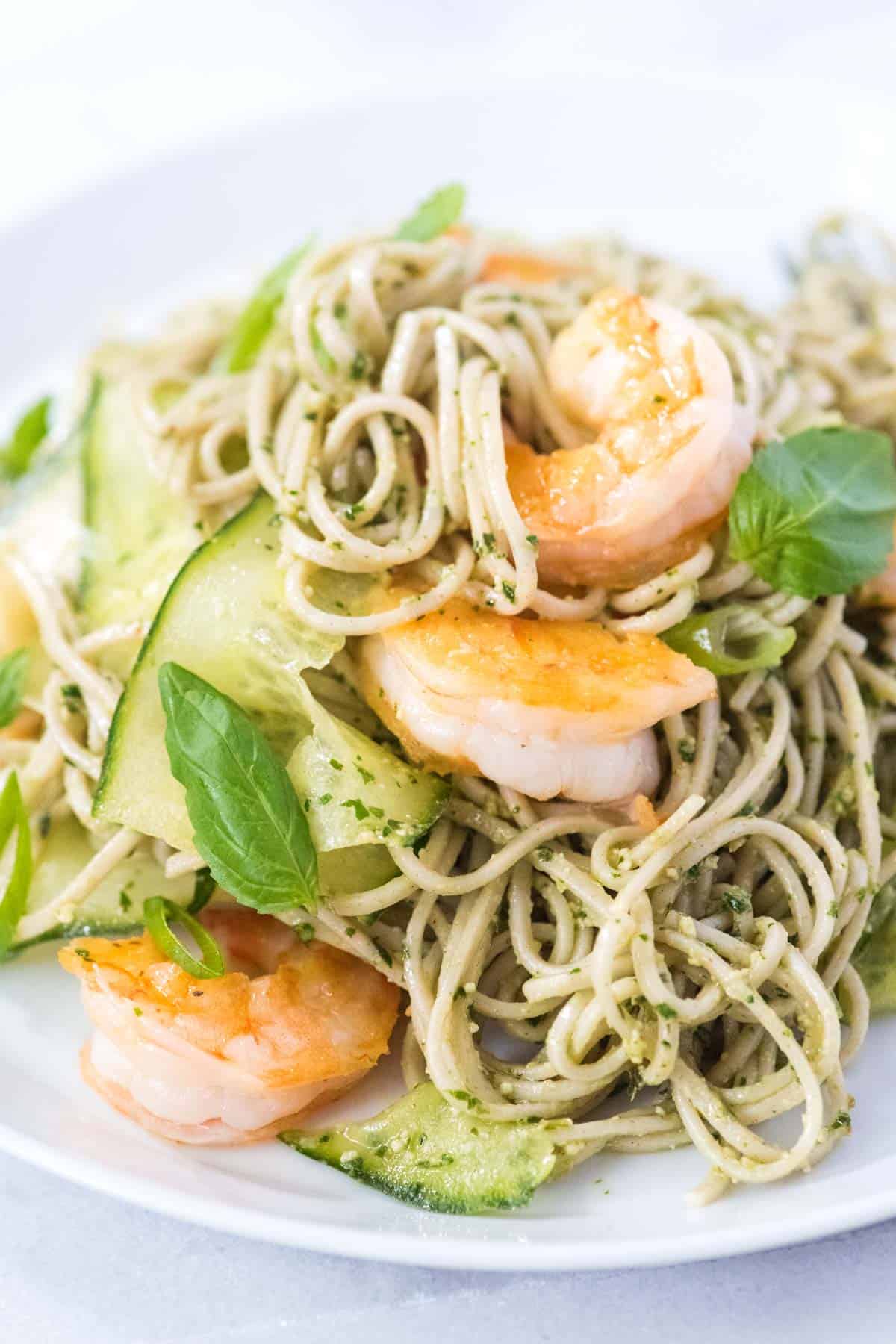 Let's talk about the pesto first. You can make it yourself — here's our homemade pesto recipe for you. Or, you can buy it from the store. Making it yourself requires few ingredients and takes about 15 minutes. We stick with basil pesto since we're feeling the summer vibes lately, but if you are reading this in the fall or winter, why not try swapping out the basil for a winter green — spinach or kale are perfect. Here's our kale and almond pesto recipe for you to look at, it's beyond delicious.
Once you've got the pesto figured out, the recipe comes together unbelievably fast. I told you that we love soba noodles — they taste great, we love the texture and better yet, they cook quickly! We're talking 4 to 5 minutes in boiling water and you are done. When they are done just throw them into a colander and rinse with cold water. This stops them from cooking and becoming mushy and gets them ready to toss with the pesto. By the way, if you were planning on serving this dish hot, I'd still rinse with cool water to stop the noodles from overcooking. You just don't need to rinse until cold.
We keep the shrimp really simple — just salt, pepper, olive oil, and fresh lemon. You could toss in some spice with chili flakes or a chili paste, it's completely up to you. They'll need about 6 minutes in a hot pan. Or you could bake them — here's our recipe for easy baked shrimp.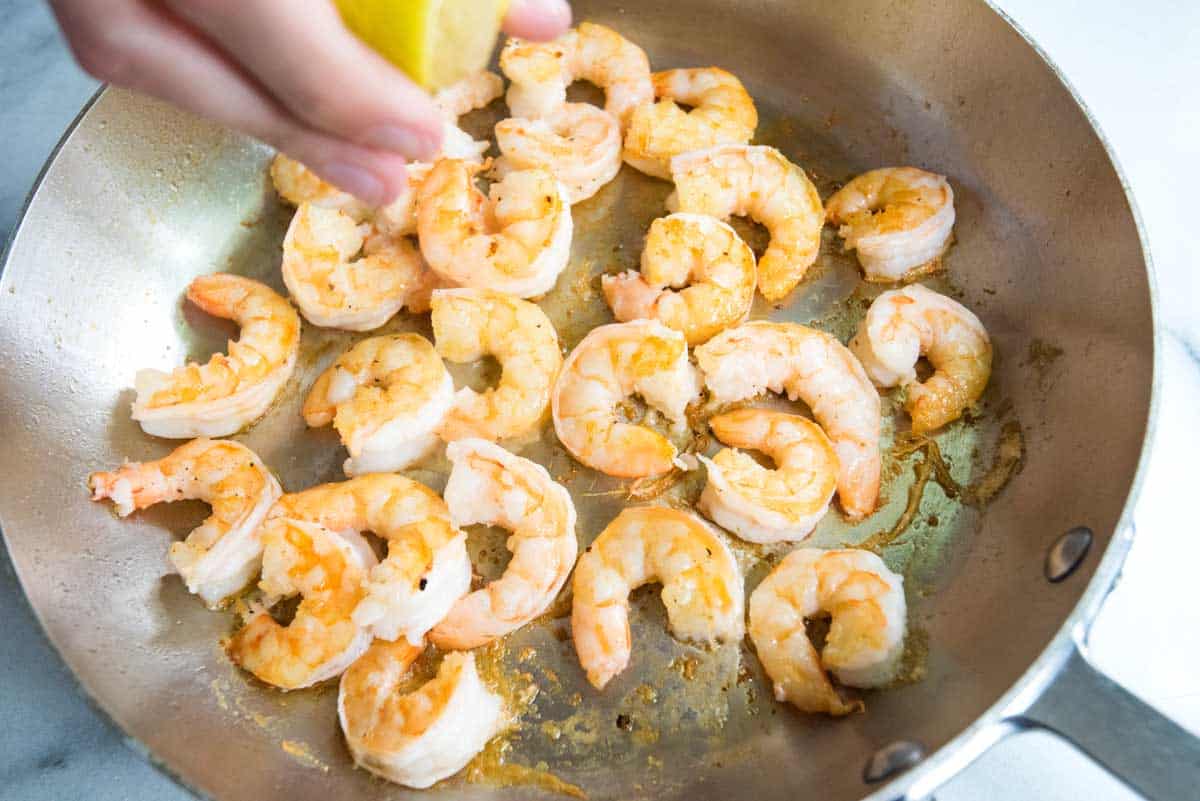 When you are ready to assemble, grab a big bowl and toss the noodles, some pesto, the shrimp, and some cucumber together. You can simply chop the cucumber or do what we do and make cucumber ribbons. To do it, take a vegetable peeler and peel down the cucumber, making a thin ribbon. Some will look perfect, others might tear a bit. Don't worry, it will still look great when everything is put together. If you have one, a mandoline is also useful.
And that's it, an easy and fast soba noodles recipe with fresh pesto, shrimp and cucumber ribbons. It's delicious as-is or you can sneak in a few of your favorite vegetables — zucchini, bell pepper or edamame would be great.
YOU MAY ALSO LIKE: Light and lemony chicken breasts served with a salad of cucumber, tomatoes and feta. Jump to the Lemon Chicken Breast Recipe with Cucumber Salad.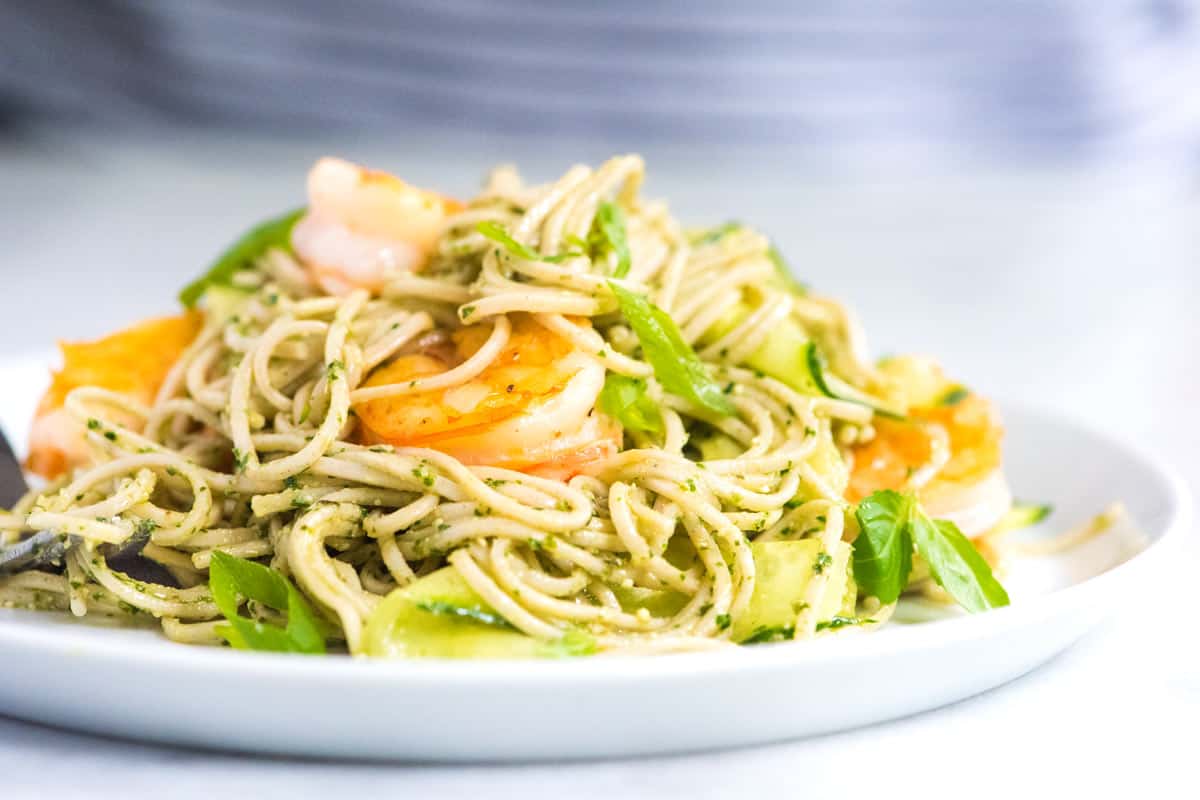 Ridiculously Good Shrimp Pesto Soba Noodles Recipe
These pesto tossed soba noodles come together fast. The noodles and shrimp only take about 5 minutes to cook. The pesto can be made in advance or you can swap the recipe below for a store-bought version. If you do make your own pesto, you will be done in under 15 minutes. Feel free to add your favorite vegetables to this — zucchini, bell pepper or edamame are all excellent. Shrimp is delicious in this, but you can easily swap them for chicken, tofu or more vegetables.
You Will Need
Soba Noodles
6 ounces soba noodles or noodles of choice
1 pound shrimp, peeled and deveined
1 tablespoon extra-virgin olive oil
Half of a lemon
4 to 6 tablespoons basil pesto, recipe below
Half of a seedless (English or hothouse) cucumber
1 scallion, ends and tops trimmed and thinly sliced
Salt and fresh ground black pepper
Handful torn or small basil leaves for serving
Homemade Pesto
2 cups fresh basil leaves
1 clove garlic
1/4 cup pine nuts or walnuts, lightly toasted
1/2 cup olive oil, plus more for storing
1/2 cup finely grated pecorino or parmesan cheese
Salt and fresh ground black pepper, to taste
Directions
Make Noodles

Bring a large pot of water to a boil. Add the soba noodles and cook until pasta is cooked, but not mushy. Check the package directions, but this usually takes 4 to 5 minutes. Drain noodles then immediately rinse under cold water until the noodles are no longer hot.

Meanwhile, heat the olive oil in a wide skillet over medium-high heat. Add the shrimp in one layer and cook, turning occasionally, until pink, firm, and cooked through; 6 to 8 minutes.

Use a vegetable peeler or mandoline to shave the cucumber lengthwise into thin strips. Or simply chop into bite-size pieces.

Combine the noodles, shrimp, cucumber, and 4 tablespoons of the pesto. Toss well, adding more pesto as necessary. Serve with scallions and fresh basil scattered on top.

How to Make Pesto

Prepare a small bowl of ice water. Bring a small saucepan, filled halfway with salted water, to a boil. Submerge basil leaves in boiling water for 5 to 10 seconds, or until wilted. Then immediately plunge into ice water to stop cooking. Drain, squeeze to remove excess water then pat dry with a clean dish towel. (This step helps to make the greenest pesto possible. By blanching the basil, it makes the leaves bright green. You can skip this step and just add the basil straight into the food processor.)

Smash and peel the garlic clove then mince. Holding a chef's knife at an angle, scrape the blade of the knife across the minced garlic. Gather it all together then scrape it against the board again until it becomes a very fine paste. (This makes sure that you are not left with big chunks of garlic in your pesto.)

Add the garlic and the pine nuts in the bowl of a food processor. Pulse 2 to 3 times until everything is chopped small. Add basil. With the processor running, slowly pour the olive oil into the bowl. Once all the olive oil has been added, check the consistency of the pesto — we like it to have some texture. If you prefer it smoother, pulse a few more times.

Transfer pesto to a bowl then stir in cheese and season to taste with salt and pepper. Use immediately or store for later.
Adam and Joanne's Tips
Gluten-free soba noodles: Not all soba noodles sold are 100% gluten-free. To make this gluten-free, double check the package to see if wheat has been added to the noodles.
For more tips about making homemade pesto, here's our article about making the greenest pesto with lots of photos to help you out.
How to Store Pesto in the Refrigerator: Add a thin layer of extra olive oil to the top (to prevent any air from getting to it), cover with a lid or plastic wrap and refrigerate up to 2 weeks.
How to Freeze Pesto: If freezing, leave out the cheese. Fill ice cube trays with pesto, freeze until hard. Then store frozen cubes in freezer-safe plastic bags. Freeze up to 1 month.
Nutrition facts: The nutrition facts provided below are estimates. We have used the USDA Supertracker recipe calculator to calculate approximate values. We have omitted salt since you will need to add to your tastes.
If you make this recipe, snap a photo and hashtag it #inspiredtaste — We love to see your creations on Instagram and Facebook! Find us: @inspiredtaste
Nutrition Per Serving:
Calories
431
/
Protein
25 g
/
Carbohydrate
44 g
/
Dietary Fiber
3 g
/
Total Sugars
2 g
/
Total Fat
17 g
/
Saturated Fat
3 g
/
Cholesterol
145 mg
Don't Miss Our Latest Recipes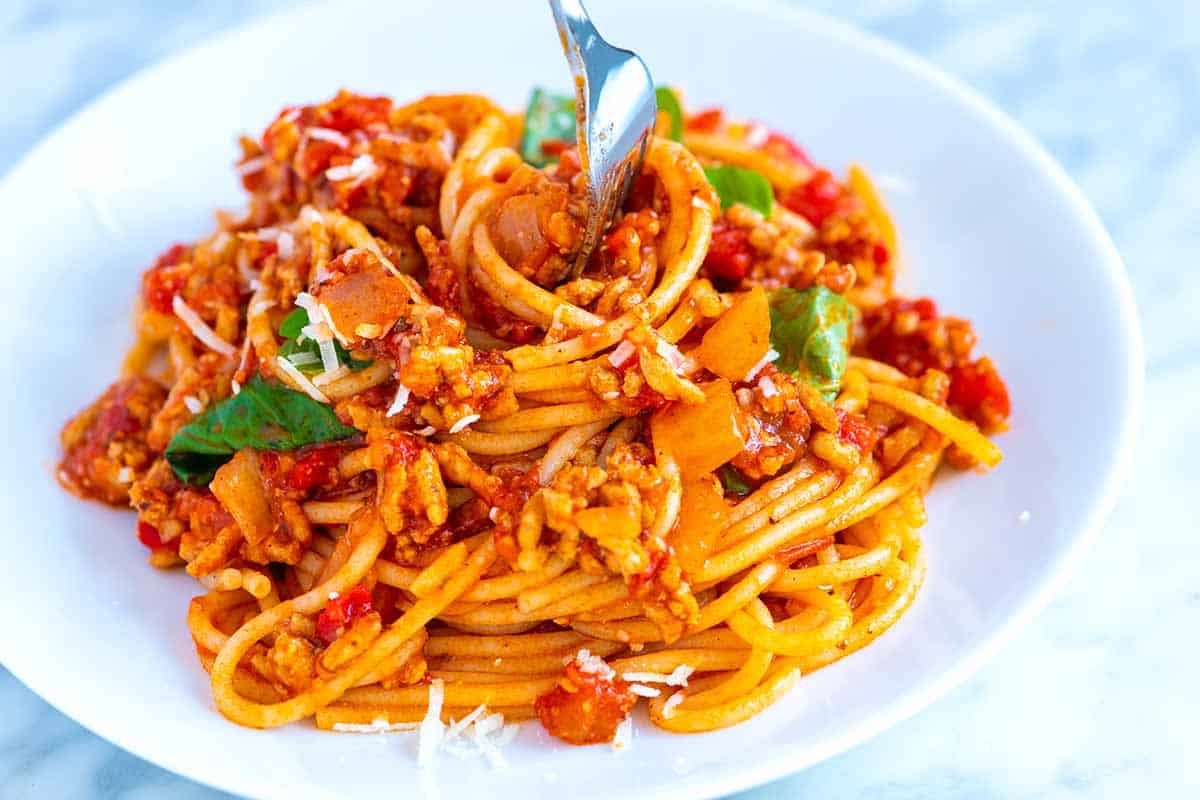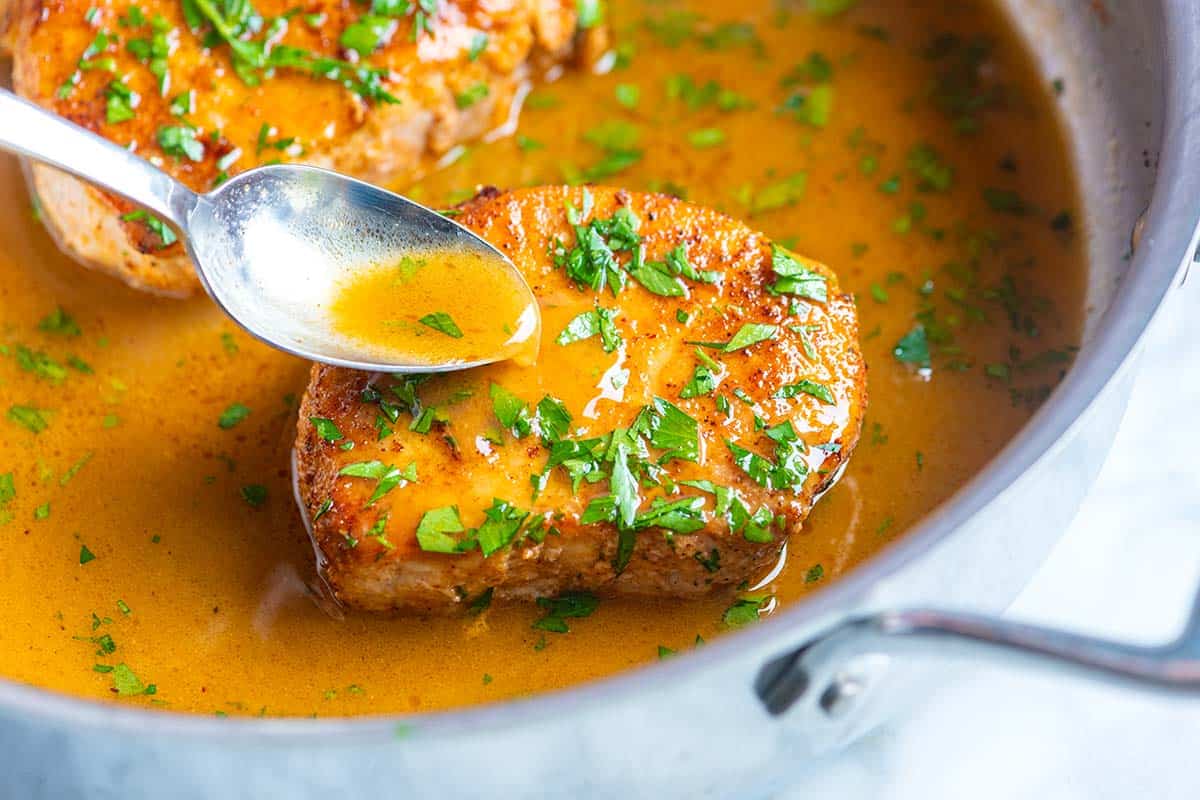 Previous Post: Brie Stuffed Pull Apart Bread Rolls Recipe
Next Post: Naturally Sweet Green Detox Juice Recipe