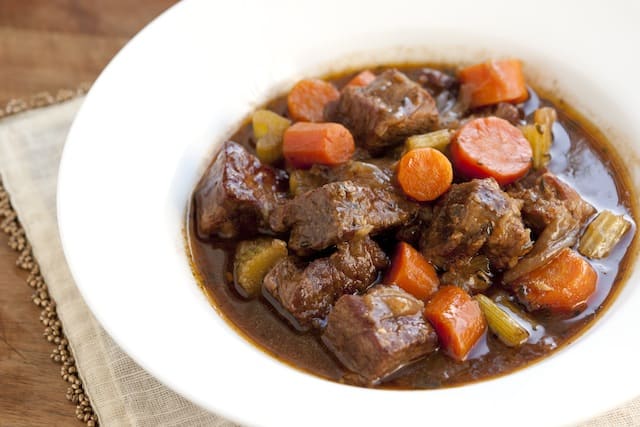 Believe it or not, beef stew is incredibly simple to make. We couldn't think of a more fitting title than "irresistible" for this one, because it is — we honestly could not stop going back for more. Fork tender beef cooked in a rich and hearty beefy broth with Guinness Stout beer and carrots. It's seriously good.
You should know that stews require time. You really can't rush things. From start to finish, you need about 2 hours. The good news, though is that your hands-on time is 20 to 30 minutes. The rest? Well, that's up to you.
Secrets to the Best Guinness Beef Stew Recipe
Stew is easy, all you need are a few "secrets" and we promise you'll be able to make the best, most irresistible stew, ever.
Secret Number 1 — Dry the Beef
We know this seems a little fussy, but it is SO worth your time. Moist meat will not brown. Browned meat is important for flavor and texture in the stew.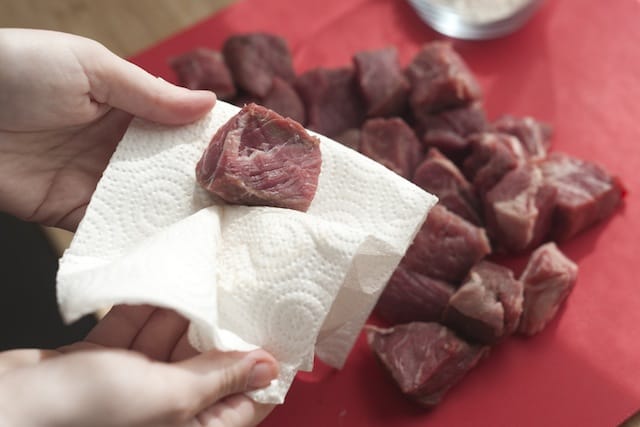 We like to use a paper towel to do this.
Secret Number Two — Roll Beef in Flour
To be really sure everything is as dry as possible, roll the beef in some flour.
We like to season the flour with salt and pepper, too.
Secret Number Three — Brown the Beef
Now that the beef is dry and floured, it's time to brown it. You're not looking to cook it all the way through — you only want to add a nice brown crust.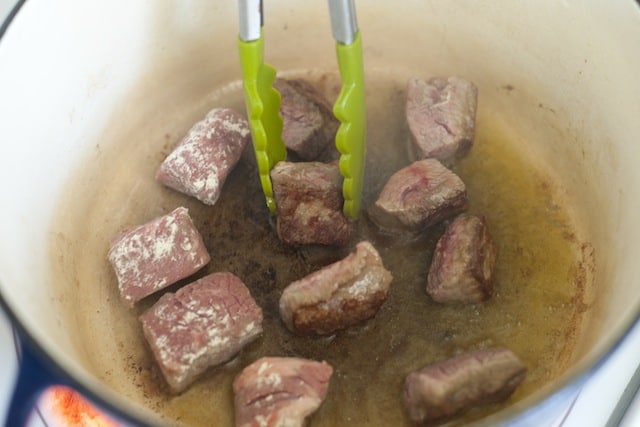 Secret Number Four — Add Beer (or Wine)
Stews are about layers of deep, rich flavors. We love adding beer, like Guinness, or a dry red wine. (Coffee is also a great option). After browning the meat, you can add the beer or wine to the same pot. As you do this, any browned bits that may have stuck to the bottom of the pot while browning will be lifted and melt into the liquid — adding more flavor.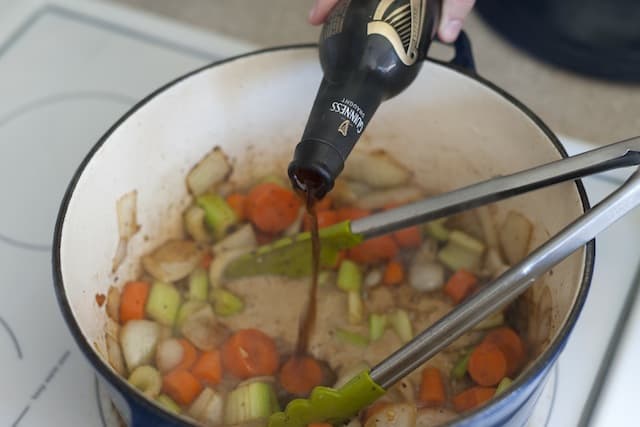 Once everything is in the pot, you can cover and cook in a 275 degree oven for 1 1/2 to 2 hours. The beef will be tender and the liquid thick.
What do you think, are you going to give it a try. We would just love it if you tell us about it in the comments below.
You May Also Like
Irresistible Guinness Beef Stew Recipe
This recipe requires quite a bit of cooking time, however, the hands-on time for you is minimal. All you really need is 30 minutes in the beginning, after that, you can leave the kitchen and allow the stew to do it's thing!

When you cut the beef and vegetables, keep them large. As we mentioned, the cooking time is long, so you want the vegetables to stand up to the cooking time.

Serve this with mashed potatoes or a rustic and hearty bread.
Created By:
Adam and Joanne Gallagher
You Will Need
3 tablespoons olive oil
2 pounds boneless chuck roast, cut into 1-inch cubes
1/4 cup flour
2 cups coarsely chopped onion
2 cups coarsely chopped carrots
1 cup coarsely chopped celery
3 garlic cloves, minced
1 11.5-ounce Guinness Stout beer
3-4 sprigs fresh thyme or 1 teaspoon dried thyme
2 teaspoons Worcestershire sauce
2 tablespoons tomato paste
4 cups beef stock (we like to use the Kitchen Basics brand)
salt and pepper
Directions
Heat oven to 275 degrees F. Heat 2 tablespoons of olive oil in a large Dutch oven over medium heat. While the oil heats, pat the beef dry, season with 1 teaspoon of salt, and then roll in flour so that all sides are lightly dusted.
Working in batches and adding additional oil as needed, add beef in one layer to the hot oil and brown on all sides. Remove with a slotted spoon and reserve for later.
Add onions, carrots and celery to the same Dutch oven. Cook, stirring occasionally, for 2-3 minutes until the onion just begin to sweat and soften. Add garlic and cook another minute.
Pour in Guinness and use a wooden spoon to scrape the bottom of the pan to get up any brown bits left over from cooking the beef and vegetables.
Add the reserved beef, thyme, Worcestershire sauce, tomato paste, beef stock and 1 teaspoon of salt. Stir then cover with lid and place into oven. Cook 1 hour then check on the stew. If the top of the stew is dry, add some extra beef stock or water. Taste for seasoning and add salt/pepper as needed then cover again and cook another 30 minutes to an hour until the beef is tender and can easily be pulled apart with a fork.