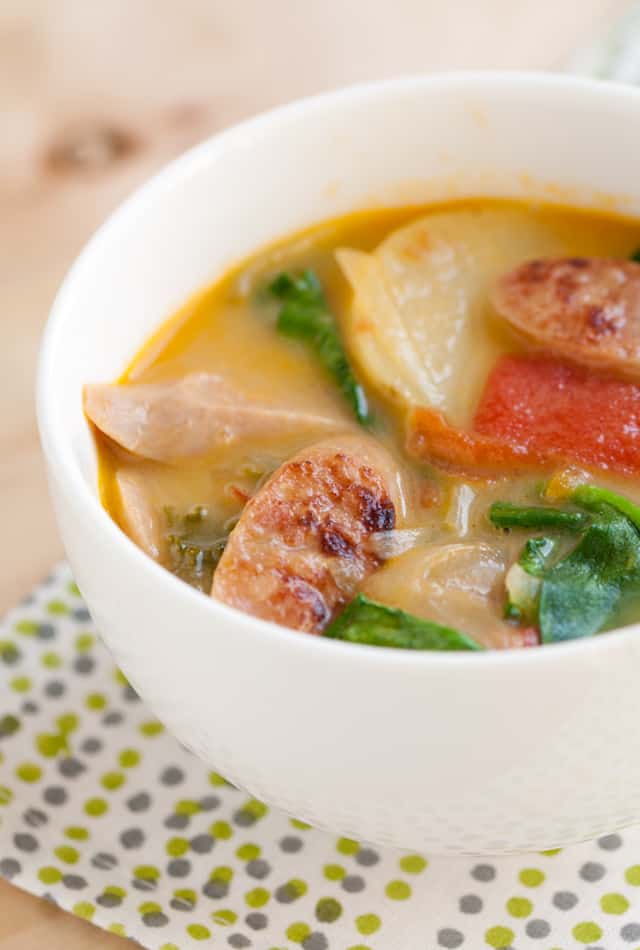 You know what we love about this kale soup? It looks and tastes hearty (which it is), but is something you don't feel guilty having two bowls of. It's packed with greens and low-fat chicken sausage.
We downed this soup. I think I even caught Adam with the ladle and not a regular-sized spoon. Not that I'm judging — I did the same thing when he wasn't looking.
Tell us, are soups your thing? We love them, but we want to know about you. Let us know in the comments below.
It's So Easy to Our Make Kale Soup Recipe
This comes together in no time. Here's how we do it:
We cook onions with a little oil and butter then add garlic and a tiny pinch of red pepper flakes. Then, we throw in sliced chicken sausage — it's already cooked, so it makes things extra easy. You could use any type of sausage, here — pork, lamb, turkey, whatever.
In goes some chicken stock and more vegetables — kale, sliced potatoes and chopped tomatoes. We like a touch of creaminess, too,  so we add a splash of milk (about 1/4 cup).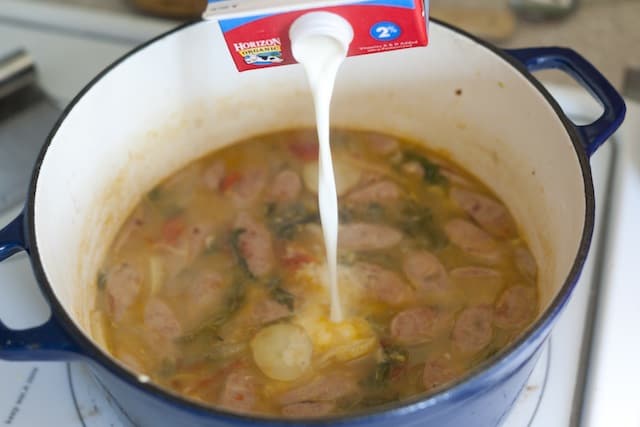 Then, just before serving add a bunch of fresh spinach leaves.
And that's it — hearty and simple kale soup with sausage and potatoes. It's one of our favorites.
You May Also Like
Simple Kale Soup Recipe with Sausage and Potatoes
Try this hearty soup packed with leafy greens, sweet onions and chicken sausage. When you choose the chicken sausage, look for one that is has either maple or apple. The sweeter sausage works so well with the savory base of this soup.

Before cooking kale, be sure to wash thoroughly and remove any hearty stems and/or ribs.
Created By:
Adam and Joanne Gallagher
You Will Need
1 tablespoon olive oil
1 tablespoon butter
1 onion, cut into thin half moons
2 cloves garlic, minced
1/4 teaspoon red pepper flakes
1 8-ounce package cooked chicken sausage, cut into bite-size pieces
4-5 small potatoes, cut into 1/4-inch slices
1 large tomato, roughly chopped
4 cups chicken stock
2 cups torn kale leaves, washed with ribs and stems removed
1/4 cup milk
1 cup packed fresh spinach leaves
salt and pepper to taste
Directions
Heat olive oil and butter in a large pot over medium heat. Add onions and cook until translucent, about 3 minutes. Add garlic, red pepper flakes and chicken sausage then cook until the sausage begins to brown, about 2 minutes.
Add potatoes, tomatoes and stock. Bring to a simmer and cook 5 minutes then add kale and cook another 10 minutes until wilted and the potatoes are tender.
Remove from heat, add milk and stir in fresh spinach leaves. Season to taste with salt and/or pepper then serve immediately.