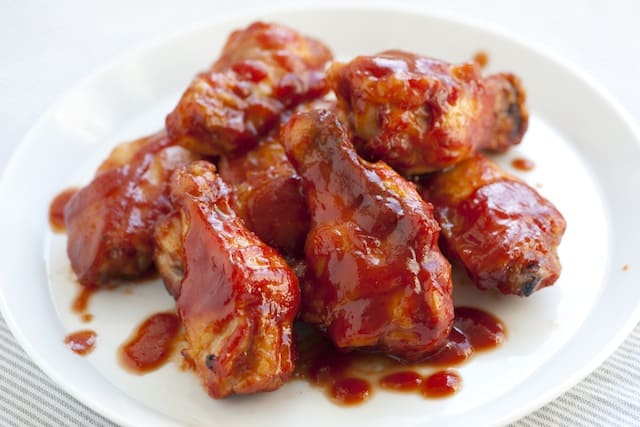 These barbecue chicken wings are sweet, smoky and just sticky enough to make us very very happy. We love getting a little dirty, it's just more fun that way! Not so dirty that you need to bring out the Stain Master, but dirty enough to require more than one napkin. The sauce for these brown sugar barbecue baked chicken wings recipe is a cinch… no cooking needed! All you do is stir a few things together then coat the wings and bake.
As far as the chicken goes, we've seen them sold two ways … first, everything has been done for us –  the drumette and wing are already separated. It's great to find this, but sometimes we don't and instead have to do some light butchering before cooking. Separating the wing and drumette is super easy, just hop on over to our video to see how. It will only add 5 minutes to your prep time, no biggie!
You May Also Like these Grilled Lemon Garlic Chicken Wings. If you've never tried grilling wings, you need to start and this grilled wings recipe is here to help.
Barbecue Baked Chicken Wings Recipe – Make the Sweet and Spicy Sauce Everyone Will Love
No cooking required. Just stir and slather over your baked chicken wings!
You'll need ketchup, brown sugar, cumin, soy sauce and something that you will always find in our kitchen, sriracha chili sauce!
See it in the back of the photo? That's what your looking for, we buy ours at our local grocery store in the international section, but you can find it at Asian or International grocery stores, too. Get a bottle, you'll love it!
Tip! Make a double batch and save it in the fridge up to one week. Dip fries, veggies or chicken nuggets in it and you'll be happy.
Sauce and Bake the Chicken Wings
Toss the chicken with half of the sauce. (Save the rest for later so you can dip!)
Line 'em up on a baking sheet. Notice that we inset a baking rack inside our baking sheet — if you have this option, do it. We find that the chicken gets just that little bit crispier. We do this for bacon, too!
Bake about 30 minutes until cooked through then serve with some of that saved sauce from earlier and enjoy! (Remember, never use the same sauce that you tossed with raw chicken, once the chicken has cooked).
Did you like our Brown Sugar Barbecue Baked Chicken Wings Recipe? Might we suggest you take a look at our Asian Sweet Chili Backed Chicken Wings or our Easy Baked Chicken Hot Wings Recipe? Take a browse through all of our recipes for more inspiration.

Brown Sugar Barbecue Baked Chicken Wings
Sweet, smokey and just a little spicy, the sauce for these wings comes together in 5 minutes and is crazy good!
Created By:
Adam and Joanne Gallagher
You Will Need
1 cup ketchup (try using our homemade ketchup recipe)
1/2 cup brown sugar
1 tablespoon apple cider vinegar
1 tablespoon sriracha chili sauce
1 teaspoon light soy sauce
1/2 teaspoon cumin
3 pounds chicken wings, wing and drumstick separated (see note)
Directions
Heat oven to 450 degrees F. Line a baking sheet with aluminum foil. (If you have one that fits, lay a cooling rack inside the baking sheet, this helps get the chicken extra crispy - see note below).
In a medium bowl, whisk together the ketchup, brown sugar, vinegar, sriracha, cumin and soy sauce. Taste and adjust the sauce to your liking then set aside 1/2 cup of sauce for tossing raw chicken and save the rest for dipping once the chicken has cooked.
Toss chicken with reserved 1/2 cup of sauce then add to the prepared baking sheet (you may need two). Then, bake chicken, turning chicken once during cooking, until opaque throughout, about 30 minutes.
Serve chicken with the sauce you set aside earlier, either on the side or tossed with the chicken.
Notes and Tips
To cut chicken wings so that the drumstick and wing are separated,
see our recipe video
. If you have a cooling rack that can fit inside your baking sheet, use it. The cooling rack will lift the chicken up, allowing hot air to travel around the chicken. If you do not own a cooling rack that will fit inside your baking sheets, just place the chicken directly onto the foil lined baking sheet and make sure you flip the chicken at the half way point during cooking.