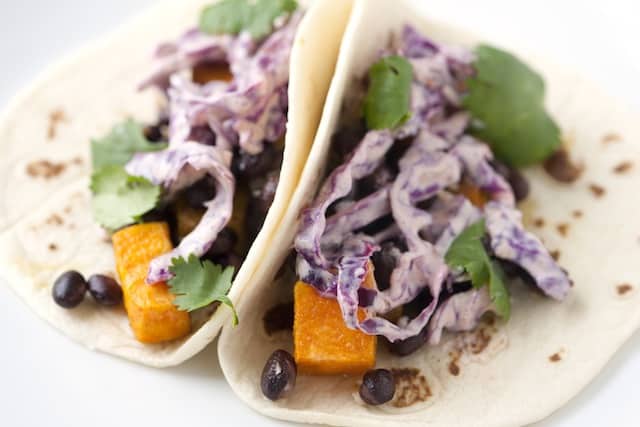 These tacos are little smoky, a little spicy and even a teeny tiny touch of sweet – everything we crave in a recipe!
Here's the thing. Me, I love sweet potato… in all of it's sweet glory. Adam, on the other hand, eh… not so much. Sure, most meals that come flying out of our kitchen are intended to make us both giddy, but this one was all for me.
So, even though we knew he wasn't a huge fan, we went for it anyway then roasted and taco-ed our way though it … and, guess what… we both loved them! Maybe it's the smoky cumin we added to tone down the sweet of the potato or maybe the hit of spice from chipotle, whatever it was, they were a huge hit. Don't you just love it when that happens?
Most of the cook time for this recipe is patiently waiting 30 minutes so that your sweet potatoes tossed with a tiny bit of olive oil and cumin become tender, golden brown and sweet.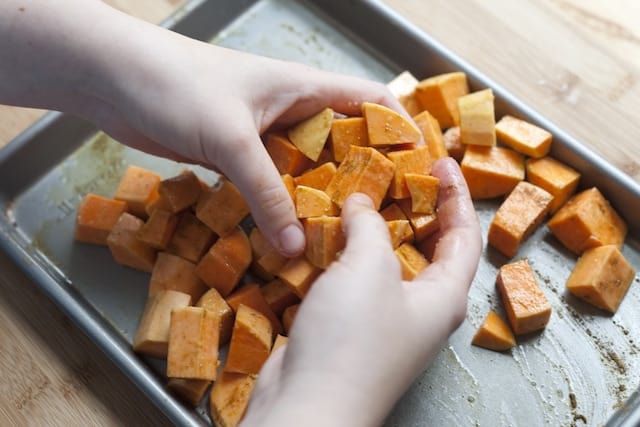 Just after you slide the potatoes into the oven, you'll want to get the slaw together.
This spicy red cabbage slaw recipe is so easy and flavorful!
All you need is shredded red/purple cabbage, fresh lime juice, sour cream and a can of chipotles in adobo sauce. Ever had it? It's the most perfect way to add the smoky spice of chipotles to anything in seconds… all you do is pop open the can and you're on your way to chipotle heaven!
Whenever we make coleslaw, we like to give it 15-20 minutes for all the flavors to get buddy buddy and to give the cabbage some time so it wilts ever-so-slightly.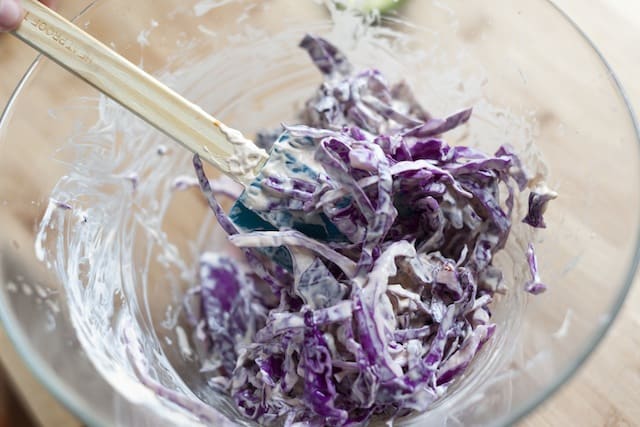 Then comes the black beans. We use canned beans that we drain then rinse, some garlic and a touch of oil. You really only want to toast the garlic then heat up the beans.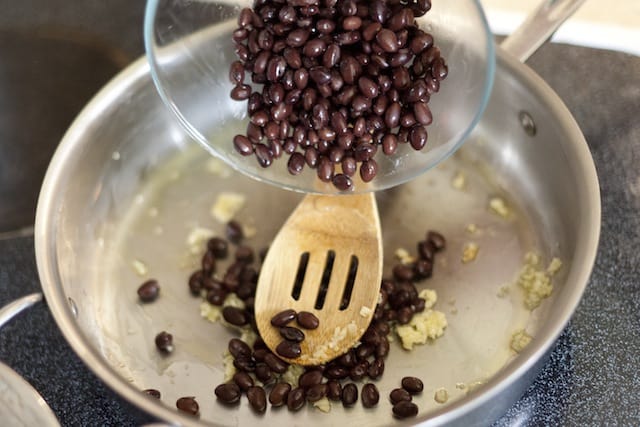 Once everything is done and ready, warm up those tortillas in the microwave or get fancy and do it on the grill and fill them up!
This recipe was also shared with Betty Crocker  a while back for one of their Meatless Monday meals … we say, forget Mondays and eat these every night of the week! If you're interested, go ahead and scroll through more of our Meatless recipes.

Roasted Sweet Potato and Chipotle Tacos
We absolutely love these tacos! The combination of roasted sweet potatoes with cumin adds a little smokiness then you get a little spice from our easy chipotle red cabbage slaw. Everything for this recipe is pretty inexpensive, too. We use canned black beans for this. It is important to remember to drain and rinse canned beans really well before using as the liquid they are packed in is usually pretty salty. Also, when buying canned beans, try looking for organic options since they are usually only a few cents more expensive than regular beans. We also use chipotles in adobo sauce for this. You can find this sold in small cans in the international or Latin section of your grocery store.
Created By:
Joanne and Adam Gallagher
You Will Need
2 medium sweet potatoes, peeled, cut into 1/2-inch pieces
2 tablespoons olive oil
1 teaspoon ground cumin
1/4 teaspoon salt
1/3 cup sour cream
1 to 3 tablespoons finely chopped chipotle chiles in adobo sauce (from 7-oz can)
2 tablespoons lime juice (1-2 limes)
2 cups shredded red cabbage
1 can black beans, drained and rinsed
2 cloves garlic, finely chopped
8 6-inch flour or corn tortillas
1/4 cup fresh cilantro leaves
Lime wedges
Directions
Heat oven to 400°F. Line a large baking sheet with foil or parchment paper.
Add sweet potatoes to baking sheet then top with 1 tablespoon of the oil, the cumin and salt. Use a spoon or your hands to toss until all the sweet potatoes have been covered. Arrange the sweet potatoes so that they are in one layer then bake, turning once, until the the edges are golden brown and they are tender; about 30 minutes.
Meanwhile, in medium bowl, mix sour cream, 1 tablespoon of lime juice and 1 tablespoon of the chipotle chiles. Give it a taste and check for spiciness. Add more of the chipotle chilies as needed.
Stir in the shredded cabbage and toss to coat. Cover with plastic wrap then refrigerate at least 20 minutes so that the flavors mesh and the cabbage wilts just slightly.
Five minutes before serving, heat 1 tablespoon of the oil in a large frying pan over medium heat. Add the garlic then cook, while stirring about 30 seconds or until it just begins to toast. Add the black beans and cook, stirring occasionally, until thoroughly heated. Remove from heat the add the second tablespoon of lime juice.
To assemble your tacos, heat the tortillas in the microwave for 30 seconds to a minutes until warm then spoon sweet potatoes and black beans onto each tortilla. Top with chipotle slaw and fresh cilantro. Fold tortilla in half over filling and serve with lime wedges.