With a few simple ingredients and about 1 hour of hands-off proofing time, you can make soft and fluffy flatbread from scratch.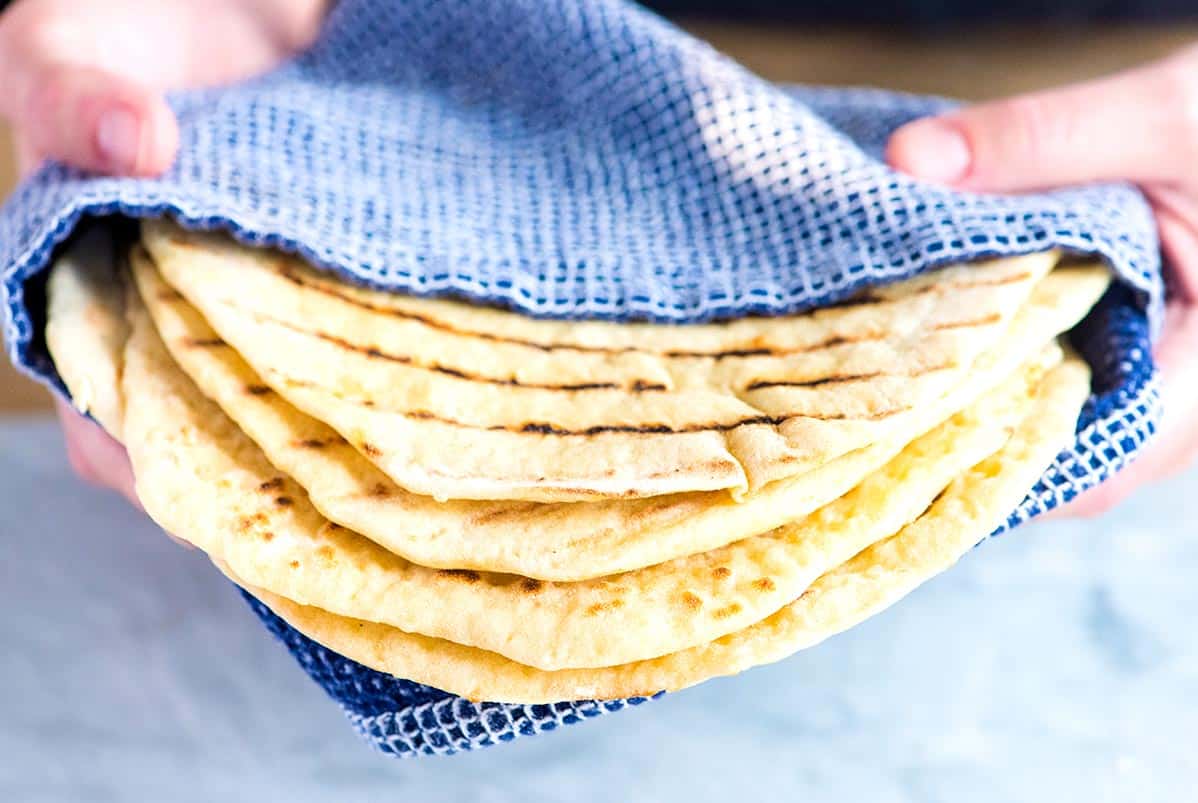 We've been searching for a good flatbread recipe for some time now. These flatbreads are simple to make, can be adapted based on what flavors you love and are mostly hands-off. There's 1 hour of proofing time, but that's 1 hour you don't need to be doing anything. No yeast? See our Soft and Fluffy Flatbread Recipe!
How to Make Soft and Fluffy Flatbread from Scratch
For this recipe, we took a cue from our very popular focaccia bread recipe. In that recipe, we infuse olive oil with herbs and garlic before adding to the dough.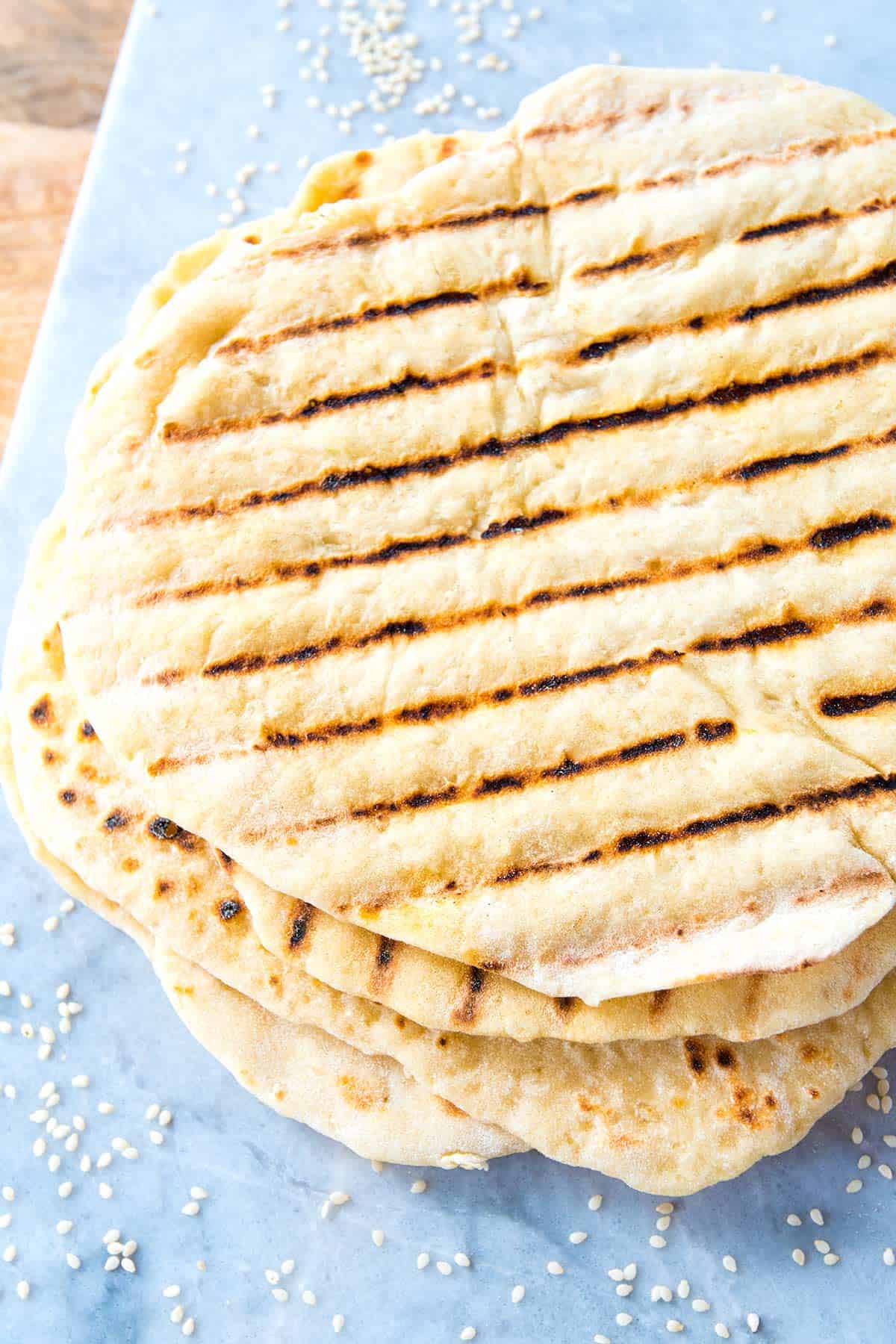 For the flatbreads, we infuse olive oil with garlic and sesame seeds. You could go even farther and add herbs (fresh or dried). Or add some spice with pepper flakes.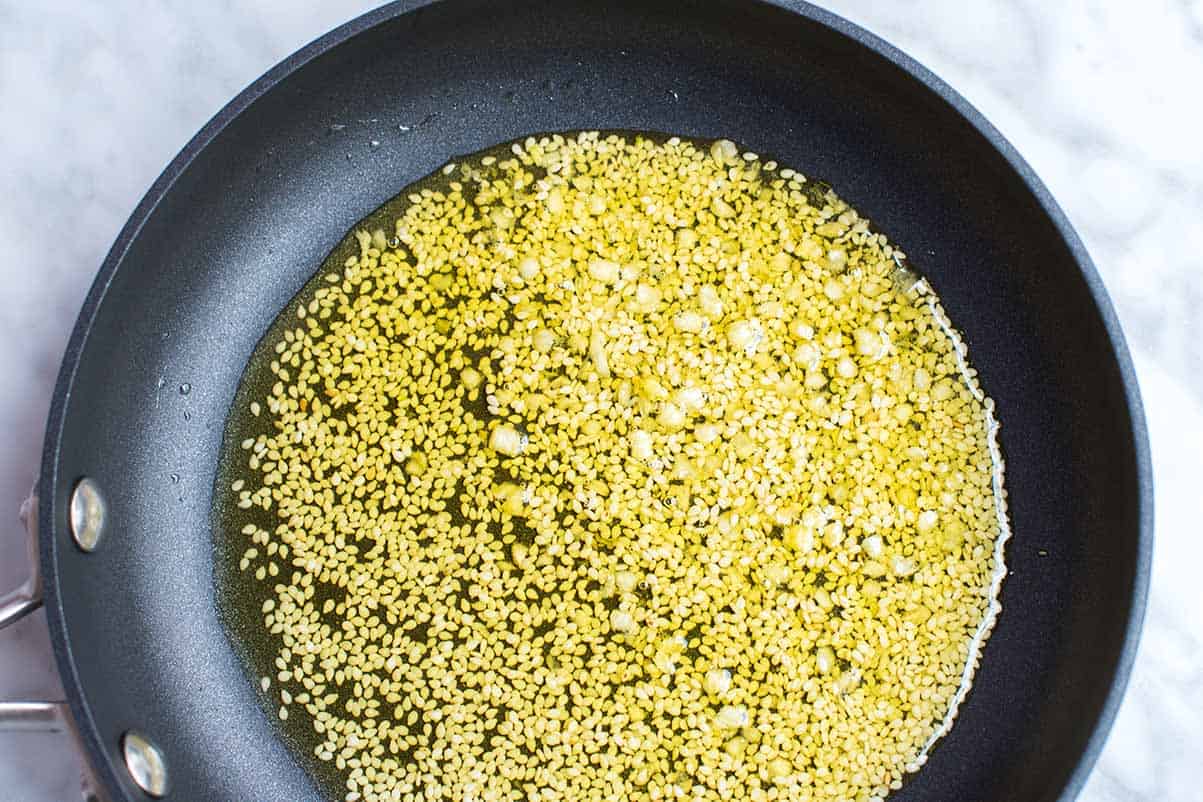 For the dough, you will need yeast, water, honey or sugar, flour and salt. The honey gives the yeast a head start — you only need 1/2 a teaspoon. [Don't have yeast? See our soft and fluffy no yeast flatbread recipe!]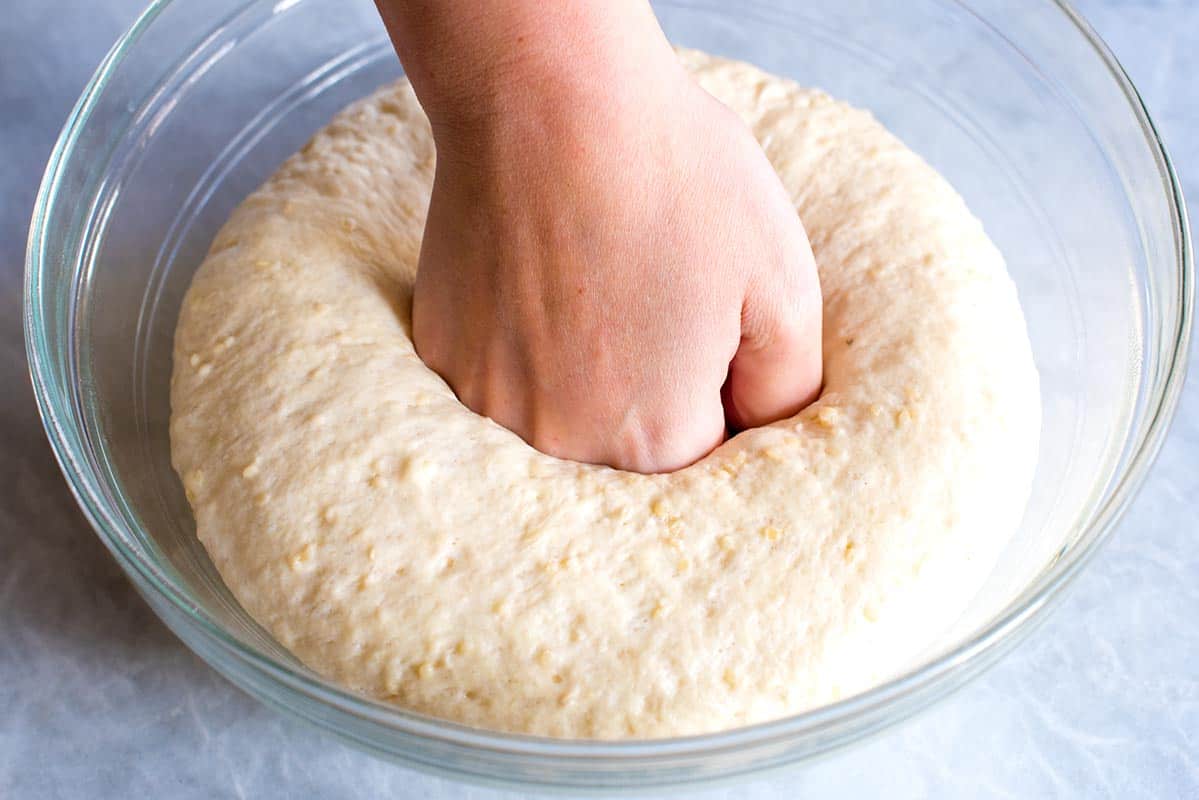 We use all-purpose flour, but there's no reason whole wheat would not work. You could also do a combination of all-purpose and whole wheat. We recently tried a combo of all-purpose and spelt flour which was really nice. The spelt flour adds a little bit of nuttiness.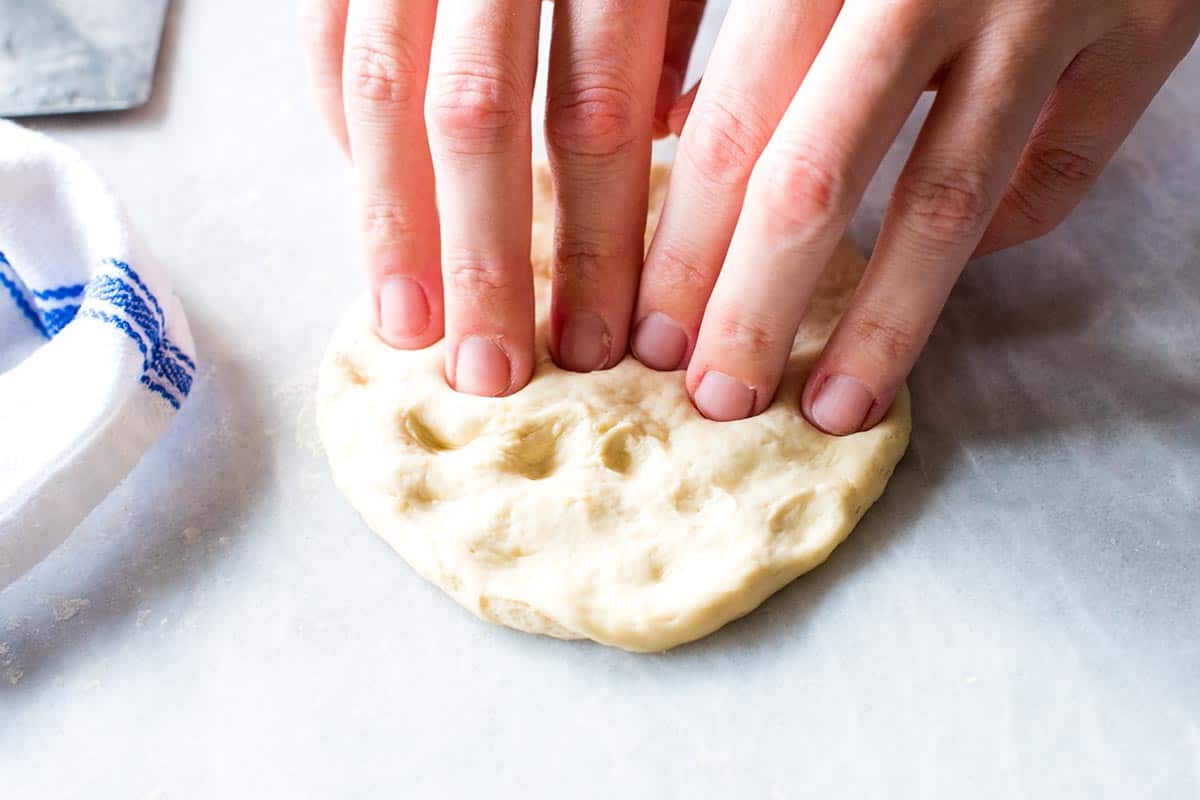 When it comes to proofing the dough, you want somewhere warm. If your oven has a proof feature, use it. In a warm area of your kitchen, the dough will take about 1 hour. If you're making these ahead of time, you can slowly proof the dough in the refrigerator. This is common when making some pizza doughs. The cool air of the fridge slows the yeast action, but after 24 hours, it will have done it's job just as well. I've given tips for proofing in the fridge in the notes section of the recipe.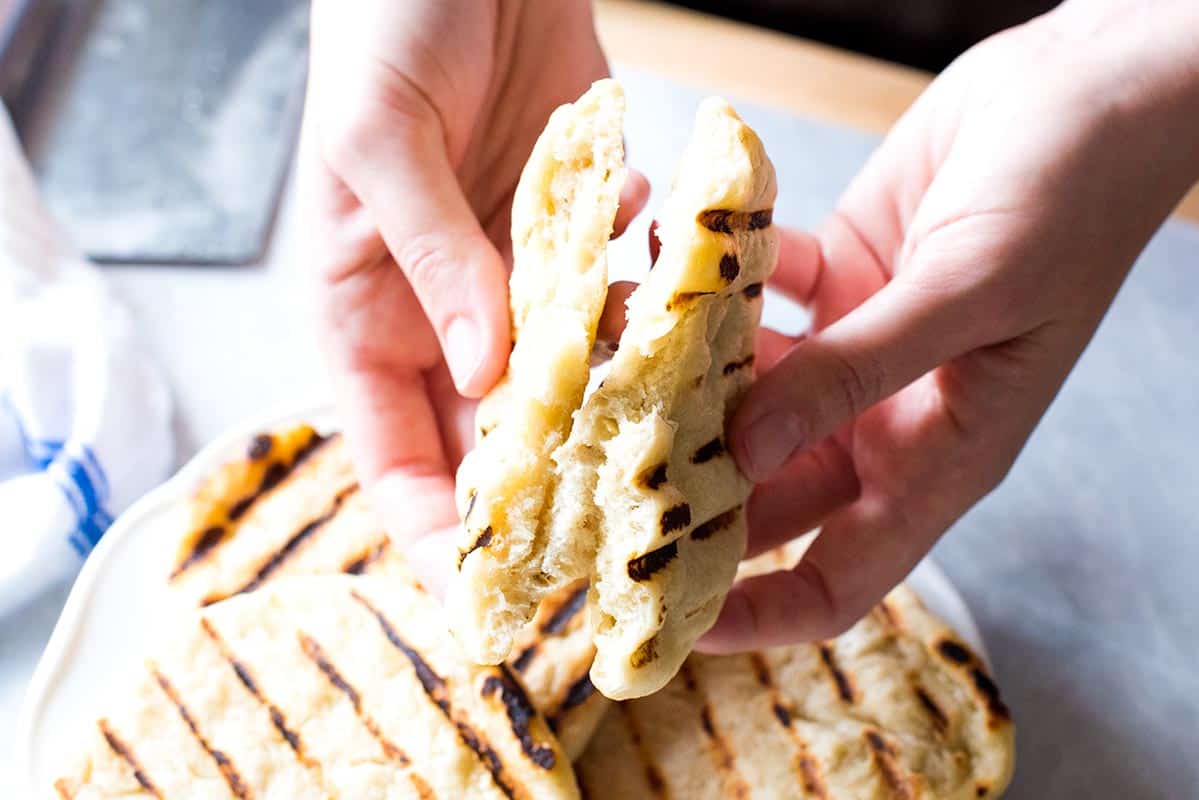 Serve this homemade flatbread with dishes like our Delicious Baba Ganoush (roasted eggplant dip), our Quick and Easy Creamy Vegetable Soup (just 35 minutes), this Irresistible Turkey Chili or our highly rated Roasted Red Pepper Hummus.
We also love using these as a base for these easy flatbread pizzas!
If you try this recipe, let us know! Leave a comment, review it, and don't forget to tag a photo #inspiredtaste on Instagram. Happy cooking!
Easy Sesame Garlic Flatbread
Use these homemade flatbreads for folded sandwiches, for dipping into soups or cut them into wedges and serve next to your favorite dips. They are soft and fluffy in the middle and give just enough to fold them slightly. You won't be able to make closed wraps with these — think of them more like what surrounds a gyro or similar to the texture of naan bread.
Makes 6 large or 8 small flatbreads
You Will Need
2 garlic cloves, finely minced
2 tablespoons sesame seeds
3 tablespoons olive oil
3/4 cup warm water
2 1/4 teaspoons active dry yeast (1 packet)
1/2 teaspoon honey or sugar
2 cups (260 grams) all-purpose flour, plus more as needed
3/4 teaspoon fine sea salt
Neutral flavored oil for lightly coating skillet such as grape seed or canola
Directions
Prepare Dough

1Add garlic, sesame seeds and the olive oil to a cold skillet. Place the skillet over low heat and cook, stirring occasionally, 5 to 10 minutes or until aromatic, but before the garlic browns. Set aside.

2Meanwhile, in a large bowl, combine the warm water, yeast, and honey. Stir a few times then let sit for 5 minutes.

3Add 1 cup of the flour and the infused garlic-olive oil mixture to the bowl with yeast. Stir 3 to 4 times until the flour has moistened. Let sit for another 5 minutes.

4Stir in the remaining cup of flour and the salt. Once the dough comes together, transfer to a floured board and knead the dough 10 to 15 times until smooth, adding more flour if the dough seems unreasonably sticky. Transfer to a large oiled bowl, cover with a warm, damp towel and let rise for 1 hour. (It's best to let the dough rise in a warmer area of your kitchen).
To Finish

1After 1 hour, turn the dough out onto a lightly floured work surface and cut into 6 equally sized pieces for large flatbreads or 8 pieces for smaller flatbreads. Shape into balls, cover with a damp dishtowel and let the dough rest for 5 to 10 minutes.

2Heat a large, heavy-bottomed skillet or grill pan over medium heat (see note below).

3Use your fingertips to press each dough ball into a flat disk, about 1/8 inch thick.

4Lightly oil the skillet then carefully lay down the flatbread and cook 1 to 2 minutes or until it's starting to brown. Flip then continue to cook until cooked all the way through. If the pan seems too hot or is smoking, turn the heat down slightly. Continue with remaining flatbreads.

5If you would prefer to bake the flatbreads, bake them in a 425 degree F oven until puffed and cooked through, about 10 minutes. (Baking allows you to cook multiple flatbreads at one time, but the bread won't be as soft as when using a skillet.)
Adam and Joanne's Tips
Storing: Allow flatbreads to cool completely then store covered at room temperature 2 to 3 days or freeze a month or two. When ready to eat, rewarm in a hot pan or the oven.
Add herbs: We've also made these flatbreads with herbs added to the dough. Add chopped fresh or dried herbs to the olive oil and garlic mixture — I'd use 1 tablespoon of fresh or 1 teaspoon of dried.
Make ahead: Instead of proofing the dough in a warm area of the kitchen, which takes 1 hour, you can proof the dough in the refrigerator. Add the dough to a lightly oiled food-safe bag, seal then store in the refrigerator for 24 to 36 hours. When you are ready to cook the flatbreads, remove the dough from the refrigerator and bring to room temperature. Shape into small balls and continue with the recipe above.
Grill pan vs. Flat skillet: If you have one, a grill pan is perfect for these. The flatbreads cook quickly and you will add grill marks to the bread. A flat, heavy skillet (like a cast iron skillet) is also perfect for making flatbread. Watch the heat when making each batch, we usually need to start on medium heat and turn it down half way through making the flatbreads. Both the grill pan and flat skillet make soft and fluffy flatbreads. If you bake them, the bread will be a little less soft.
Nutrition facts: The nutrition facts provided below are estimates. We have used the USDA Supertracker recipe calculator to calculate approximate values. We assumed 8 flatbreads per recipe.
If you make this recipe, snap a photo and hashtag it #inspiredtaste — We love to see your creations on Instagram and Facebook! Find us: @inspiredtaste
Nutrition Per Serving
Serving Size
1 small flatbread (1 of 8)
/
Calories
178
/
Protein
4 g
/
Carbohydrate
25 g
/
Dietary Fiber
2 g
/
Total Sugars
0 g
/
Total Fat
7 g
/
Saturated Fat
1 g
/
Cholesterol
0 mg
/
Sodium
220 mg