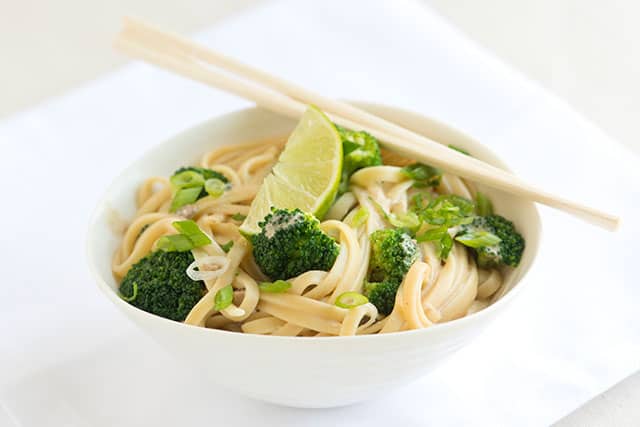 – Sponsored Post –
Pasta, mushrooms and miso? Yep. Here's a simple recipe for pasta and broccoli with a creamy mushroom sauce and a pop of flavor from miso paste. It's savory, tasty and luscious.

Ever used miso paste in a recipe at home?
Miso paste is salty, nutty, a little sweet and almost meaty. Miso soup is probably the most well-known way to use miso paste, but with all it's flavor you can add it to many recipes. Think of those recipes you add a little extra salt to. Next time, try adding teaspoon or so of miso paste – it adds the salt, but also a little extra something, something. Try it.
This Mushroom Pasta Recipe is Simple
We say the recipe is simple, because we actually get some help from Progresso. You may have noticed one of their new products showing up in your grocery store – their new Recipe Starters. Progresso paid us to develop a bunch of recipes for them, sent the products and let us play a bit. This recipe uses the Creamy Portabella Mushroom flavor.
It's very similar to a mushroom-flavored Alfredo sauce – in fact, if you can't find the Recipe Starters, you could make this mushroom pasta recipe with your favorite brand of Alfredo Sauce mixed with some cooked mushrooms and it would be delicious! Your favorite brand of creamy mushroom soup would also work.

How to Make Miso Mushroom Pasta
It all starts with a boiling pot of salted water. Add your pasta. Then, a few minutes before it's cooked, add a bag of frozen broccoli. By the time the pasta has cooked, your broccoli will be perfect.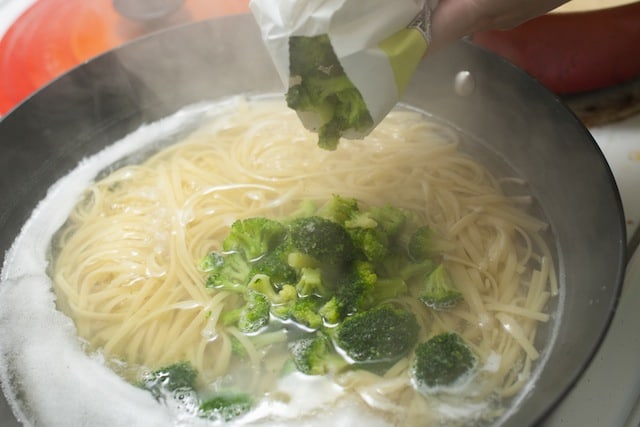 While the pasta cooks, heat up the creamy mushroom cooking sauce (or alfredo sauce with some cooked mushrooms). Then, add a little red miso paste. You don't need much, here.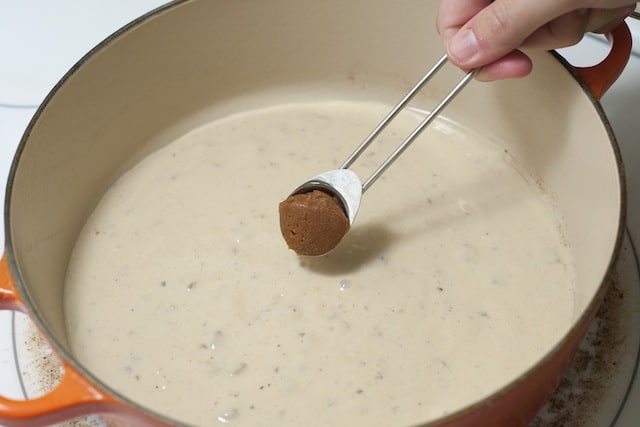 Next, add some creamy Greek yogurt – strange, we know, but it's delicious. Trust us.
In fact, you could take a look at our Yogurt Pasta with Bacon and Snap Peas – We used Greek yogurt in that recipe, too.
Then, toss the pasta and broccoli with the sauce and serve.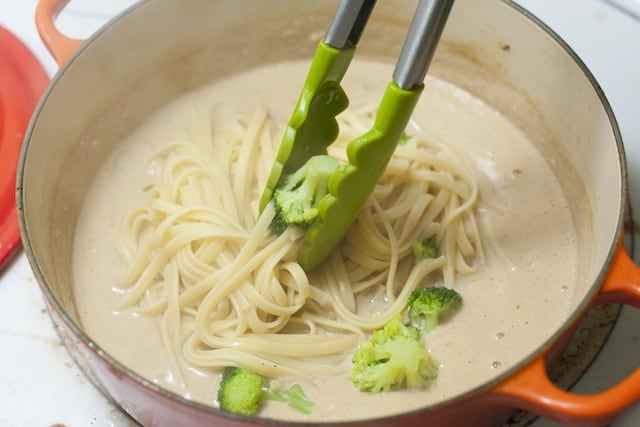 Pretty easy right? If you enjoyed this recipe, take a peek at our Corn and Poblano Casserole, also using Progresso Recipe Starters. Or, see our entire collection of pasta recipes.

Miso Mushroom Pasta
Mix up pasta night in less than twenty minutes with this Asian-inspired and tasty mushroom miso pasta.

Substitute: This recipe uses Progresso's Creamy Mushroom Cooking Sauce. If you would prefer, you can use your favorite brand of Alfredo sauce and stir in about 1/2 a cup of cooked mushrooms. Or, try using your favorite brand of creamy mushroom soup.
Created By:
Adam and Joanne Gallagher
You Will Need
1 lb uncooked spaghetti or linguine
1 (10 oz) package frozen broccoli florets
1 (18 oz) can Progresso™ Recipe Starters™ Creamy Portobello Mushroom Cooking Sauce
2 to 3 teaspoons red miso paste
1/2 cup plain Greek yogurt
1 teaspoon Sriracha hot chili sauce, optional
1 tablespoon sliced green onions, optional
4 lime wedges, optional
Directions
Heat a large saucepan of salted water to the boil then cook pasta as directed on package. Three minutes before the pasta has cooked add broccoli to pasta water then continue cooking until pasta is done. Drain pasta and broccoli; set aside.
In the meantime, heat Creamy Portobello Cooking Sauce in a 2-quart saucepan over medium heat.
Whisk in 2 teaspoons of miso paste, taste then add another teaspoon as needed. Simmer sauce 5-8 minutes until thickened slightly.
Remove from heat and stir in the Greek yogurt and Sriracha hot chili sauce (if using) then add pasta and broccoli. Toss well.
Divide pasta between 4 bowls and serve as is or sprinkle pasta with sliced green onions and serve with a lime wedge.
Notes and Tips
Miso paste can be found either in the International aisle of grocery stores or in Asian food markets.

Miso paste can be quite salty, when adding miso to dishes, add half as much as you think you will need, taste then add more as necessary.