Avocado pasta is quick, easy, and dairy-free. You only need 15 minutes and a fork to make the creamy avocado sauce (no food processor is required).
Watch The Video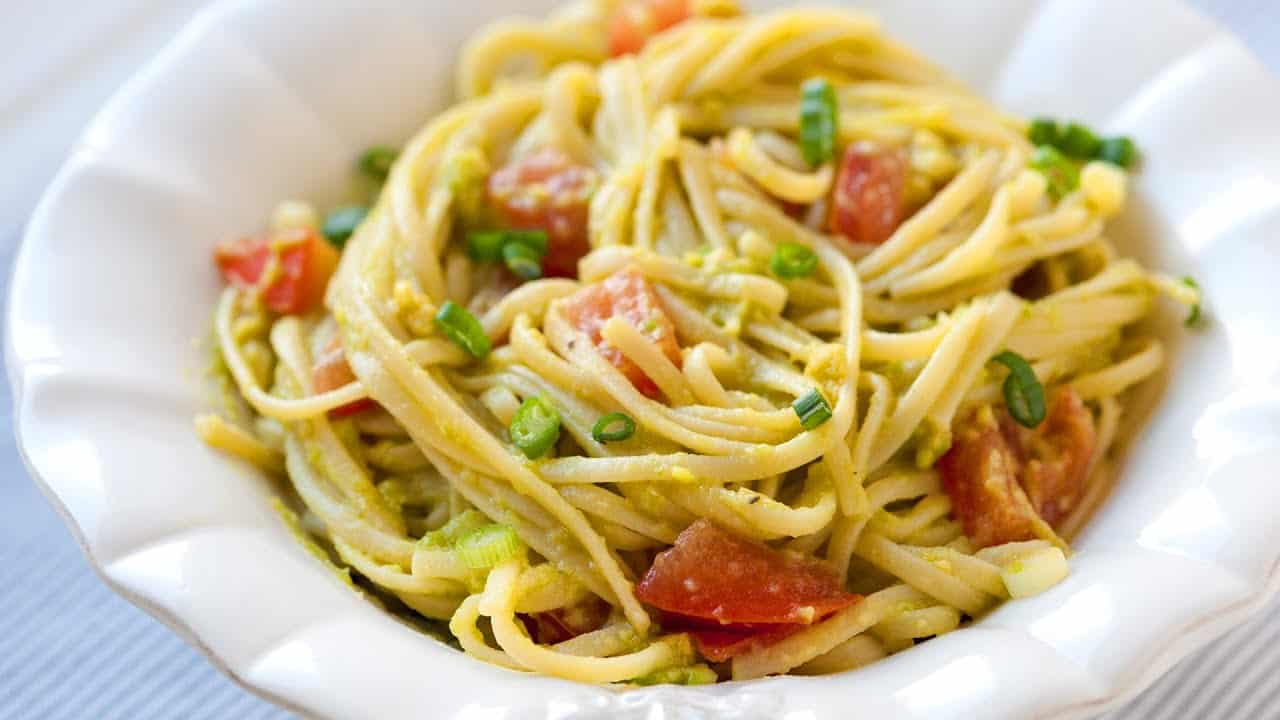 Related: See how to make our 20-minute zucchini noodles pasta!
How to Make the Best Avocado Pasta
It's hard to believe, but you only need avocado for the creamy avocado sauce. No butter or cream, just avocado! I love how easy this pasta is and the fact that I can make it in less than 15 minutes is a real bonus, especially during the week. We love this recipe so much that we've even made a version swapping sweet potato noodles for the pasta.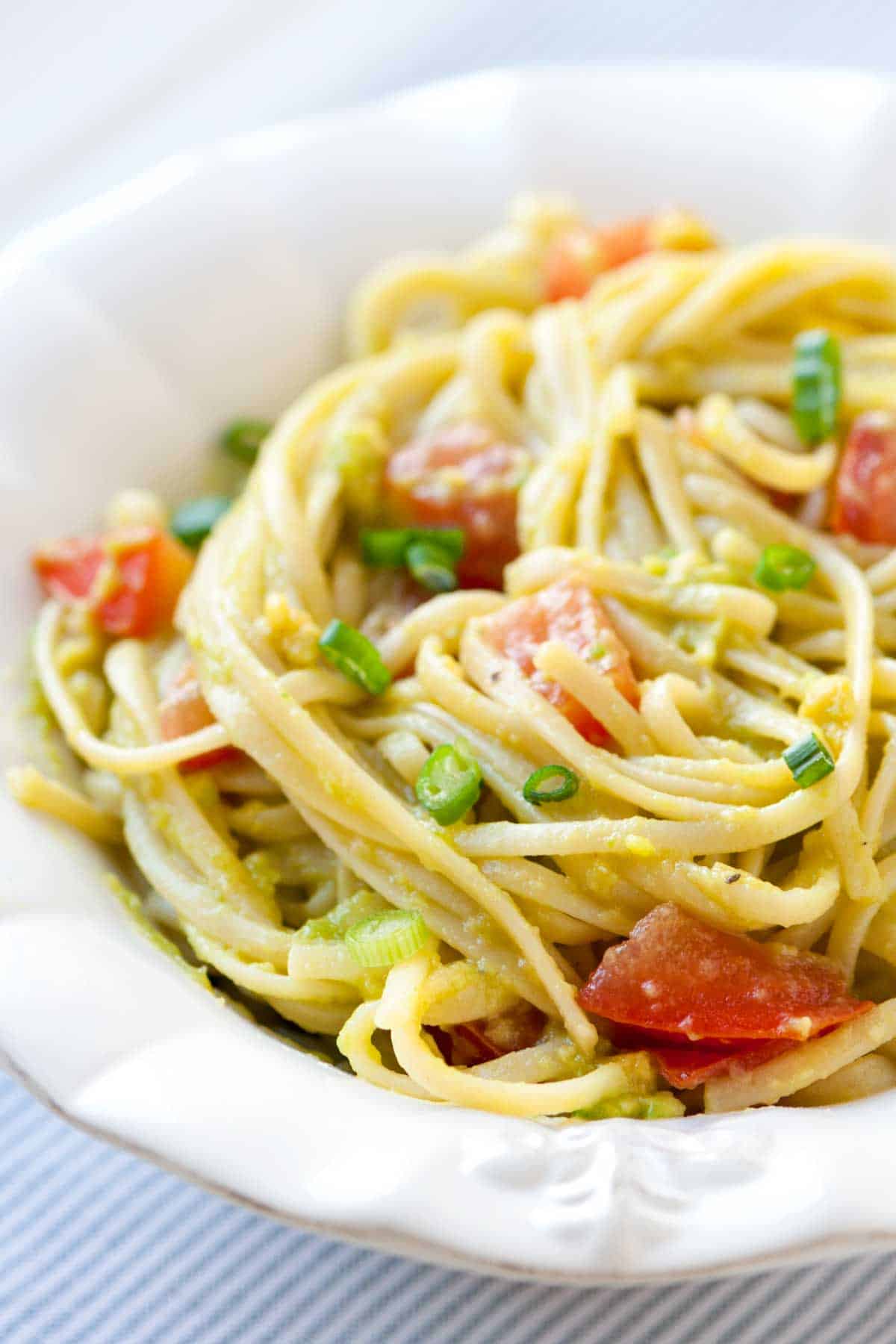 What You'll need
The ingredients to make avocado pasta are simple. Here's what I use to make it:
Whatever pasta I have in the pantry.
A tomato, which adds some color and freshness.
Sliced green onion (scallion) and garlic.
Ripe avocado
Lemon juice or when I'm out of lemons, lime juice.
Salt and fresh ground pepper
The (easy) steps for making it
The great thing about this avocado pasta recipe is that in the time the pasta takes to cook, you can make the creamy avocado sauce.
Step 1: Add avocado to a bowl and mash with a fork until creamy. You can also use a food processor, but we hate cleaning it, so a fork is our go-to. For the best, creamiest avocado sauce, use a ripe avocado. An avocado is ripe when it gives slightly when squeezed. You can see our tips for buying avocados here.
Step 2: Add fresh garlic, lemon juice, salt, and pepper. Since we add raw garlic to the sauce, I use a microplane to grate the garlic. This way, it's grated into extra small bits. If you don't have a microplane, simply mince the garlic, but make sure you mince it finely.
Step 3: Add a bit of the hot pasta water. This turns the avocado mash into a sauce.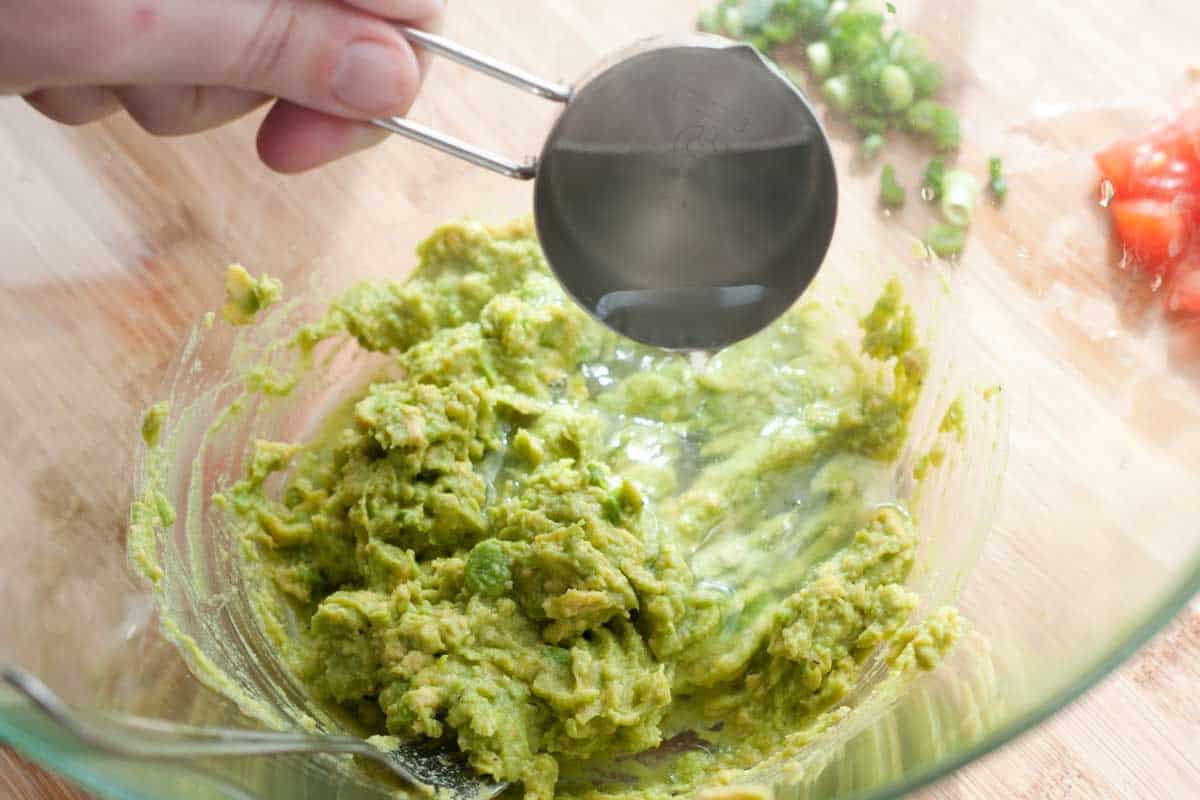 Step 4: Stir in the chopped tomatoes, sliced green onion, and cooked pasta. After a good toss, the sauce will coat the pasta — if you need too, you can add a little more water to thin things out a bit.
That's it! Your very own bowl of creamy avocado pasta.
More Easy Avocado Recipes
See how we make Avocado Egg Salad — Avocado adds a twist to classic egg salad. Easy avocado egg salad recipe with celery, fresh herbs, and lemon juice.
Our Avocado and Cucumber Salad is one of my favorite recipes shared on Inspired Taste. I could eat it everyday!
I love this Smashed Avocado Toast with Egg! Thanks to a hard-boiled egg, flaky salt, lemon, and pepper, it is healthy, protein-packed, delicious, and has significant sticking power!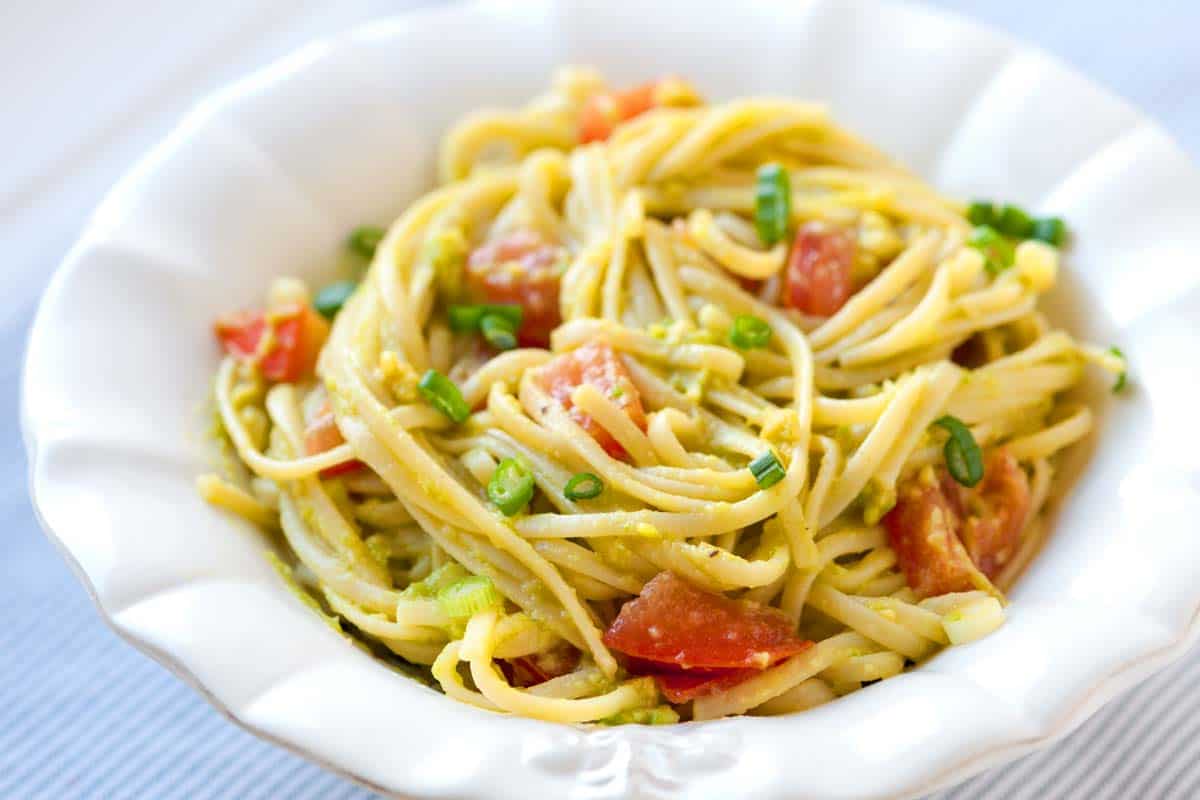 Easy Avocado Pasta
Avocado pasta is fast, fresh, and simple. The longest part of this recipe is cooking the pasta. The dairy-free avocado sauce is made in minutes. In the recipe, we call for grated garlic. We like to use a microplane grater. If you do not have one at home, mince the garlic very finely before adding to the sauce. For our tips on choosing avocados, see how we choose and store avocados.
Watch Us Make the Recipe
You Will Need
8 ounces dry pasta
1 medium tomato, diced
1 green onion, finely sliced
1 large ripe avocado
1/4 teaspoon finely grated garlic
Juice from a quarter of a lemon
Salt and fresh ground pepper, to taste
Directions
1Bring a pot of salted water to the boil and cook pasta according to package directions. Once cooked, reserve 1/2 cup of hot pasta water then drain pasta.

2Mash the avocado in a large bowl. Stir in the garlic and lemon juice then season with salt and pepper, to taste.

3Stir in a 1/4-cup of the reserved pasta water.

4Add pasta, tomatoes, and green onion then toss until the sauce coats the pasta. If the sauce is too thick, add a little more pasta water. Serve
Adam and Joanne's Tips
Nutrition Per Serving
Serving Size
About 1 cup, 1/4 of the recipe
/
Calories
295
/
Total Fat
7.7g
/
Saturated Fat
1.5g
/
Cholesterol
5.1mg
/
Sodium
593.4mg
/
Carbohydrate
47.4g
/
Dietary Fiber
4.6g
/
Total Sugars
2.7g
/
Protein
9.6g