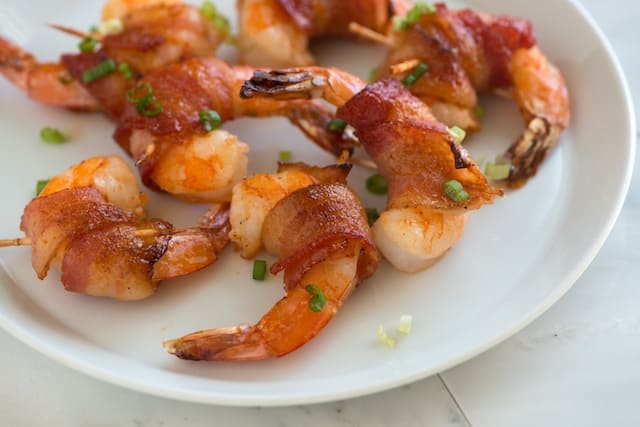 This bacon wrapped shrimp recipe is addictive and has the most delicious and easy spicy glaze. For the glaze, we combine sweet maple syrup and spicy sriracha chili sauce before brushing it all over smoky bacon and sweet succulent shrimp.
Major flavor, here!

Bacon Wrapped Shrimp Recipe and a Secret
Here's a secret — par-cook (cook half way) the bacon. Yes, it's another step, but since we bake the bacon in the oven (in an oven set to the same temperature we need when we cook the shrimp), it's really no big deal.
By par-cooking the bacon, we make sure the final bite has perfectly cooked bacon AND perfectly cooked shrimp. If we were to just wrap the shrimp with raw bacon, the time it takes to get the bacon all crispy and delicious means you're most likely going to overcook the shrimp. No good.
This way, we get the best of both worlds. Crispy bacon wrapped succulent shrimp.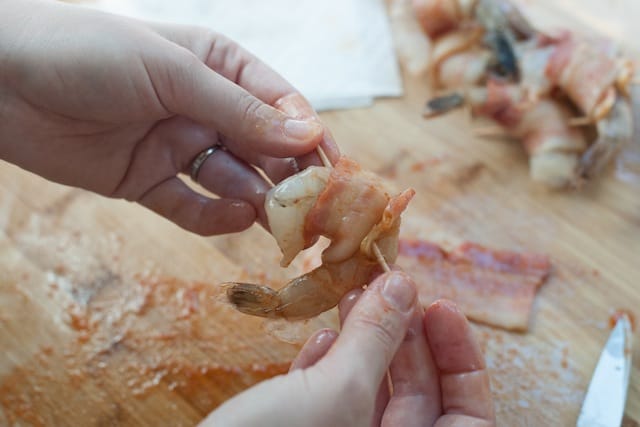 Did you enjoy our Bacon Wrapped Shrimp Recipe? If so, you'll love these:
Spicy Maple Bacon Wrapped Shrimp Recipe
These simple bacon-wrapped shrimp are spiced up a bit with a glaze using maple syrup and sriracha hot chili sauce. The trick to these is actually par-cooking the bacon before wrapping the shrimp. This way, the par-cooked bacon becomes crisp in the same time the shrimp takes to bake. Crispy bacon and perfectly cooked shrimp in one bite!
Created By:
Adam and Joanne Gallagher
Directions
Heat oven to 400°F (204°C). Then, line a large baking sheet with aluminum foil or parchment paper.
Add skewers to a bowl of warm water then set aside.
Place bacon slices, in one layer, onto the baking sheet. Slide into the oven, and then bake about 10 minutes or until the bacon has rendered some of its fat, is starting to brown on the edges, but is still floppy. Take bacon out of the oven and transfer to paper towels to drain excess fat. Discard any fat on the baking sheet, too.
While the bacon bakes, peel and devein the shrimp, but leave the tails on. Season the shrimp with salt.
Combine maple syrup and sriracha hot chili sauce in a small bowl.
Once cool to the touch, remove bacon from paper towels then use a brush (or your fingers) to coat both sides with the maple-sriracha glaze. Cut the bacon in half, crosswise.
Wrap each shrimp with a half slice of bacon and use a skewer (or two) to secure it.
Place onto the baking sheet. Then, brush or spoon any extra maple-sriracha glaze over each bacon-wrapped shrimp.
Bake the shrimp for 5 minutes. Then, turn oven to broil and broil 4-6 minutes until the bacon is crispy. Remove from the oven then squeeze the juice of half a lemon over shrimp.
Serve warm sprinkled with a few sliced green onions.