These cilantro lime shrimp with garlic butter sauce are ready in less than 20 minutes. Inspired by traditional shrimp scampi, we put a twist on it by using lime instead of lemon and cilantro instead of parsley. Whether you serve them as an appetizer, over rice or pasta, or piled into tortillas, these cilantro lime shrimp are guaranteed to become one of your favorite shrimp recipes!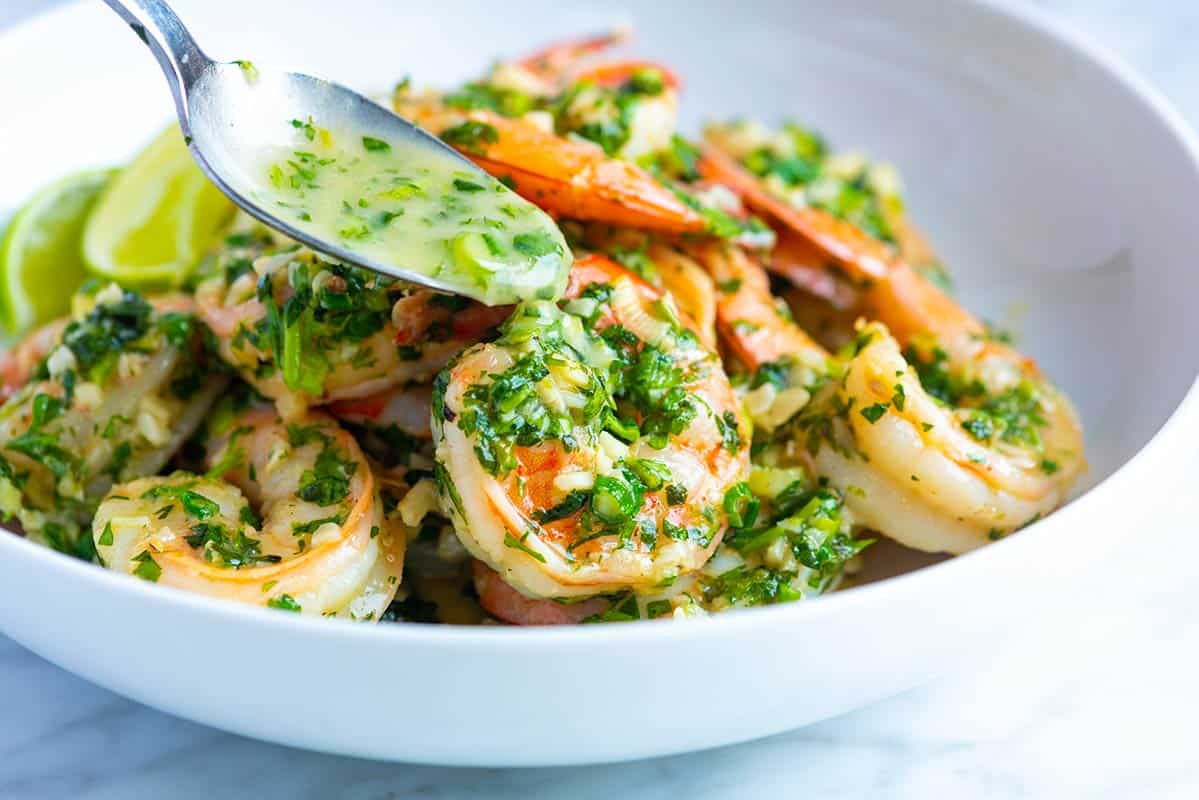 Related: We love the bold flavors of these cajun shrimp with garlic butter sauce
One Of My Favorite Shrimp Recipes
Of all the shrimp recipes we've shared, this cilantro lime version just might be my favorite. I love traditional shrimp scampi made with lemon and parsley, so I suppose it was inevitable that these buttery shrimp would climb to the top of my favorites list.
This recipe is quick and simple, which means you can easily whip it up tonight. From start to finish, it takes less than 20 minutes, and the recipe requires only a handful of ingredients.
What You Are Going to Need
As I already mentioned, the ingredient list required to make this cilantro lime shrimp isn't a long one. To make the basic recipe, you will need shrimp, butter, garlic, lime, cilantro, salt, and pepper. I've also included two optional ingredients that I think really elevate the flavors of the dish: ground coriander and fresh scallions.
How to Make Garlic Butter Shrimp
When we're craving garlicky shrimp, we go all in. That means no holding back when it comes to how much garlic we use. For one pound of shrimp, we use six cloves of garlic (sometimes more).
For the lime, we use the juice and zest of a whole lime. Do you cook with citrus zest? We do it all the time. In fact, we will often add the zest (or peel) of citrus whenever we are using the juice. There's a lot of flavor lying in the zest of citrus fruit. To remove the zest, we use our microplane — it's quick and easy, plus the tool isn't expensive.
We also use a lot of cilantro! We know not everyone loves cilantro and if that's you, don't worry. You can swap the cilantro for any tender fresh herb.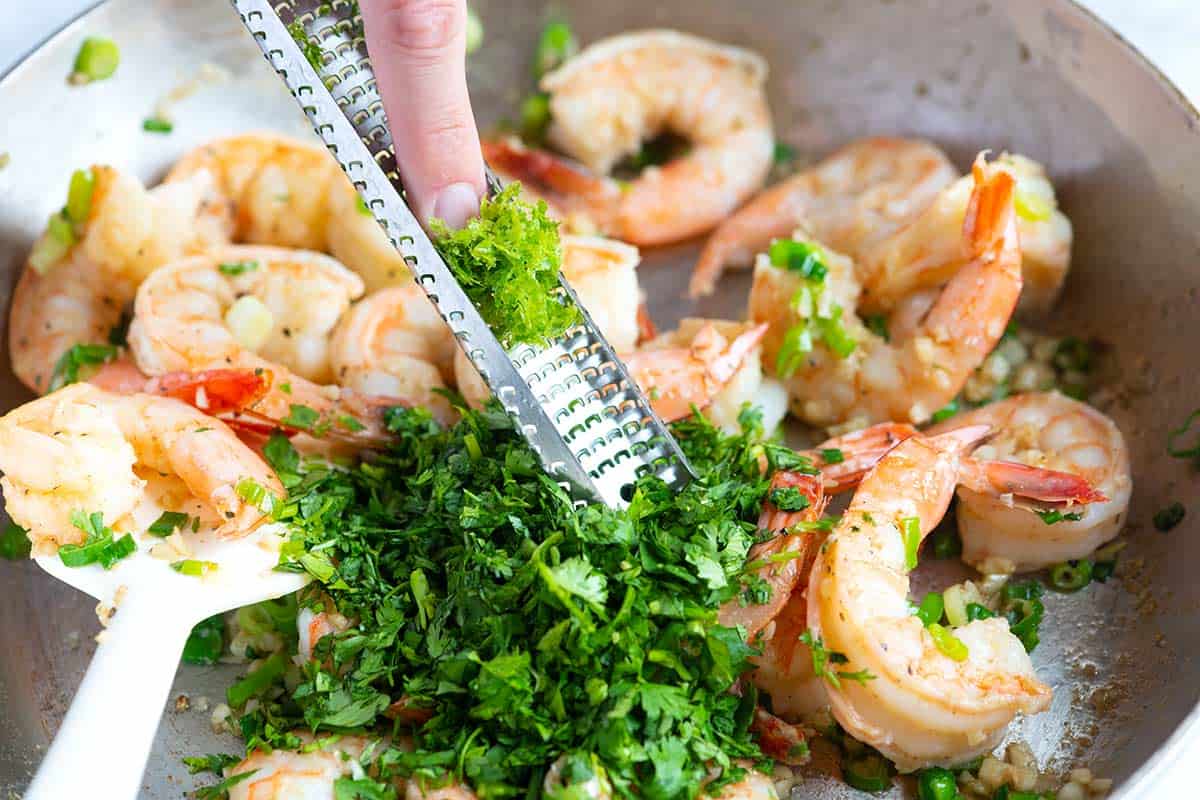 For the best shrimp, we use butter two ways: First, we cook the shrimp along with the garlic in a tablespoon of butter. Then, as the shrimp finishes cooking, we slide the skillet off of the heat and swirl in more butter. Since the pan isn't too hot, the butter melts down into a creamy sauce. It's incredible.
Serving Suggestions
These garlic butter shrimp are perfect served family-style. The shrimp are a bit messy, but in this case, that's a good thing. Serve these by themselves, with pasta (hello garlic shrimp pasta), next to rice or wrapped in tortillas.
Possible Variations and Substitutions
Our recipe is flexible. In our photos, we use garlic, cilantro, and lime to make the sauce. That doesn't mean you need to.
You can always take our method and swap the flavors around a bit. Swap lime for lemon and the cilantro for parsley. This lemon parsley version is similar to more traditional lemon garlic shrimp. Or try fresh basil, dill, and tarragon — they are all excellent options.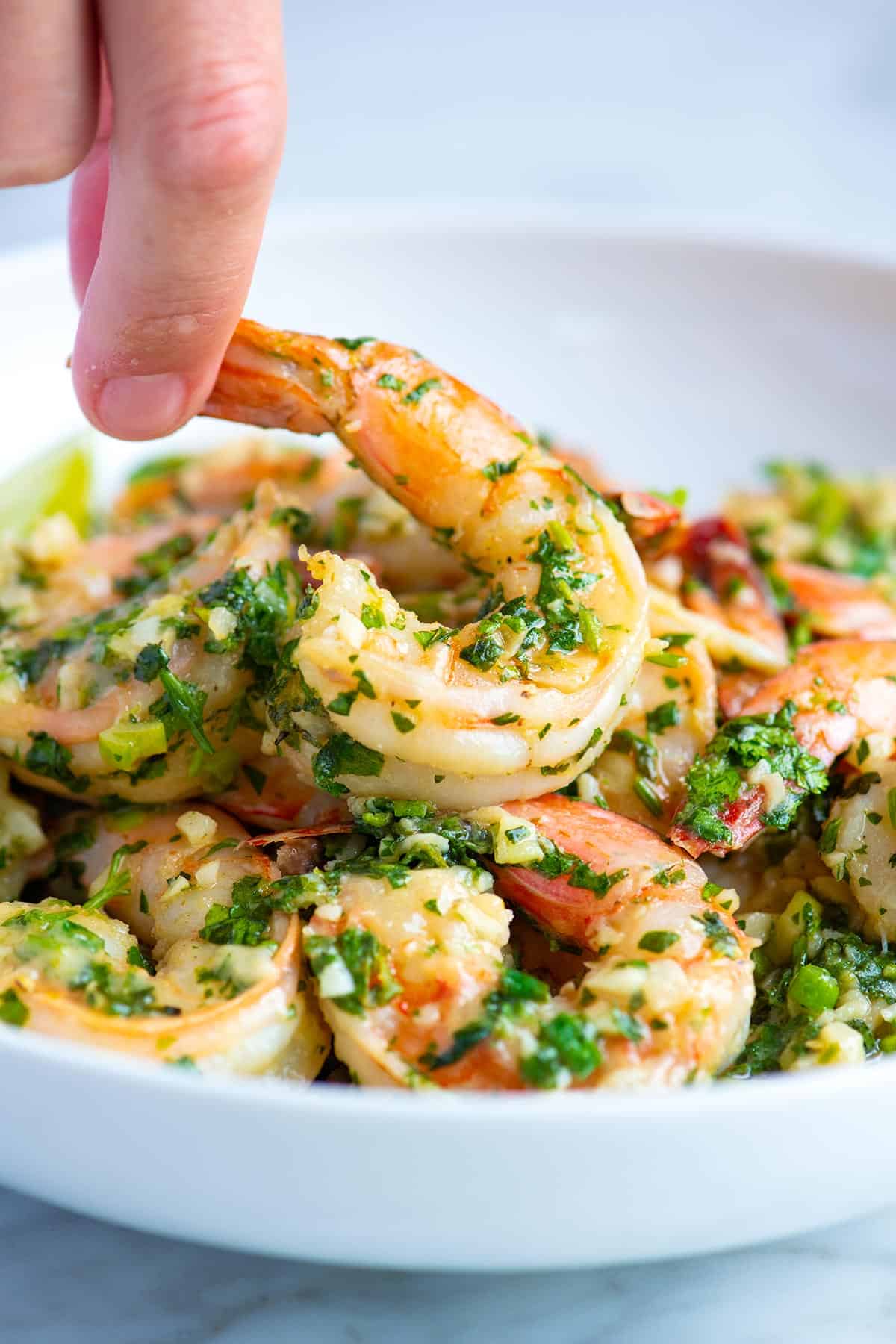 More Easy Shrimp Recipes
Cilantro Lime Garlic Butter Shrimp
Garlic shrimp cooked in a creamy cilantro lime butter sauce. Serve this as an appetizer, with pasta, over rice or in tortillas for tacos. The recipe is easy to adapt. Swap lime for lemon and try other tender herbs like parsley, dill, basil or tarragon in place of cilantro.
Makes 1 pound shrimp (16 to 20 shrimp, depending on size)
You Will Need
1 pound extra large shrimp, peeled with tails left on and deveined
1 lime plus a few extra wedges for serving
Salt and fresh ground black pepper
3 tablespoons unsalted butter
2 tablespoons minced garlic, about 6 cloves
1/2 teaspoon ground coriander, optional
2 scallions, chopped
1/2 cup fresh cilantro leaves and tender stems, chopped
Directions
Cook Shrimp

1Pat the shrimp dry then season with 1/4 teaspoon of salt and fresh ground black pepper.

2Use a microplane to zest the lime and set aside. Cut the zested lime in half ready for the sauce later in the recipe.

3Add one tablespoon of the butter to a wide skillet. Save the remaining two tablespoons for later.

4Place the skillet with butter over medium heat then add the garlic and coriander. Stir the garlic around the pan until the butter melts and is bubbling; about 1 minute.

5Add the shrimp, nestling them into the pan so that they are in one layer. A few shrimp stacked on top of each other is okay. Cook until the shrimp start to turn pink, about 1 minute.

6Stir in the scallions and lime zest. Continue to cook, stirring, until the shrimp are firm and opaque throughout; another 1 to 2 minutes. Slide the skillet off of the heat.
Make Butter Sauce

1With the skillet off of the heat, add the cilantro, juice from the lime and the remaining two tablespoons of butter. Stir the butter around the pan so that it melts into the lime juice making the creamy butter sauce.

2Taste then season as needed with salt and pepper. Serve with extra lime wedges on the side.
Adam and Joanne's Tips
How to make lemon garlic butter shrimp: Swap lime for lemon and the cilantro for parsley then follow the recipe as written above. For an extra bit of flavor, add a splash of dry white wine at the end along with the lemon juice.
How to make spicy garlic shrimp: Add 1/2 to 3/4 teaspoons of crushed red pepper flakes to the pan at the same time as adding the garlic.
While the sauce will not be as creamy, you can substitute olive oil for the butter. You will need one tablespoon for cooking the shrimp and only a light drizzle at the end (about 1/2 tablespoon).
Nutrition facts: The nutrition facts provided below are estimates. We have used the USDA database to calculate approximate values.
Nutrition Per Serving
Serving Size
1/4 pound
/
Calories
193
/
Protein
23.6 g
/
Carbohydrate
5.2 g
/
Dietary Fiber
1.2 g
/
Total Sugars
1.4 g
/
Total Fat
9.4 g
/
Saturated Fat
5.5 g
/
Cholesterol
205.4mg
/
Sodium
284.9 mg