-Sponsored Post-

We've been baking a lot lately. Not sure why, but the idea of slipping on our comfy slippers, cranking up the music and turning the oven to 350 degrees just worked this week. We wanted to make walnut cookies — with lots of chocolate. These walnut cookies are rich and chocolaty, super soft and are packed with buttery walnuts. Yum!
It seems Diamond of California Nuts loves cookies as much as we do. So, they've teamed up with Glam Media and sponsored this post to prove it!
How to Make Rich and Chocolaty Walnut Cookies
You can make these walnut cookies in minutes — you will need all the staples (butter, flour, sugar and baking soda), as well as cocoa powder, dark chocolate chips and, of course, walnuts.
You'll need to beat butter and the sugar together until fluffy and then just stir everything else into it. So easy!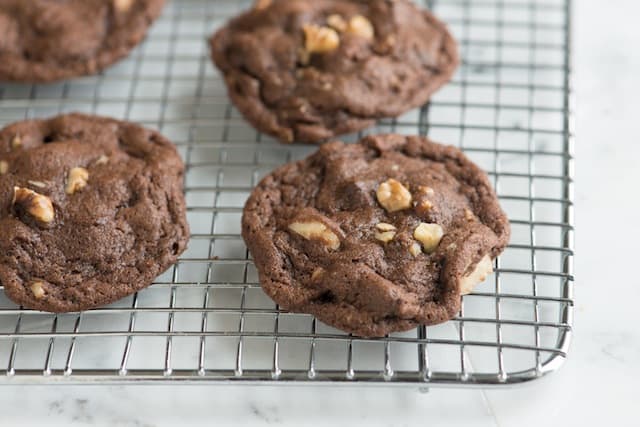 Did you enjoy our Chocolate and Walnut Cookies Recipe? If so, you may also enjoy these:
Sponsored Post – It seems Diamond of California Nuts loves cookies as much as we do and they've sponsored this post to prove it! Here's a little about them:
100 years of holiday traditions you just don't mess with. Classic family recipes call for a classic ingredient. Diamond of California nuts. The only nut good enough for your mom's mom's recipes is the only one that should be in yours. Diamond of California. Premium quality nuts since 1912.
Disclosure: Compensation was provided by Diamond of California via Glam Media.  The opinions expressed herein are those of Inspired Taste and are not indicative of the opinions or positions of Diamond of California.
Chocolate Walnut Cookies
These rich and chocolaty walnut cookies are really simple to make. If you either don't have walnuts in the kitchen or if you want to use a different nut, pecans, peanuts or hazelnuts would be great in these.
Created By:
Adam and Joanne Gallagher
You Will Need
1/2 cup butter, softened

1/2 cup white sugar

1/2 cup light brown sugar

1 egg

1 teaspoon vanilla extract

1 cups all-purpose flour

1/4 cup cocoa powder

1/2 teaspoon baking soda

1/4 teaspoon salt

3/4 cup walnuts, chopped (We use Diamond of California walnuts)
1/2 cup chocolate chips
Directions
Heat oven to 350 degrees F (177 degrees C). Then, line one or two baking sheets with parchment paper. (You don't have to use parchment paper, it just helps with clean-up. If you do not wish to use it, regular ungreased baking sheets will be fine).
Grab a large bowl then use a hand mixer to beat the butter until whipped and creamy. This takes about 30 seconds. Now, with the mixer on, gradually add the sugar and beat into the butter until combined. Add the egg and vanilla and beat until blended.
Sift the flour, cocoa powder, baking soda and the salt into a a separate medium bowl, and then set aside.
Grab a spoon and stir about 1/3 of the sifted flour mixture into the butter mixture. Once incorporated, add another 1/3 and stir until combined. Then, add the final third and stir until combined.
Add walnuts and chocolate chips then stir until incorporated. Then, drop cookie mixture by rounded tablespoonfuls onto baking sheet(s). Then, gently press the cookie dough down towards the baking sheet.
Bake cookies for 8 to 10 minutes or until edges are dry and tops are slightly cracked. Cool on baking sheets.
Store cookies in an airtight container for up to 3 days at room temperature or up to one week, if kept in the refrigerator.