Looking for the perfect hard-boiled eggs recipe? Look no further! This no-fail stovetop method takes less than 15 minutes and results in perfectly cooked eggs every time.
Watch the Video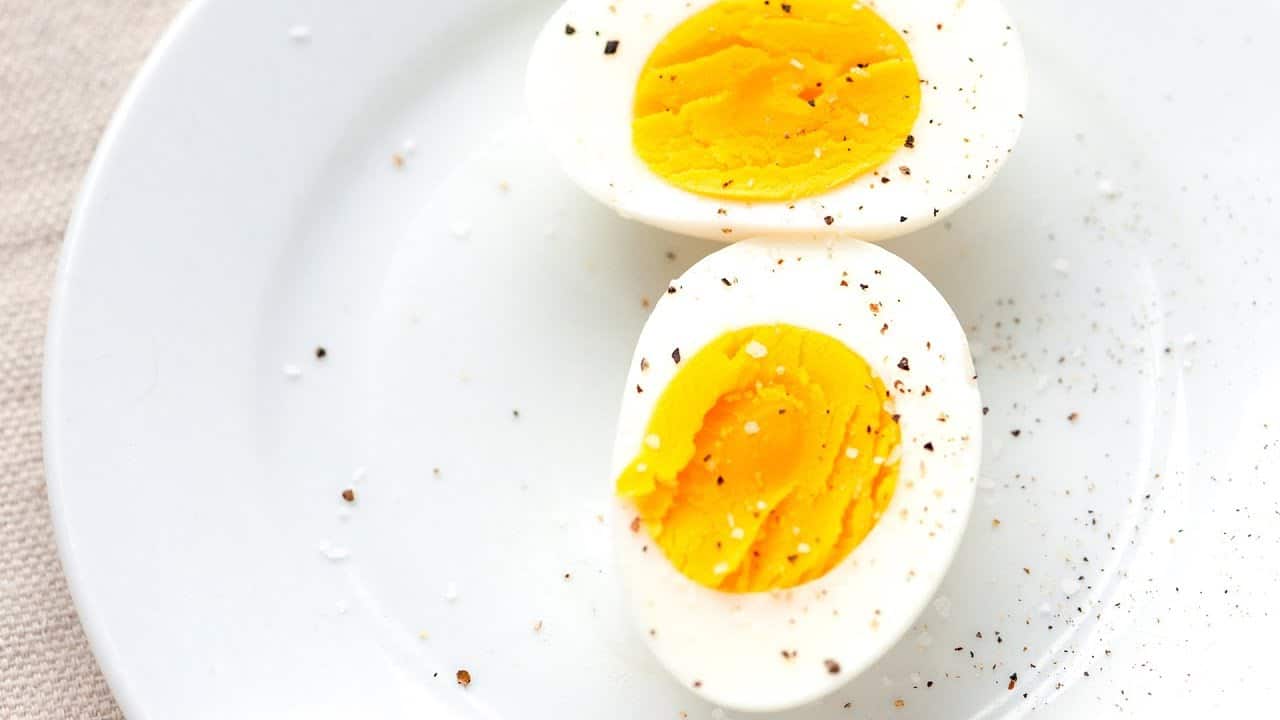 Related: We have a full tutorial for how to cook eggs in a pressure cooker (like an Instant Pot).
How to Cook Hard Boiled Eggs on the Stove
We've been cooking hard boiled eggs this way for years. I love to keep a batch of hard boiled eggs in the fridge for snacks throughout the week. I also use them to make classic egg salad, deviled eggs, and my favorite potato salad. You won't believe how easy it is to cook hard boiled eggs. Follow my tips and you'll be making perfect boiled eggs in no time!
Four Easy Steps For Perfect Hard Boiled Eggs
Step 1: Place eggs in a single layer on the bottom of a saucepan. You don't want to pile them on top of each other. Keeping them in one layer, reduces the risk of cracking the shells when they come to a boil.
Step 2: Pour in water and cover by about two inches. Some hard boiled egg recipes have you bring water to a simmer and then tell you to add the eggs. I don't like doing this since adding a cold egg to very hot water risks cracking the egg.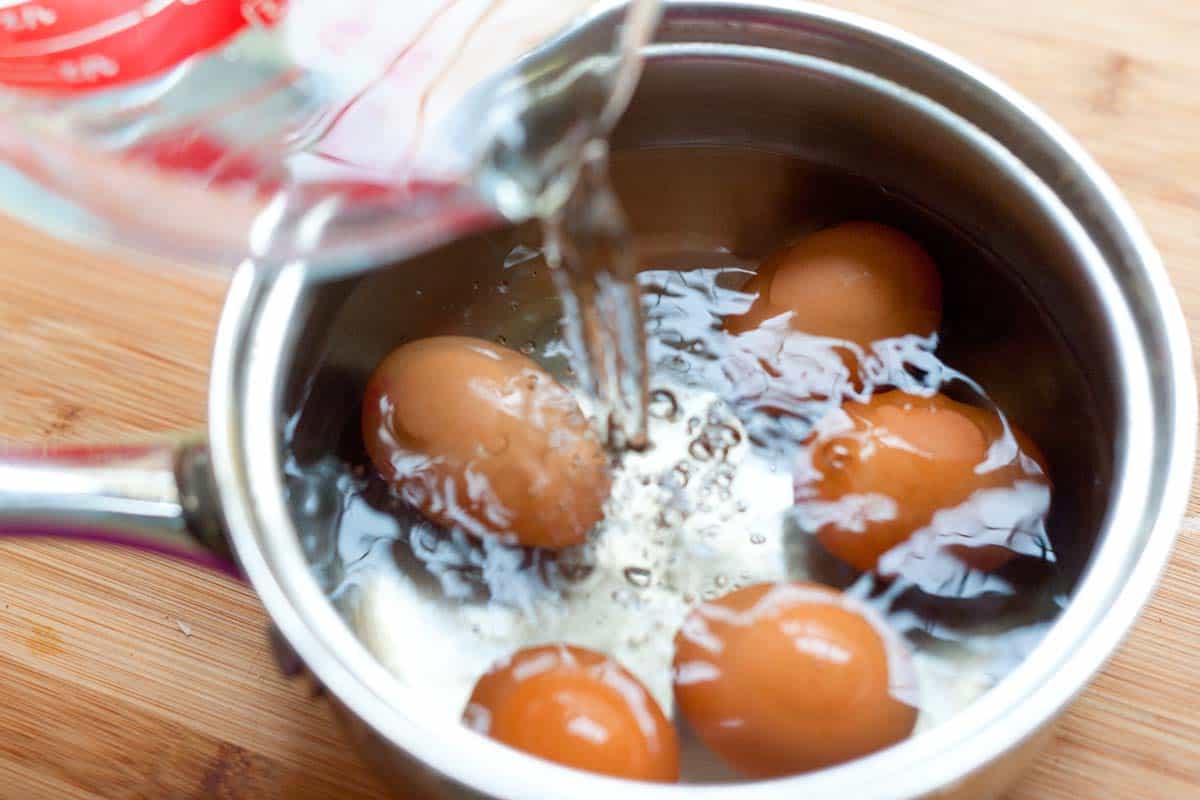 Step 3: Bring the water to a boil. The moment the water begins to boil, cover the pan with a lid and cook for 30 seconds. After 30 seconds, move the pan off of the heat then set a timer for 10 to 12 minutes (I talk about cook time below).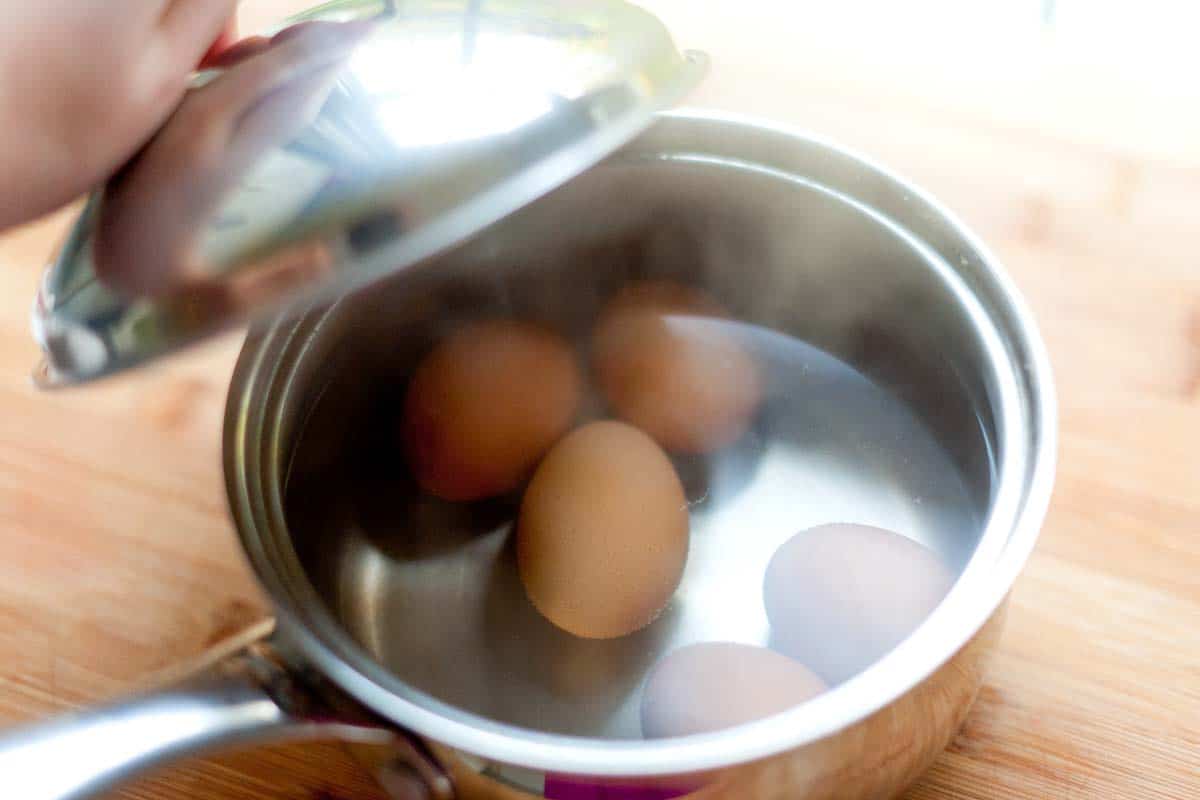 Step 4: Transfer the cooked eggs to an ice bath so they stop cooking. I use a slotted spoon to remove each egg from the hot water and then carefully drop them into a big bowl filled with cold water and ice. When the eggs are cool enough to handle, you can peel them.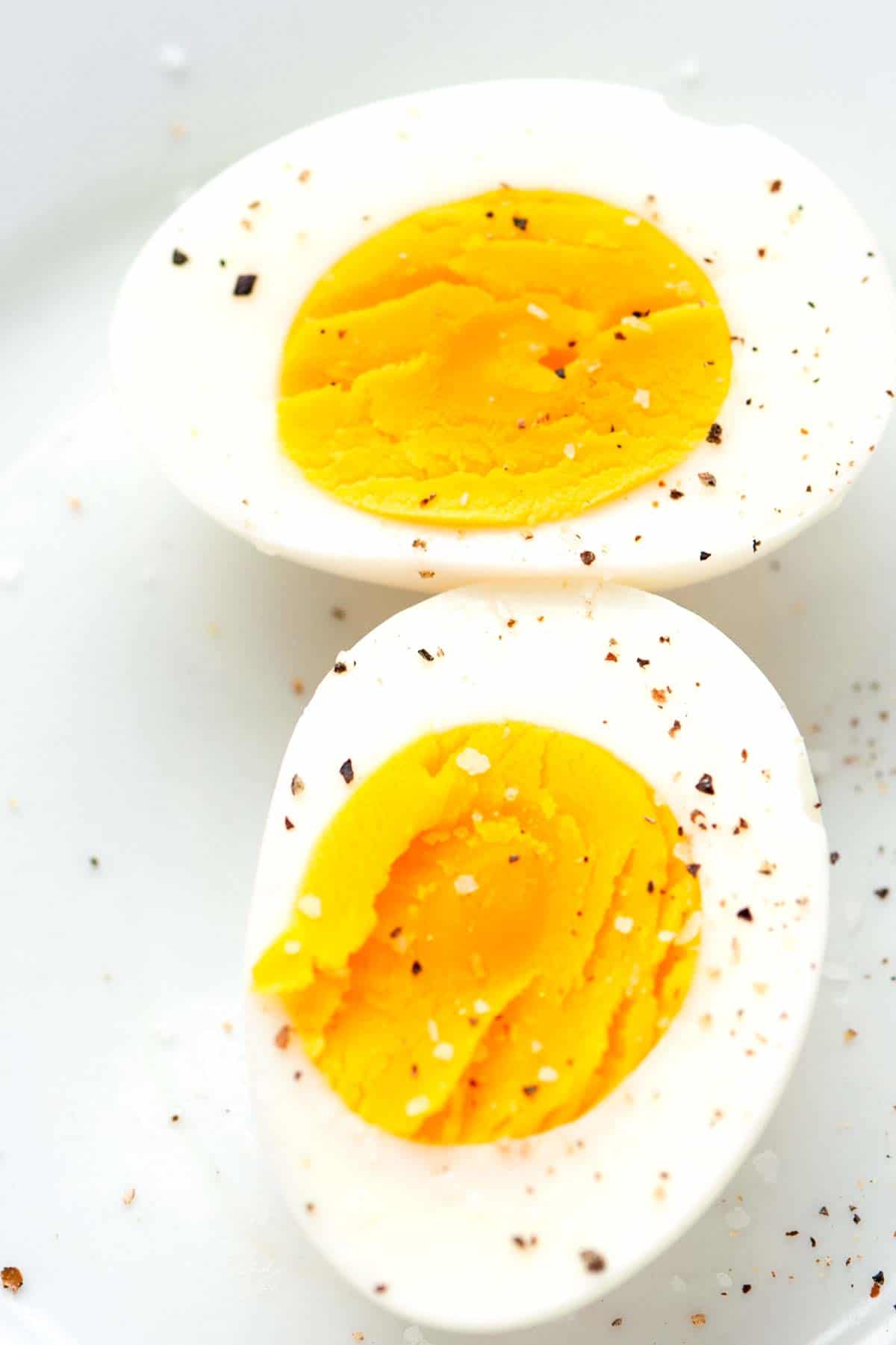 How Long To Cook Hard Boiled Eggs
The cook time for hard boiled eggs will vary depending on how large the eggs are, your altitude, and how done you want the yolk to be. After cooking lots (and lots) of hard boiled eggs in our own kitchen, here's a list of cook times that we've found to be the most accurate:
Cook medium eggs for 9 to 10 minutes
Cook large eggs for 11 to 12 minutes
Cook extra large eggs for 13 to 14 minutes
If you live at a higher altitude, you may need to cook the eggs slightly longer than what we've mention above (I'd start with three to four additional minutes of cook time).
When I am making a large batch of eggs, I like to "sacrifice" one egg at around the 10 minute mark and check for doneness. If it's a little underdone, I'll keep the eggs in the water a bit longer.
My Tips For Easy Peel Hard Boiled Eggs
If you've made hard boiled eggs before, you've probably experienced the occasional stubborn egg that just doesn't want to peel nicely. There are lots of tricks out there for easy peel eggs. We've tried a few, but have found the following tricks to work best for us:
Try not to use the freshest eggs. Fresher eggs don't peel as easily so if you have the chance, buy eggs for deviled eggs a week in advance.
Cool the eggs completely before peeling. We find this helps a lot, but if you're still having trouble, crack the cooled egg and place it back into the ice bath. The water sneaks underneath the shell where you cracked it and makes it easier to peel after 5 minutes or so.
Recipe updated, originally posted December 2011. Since posting this in 2011, we have tweaked the recipe to be more clear. – Adam and Joanne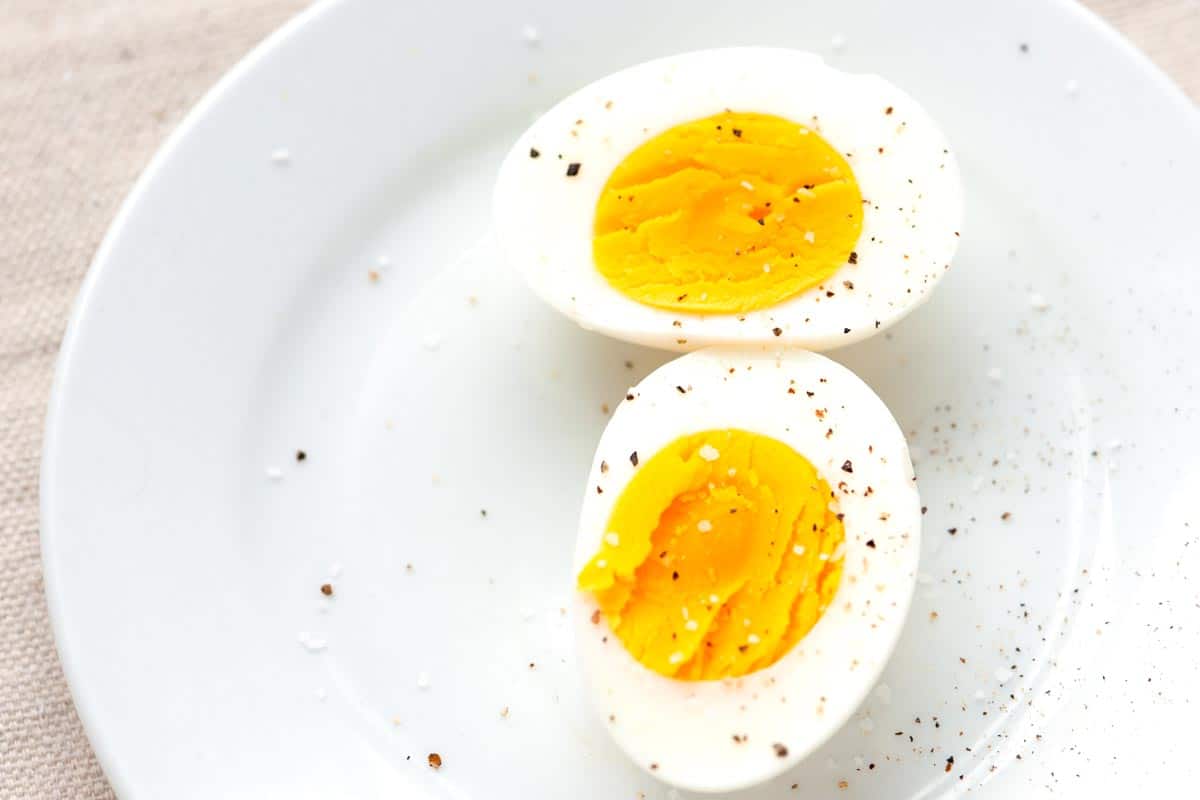 How to Make the Best Hard Boiled Eggs
Here's our foolproof stovetop hard boiled eggs recipe. The recipe assumes four eggs, but you can increase or decrease them as you see fit (as long as the eggs can sit in the saucepan in one layer).
Watch Us Make the Recipe
You Will Need
4 or more large eggs
Water
Directions
1Place the eggs in a single layer in a saucepan and cover with cold water by 1 to 2 inches. Heat over high heat until the water comes to a rolling boil.

2Cover the saucepan with a lid, cook for 30 seconds, then remove from the heat and let stand for 12 minutes.

3A minute or so before the eggs finish cooking, prepare a bowl of ice water.

4Transfer the cooked eggs to the ice water using a slotted spoon and leave for 5 minutes (or longer).

5Crack egg shells and carefully peel them away. If the shells are not easily peeling away from the eggs, place them back into the ice water and try again in 5 minutes.

6**Cooking time can range from 10 to 14 minutes, depending on the size of your eggs, altitude, and how firm you want them to be. If you are cooking a large batch of eggs, it might be a good idea to "sacrifice" one egg and check doneness.
Adam and Joanne's Tips
Nutrition Per Serving
Serving Size
1 egg
/
Calories
71
/
Protein
6 g
/
Carbohydrate
0 g
/
Dietary Fiber
0 g
/
Total Sugars
0 g
/
Total Fat
5 g
/
Saturated Fat
2 g
/
Cholesterol
185 mg
/
Sodium
62 mg