You only need one bowl to make this easy blueberry muffin recipe with blueberries, flour, sugar, vanilla, and vegetable oil. This is by far one of our absolute favorite blueberry muffin recipes. We just love how simple and quick they are to make. Not to mention the moist and tender center bursting with blueberries and perfect golden brown top.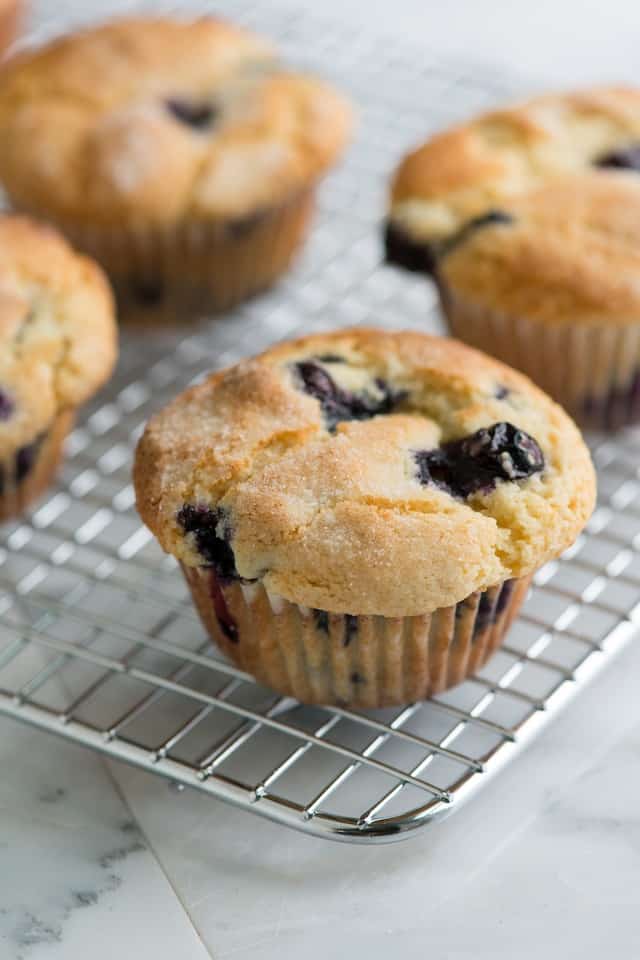 You May Also Like: Our Easy Banana Bread Recipe with a quick recipe video showing you how we make it.
How to Make Our Ridiculously Easy Blueberry Muffin Recipe
Making our blueberry muffins is simple. All you need to do is combine flour, sugar, baking powder and a little salt in a large bowl. Then add vegetable oil, an egg, milk and vanilla extract. Stir with a fork then add the blueberries.
Divide the batter between 8 muffin cups and bake! Simple, right. These are so quick, you could whip them up for the family in the morning for breakfast. You can even make these with fresh or frozen blueberries – if you use frozen, do not thaw the blueberries.
Something to keep in mind: When you make muffins, remember this: mix dry ingredients as much as you want, mix wet ingredients as much as you want but, when you put the two together only mix until they combine. If you over mix, the muffins will be heavy and flat. This is why we ask you to use a fork to mix things together in our recipe below. If you were to use a hand blender or stand mixer, the muffins could become tough.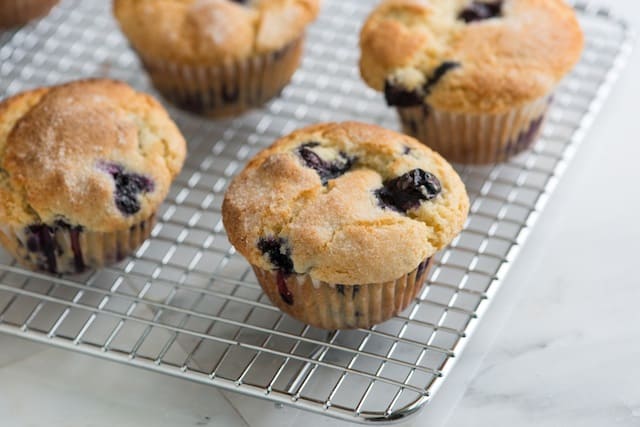 Did you like our easy blueberry muffin recipe? If so, we bet you'll love these:
Easy Blueberry Muffins
Why we love this recipe. All you need is one bowl. This recipe is so easy when we're in the mood for something other than cereal, we'll skip pancakes and make these for breakfast instead.

What you need to know. This blueberry muffin recipe makes 8 muffins. Since most standard muffin tins have 12 muffin cups, in our recipe we ask that you add 1 to 2 tablespoons of water to the empty cups. This way the cups with water will heat up at the same rate as the cups with muffin batter, helping the muffins cook evenly. Also, you can make these with fresh or frozen blueberries – if you use frozen, do not thaw the blueberries.

Equipment you'll need. You will need a 12-cup muffin pan, paper liners, 1 bowl, a whisk, a measuring jug that holds at least 1 cup, measuring cups and spoons, a fork and a spoon or spatula.
Created By: Joanne and Adam Gallagher
Yield: 8
You Will Need
1 1/2 cups (195 grams) all-purpose flour
3/4 cup (150 grams) sugar, plus 1 tablespoon for muffin tops
1/2 teaspoon kosher salt
2 teaspoons baking powder
1/3 cup (79 ml) vegetable oil
1 large egg
1/3 – 1/2 cup (79 ml – 118 ml) reduced fat (2 %) milk
1 1/2 teaspoons vanilla extract
1 cup (170 grams or 6 ounces) fresh blueberries
Directions
Heat Oven and Prepare Muffin Cups
Heat oven to 400 degrees F (205 degrees C). Then, line 8 standard-size muffin cups with paper liners. Add 1 to 2 tablespoons of water to the 4 empty muffin cups (this helps to make sure the muffins bake evenly).
Prepare Muffin Batter
Combine flour, 3/4 cup of the sugar, baking powder and the salt in a large bowl with a whisk. Whisk at least 10 times to make sure the baking powder and salt have evenly dispersed.
Next, add vegetable oil to a measuring jug that holds at least 1 cup. Add the egg then fill the jug to the 1-cup line with milk (this should be 1/3 to a 1/2 cup of milk). Add vanilla extract and whisk until combined.
Add milk mixture to the bowl with flour and sugar then use a fork to combine. Do not over mix. (The muffin batter will be quite thick -- see note below for more details). Add blueberries and use a spatula or spoon to gently fold the blueberries into the muffin batter.
Divide batter between 8 muffin cups. (The batter will come to the tops of the paper liners). Then, sprinkle a little sugar on top of each muffin.
Bake Muffins
Bake blueberry muffins 15 to 20 minutes or until tops are no longer wet and a toothpick inserted into the middle of a muffin comes out with crumbs, not wet batter. Transfer muffins to a cooling rack and cool completely.
Notes and Tips
To store muffins:
Place them in a plastic bag, seal, and store at room temperature for up to 2 to 3 days. To freeze muffins, wrap them tightly in aluminum foil or place them in freezer bags, and freeze for up to 3 months.
Batter Thickness:
The batter should be thick and scoopable -- not runny and not dry or extra thick like dough. If the batter is too runny, add flour, a tablespoon at a time until correct consistency. If batter is dry or too thick, add milk, a tablespoon at a time until correct consistency.
Recipe inspired by and adapted from
this Blueberry Muffin Recipe, found on Allrecipes.com
.