Butternut squash is roasted on top of garlic cloves and fresh thyme then blended with stock into a silky smooth butternut squash soup.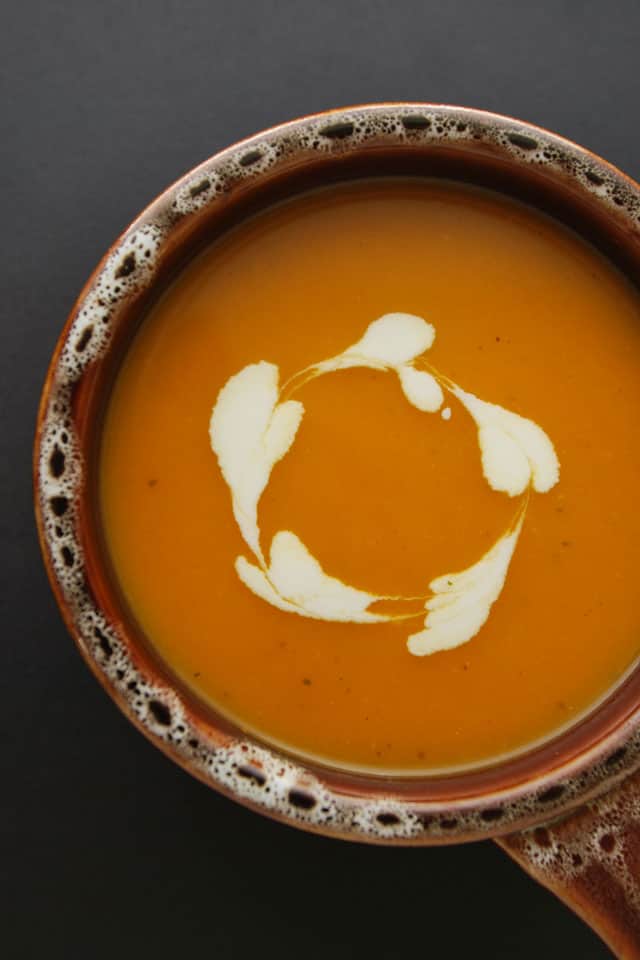 This is a simple recipe and is just perfect for chilly days. By roasting the squash cut in half, we cut down on hands-on time. The squash happily roasts away in the oven and becomes sweet and tender.
Then it's just about adding some stock, bringing everything to a simmer and blending until smooth. Easy!
You Can Easily Adapt or Change This Roasted Butternut Squash Soup Recipe
Since this recipe is so darn simple, you can play around with it as much as you like. Try other kinds of squash or pumpkin in place of the butternut squash. Or, add some roasted potatoes, onions or carrots.
We love adding a tiny splash of cream at the end, too. It really makes the soup silky-smooth.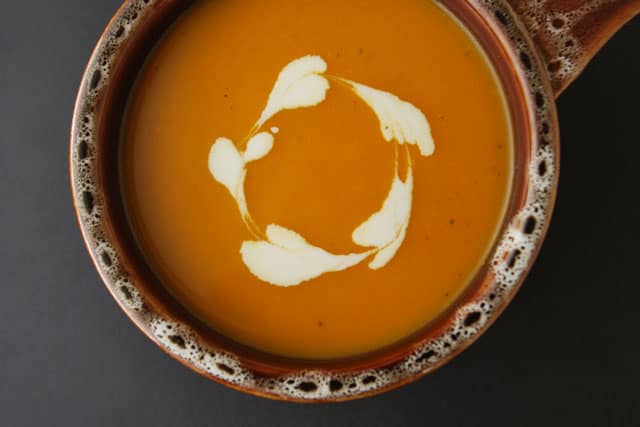 Did you enjoy this Roasted Butternut Squash Recipe? May we suggest you take a look at our Sweet and Spicy Roasted Butternut Squash or our Roasted Acorn Squash with Walnuts and Cranberries.

Roasted Butternut Squash Soup Recipe
Butternut squash is roasted whole on top of garlic cloves and fresh thyme until tender and sweet. Everything is then blended with vegetable stock until creamy.
You Will Need
1 3-to 3-1/2 pound butternut squash
1 tablespoon olive oil
3 sprigs fresh thyme, rosemary or sage
3 garlic cloves, with skins left on
4 to 5 cups low-sodium vegetable or chicken stock
1/4 cup cream, optional
Salt and freshly ground black pepper, to taste
Directions
Heat the oven to 350º F. Lightly oil a large baking sheet or baking dish.
Using a large chef's knife, cut squash in half, lengthwise. Scoop out and discard the seeds. Brush each half, inside and out, with 1 teaspoon of olive oil. Sprinkle the cavities with salt and pepper.
Make a bed of thyme and garlic cloves in the middle of the baking sheet. Place the squash, cut-side-down, on top of the thyme.
Roast until the squash is completely tender, about 1 hour. Remove from the oven and let cool, then scoop out the flesh (discard the thyme). Squeeze the roasted garlic from the skins (discard the skins).
Combine the roasted squash, roasted garlic and 4 cups of stock in a large pot. Bring to a simmer.
Transfer the soup to a blender, in batches, and blend until smooth. Pour the soup back into the pot and taste for seasoning. Adjust with salt and/or pepper. If the soup is too thin, adjust with a little more stock. Stir in cream (optional).