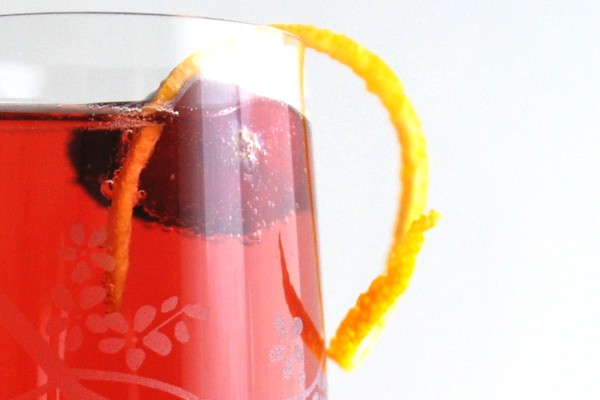 Here is a quick post to get us through until we can officially proclaim "it's the weekend!!!"  We thought it would be fun and in keeping with the winter spirit to show you one of our favorite winter cocktails, aptly named Cranberry Sparkle.  This has winter entertaining  all of it, from the use of a champagne flute (way cooler than a regular wine glass) to the garnish of cranberries and orange peel draped over the edge of the glass.  It's quick and simple, all you do is pour a splash of orange flavored liqueur into the bottom of the glass then pour cranberry juice about half way up the glass and top it all off with some sparkling wine (or non-alcoholic sparkling apple cider).  You could substitute pomegranate juice for the cranberry juice if you preferred or even use something completely different like apple or pear juice.
We hope you enjoy, we certainly did…
Cranberry Sparkle Cocktail Recipe
You Will Need
1 bottle Chilled Sparkling Wine or Sparkling Apple Cider (750-ml)
1 cup Cranberry Juice
splash Grand Marnier or Orange Flavored Liqueur
Garnish: cranberries and orange zest peels
Directions
Pour a small splash (no more than 1-2 teaspoons) of Grand Marnier into the bottom of a champagne flute, add enough cranberry juice so the glass is half full then fill to the top with sparking wine. Garnish with a couple cranberries and a orange zest peel.