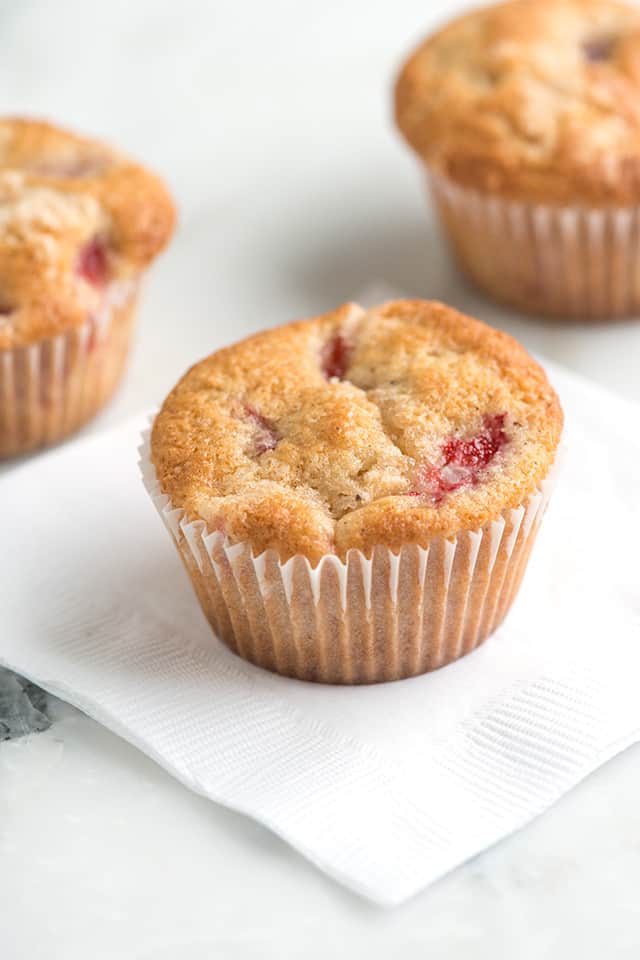 – Sponsored Post –
If you've been following us for a while, you might have noticed our adoration of muffins. When I'm in the mood to bake, but not to do dishes, muffins are my go-to. These strawberry muffins are perfect — they are so simple and quick, you could make them in the morning for breakfast.
You May Also Like: Check out a few more of our muffin recipes: Chocolate Chip Muffins, Bran Muffins, Vanilla Peach Muffins and our popular Blueberry Muffins Recipe.
How We Make Our Strawberry Muffins Recipe
We make a version of these muffins often — sometimes adding different fruits, nuts or chocolate chips. The batter is very simple — just flour, baking powder, a little oil, egg, milk and vanilla extract.
The batter makes muffins that are light and airy.
For these strawberry muffins, we love adding a light spice to the batter with cinnamon and finely ground black pepper. It's not often you see black pepper in sweet baked goods, but trust us, it's so good. You don't specifically taste the pepper, but it sort of lifts the flavor of everything in the muffin. Try it, we really love it.
Once the batter is made, we throw in a bunch of diced strawberries. Try to use strawberries that are sweet and flavorful. If you can't find them, try other berries — blueberries, blackberries, raspberries or cherries would be amazing.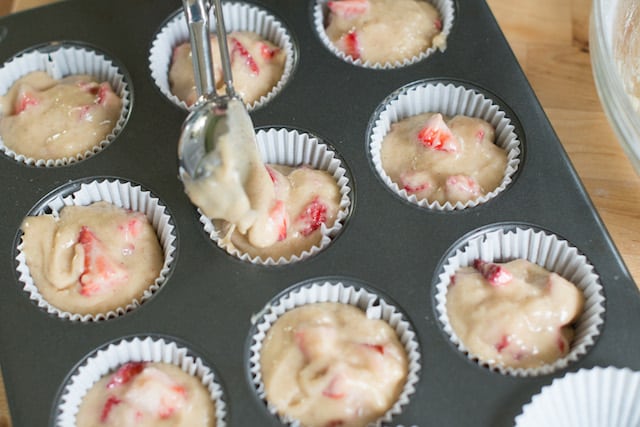 Just before baking, we add a sugary top to the muffins. It's completely optional, but we love the tiny bit of crunch it adds once they've baked.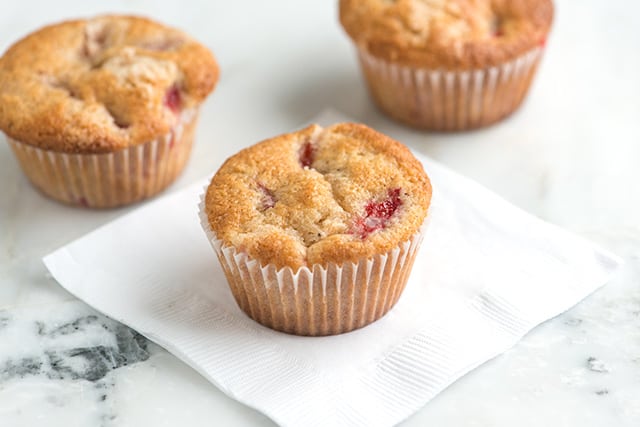 The aroma of strawberry muffins baking in your kitchen is not one you want to miss — it's incredible.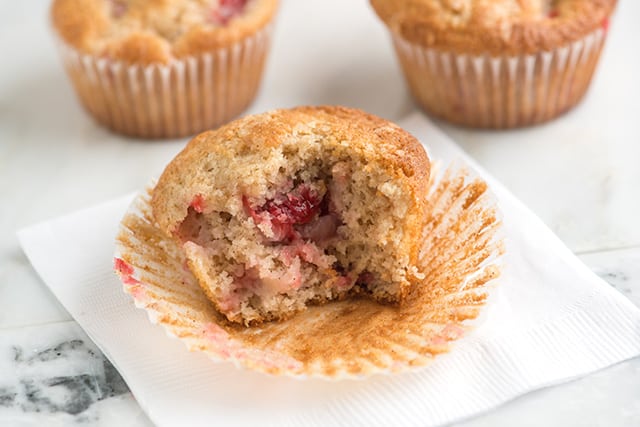 We're actually sharing these in partnership with Gold Medal Flour. Did you know that Gold Medal has lots to choose from when it comes to flour?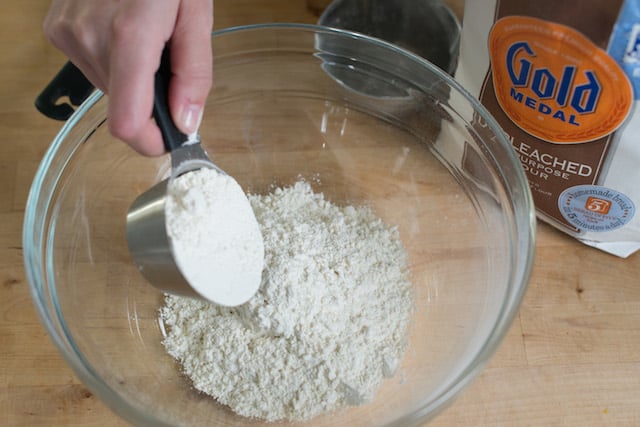 We use unbleached all-purpose flour to make our muffins, but they also have an organic all-purpose flour, whole wheat and white whole wheat flour.
If you're in the mood to experiment, try replacing half or all of the all-purpose flour called for in our recipe with whole wheat or white whole wheat flour. They work really well. (We really like using half and half all-purpose to whole wheat).
You May Also Like
Here are a few more of our favorite recipes you should try. If you're in the mood for something different, we highly recommend the banana bread.
Strawberry Muffins Recipe
These light and airy strawberry muffins are very simple to make. We love adding a light spice to the batter with cinnamon and finely ground black pepper. The black pepper is a little unusual, but by adding just a small amount it lifts all the flavors in the muffins. Feel free to leave it out, but we highly recommend it.
You Will Need
For the Vanilla Sugar Topping
1 tablespoon granulated sugar
1/4 teaspoon vanilla extract
For the Strawberry Muffins
1 1/2 cups (210 grams) all-purpose flour, we use Gold Medal
3/4 cup (150 grams) granulated sugar
2 teaspoons baking powder
1/2 teaspoon kosher salt
1/2 teaspoon ground cinnamon
1/4 teaspoon finely ground black pepper
1/3 cup (80 ml) vegetable oil
1 large egg
1/3 – 1/2 cup (80 ml – 120 ml) milk, reduced fat or whole milk are best
1 1/2 teaspoons vanilla extract
6 ounces (6 large strawberries or 170 grams) strawberries, hulled and diced (about 1 cup diced)
Directions
Heat the oven to 400º F. Line 12 standard-size muffin cups with paper liners.
Prepare Vanilla Sugar: In a small bowl, stir 1 tablespoon of sugar with a 1/4 teaspoon of vanilla then set aside.
Prepare Muffin Batter: Whisk flour, sugar, baking powder, salt, cinnamon and the black pepper in a large bowl until well mixed.
Using a measuring jug that holds at least 1 cup, measure out the vegetable oil. Add the egg then fill the jug to the 1-cup line with milk (this should be 1/3 to a 1/2 cup of milk). Add 1 1/2 teaspoons of vanilla extract and whisk until blended.
Pour into bowl with flour and stir with a fork until just combined. Do not over mix. (The muffin batter will be quite thick — see note below for more details). Stir in the strawberries.
Divide batter between the 12 muffin cups. (The batter will come close to the tops of the paper liners). Lightly sprinkle vanilla sugar over muffins.
Bake Muffins: Bake muffins until tops are golden brown, no longer wet and a toothpick inserted into the middle comes out with crumbs, not wet batter; 15 to 20 minutes. Transfer to a wire rack and cool completely.
Notes and Tips
Storing: These are best eaten the same day. Overtime, they loose their crunchy top. We've found it best to place them in a plastic bag, seal, and store in the fridge for to 2 to 3 days then warm just before eating. To freeze muffins, wrap them tightly in aluminum foil or place them in freezer bags, and freeze for up to 3 months.

Batter Thickness: The batter should be thick and scoopable — not runny and not dry or extra thick like bread dough. If the batter is too runny, add flour, a tablespoon at a time until correct consistency. If batter is dry or too thick, add milk, a tablespoon at a time until correct consistency.

We use kosher salt. If you don't have it on hand, keep this in mind: 1 teaspoon fine sea or table salt = about 1 1/4 teaspoons kosher salt.