Perfectly grilled chicken wings recipe inspired by crave-worthy Vietnamese Pho soup with ginger, garlic, lime and fish sauce.
Grilling chicken wings at home is easy, not to mention, chicken wings are perfect on the grill thanks to their high ratio of skin to meat.
We've already shared our Grilled Lemon Garlic Chicken Wings Recipe with you. This time we wanted to pull inspiration from one of our favorite recipes on Inspired Taste, our Vietnamese Pho Soup recipe.
If you haven't had Pho before, you really need to try it. It's an insanely delicious, crave-worthy Vietnamese noodle soup, made from beef or chicken bones, ginger, onions and lots of aromatic spices. It's nothing short of soup perfection.
Making your own fabulous bowl of Vietnamese pho soup at home is not hard, all you need is a straightforward recipe, a few secrets and a nice big stockpot. Check out our Homemade Vietnamese Pho Soup Recipe now!
We've worked as many of the flavors found in Pho into the marinade for this chicken wings recipe as we could. There is garlic, ginger, fish sauce, coriander and lime.
They are seriously good — so good, in fact that we had a hard time putting them down.
How to Make our Pho-Inspired Grilled Chicken Wings Recipe
Step one for grilled wings is to marinate. For these Pho-inspired wings, we like to leave the wings in the marinade at least 1 hour and will go longer if we have the time.
By the way, we don't bother to separate the drumstick from the "wingette" (or middle portion). If you are up to it, here's a little tutorial with a quick video that we put together a while back showing you how to separate a chicken wing.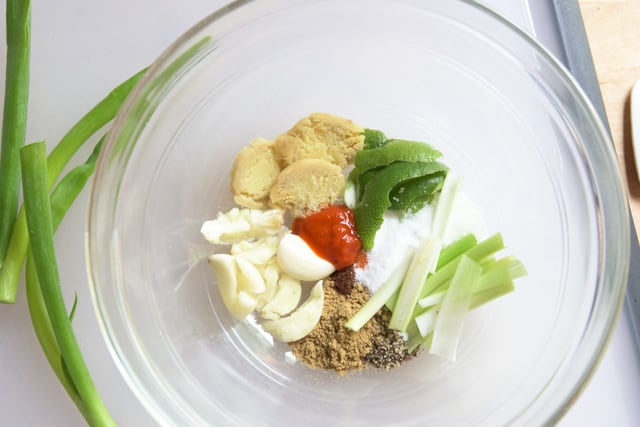 Everything is tossed into a resealable bag — there's green onion, ginger, garlic, fish sauce, lime, a little sugar, coriander and some spice from Sriracha.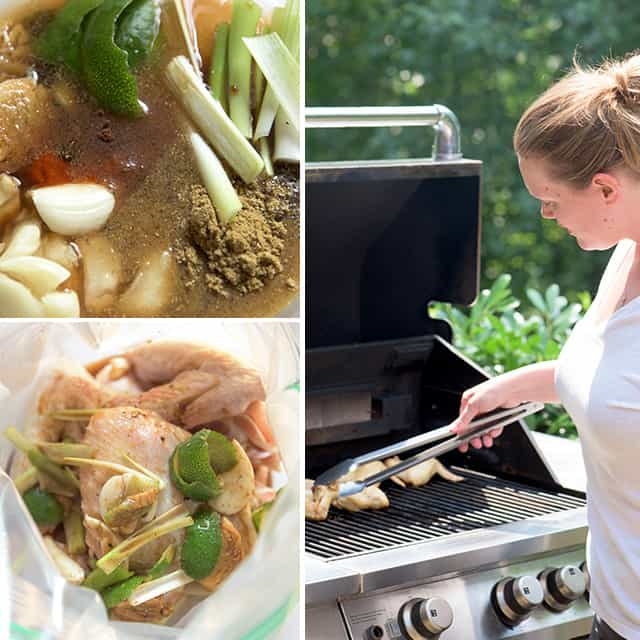 Then, after some time marinating, they are ready to grill!
A+J's Grilled Chicken Wings Recipe Tips
When it's time to grill, we like to use both indirect and direct heat.
Start them skin-side up over low or indirect heat, close the lid and leave them for 10 to 15 minutes.
Once the skin and fat have rendered, grill the wings over high or direct heat, turning occasionally, until golden brown and just slightly charred.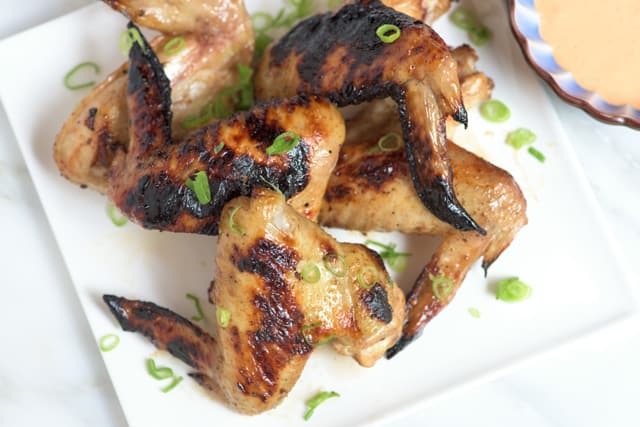 We like making a quick and simple dipping sauce made from mayonnaise, a little Sriracha and lime. It's creamy, a tiny bit hot and has just the right amount of bite from the lime.
By the way, this recipe works beautifully with chicken thighs and chicken breast so be sure to print it, pin it or save it however you like. Enjoy!

Pho-Inspired Grilled Chicken Wings Recipe
These Vietnamese pho-inspired wings are a must-try. By first grilling the wings over low, indirect heat the skin and fat render. Then, we move the wings to a hotter, more direct heat until they become golden brown and slightly charred.
Yield:
Enough for 2 to 3 people
You Will Need
For Pho-Spiced Wings:
2 pounds chicken wings
2 green onions (scallions)
3 quarter-sized coins fresh ginger, crushed with the side of a large knife
3 cloves garlic, crushed with the side of a large knife
Zest of 1 lime, peeled or finely grated
1/4 cup fresh lime juice (1 to 2 limes)
2 tablespoons fish sauce (see notes below for our fish sauce buying guide)
1 tablespoon neutral flavored oil, such as grape seed or canola oil
2 teaspoons Sriracha hot sauce
1 tablespoon sugar
1 teaspoon ground coriander
1/2 teaspoon cracked black pepper
1/8 teaspoon ground clove
For Sriracha Dipping Sauce:
1/4 cup mayonnaise (try our homemade mayonnaise recipe)
2 teaspoons Sriracha hot sauce
2 teaspoons fresh lime juice
1/4 teaspoon ground black pepper
Salt, to taste
Directions
Prepare Chicken: Cut the green onions where the white turns to green. Remove the ends then chop the white part and save the green tops for serving.
Combine white part of the green onion, ginger, garlic, lime zest, lime juice, fish sauce, oil, Sriracha, sugar, coriander, pepper and clove in a large resealable plastic bag. Add chicken wings, seal bag, and turn to coat. Chill at least 1 hour or overnight.
Grill Chicken: Prepare grill for indirect heat. Remove wings from marinade and place, skin-side-up on grill. Cover grill and cook until fat has rendered and an instant-read thermometer reads close to 165º F, about 10 minutes.
Move the wings over direct heat. Grill, turning occasionally, until wings are golden brown and slightly charred, 5 to 10 minutes. Stay close to watch for the occasional flare up. If this happens, move the wings to a slightly cooler part of the grill.
Transfer wings to a platter. Thinly slice the green ends of the green onion from earlier then scatter over wings. Serve alongside dipping sauce.
Make Dipping Sauce: Combine mayonnaise, Sriracha, lime juice and black pepper in a small bowl; season to taste with salt and/or more Sriracha.
Notes and Tips
How to Set Up Your Grill for Wings: We like to use both indirect and direct heat to grill wings. Here's how to set up your grill:

For a Gas Grill: Preheat the grill with all burners on high. Turn one side off or to low - this will be the side you start your wings. After the fat has rendered, move the wings to the side with burner still on.

For a Charcoal Grill: Bank most of the coals on one side of the grill. The side with little to no coals will be the side you start your wings. After the fat has rendered, move the wings to the side with more coals.

Fish Sauce Buying Guide: Our fish sauce sits within arm's reach of our stove. We use it in everything and absolutely will not make pho soup without it, which is why you see it in this recipe. We've come to trust the Three Crabs brand of fish sauce, which you can buy online or in Asian markets. Andrea Nguyen of Viet World Kitchen suggests that when shopping for fish sauce, look for glass bottles, not plastic and allow price to guide you. Go for the mid to high priced fish sauce (which will run you $4 to $5). You can sometimes find fish sauce in grocery stores, but we've had the most success shopping at International or Asian markets since they have a much better selection.