We wanted something fresh, light and zesty for dinner last night, this definitely fit the bill:
We pan-fried a beautiful fillet of snapper in some olive oil.  Just before the fish was cooked through, we removed it from the pan and then made a very fast sauce to go with the fish.  Onions were  quickly sautéed with some garlic and red pepper flakes then we deglazed the pan with a can of diced tomatoes.  Briny Kalamata olives, lemon and orange zest were added as well as a handful of bright green herbs.  The fish is then served on top of the spicy tomato sauce with a spritz of lemon juice.  We didn't add any additional sides and were seriously happy campers.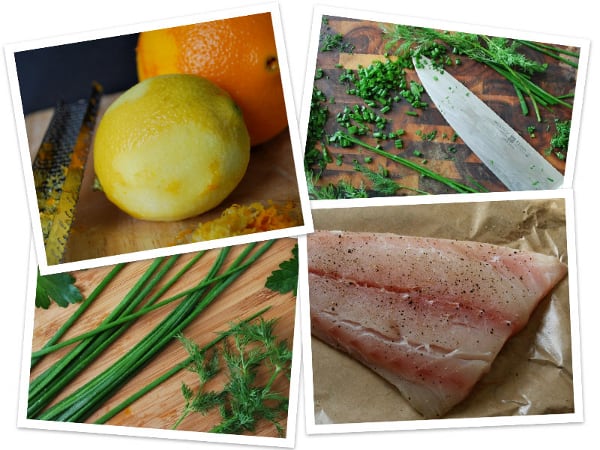 UPDATE:   According to the National Marine Fisheries Service,  "The Gulf and South Atlantic red snapper populations are currently at very low levels (overfished), and both red snapper populations are being harvested at too high a rate (overfishing)….NOAA Fisheries Service also recently announced a temporary regulation to prohibit fishing for red snapper in the South Atlantic for six months beginning in January 2010." (National Marine Fisheries Service, http://www.nmfs.noaa.gov/fishwatch/species/red_snapper.htm).
Alternatives to Snapper in this dish are as follows: Halibut (Pacific), Pacific Cod, Pacific Black Cod (Sablefish) and even Striped Bass.

Snapper with a Spicy Tomato, Citrus and Herb Sauce
Pan-fried snapper is topped with zesty tomato sauce with lemon, herbs and olives.
You Will Need
1 pound snapper
2 tablespoons olive oil
1/2 cup diced onions
2 cloves of minced garlic
1/4 – 1/2 teaspoon crushed red pepper flakes
1 tablespoon lemon zest
2 teaspoons orange zest
1/3 cup kalamata olives
1 14.5 ounce can diced tomatoes
2 teaspoons chopped dill
2 teaspoons chopped chives
1 tablespoon chopped parsley
salt and pepper
Directions
Heat a large frying pan/skillet on medium-high and add the olive oil. Season both sides of the snapper with salt and pepper then add to the hot olive oil and cook for about 3 minutes on each side (you want the snapper slightly undercooked). Remove the snapper from the pan and set aside.
Turn down the heat to medium and add the onions, saute until transparent (you may need to add a little more olive oil if the pan is dry). Add the garlic and red pepper flakes then saute for 30 seconds (be careful the garlic does not burn). Next, add the lemon and orange zest, olives and can of diced tomatoes. Use a wooden spoon or similar to scrape the bottom of the pan.
Allow the sauce to come to a simmer, add the herbs then taste for seasoning, you may need to add a bit of salt and pepper.
Add the fish back into the pan to complete cooking and warm up (about 1 minute), then serve immediately with a spritz of lemon juice on top and garnish with extra herbs if desired.