Here's a quick and easy pizza recipe with tomatoes, basil and an olive oil sea salt crust. Jump to the Quick Tomato Basil Pizza Recipe with Sea Salt or read on to see our tips for making it.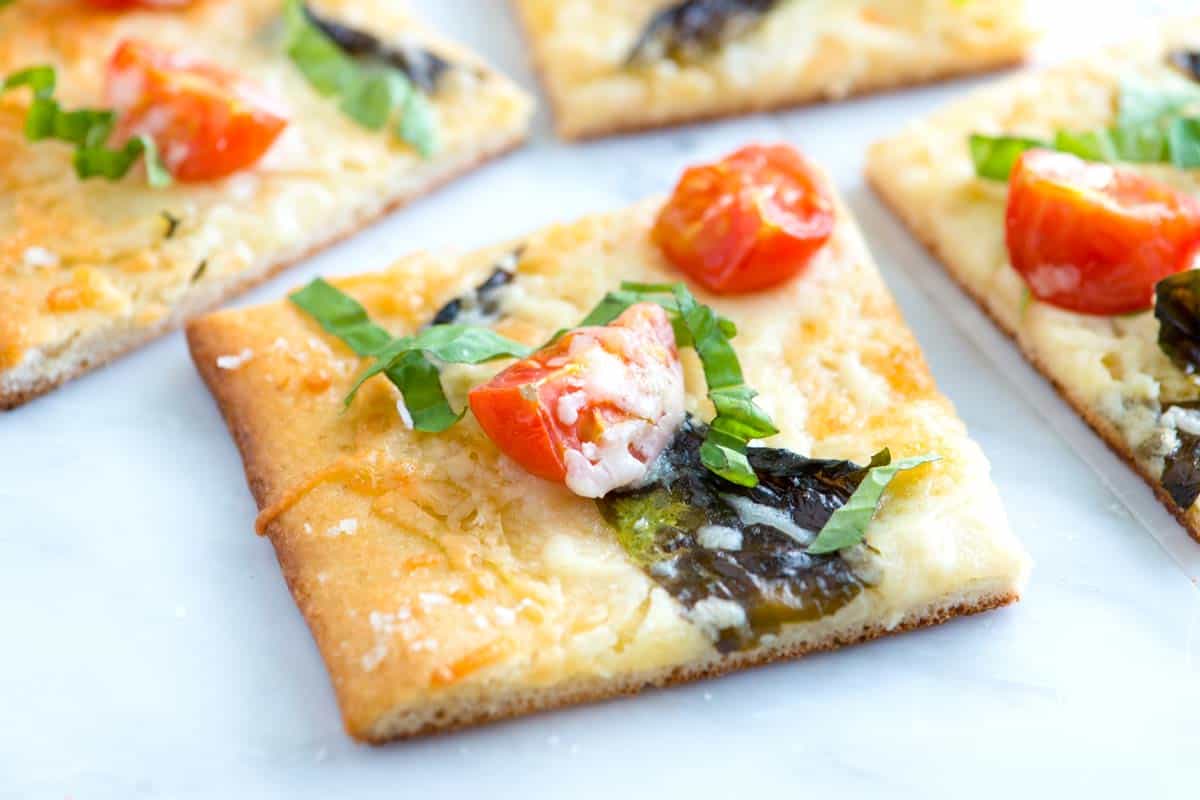 – This Recipe is Sponsored by Pillsbury –
YOU MAY ALSO LIKE: Our family has been making a version of these tomato basil roasted stuffed peppers for years. Jump to the Baked Tomato Garlic Stuffed Peppers Recipe.
30 Minute Tomato Basil Pizza
This pizza recipe is so incredibly simple and combines a few of our favorite things: cheese, basil, tomato and sea salt.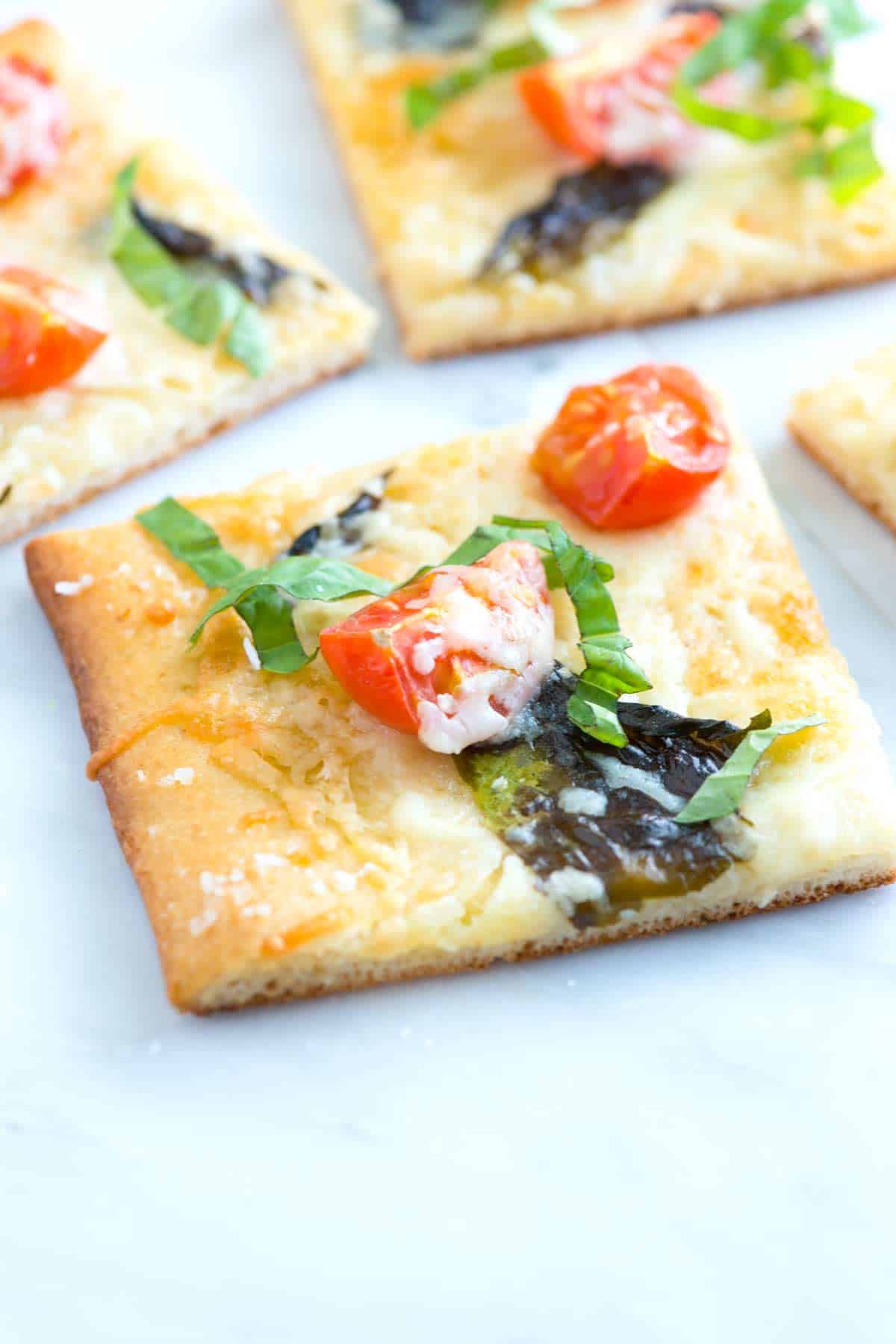 We partially bake pizza dough with olive oil and a little flaked sea salt around the edges, making a sea salted crust. Then we add lots of Italian cheeses, fresh basil and cherry tomatoes. After a few more minutes in the oven the pizza is done.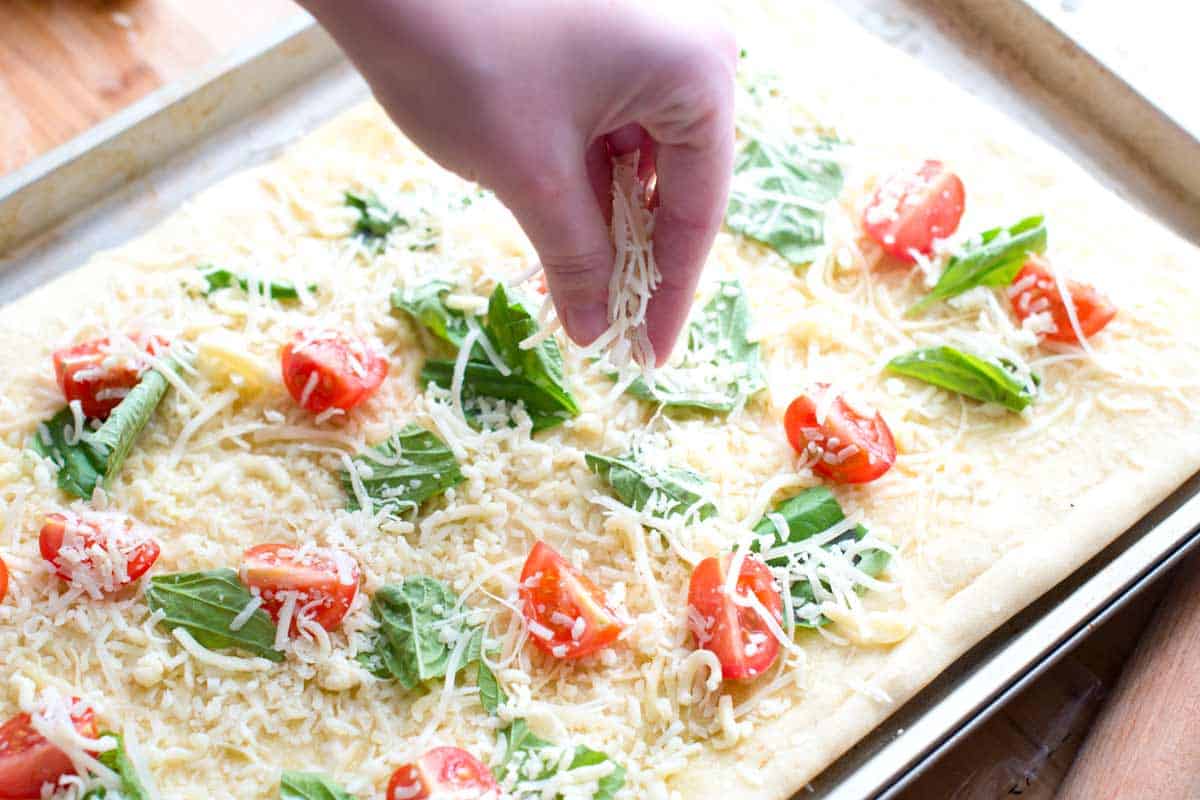 The pizza dough we used is actually from Pillsbury. You may have noticed one of their new products showing up in your grocery store – their new Artisan Pizza Crust with Whole Grain. If you can't find Pillsbury's pizza crust, feel free to use any store-bought pizza dough or homemade.
YOU MAY ALSO LIKE: Here's an easy pesto pizza with butternut squash, mozzarella cheese and tomatoes. Jump to the Butternut Squash and Pesto Pizza Recipe.
Recipe updated, originally posted February 2013. Since posting this in 2013, we have tweaked the recipe to be more clear. – Adam and Joanne
Quick Tomato Basil Pizza Recipe with Sea Salt
This is a very simple pizza recipe and could be served as a pizza or served more as a flatbread alongside sliced meats, such as salami. We like to use a flaked sea salt for this. A great option is to use Maldon Sea Salt, which is often sold in specialty grocery stores.
You Will Need
1 (13.8 ounce) can Pillsbury Artisan Crust with Wholegrain or substitute 12 ounces of refrigerated pizza dough
2 tablespoons extra-virgin olive oil
1 teaspoon flaked sea salt
1 1/2 cups shredded Italian cheese blend
Handful of fresh basil leaves
8 cherry tomatoes, halved
Directions
1Heat oven to 400 degrees F. Then spray a baking sheet (with sides) with cooking spray.

2Form pizza dough into a 15-inch by 10-inch rectangle (this doesn't have to be exact, just close). Place dough onto baking sheet then use your fingers or a pastry brush to coat top of pizza crust with about 1 tablespoon of olive oil. Sprinkle the sea salt around the edge of pizza (about 1-inch from edges). Bake for 8 minutes.

3Scatter the cheese, tomato halves and basil leaves over partially baked crust, but leaving the salt crust uncovered. Lightly sprinkle tops of tomatoes with a little salt then drizzle another teaspoon of olive oil over the pizza.

4Bake 6 to 10 minutes or until cheese has melted and edges are light brown. Just before serving, cut into squares and scatter more sliced or torn basil leaves over pizza.