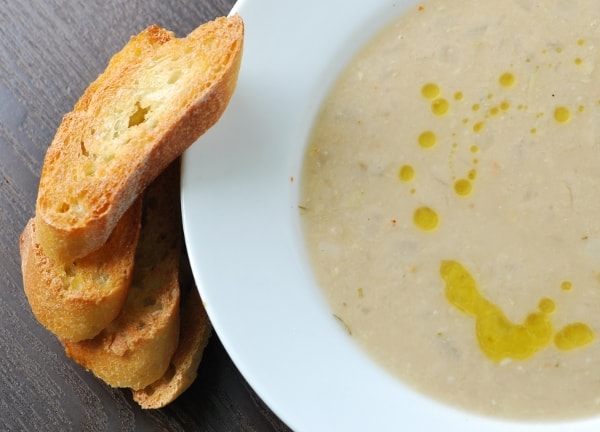 We are really close to getting on our plane for Florida and still on a high from our Cosmo mention so we have a really quick recipe to share.  The last few days have been upwards of 100 degrees in DC and we just did not feel like walking outside to our car to get to the store, so we were forced to scrounge, once again, for ingredients and hope they all come together.  This time, we were pretty lucky – this soup is comforting, not too heavy and really inexpensive!
You Will Need
1 tablespoon butter
1 tablespoon olive oil
1 large onion, diced
1 garlic clove, minced
1 pinch crushed red pepper flakes
1 teaspoon dried rosemary
4 cups low sodium chicken stock
2 cans cannellini beans, drained and rinsed
salt and pepper
splash of cream – optional
Directions
In a large soup pot over medium heat add the butter and olive oil then add the onions and cook until translucent. Add the garlic, red pepper flakes and rosemary and cook for 30 seconds.
Next, pour in the chicken stock, add the beans and allow to simmer for about 10 minutes.
Remove the soup from the heat and use a hand held immersion blender until creamy (you can also use a blender, but be careful not to add too much liquid at once, instead blend the soup in batches). Season with salt and pepper then stir in a splash of cream.
Notes and Tips
You can also garnish with a drizzle of olive oil and serve with some crusty bread.