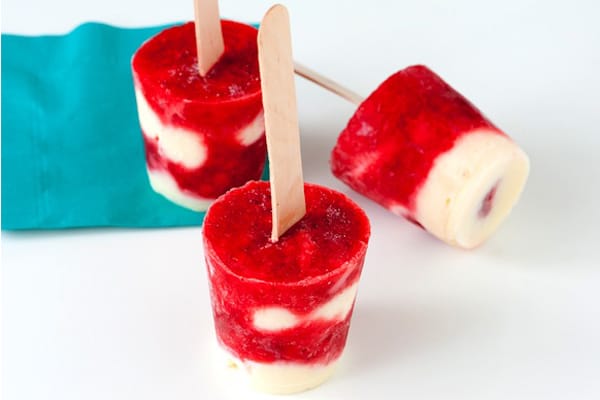 My goodness summer has hit us hard this year! Lots of 100 degree days, the A/C is on the fritz and no time to jump into the pool. Nevertheless, we have made sure to take advantage of summer by devouring cool, sweet, refreshing popsicles! There are so many to choose from this year!
How about Jamie's Berry-Lime Popsicles from My Baking Addiction, Karen's Mango Mojito Pops (yes, there is rum in the recipe) from Tasty Trials, or maybe we could keep with the theme and go for Cherry Apple Whiskey Sour Popsicles from Naomi over at Bakers Royale! Here is a simple one from us, although after drooling over Whiskey Sour Popsicles, maybe we should have spiked ours! On the other hand, we did just enjoy a Tom Collins.
Stay Cool!
-Joanne
This recipe for Strawberries and Cream Popsicles  was developed and photographed, by us, for Betty Crocker. Permission to share on Inspired Taste has been provided.

Strawberries and Cream Popsicles
Stay cool with these easy strawberry and pudding pops.
Created By:
Joanne and Adam Gallagher
You Will Need
2 cups vanilla pudding
1 1/2 cups frozen strawberries, thawed
3 tablespoons honey
10 paper cups (3 oz-size)
10 craft or popsicle sticks
Directions
In a blender, place strawberries and honey. Cover; blend on high speed approximately 30 seconds.
Place paper cups in a rectangular pan; add 2 spoonfuls of vanilla pudding into paper cups. Pour strawberry mixture on top then add 2 more spoonfuls of vanilla pudding.
Cover top of each cup with foil; insert stick through foil into each pop.
Freeze 2 hours or until firm. To serve, remove from cups.