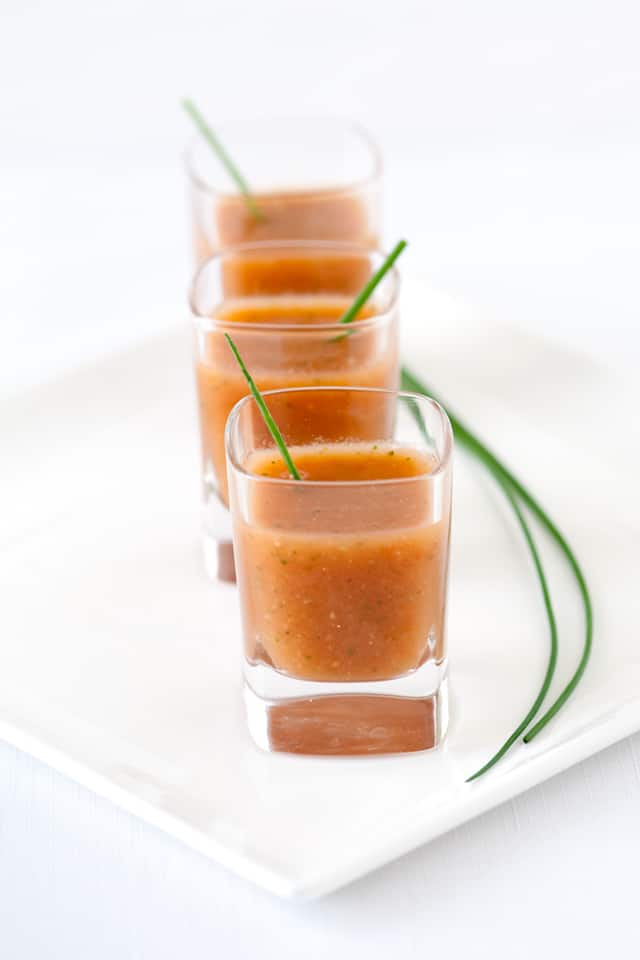 Not sure why, but until this year, we have never been too fond of chilled soups. Luckily though, likes and dislikes change as we grow up. When I first met Adam, there were two things he just would not eat — tomatoes and mushrooms. For me, it was peas — I hated peas.
Today though, the days of funny faces when near peas, tomatoes or mushrooms are over. So much so, that we crave them and have gladly sent them to the top of our "like" list. Chilled soups are on that list, too.
Here's our easy gazpacho recipe with ripe tomatoes, cucumber, jalapeño, garlic and sherry vinegar.
How We Make Gazpacho (or, Really Delicious Chilled Tomato Soup)
Gazpacho is a chilled tomato-based soup and generally is left uncooked. It's important to use the best ingredients, especially when it comes to the tomatoes. To bump up the flavor, we actually roast half of the tomatoes as well as a jalapeño and some garlic. It's not completely traditional, but they become a little sweeter and deeper in flavor.
Roasting is up to you — if you have really amazing tomatoes, you may decide not to roast and just use them raw. Both ways are delicious.
Even more flavor comes from fresh basil, onion, lemon, cucumber and a little sherry vinegar. The soup really pops and is perfect served cold in warmer weather. It's also delicious served warm in cool weather.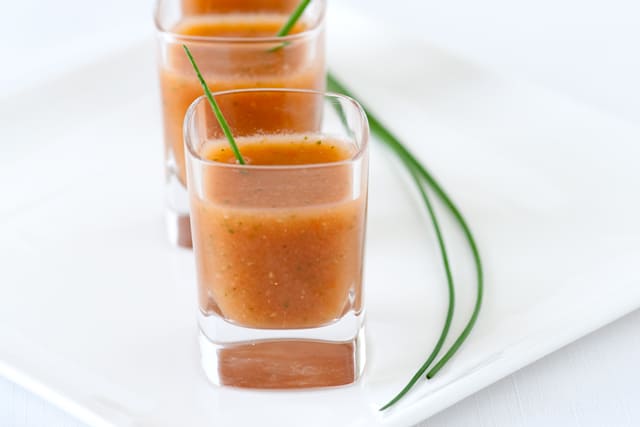 This recipe and photos are featured in maché magazine, for more recipes and ideas take a look through the first issue!
Here are a few more Gazpacho Recipes we just love:
Gazpacho Recipe, from Simply Recipes
Gazpacho: Chilled Tomato and Cucumber Soup, from A Food Centric Life
Gazpacho, from Oh She Glows
Gazpacho, from Brown Eyed Baker

Gazpacho Recipe
Traditional gazpacho uses all raw ingredients. This recipe takes advantage of roasted tomatoes in order to add an extra touch of sweetness. If you prefer, skip the roasting and use all ingredients in their raw form. If you do this, we suggest reducing the amount of garlic and possibly the amount of jalapeño since roasting would have toned them down a little.
Created By:
Adam and Joanne Gallagher
Yield:
6 appetizer portions or 4 main dish portions
You Will Need
1 1/2 pounds vine-ripened tomatoes, halved, cores and seeds removed
1 small jalapeño
3 medium, garlic cloves, unpeeled
1/2 cup chopped red onion
1 cucumber, halved, seeds removed and peeled
3/4 cup tomato juice
1/4 cup lightly packed basil leaves
1/4 cup + 1 tablespoon extra-virgin olive oil
1/2 lemon, juiced
2 teaspoons sherry vinegar (substitute: balsamic vinegar)
1 teaspoon salt, or to taste
1/4 teaspoon ground black pepper, or to taste
Directions
Preheat the oven to 425 degrees F.
Arrange half the tomatoes, jalapeño and unpeeled garlic cloves in a pan with sides, cut sides up, in a single layer. Drizzle with 1 tablespoon of olive oil and sprinkle with a pinch of salt. Roast for 20 minutes. Remove from the oven. Place the jalapeño into a bowl covered in plastic wrap or in a re-sealable plastic bag for 10 minutes, peel, remove seeds and roughly chop.
Add the roughly chopped jalapeno, roasted tomatoes and any juice from the baking sheet to a large mixing bowl. Squeeze the garlic out of the garlic peel and add to the roasted tomatoes. Add the uncooked tomatoes, cucumber, red onion, tomato juice, basil leaves, olive oil, lemon juice, sherry vinegar, salt and pepper and stir to combine.
Transfer 1 1/2 cups of the mixture to a blender or food processor and puree for 15 to 20 seconds on high speed then add to a separate large bowl. Repeat until all ingredients are pureed. (Puree until smooth or leave things a little chunky).
Cover and chill for 2 hours and up to overnight.