Not sure why, but until this year, we have never been too fond of chilled soups. Luckily though, likes and dislikes change as we grow up — When I first met Adam, there were two things he just would not eat, tomatoes and mushrooms. For me, it was peas, I hated peas. Today, though, the days of funny faces in close proximity of peas, tomatoes or mushrooms are over, so much so, that we crave them and have proudly sent them to the top of our favorites list.
When Heather, Annie, Adam and I were planning the first issue of maché magazine (you can read more about that here), we almost left our seats in excitement of making this soup, a chilled tomato-based soup, also known as Gazpacho. We were a bit sneaky with the recipe, though, half of the tomatoes were roasted then cooled along with a jalapeno and garlic — shhhh…don't tell the Gazpacho Police, I hope they don't find us, since it technically should use all raw tomatoes, but the extra touch of sweetness we gained seem so worth it.
The soup is truly delicious and perfect to serve in whatever way you see fit. In shot glasses for your next party, as a starter before dinner, alongside a sandwich or salad for lunch or maybe, heated and served with an extra drizzle of olive oil and some crusty bread. And of course, if you wish to stay more traditional and have access to some sweet summer tomatoes, forgo roasting the tomatoes, jalapeno and garlic, we just recommend cutting the amount of jalapeno and garlic down a bit, without roasting the suggested amounts in the recipe below may be overpowering.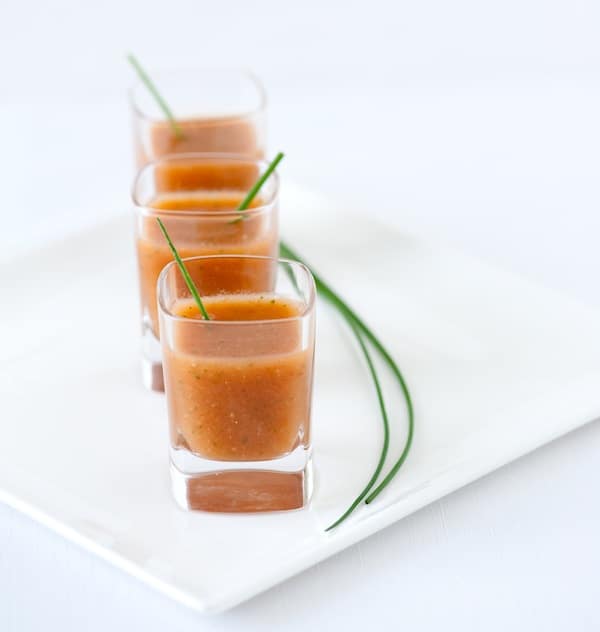 This recipe and photos are featured in maché magazine, for more recipes and ideas take a look through the first issue!
Here are a few more Gazpacho Recipes we just love:
Gazpacho Recipe, from Simply Recipes
Gazpacho: Chilled Tomato and Cucumber Soup, from A Food Centric Life
Gazpacho, from Oh She Glows
Gazpacho, from Brown Eyed Baker
Chilled Tomato Soup: Gazpacho
Traditional gazpacho uses all raw ingredients. This recipe takes advantage of roasted tomatoes in order to add an extra touch of sweetness.
Created By: Adam
Serves: 6
Ingredients
1 1/2 pounds vine-ripened tomatoes, halved, cores and seeds removed
1 small jalapeño
3 medium, garlic cloves, unpeeled
1/2 cup chopped red onion
1 cucumber, halved, seed and peeled
3/4 cup tomato juice
1/4 cup fresh basil leaves
1/4 cup + 1 tablespoon extra-virgin olive oil
1/2 lemon, juiced
2 teaspoons sherry vinegar (substitute: balsamic vinegar)
1 teaspoon salt
1/4 teaspoon ground black pepper
Method
Preheat the oven to 425 degrees F.
Arrange approximately half the tomatoes, jalapeño and unpeeled garlic cloves in a pan with sides, cut sides up in a single layer. Drizzle with 1 tablespoon of olive oil and sprinkle with a pinch of salt. Roast for 20 minutes. Remove from the oven. Place the jalapeño into a bowl covered in plastic wrap or in a re-sealable plastic bag for 10 minutes, peel, remove seeds and roughly chop.
Place the roughly chopped jalapeno, roasted tomatoes and any juice from the baking sheet into a large mixing bowl. Squeeze the garlic out of the garlic peel and add to the roasted tomatoes. Add the uncooked tomatoes, cucumber, red onion, tomatoes juice, basil leaves, olive oil, lemon juice, sherry vinegar, salt and pepper and stir to combine.
Transfer 1 ½ cups of the mixture to a blender or food processor and puree for 15 to 20 seconds on high speed then add to a separate large bowl. Repeat until all ingredients are pureed.
Cover and chill for 2 hours and up to overnight. Serve cold.