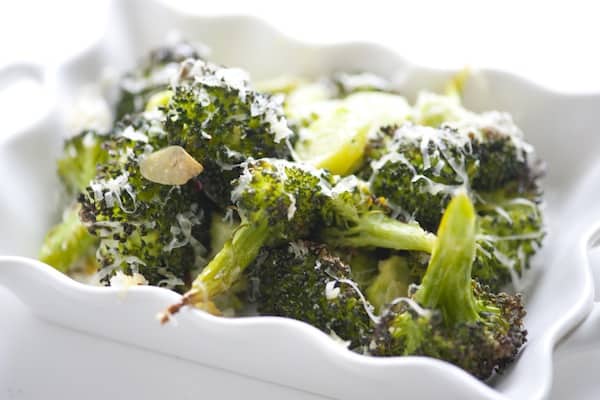 Where are our broccoli fans? We bet you'll love this cheddar roasted broccoli recipe!  This is so simple to make. Roasting broccoli is genius, you see, it's all about the texture. The tips of the baked broccoli turn a bit crispy, while the stalks become tender. It's so good that we've even made this in lieu of popcorn – I know, that may be taking the vegetable too far, but we loved it!
Oven roasted broccoli is topped with sharp cheddar cheese, making this baked broccoli perfect for picky eaters
Prepping takes about 5 minutes, then the roasting takes another 20, so this is a perfect side for those weeknight dinners. Use a sharp cheddar, otherwise the flavor will get lost, it adds a lovely pop.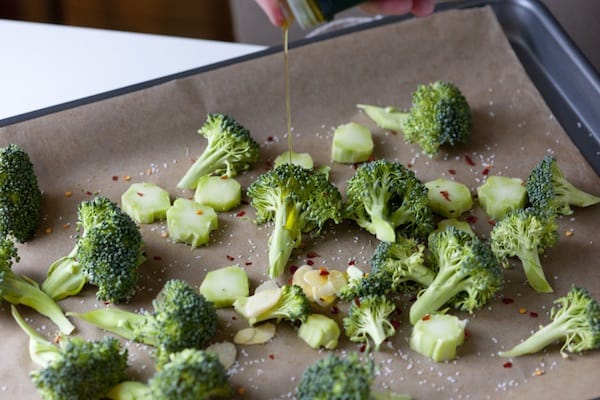 If you would like, try replacing the broccoli with cauliflower or even carrots! Roasting vegetables really brings out so much flavor. Plus, you can usually throw the baking sheet of vegetables into the same oven as whatever else you are cooking for dinner. We call for a 425 degree oven below in our recipe, but if you had a chicken or something else in the oven with a lower temperature, you can still roast the broccoli (or other vegetables). They may just take a little longer and may not have the crispy tips. They will, however taste great!
One more note – we have tried this method with frozen florets and it worked just fine!
Are you ready to go make baked broccoli, yet? Did you like our Cheddar Roasted Broccoli Recipe? You may also enjoy these easy vegetable sides, too!
Cheddar Roasted Broccoli Recipe
A simple side dish of baked broccoli with sharp cheddar cheese. Roasting broccoli might even make your pickiest eaters love broccoli!
Created By:
Adam and Joanne Gallagher
Yield:
Makes 4 servings as a side
You Will Need
1 pound broccoli (1 medium bunch)
1 clove garlic, thinly sliced
2 tablespoons olive oil
1/2 teaspoon kosher salt
1/8 teaspoon red pepper flakes
1 ounce sharp cheddar cheese, shredded
Directions
Preheat the oven to 425 degrees F.
Prepare the broccoli by cutting the broccoli florets from the thick stalks, leaving about an inch of stalk attached to the florets; discard the rest of the stalks. Pull the larger florets apart, so all are a similar size, you should have about 2 cups of florets.
Place the florets on a baking sheet large enough to hold them in a single layer. Add the garlic and drizzle with 2 tablespoons of the olive oil. Sprinkle with the salt and red pepper flakes pepper.
Roast for 20 to 25 minutes, until tender and the tips of some of the florets are slightly crisp browned.
Remove the broccoli from the oven and immediately toss with the remaining tablespoon of olive oil and cheddar cheese.
Notes and Tips
Adapted from Ina Garten's Parmesan Broccoli