We love this simple broccoli slaw recipe with the most delicious creamy dressing. This quick and easy broccoli slaw has crunchy sunflower seeds and sweet golden raisins. It is even easy to make in advance.
Watch the Video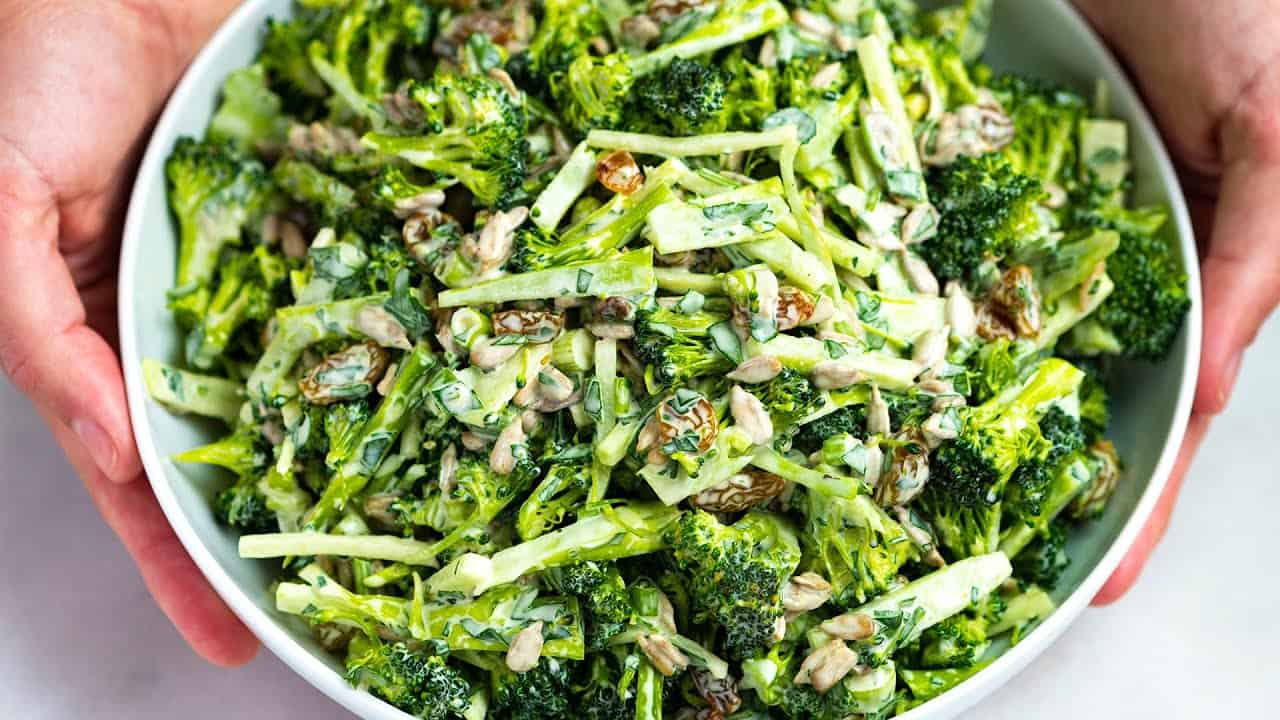 Related: You may also like our crispy roasted broccolini with herbs!
How to Prepare Broccoli for Slaw
Think of this broccoli slaw as a mixup between broccoli salad and coleslaw. Serve this easy slaw on the side or add it to sandwiches or burgers for some extra crunch. Use the packaged shredded broccoli found in most grocery stores or prepare the broccoli yourself. I've shared how below.
I love swapping in broccoli for cabbage in coleslaw. Traditional cabbage coleslaw is delicious, but broccoli is extra crisp and I love how pretty it looks in the bowl. Here's how I like to prepare broccoli for this recipe:
Buy broccoli with the stems. Some stores only sell broccoli crowns, but if you are lucky, you can find broccoli with the long stems still attached. I actually prefer broccoli stems to the florets!
Cut the crown away from the stems and slice or tear into very small florets.
Peel the tough outer layer of the broccoli stems. I use a vegetable peeler.
Slice the stems into thin matchsticks or grate them using a hand grater or the grating attachment of a food processor. (In the photos, I did this by hand.)
If you are short on time, you might be able to find prepackaged bags of sliced broccoli at the store. The bag might have some other veggies mixed in, but that's okay, it will still work in this recipe.
More about broccoli stems: The end of the stem — let's say about half-an-inch from the bottom of the stalk is probably going to be too hardy and woody. Cut that off and discard. The rest of the stem is usable and delicious. Depending on how hardy the stem is, it might be a good idea to run a vegetable peeler up and down the stem to remove the outer (sometimes tough) layer. Then, slice into small matchsticks.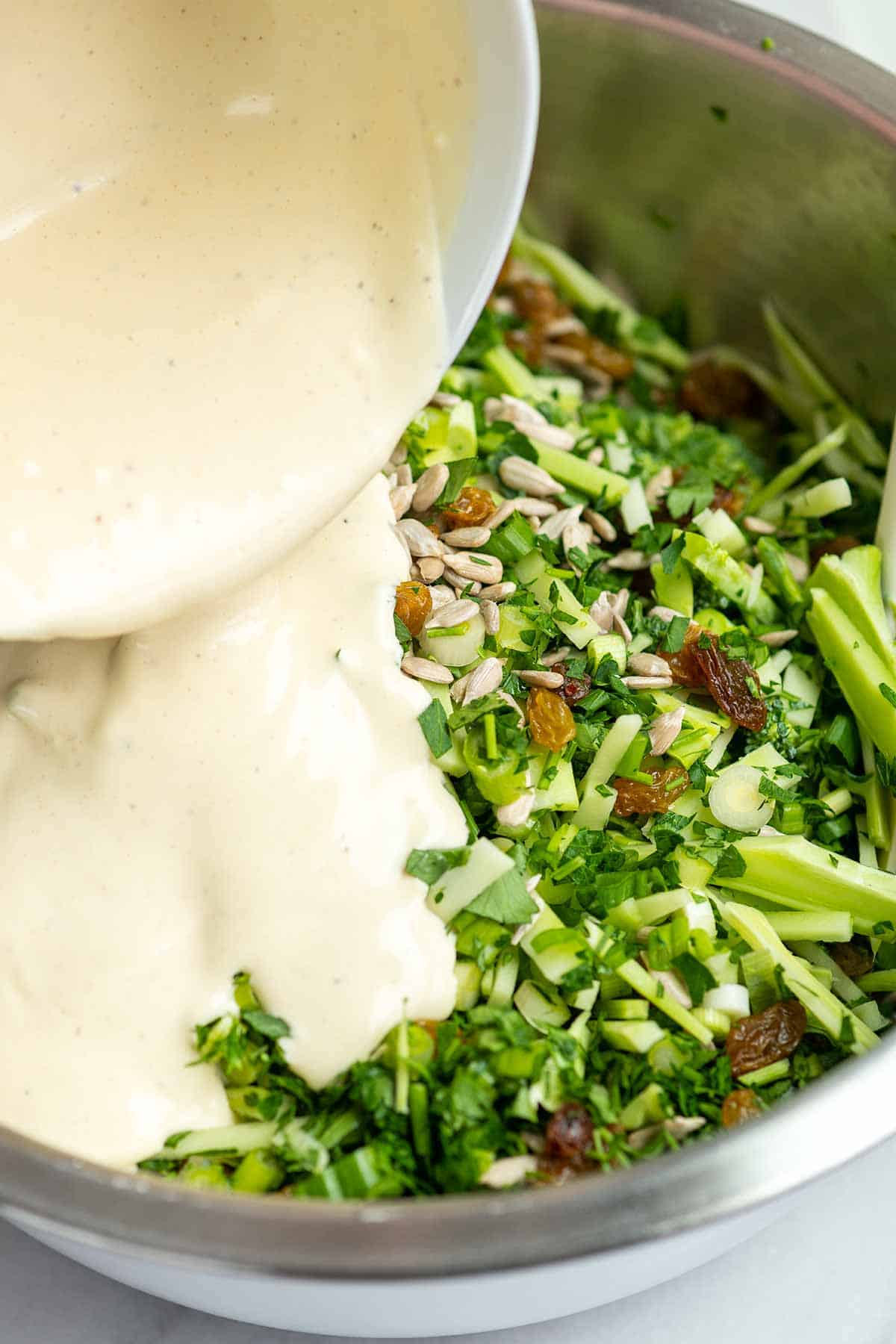 Making the Slaw
We keep our coleslaw simple with a short list of ingredients. This broccoli slaw dressing is actually the same as what we use when making cabbage coleslaw (I love it that much).
The base is mayonnaise, which can be store-bought or homemade (see our homemade mayonnaise here). I've also swapped the mayo for a vegan mayonnaise and was very happy.
To the dressing, we add plenty of broccoli, green onions (scallions), herbs, crunch from sunflower seeds, and a little sweetness from dried fruit. In the photos, I've used golden raisins, but any dried fruit will work.
Make Ahead Tips
Just like other coleslaws, this broccoli slaw is perfect for making ahead of time. Make it, and then store in an airtight container in the fridge up to 3 days (maybe more).
More Simple Salads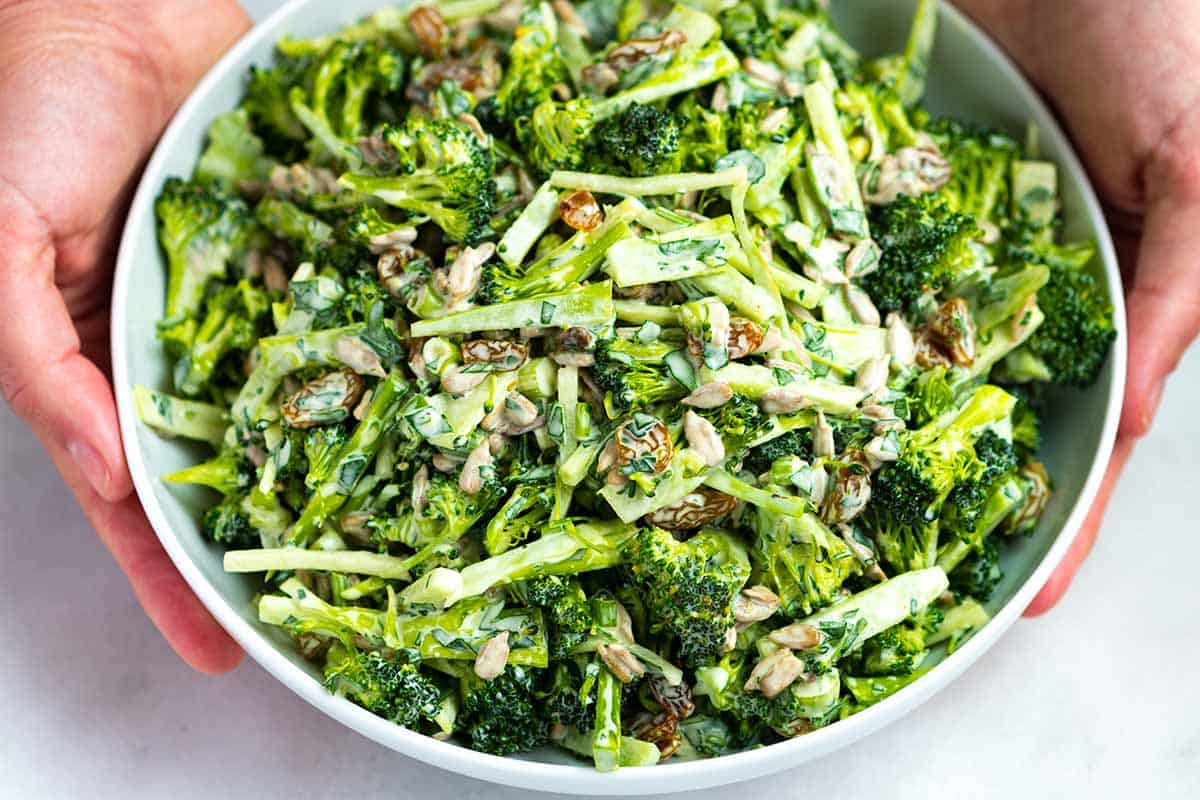 Seriously Good Broccoli Slaw
Think of this broccoli slaw recipe as a mixup between broccoli salad and coleslaw. Serve this on the side or add it to sandwiches or burgers for some extra crunch.
Makes approximately 8 cups
Watch Us Make the Recipe
You Will Need
1 pound broccoli with stems (2 to 3 small heads)
1 bunch green onions, thinly sliced
1/2 cup loosely packed fresh parsley leaves, coarsely chopped
1 cup (150 grams) golden raisins, substitute any dried fruit
1 cup (150 grams) shelled sunflower seeds, substitute any nut or seed
1 cup (170 grams) mayonnaise, try our homemade mayo or vegan mayo
2 tablespoons apple cider vinegar or more to taste
2 tablespoons Dijon or coarse ground mustard
1/4 teaspoon fine sea salt or more to taste
1/4 teaspoon fresh ground black pepper or more to taste
2 to 3 dashes toasted sesame oil, optional, see notes
Directions
1Remove the broccoli florets from the larger stems and cut into smaller pieces. Remove the woodiest part of the stem — usually 1/2-inch from the bottom — and discard (or save for stock). Using a vegetable peeler, peel away the thick tough outer layer of the stems, and then grate or slice into small matchsticks. Place the broccoli in a very large bowl (you will have 6 to 8 cups).

2Add the sliced green onions, parsley, raisins, and sunflower seeds to the broccoli and toss to mix.

3In a separate bowl, stir the mayonnaise, vinegar, mustard, salt, and pepper together. Taste for acidity and seasoning then adjust as desired. For a little extra flavor, add two to three small dashes of toasted sesame oil (see notes). Pour two-thirds of the dressing over the slaw, and then mix well.

4If the broccoli slaw seems dry, add a little more of the dressing. Eat right away or let it sit in the refrigerator for about an hour to let the flavors mingle.
Adam and Joanne's Tips
Toasted sesame oil is completely optional, but it is an ingredient that Adam has started to add to dressings. Every time he does, I'm left asking him what he did differently because the dressing just tastes so good! You don't need a lot at all (it's a strong flavor), but if you are willing, give it a try.
Vegetarian/Vegan adaptations: I've made this with a vegan mayonnaise with great success. You can also try tossing the slaw ingredients with this tahini sauce.
Nutrition facts: The nutrition facts provided below are estimates. We have used the USDA database to calculate approximate values. Full fat mayonnaise was used in the calculations.
If you make this recipe, snap a photo and hashtag it #inspiredtaste — We love to see your creations on Instagram and Facebook! Find us: @inspiredtaste
Nutrition Per Serving
Serving Size
1/2 cup
/
Calories
187
/
Total Fat
14.7g
/
Saturated Fat
2.1g
/
Cholesterol
5.8mg
/
Sodium
136.2mg
/
Carbohydrate
12.7g
/
Dietary Fiber
2.3g
/
Total Sugars
7g
/
Protein
3.1g