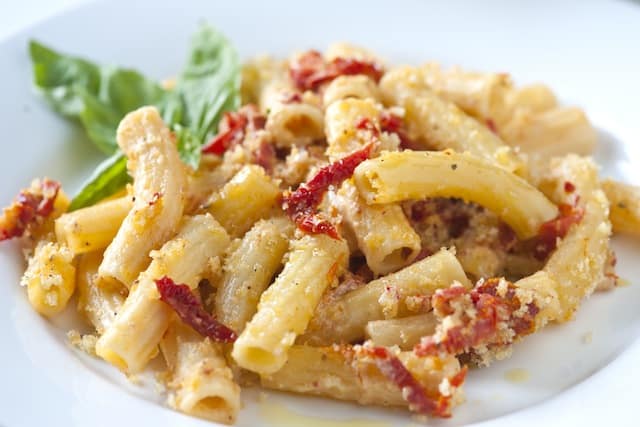 This rigatoni recipe has the most delicious creamy sauce made from cream and goat cheese. Sun-dried tomatoes are added for a punch of sweetness and flavor.
I bet if you checked our fridge any day of the week, you would find goat cheese. We love it. We eat it as is, cook with it, spread it, pour honey over it, smoke it and do whatever we can to eat it! This recipe is a fantastic excuse to add some goat cheese to your fridge, don't you think?
A 25-Minute Rigatoni Recipe
The rigatoni pasta actually gets a little bake time in the oven before serving. We top the pasta, which is coated with its creamy sauce, with a sprinkling of panko breadcrumbs. This gives the pasta a really lovely crunch on top.
Oil gets added to the breadcrumbs to make sure they toast nicely in the oven. By the way, you can find panko breadcrumbs in the international aisle of the grocery store.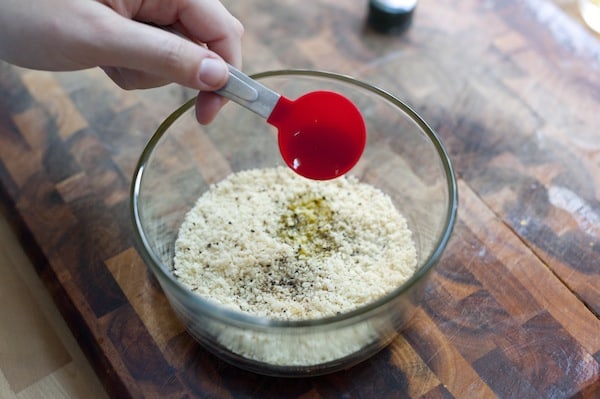 The creamy sauce comes together quickly. Toast some garlic, red pepper flakes and sliced sun-dried tomatoes in a little olive oil then add some cream, simmer and toss with the rigatoni pasta and goat cheese.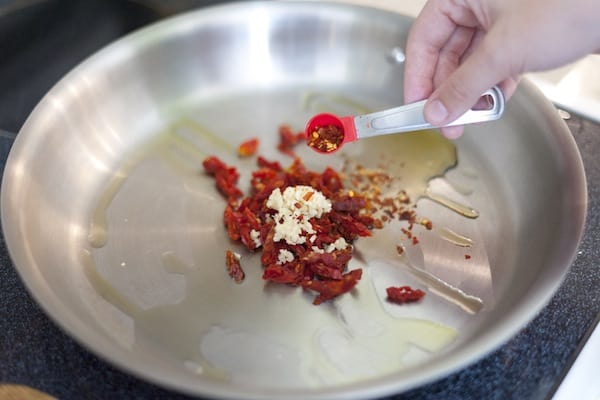 Everything gets thrown into a baking dish. Then, we top with those breadcrumbs from earlier and bake in the oven until everything is bubbly and the top begins to brown.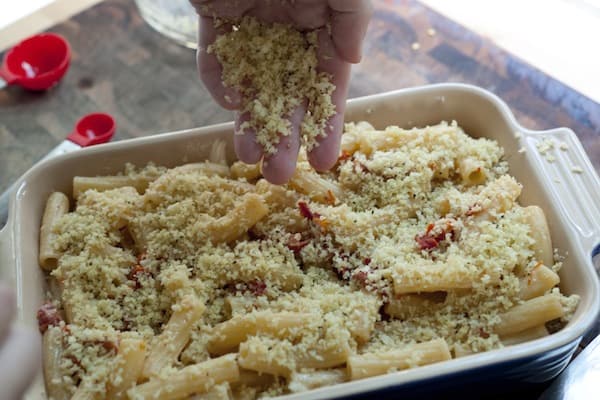 Sun-Dried Tomatoes and Goat Cheese Rigatoni
The easy rigatoni recipe comes together quite quickly. For some extra protein, add diced cooked chicken or shrimp - just toss the cooked chicken or shrimp into the sauce at the same time as adding the cooked pasta.
Created By:
Adam and Joanne Gallagher
You Will Need
8 ounces rigatoni pasta
1/3 cup panko breadcrumbs
4 tablespoons olive oil
1/8 teaspoon pepper
1 clove garlic, minced
1/4 teaspoon red pepper flakes
1/4 cup sun-dried tomatoes, 1/4-inch slices
1 cup heavy cream
1/8 teaspoon nutmeg
4 ounces goat cheese
salt to taste
basil for garnish (optional)
Directions
Bring a large pot of salted water to the boil and preheat oven to 400 degrees F. Cook rigatoni pasta according to the package directions. Drain.
Prepare panko breading: Add panko breadcrumbs, 2 tablespoons of olive oil and pepper to a medium bowl; toss and set aside.
Make the sauce: Heat the olive oil in a large saucepan over medium heat. Add the garlic, red pepper flakes and sun-dried tomatoes, cook, while stirring for 1 minute. Add the heavy cream and nutmeg; simmer for 2 minutes.
Toss cooked rigatoni and goat cheese with cream sauce then taste for seasoning. Add salt to taste. Pour everything into a baking dish, sprinkle with prepared panko breadcrumbs and bake in the oven for about 10 minutes or until the breadcrumbs begin to brown. Serve with a few basil leaves torn on top.