These stuffed shells are filled with creamy ricotta cheese, parmesan cheese and a delicious mixture of sautéed veggies. Just like our cheesy baked ziti and popular veggie spaghetti, these stuffed shells are perfect for kids and adults alike and are easy to make ahead for a crowd. Jump to the Veggie Stuffed Shells or read on to see our tips for making them.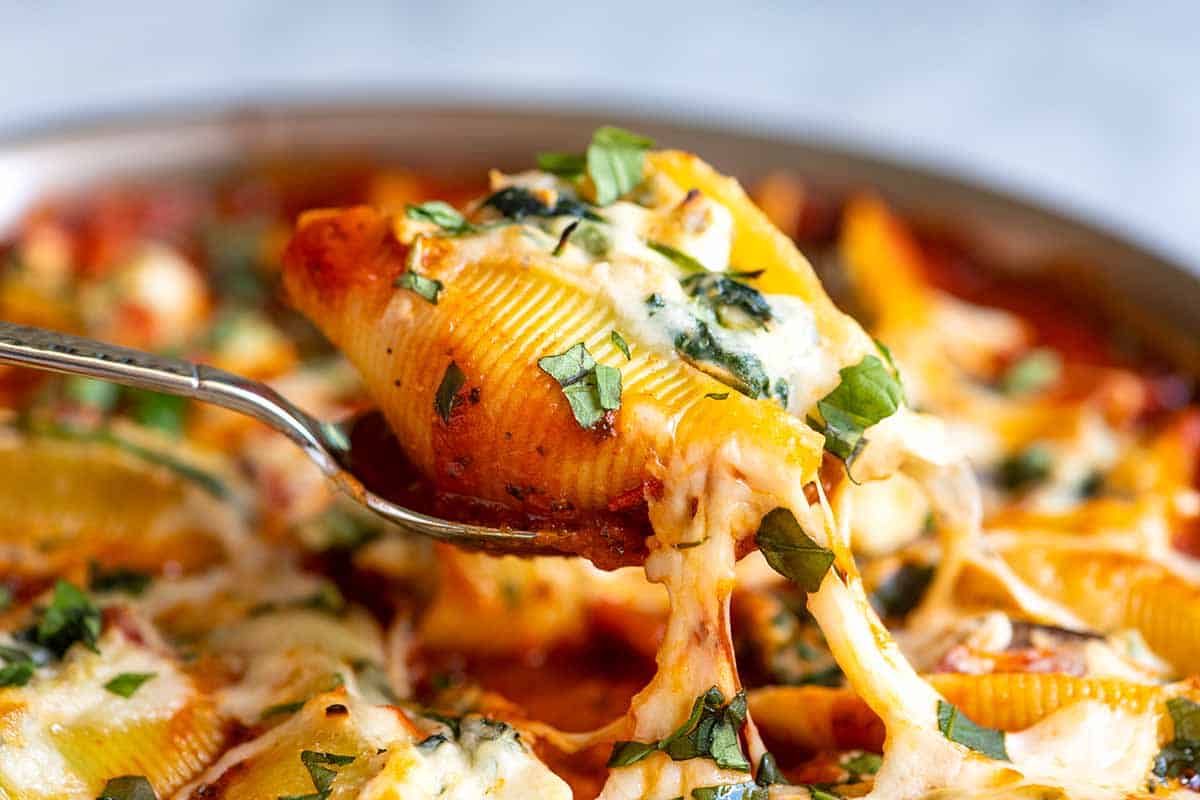 More stuffed shells recipes: Readers love our Sausage and Spinach Stuffed Shells or try something different and make Buffalo Chicken Stuffed Shells.
Stuffed shells are such a classic recipe! This version features perfectly cooked pasta shells stuffed with a creamy mixture of two cheeses, mushrooms, spinach and bell pepper. The shells are set on top of a bed of marinara sauce and then baked until the cheese is bubbling. Let me walk you through how easy it is to make the recipe!
How to make stuffed shells
The first step when making stuffed shells is to cook the shells. Look for large shells (sometimes sold as "jumbo") and cook them in salted water. The package they came in will list how long to cook them (around 10 minutes). We like to reduce the cooking time by a minute to two, which leaves the shells slightly undercooked. That's okay, though. Once we stuff them with our cheese and vegetable filling and bake them, they will be perfect.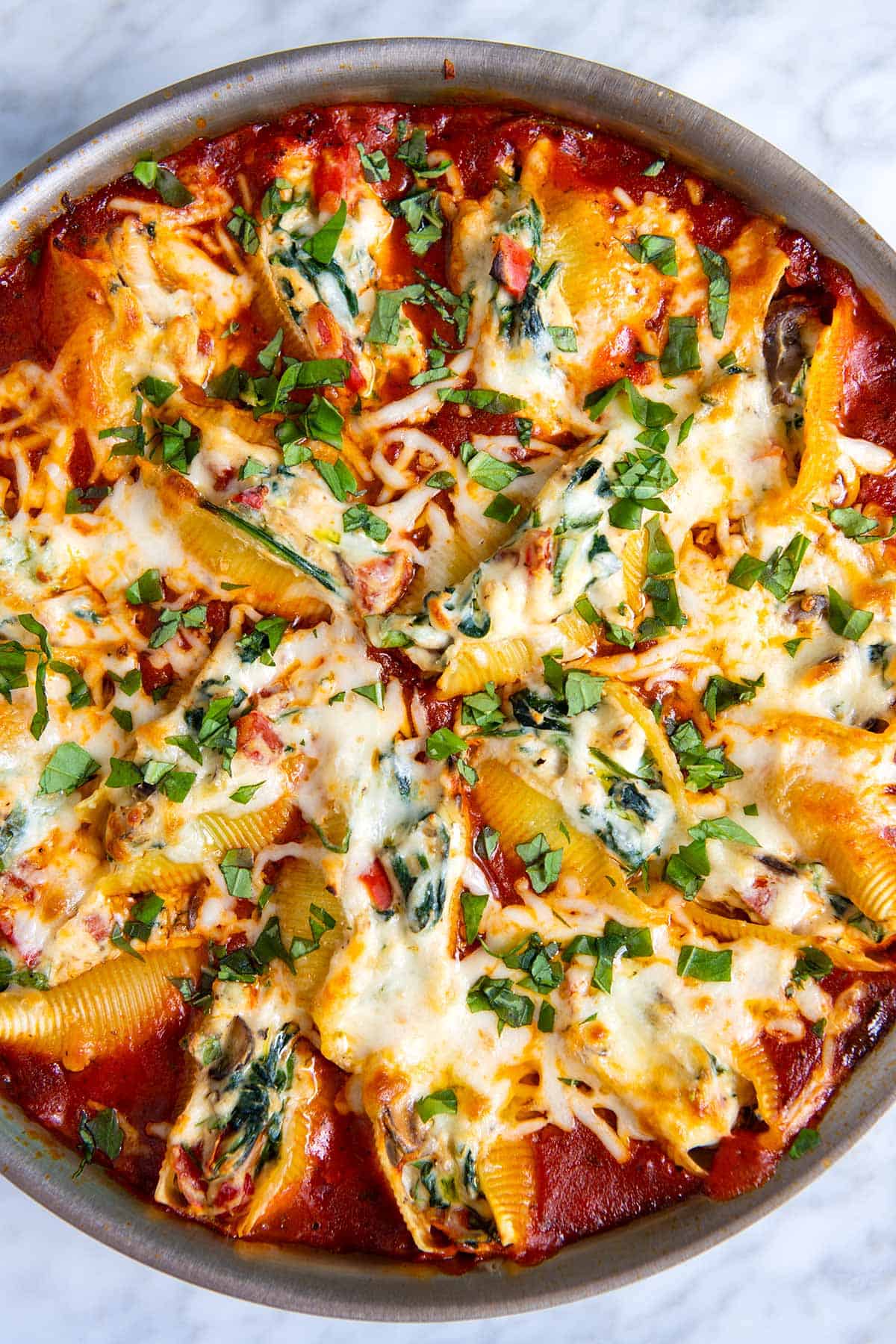 While the shells cook, you can sauté the veggies. Simply cook sliced mushrooms in a wide skillet (an oven-safe skillet is best). When the mushrooms are starting to brown, toss in the bell peppers and cook a little longer until they begin to soften. Last, but not least, add lots of spinach. As soon as the spinach has wilted down into the pan, the veggies are done.
To make the cheesy vegetable mixture, stir ricotta cheese with the cooked vegetables, fresh basil, some salt, pepper, oregano and a heaping handful of parmesan cheese. Taste the mixture before stuffing the cooked shells — I usually find it needs a pinch more salt.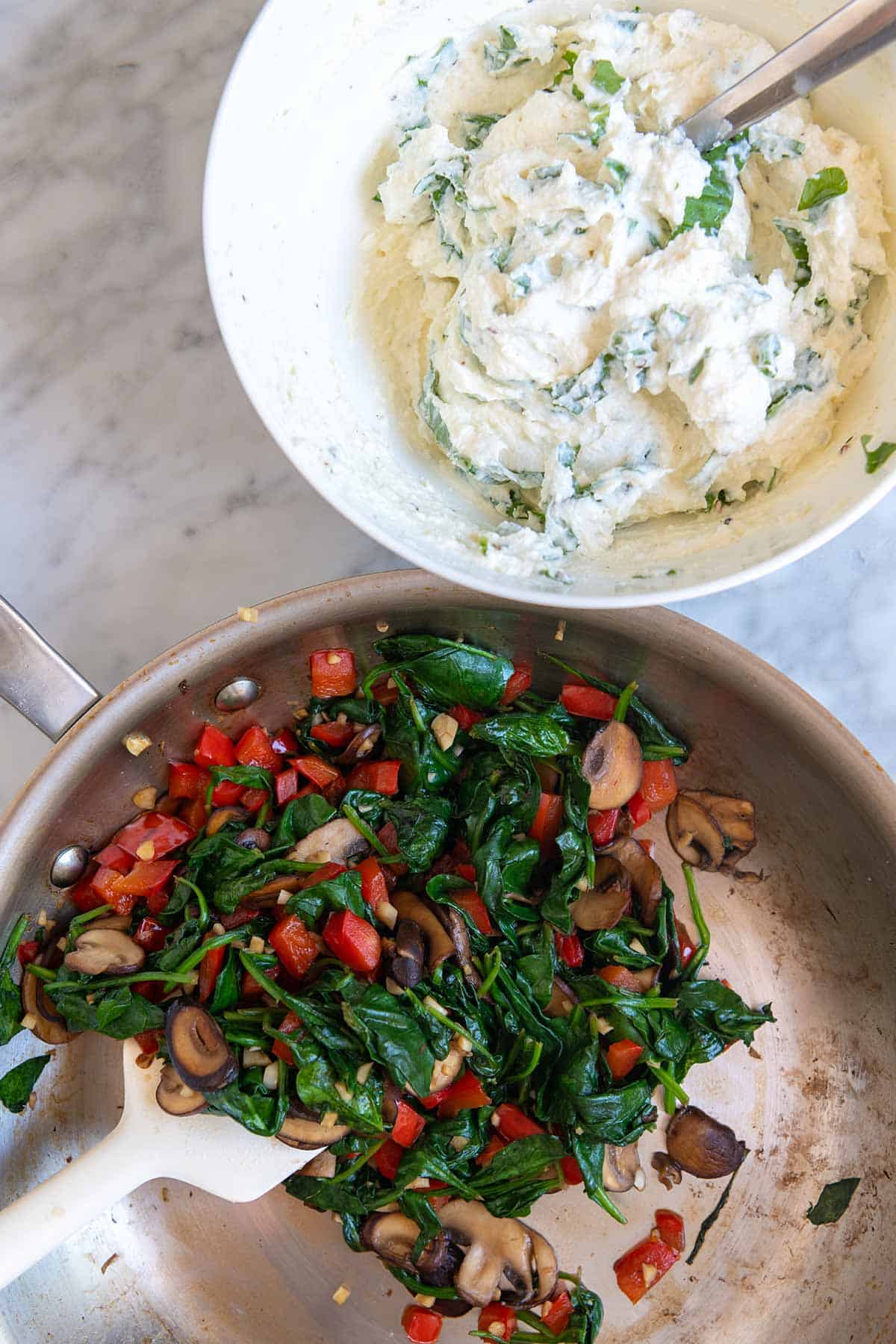 If you used a wide oven-safe skillet to cook the veggies, you can use it for baking the shells (yay for less dishes!). If you don't have a pan like this, that's okay, use a baking dish instead. Add marinara sauce to the bottom of your pan or baking dish. Stuff the pasta shells with a spoonful of the cheesy mixture, and then nestle them in the sauce.
Scatter some melting cheese over the shells — I like mozzarella or fontina cheese. Then bake, uncovered, until the marinara sauce is bubbling around the shells and the cheese has melted on top.
You may also like these recipes: If you have leftover mushrooms, here's our easy oven roasted mushrooms recipe or for leftover spinach, try our lemony sautéed spinach (it's such a fast and easy side).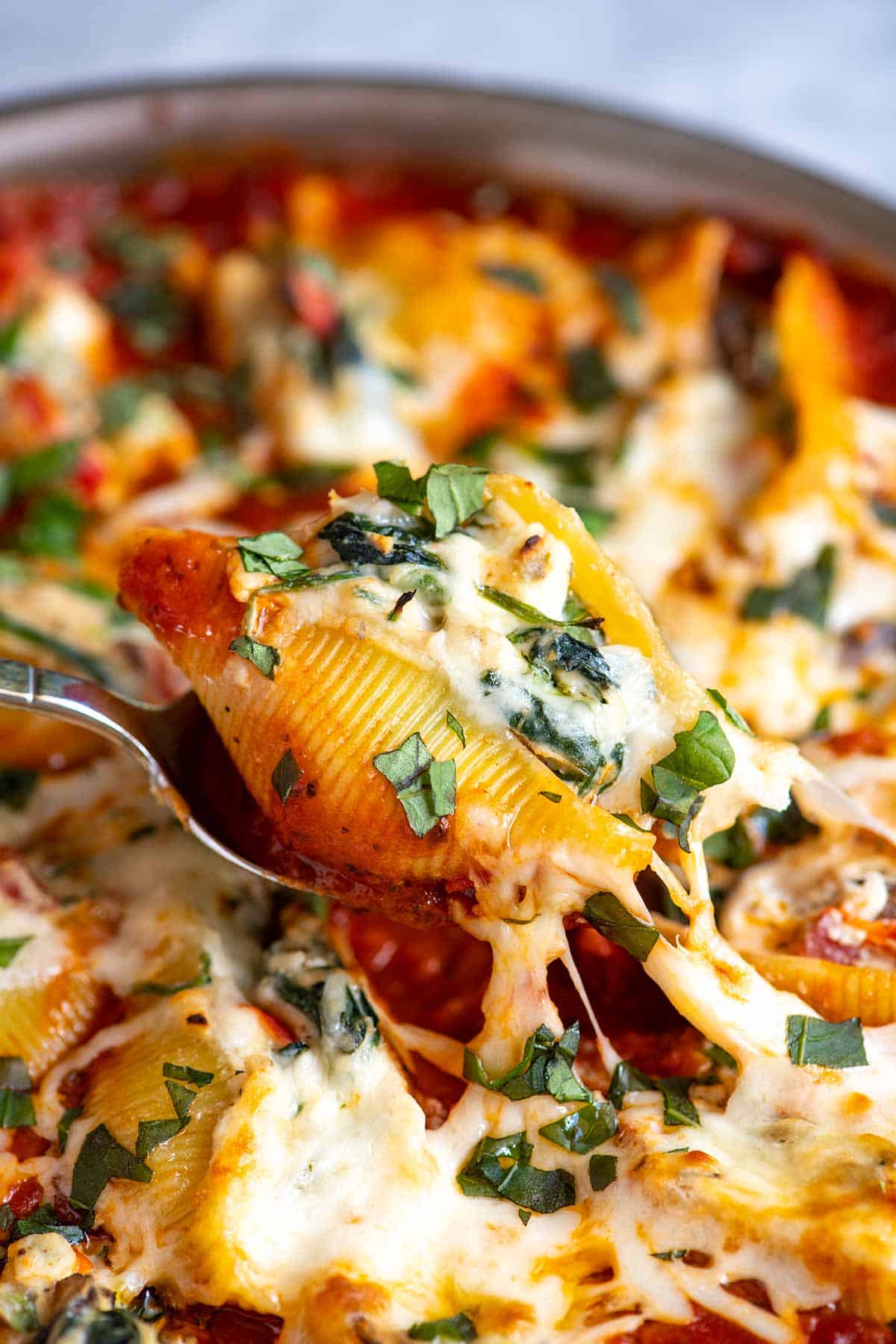 Making stuffed shells in advance
The shells can be stuffed and arranged in the baking dish or skillet and kept in the refrigerator (covered) up to a day. You can also freeze them. Wrap them tightly with a layer (or two) of foil and freeze up to three months. Thaw overnight in the fridge and then bake. Or bake from frozen, but expect them to take a bit longer to heat all the way through.
More make ahead meals: This vegetable lasagna and our weeknight spaghetti sauce are also perfect make ahead meals!
More tips for the best stuffed shells
As I mentioned above, it's best to undercook your pasta shells by a minute or two before stuffing and baking. The shells will continue to cook in the oven so undercooking them in the beginning prevents them from overcooking later on.
Use high-quality, flavorful cheeses — I like whole milk ricotta, but cottage cheese is also an option.
Generously season the filling. Before stuffing your shells, taste the cheese filling. If it doesn't pop with flavor, add a pinch more salt and possibly a bit more parmesan.
Use your favorite store-bought marinara or make it yourself using our homemade marinara sauce.
Cook a few extra shells. I always find a torn shell after boiling, which is why I like to throw a couple extra shells into the water. I usually end up eating any extra or broken shells myself with leftover cheese filling or marinara sauce.
Cheesy Veggie Stuffed Shells
Stuffed shells are such a classic recipe! This version features perfectly cooked pasta shells stuffed with a creamy mixture of two cheeses, mushrooms, spinach and bell pepper. The shells are set on top of a bed of marinara sauce and then baked until the cheese is bubbling. If you have one, use a wide oven-safe skillet to cook the vegetables. You can use the same pan to bake the shells in. If you do not have an oven-safe skillet, bake the shells in a baking dish.
This filling is enough for about 16 shells, we recommend adding a couple extra shells to the water since you might find that one or more shells tear while cooking.
Makes 16 shells or 4 servings
You Will Need
18 jumbo pasta shells
4 ounces mushrooms, thinly sliced, about 2 cups sliced
1 medium bell pepper, chopped
5 ounces spinach leaves, about 4 cups packed
3 garlic cloves, 1 tablespoon minced
2 cups whole milk ricotta cheese
3 ounces finely grated parmesan cheese, about 1 cup
1/4 cup fresh basil leaves, chopped or substitute 1 teaspoon dried
1/2 teaspoon dried oregano
3 cups marinara sauce, try our homemade marinara sauce
2 ounces shredded mozzarella cheese, about 1/2 cup
Fine sea salt and fresh ground black pepper
Directions
1Heat oven to 400° Fahrenheit.

2Bring a large pot of salted water to a boil and then cook shells, stirring occasionally, until very al dente, about 9 minutes; drain. Run under cold water to stop the cooking; drain again.

3Meanwhile, heat the oil in a wide oven-safe skillet over medium heat. Add mushrooms and spread into one layer. Cook, without moving, until browned on one side, 3 to 5 minutes. Stir then add the chopped bell pepper. Cook, stirring occasionally until the peppers are starting to soften, about 2 minutes. If you do not have an oven-safe skillet, a regular skillet will work fine, you will just need to bake the shells in a baking dish instead of the skillet later on.

4Pile the spinach leaves into the pan and add a generous pinch of salt. Wait about 30 seconds or until the bottom layer of leaves have started to wilt, and then toss the leaves around the pan. As the spinach cooks, keep tossing so that all the leaves have a chance to hit the bottom of the skillet. When the spinach looks bright green and is mostly wilted, remove the pan from the heat and allow the vegetables to cool off for a minute or two.

5Combine the ricotta cheese, parmesan cheese, basil, oregano, 1/2 teaspoon of salt and 1/2 teaspoon of pepper in a medium bowl. Stir in the vegetables and then taste the mixture. Adjust as needed with more salt or pepper.

6Place the oven-safe skillet over low heat. Pour in the marinara sauce and heat until barely simmering. Turn the heat off. If you do not have an oven-safe skillet, transfer the warmed marinara sauce to a large baking dish. (If you do have an oven-safe skillet, you can use it to bake the shells.)

7Spoon about 2 tablespoons of the cheese mixture into each cooked shell, and then nestle the filled shell down into the warmed marinara sauce. If you have any cheese mixture left, divide it between the shells or enjoy it with any leftover shells.

8Bake, uncovered, until the shells are heated all the way through and the cheese is melted on top, about 20 minutes. Remove from the oven and let sit 5 minutes before serving.
Adam and Joanne's Tips
One (28-ounce) jar of store-bought marinara sauce has about 3 cups.
Nutrition facts: The nutrition facts provided below are estimates. We have used the USDA database to calculate approximate values.
If you make this recipe, snap a photo and hashtag it #inspiredtaste — We love to see your creations on Instagram and Facebook! Find us: @inspiredtaste
Nutrition Per Serving
Serving Size
4 shells
/
Calories
596
/
Total Fat
26g
/
Saturated Fat
14.6g
/
Cholesterol
85.1mg
/
Sodium
1504mg
/
Carbohydrate
51g
/
Dietary Fiber
6.3g
/
Total Sugars
9.8g
/
Protein
37g