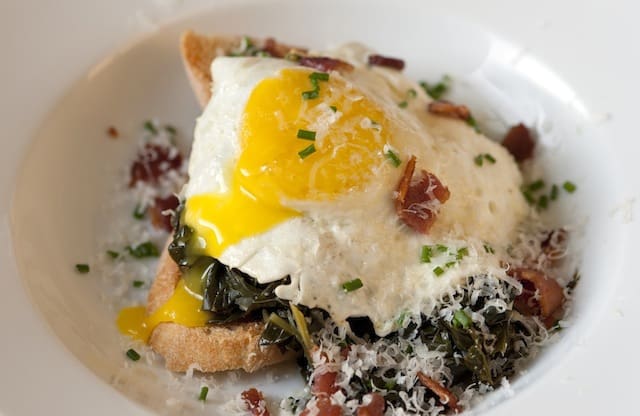 We love kale.
We love kale even more when it's topped with a runny egg and bacon. This braised kale recipe is very simple to make and might just convert a few kale skeptics. The kale is braised for about 30 minutes with bacon, chicken stock, onion and garlic — making it rich, hearty and full of flavor. Then, we pile it onto a thick piece of toast and top with egg. Perfect for breakfast, lunch or dinner.
Braised Kale Recipe — How to Make It
There's lots of options when it comes to buying kale — below we've shown Dinosaur kale. More commonly though, you will find curly kale — both work in this recipe.
With most kale recipes, you need to remove the thick stems and any thick ribs from the leaves. Then, rinse well. After that, for this recipe, we cut the leaves into 1/4-inch ribbons.
To cut the kale, if you roll the leaves up like a cigar and slice it makes things extra easy.
Braising — What is it?
So what exactly does it mean to braise something?
It's simple, really. All you are doing is adding something to a pot, adding liquid, and then simmering while covered until tender. You can do this with chicken, meats and vegetables. It's great for making something tough or hearty, tender.
In this case, we heat a large pan (with lid) over a medium-low heat. Add bacon and cook until crispy. Remove the bacon and save for serving, but leave the fat.  In goes some onions and garlic.
And finally, the kale.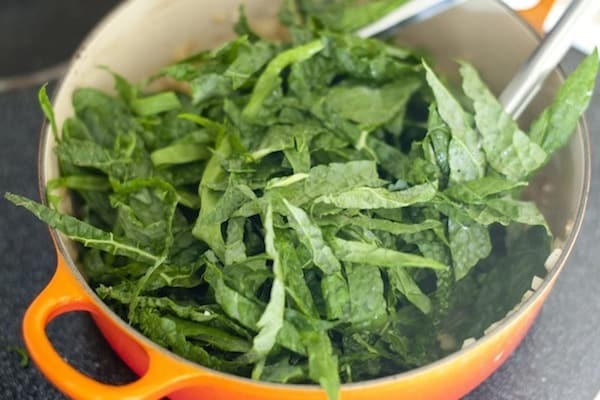 Next, we pour in some chicken stock, bring it to a simmer and cover. After 30 minutes the kale is tender and delicious. Easy.
You May Also Like
Kale with Egg and Toast
A simple recipe for braised kale topped with with egg, bacon and on top of toast.
Created By:
Joanne and Adam Gallagher
You Will Need
1 (9-ounce) bunch Kale
2 strips thick cut bacon
1 tablespoon olive oil
1/2 cup diced onions
1 whole galric clove, peeled and minced
4 cups chicken stock
juice of 1 lemon
salt to taste
2 eggs
2 3/4-inch slices bread, toasted
3 chives, chopped
Parmigiano-Regiano Cheese
Directions
Prepare the kale by removing then discarding the ribs and stems. Stack leaves and slice into 1/4-inch ribbons. Wash thoroughly then dry.
Add bacon slices to a large saucepan with lid over medium-low heat and cook until crispy. Remove bacon and reserve for serving.
Drain excess bacon fat from pan, add 1 tablespoon of olive oil and diced onions. When onions are transparent add garlic, cook for 1 minute.
Add kale to the pan and stir until the kale is wilted, about 5 minutes.
Add enough chicken stock to cover the kale by 1/2-inch. Bring chicken stock to a simmer, cover and continue to simmer for about 30 minutes until the kale is tender. Squeeze the juice of one lemon over the kale and season with salt to taste.
Fry 2 eggs so that the yolks are slightly runny.
Toast bread and place in the bottom of a bowl, top with a large spoonful of kale and one egg.
Break the bacon strips, from earlier, into smaller pieces and sprinkle on top, drizzle with olive oil then top with chopped chives and grated Parmesan cheese.