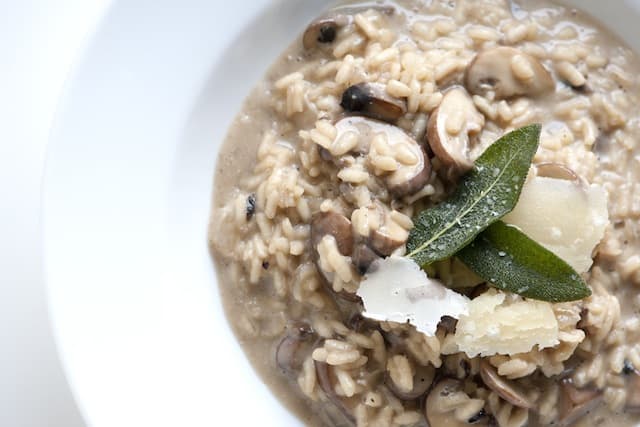 Risotto is most certainly a labor of love. This is not a throw everything in to a pan and walk away kind of recipe, you must be involved. Whenever we make risotto, there is almost always a glass of wine in hand, music streaming from Pandora and two chairs pulled up close to the oven. We chat, stir, add stock and repeat until our risotto is ready.
How to make Mushroom Risotto
Start by making a mushroom-y stock. We start with store-bought chicken stock (choose a stock with flavor — we LOVE the organic stocks from Trader Joe's the Kitchen Basics brand is also pretty good). Then, we add chopped mushroom stalks (the caps are going to be used in the risotto), thyme and a bay leaf.
Note — You could skip this step and just use chicken stock as is, but you will loose some flavor.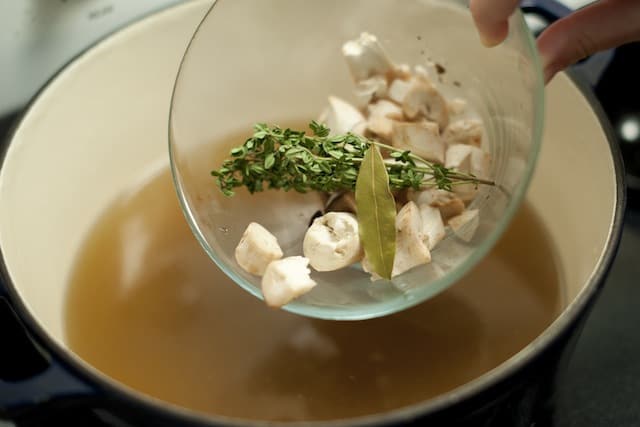 Next, add some soy sauce to the chicken stock, bring to a boil, reduce the heat, and simmer uncovered for 30 minutes. I know soy sauce seems a little odd, but the flavor it brings is fantastic. Finally, strain the stock and keep it warm.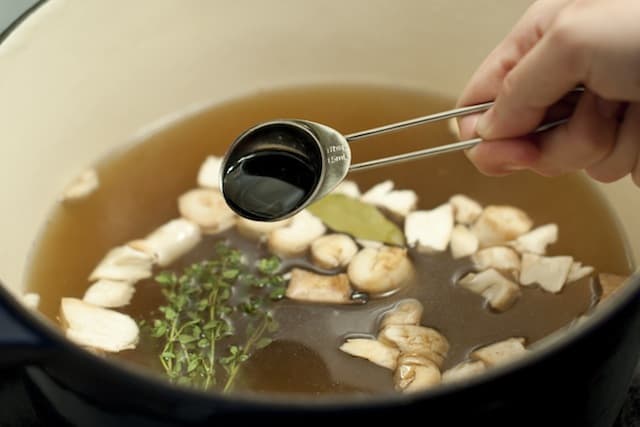 Heat another large pot and saute sliced mushroom caps and diced onions. You want the onions to become soft and translucent, once that happens you're ready to move on to the next step.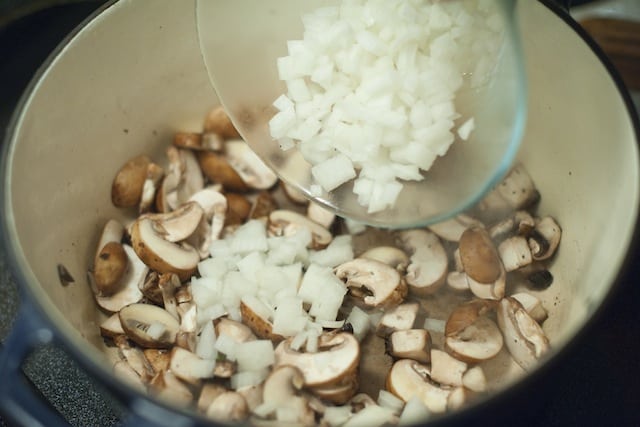 Now, add the Arborio (risotto) rice. Toss it around the pan a bit so it can toast. You really need Arborio or other risotto rice for this, you can find it on the same aisle as regular rice.
In goes some white wine — choose a drier wine, something like a Chardonnay would work.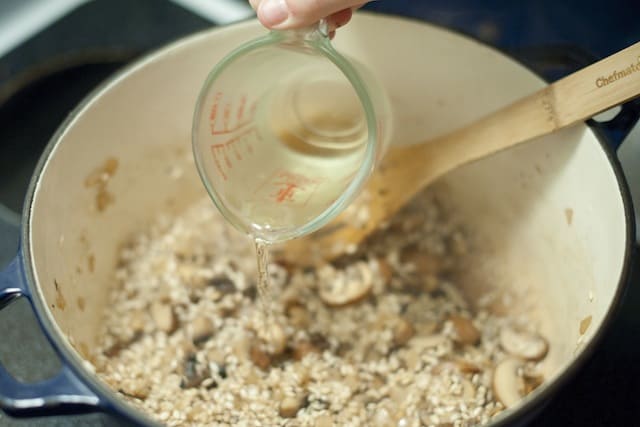 Allow to the wine to reduce. Then, you're ready to start adding the stock. Add the stock a half cup at a time.
You want each half-cup to absorb into the risotto, don't add more stock until the stock that is in the pot is completely absorbed. Stirring is key here, that is what produces a creamy risotto. Like I said earlier, it's a labor of love. After 20-25 minutes of adding stock and stirring, the rice should be just cooked and a bit chewy. At that point, stir in cream cheese, Parmesan cheese and season to taste with salt and pepper.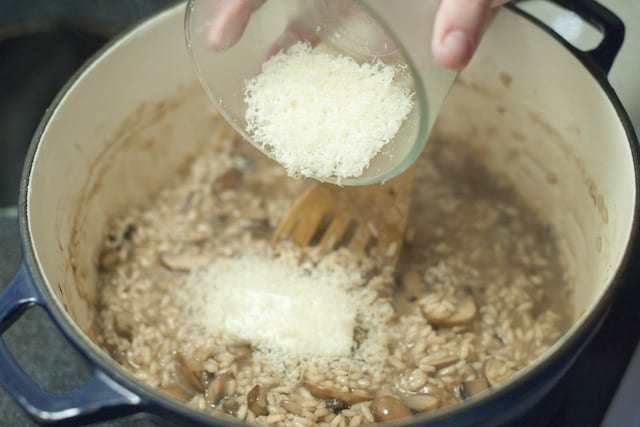 If you're up to it, fry up a few sage leaves to place on top of the risotto. To do this, heat some olive oil in a pan, add the leaves in a single layer and fry until crisp. It takes less than a minute.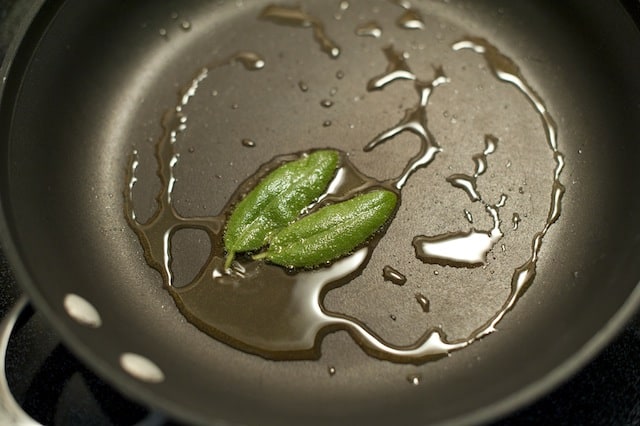 A bit of a process, we know, BUT worth it.
This recipe was created for Betty Crocker.com
A few more from around the web:
Farro and Millet Risotto Recipe from 101 Cookbooks
10 Risotto Recipes from Saveur
Beet Risotto with Goat Cheese from Tasty Kitchen

Risotto is a labor of love, when you make this grab a glass of wine and enjoy the process.
You Will Need
3 tablespoons butter
2 cups fresh mushrooms such as portobello or cremini, cleaned
8 cups chicken stock (use vegetable stock for a vegetarian option)
2 sprigs fresh thyme
1 bay leaf
1 tablespoon soy sauce
1/2 cup yellow or white onion, finely chopped
1 3/4 cups Arborio rice or risotto rice
3/4 cup dry white wine
1/2 cup cream cheese
1/3 cup freshly grated Parmesan cheese
salt and freshly ground black pepper
olive oil for garnish (optional)
12 sage leaves for garnish (optional)
parmesan cheese shavings for garnish (optional)
Directions
Clean mushrooms by wiping with dry paper towel; do not wash. Remove mushroom stems; coarsely chop and set aside. Cut mushroom caps into 1/4-inch thick slices. (If large, cut into bite-sized pieces.) Set aside.
Pour broth into 3-quart saucepan. Add chopped mushroom stems, thyme, bay leaf and soy sauce; heat to boiling. Reduce heat; simmer uncovered 30 minutes.
Strain broth; discard stems, thyme and bay leaf. You should have about 6 cups broth; if not, add water.
In 3-quart deep heavy saucepan, melt butter over medium-high heat. Add mushroom slices and onion; cook 5 minutes. Add rice; stir to combine. Cook 1 minute. Add wine; heat to boiling. Cook until liquid is reduced by half.
Add 1/2 cup broth; cook over medium-high heat, stirring constantly, until rice has absorbed liquid.
Adding 1/2 cup broth at a time, continue cooking and stirring 20 to 25 minutes until all broth has been added and absorbed. When done, rice should be just cooked and slightly chewy.
Stir in cream cheese and grated Parmesan cheese. Season to taste with salt and pepper.
To make fried sage leaves, in 8-inch skillet, heat olive oil over medium-high heat. Add sage leaves, a few at a time, in single layer; fry 15 seconds (do not brown leaves). Remove leaves from skillet; sprinkle with dash of salt
Serve risotto in individual shallow bowls. Top each with a few sage leaves and Parmesan cheese shavings.