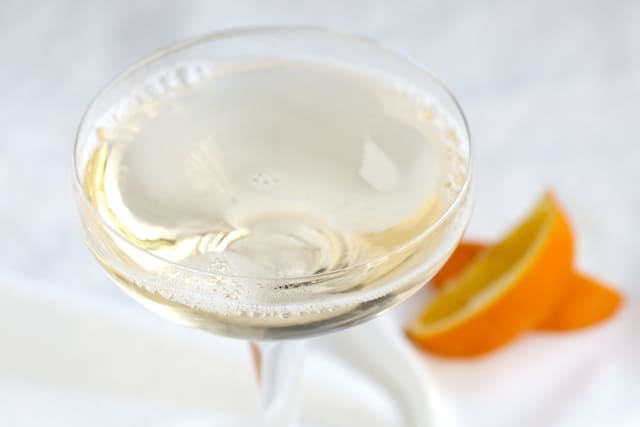 Alright, here's mine…. you saw Adam's right, the Champagne Cosmo… it is completely delicious, but I needed to share one of my own, well not really my own, it is inspired by the St. Germain website, but, who cares, I drank it. Have you ever had St. Germain? It is certainly a liqueur  you want with something… to me, it's a tad too sweet by itself, but when paired with something a little drier.. well, I'm happy! It's actually made from elderflower… I'm not 100% sure what that means at the moment, but it sounds cool, right?
Anywho…. it's delicious and perfect for New Years! Enjoy!

St. Germain and Champagne
Simple, elegant and absolutely delightful. Floral St. Germain mixes with dry champagne makes a perfect cocktail to start or end an evening!
Created By:
Adam and Joanne Gallagher
You Will Need
1/2 ounce chilled St. Germain
4 ounces chilled dry champagne or sparkling wine
orange
Directions
Add St. Germain and champagne to a flute or champagne glass add a spritz of orange juice, and then enjoy!