These easy fried apple rings can be served savory with a sprinkle of salt or sweet with a dusting of powdered sugar. Jump to the Crispy Beer Battered Fried Apples Recipe or read on to see our tips for making them.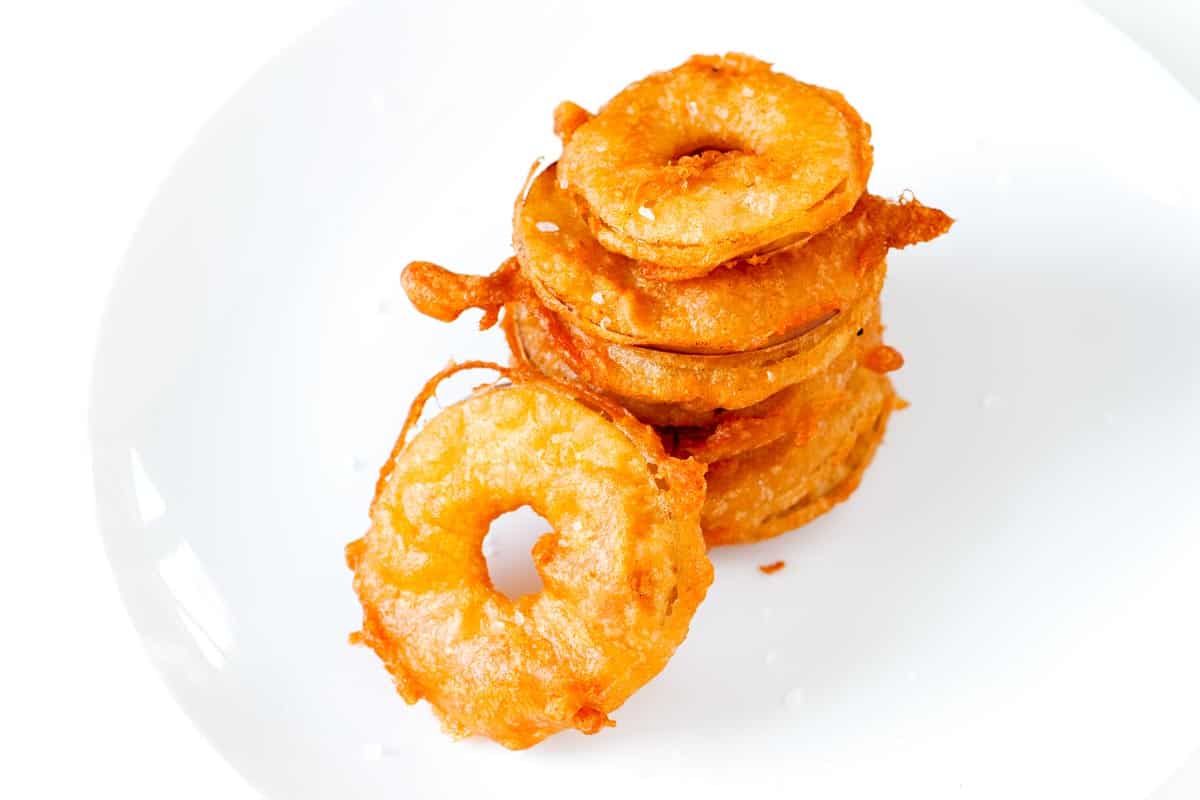 YOU MAY ALSO LIKE: This baked apples recipe is easy enough for tonight, but doubles as the perfect dessert for friends and family (or the holidays). These just might beat apple pie! Jump to the Baked Apples Recipe.
How to Make Beer Battered and Fried Apple Rings
We're not fans of frying at home, but we make an exception for these easy fried apples. They are quick to make and work perfectly as an appetizer or side when sprinkled with salt or can be dessert.  Adam loves them savory with salt and a quick dip into ketchup. I love the sweet route. They taste like a warm apple doughnut.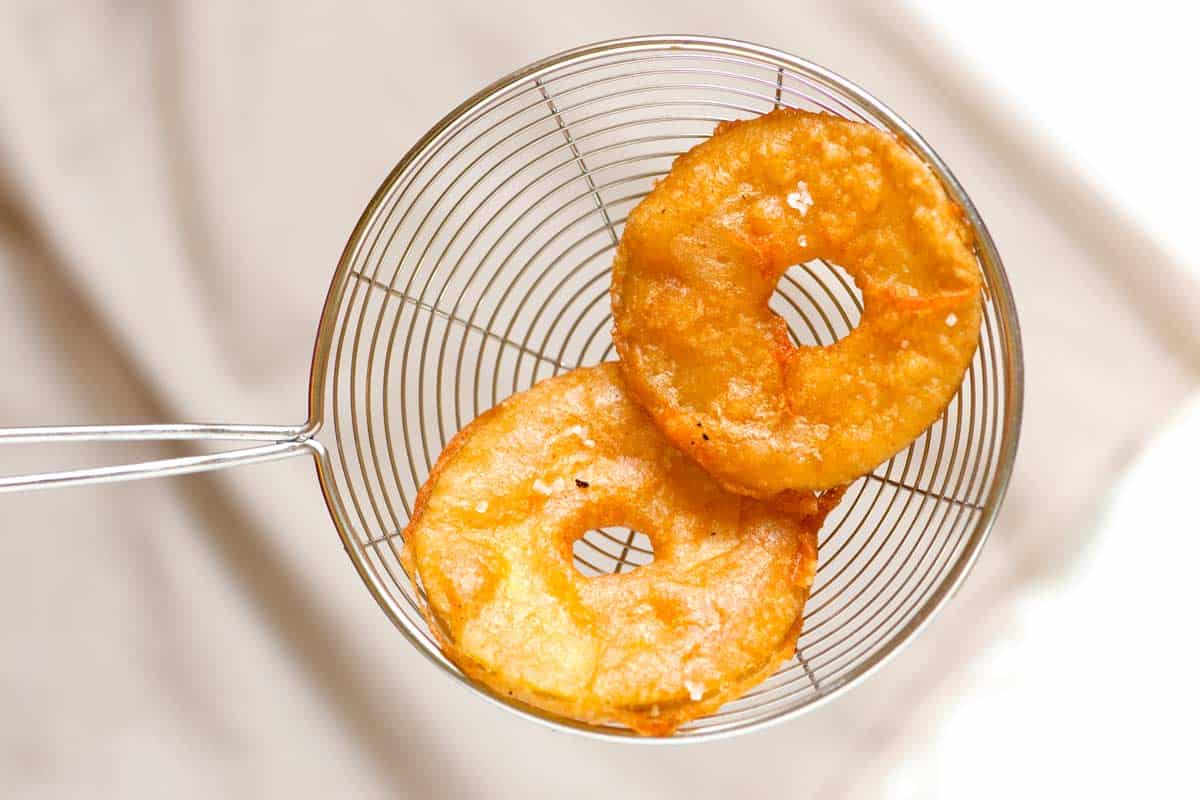 Use a tart, crisp apple for this so it holds up. For the beer, you can use whatever you love — we especially like using a wheat beer with dark, stout beer coming in as a second favorite.
YOU MAY ALSO LIKE: How to make the best tall, fluffy Dutch baby pancakes with tender apples. Jump to the Apple Dutch Baby Pancake Recipe.
Recipe updated, originally posted January 2012. Since posting this in 2012, we have tweaked the recipe to be more clear. – Adam and Joanne
Crispy Beer Battered Fried Apples Recipe
Fried apple slices can be served savory with a sprinkle of salt or sweet with a dusting of powdered sugar or drizzle of caramel sauce. When you deep fry at home, make sure you are actively engaged and use a thermometer to regulate the oil temperature. Keeping the lid of the pot you are using near by is a good idea.
You Will Need
Vegetable oil, or other high smoke-point oil such as canola or peanut for frying
1 large egg white
1 cup beer, slightly flat
1 cup all-purpose flour
1 teaspoon salt
1 teaspoon cinnamon, optional
1/8 teaspoon cayenne pepper, optional
3 large Granny Smith apples or other firm apple, peeled and cored
Sea salt, powdered sugar or caramel sauce for serving
Directions
1Pour enough oil into a medium saucepan to reach a depth of 2 inches. Heat the oil over medium heat until a deep-fry thermometer registers 375 degrees F.

2Whisk the egg white until frothy then gently stir in the beer, flour, salt, cinnamon and cayenne pepper until smooth.

3Slice the apples into 1/4-inch rings and pat dry. Working in batches, dip the apple slices into the batter and allow excess batter to drip off.

4Prepare a plate lined with paper towels or a clean dishcloth.

5Fry 1 to 2 minutes on each side until golden brown and crispy. Using a slotted spoon, transfer the fried apples to paper towels to drain excess oil. Sprinkle apples with a pinch of salt or if serving as a dessert, with powdered sugar.
Adam and Joanne's Tips