How to make perfectly marinated and grilled swordfish kabobs with lemon, pepper and thyme. Jump to the Lemon Pepper Grilled Swordfish Kabobs Recipe or read on to see our tips for making them.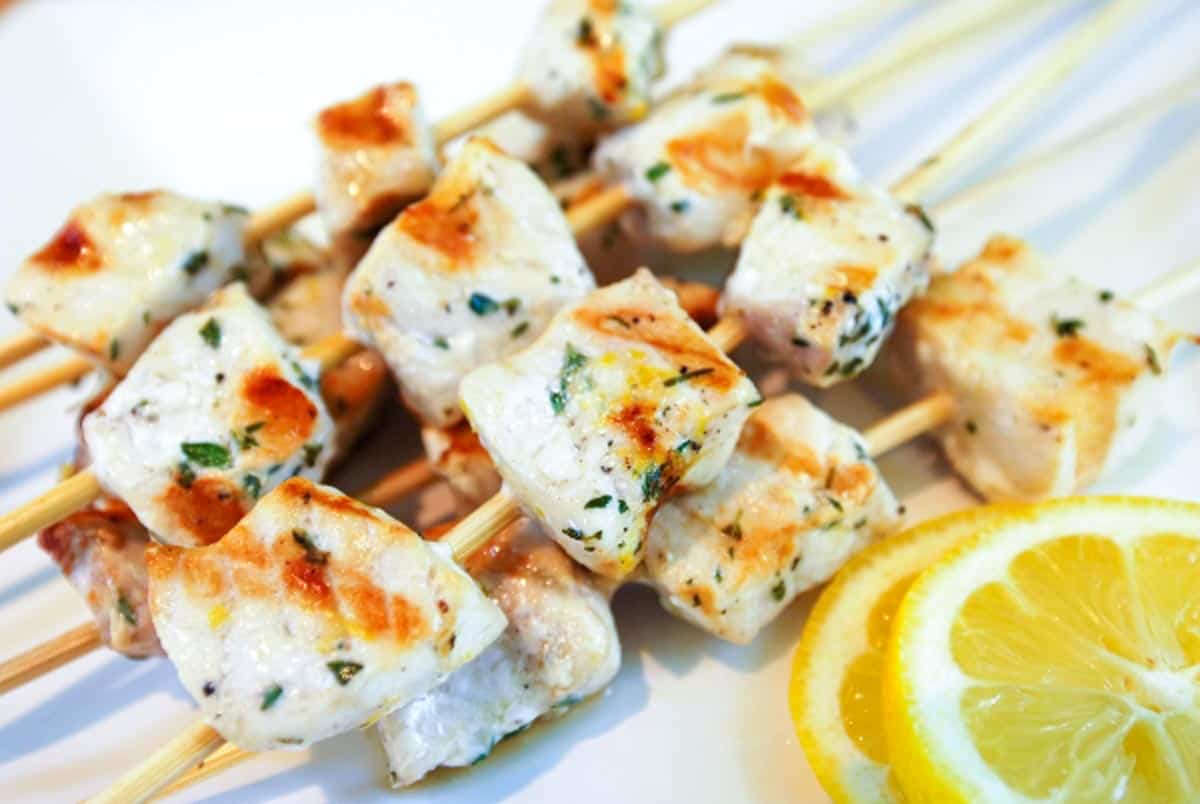 When it comes to seafood, we like things to be simple. These easy grilled swordfish skewers are just that. We marinate the fish in a combination of olive oil, anchovy paste, lemon zest, fresh thyme and pepper.  After about an hour, we skewer and grill until cooked through and grill marks appear. They are absolutely delicious.
YOU MAY ALSO LIKE: How to cook swordfish on the grill with coriander and lime. Jump to the Grilled Swordfish with Coriander and Lime Recipe.
Like most seafood these days, it's important to take care when buying swordfish. Look for sustainable options. Monterey Bay Aquarium's Seafood Watch Program is my favorite resource for finding out what the best options are. When it comes to swordfish, the sustainability depends on where and how it was fished.
If you can't find sustainable swordfish.  Try this recipe with Mahi Mahi or Striped Bass.
Recipe updated, originally posted August 2009. Since posting this in 2009, we have tweaked the recipe to be more clear. – Adam and Joanne
Lemon Pepper Grilled Swordfish Kabobs
If you cannot find sustainable swordfish. Try this recipe with Mahi Mahi or Striped Bass.
Makes 4 servings or 8 kabobs
You Will Need
2 swordfish steaks, 6 ounces each
2 tablespoons extra-virgin olive oil
2 teaspoons lemon zest
1/2 teaspoon pepper
1 1/2 teaspoons anchovy paste
1 tablespoon chopped fresh thyme
8 wooden skewers
2 lemon wedges for serving
Directions
1Cut swordfish into 1-inch cubes then add to a resealable plastic bag. Add the olive oil, lemon zest, black pepper, anchovy paste and thyme to the bag then seal. Gently massage the bag until the marinade is well mixed and the fish coated. Place the bag onto a plate and refrigerate for 1 hour.

2Meanwhile, submerge the skewers in water so they soak.

3After 1 hour, heat grill to medium-high heat (or place a grill pan over medium heat).

4Divide the swordfish cubes between each skewer then grill until just cooked through, about 2 minutes per side. Transfer to a serving plate and squeeze lemon juice over the fish.