How to make irresistible salted caramel sauce with just six ingredients in less than 30 minutes. No fancy expensive store-bought jars of sauce needed. Jump to the Salted Caramel Sauce Recipe or read on to see our tips for making it.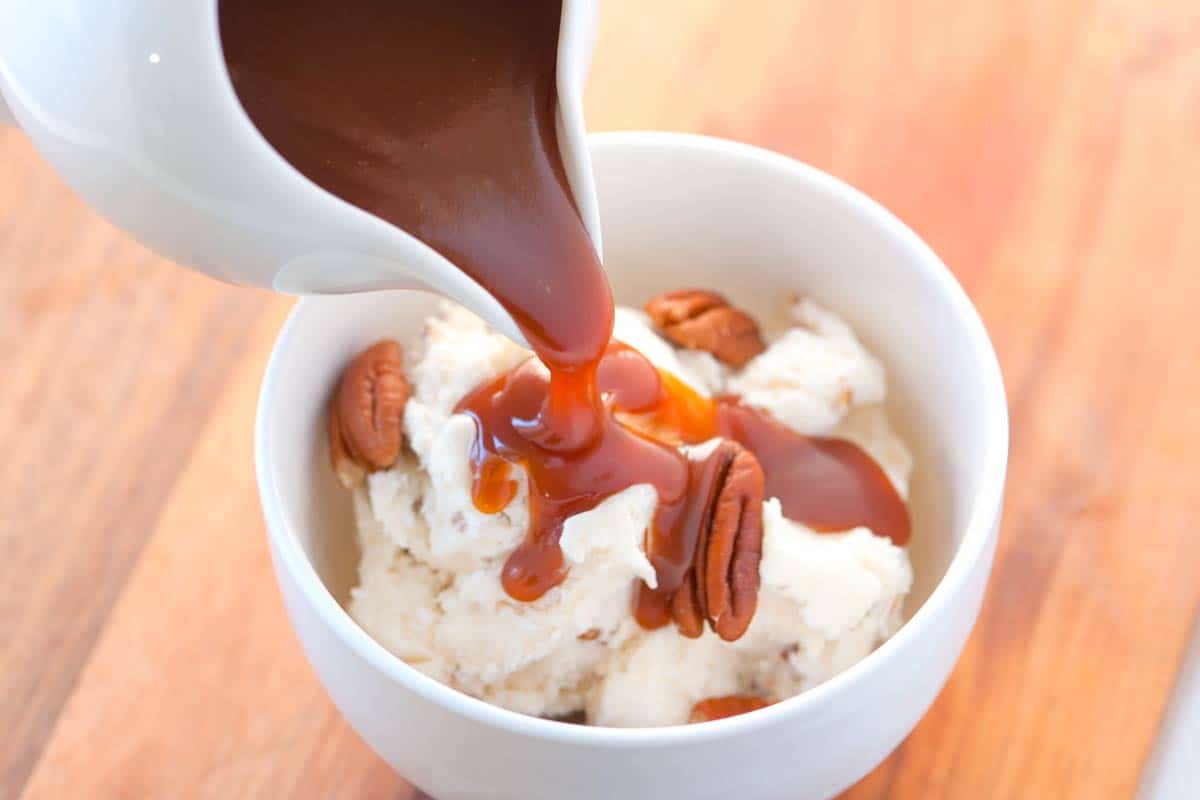 Caramel sauce is ridiculously easy to make at home. It really, truly is. All you need are a few ingredients, a saucepan, and a candy thermometer. In just about 30 minutes you can make it at home — yourself. No fancy expensive store-bought jars of sauce needed.
YOU MAY ALSO LIKE: Our Salted Caramels are one of the easiest candies you can make at home. All you need is our straight-forward caramels recipe and a few tricks. We also have a recipe for chocolate covered caramels!
How to Make the Best Salted Caramel Sauce
This caramel sauce is addictive, especially when drizzled over butter pecan ice cream, brownies or whatever else you can get your hands on.
You will need sugar, water, lemon juice, heavy cream and vanilla extract. Plus, since we are making this into a salted caramel sauce, you'll also need a good sea salt.
Add the sugar, water, and lemon juice to a large saucepan over low heat. Stir just to combine, but be careful not to slosh the sugar up the sides of the pan. Cook over low heat until the sugar has dissolved into the water. This would be a good time to add a candy thermometer to the pan, too!
What's the lemon juice for? When making caramel you risk something called crystallization. Not good. You see, we want the caramel to be smooth and silky. If crystallization occurs, the sauce can be grainy or worse — unusable! Lemon juice is our little failsafe to prevent crystallization. You can make the sauce without it, but we like throwing it in there for good measure. Oh, and in case you were worried, we haven't noticed a huge difference in flavor with lemon juice added.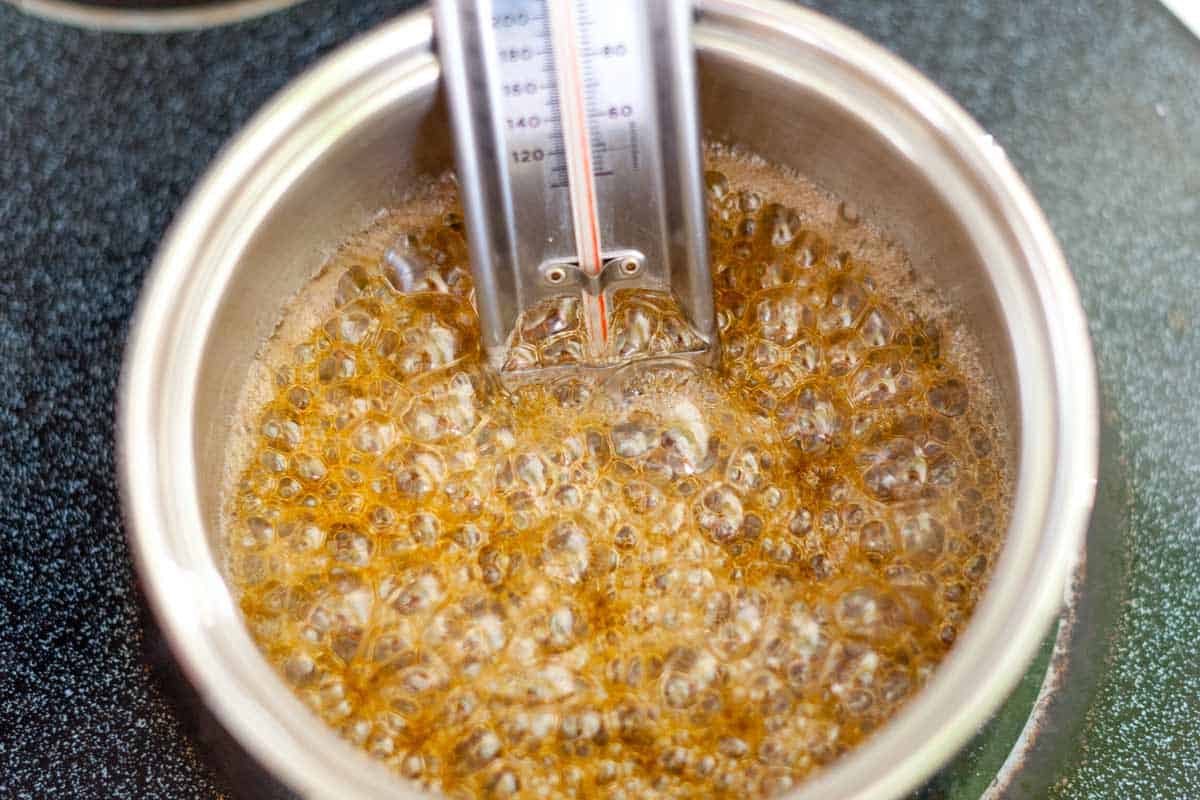 Now, go ahead and increase the heat, stop stirring the mixture and bring the sugar to 350° F. This step takes around 10 minutes, but stay close. Remember, you are working with very hot sugar, so be careful.
If you need to, gently swirl the pan carefully to disperse any hot spots. Turn off the heat, then add the cream and vanilla. It will bubble violently, so stand back a bit.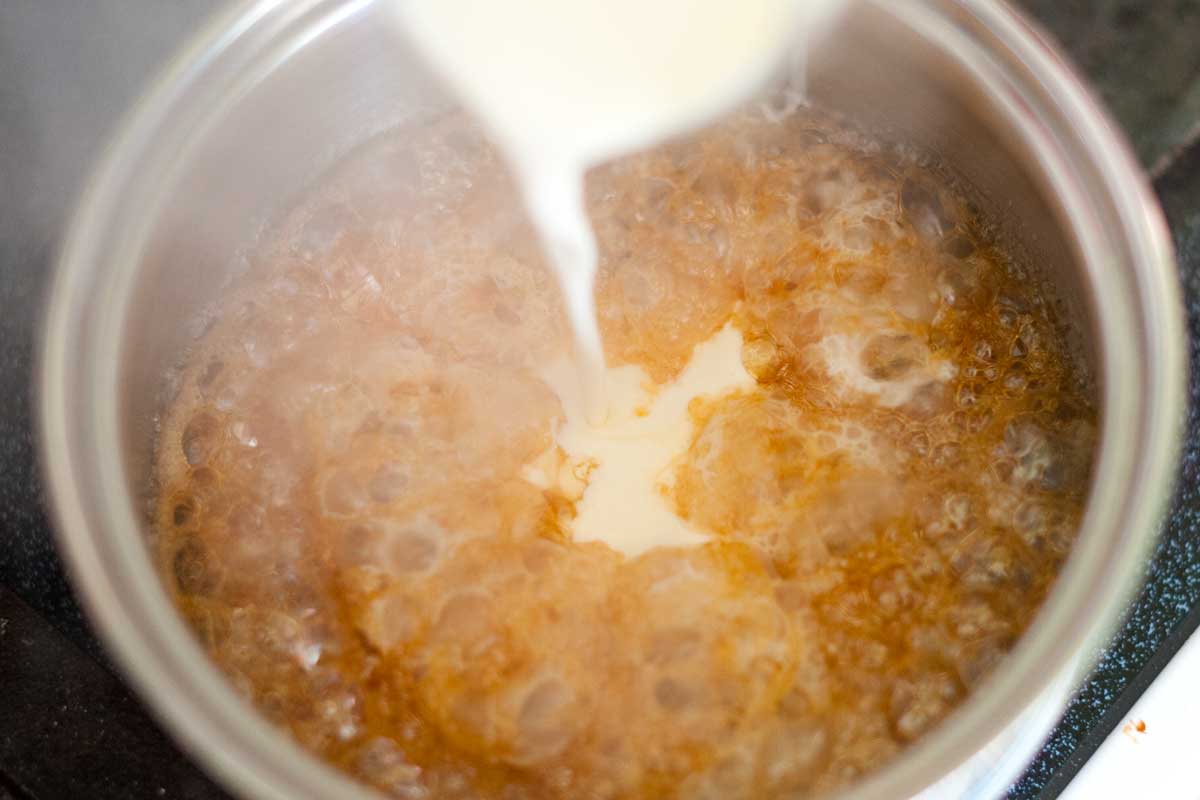 Now, place the pan back onto the heat and stir until smooth. Don't worry if the caramel is lumpy at first, any lumps will melt into the caramel after a minute or two. Then, allow the caramel to cool. You could give it a taste at this point… just be careful and blow on the spoon before trying — remember it is really hot right now.
Once cooled, you can store the sauce in an airtight container in the fridge for two weeks! Although, we doubt it would last that long. When you want to use it, throw it in the microwave for 30 seconds and pour over something delicious. Here are a few ideas for you (other than ice cream):
Recipe updated, originally posted February 2012. Since posting this in 2012, we have tweaked the recipe to be more clear. – Adam and Joanne
Irresistible Salted Caramel Sauce
Making your own caramel sauce is not difficult at all. You will need a heavy-bottomed medium saucepan for this. (Lightweight and thin pans heat up unevenly and can create hotspots). It's also best to use a candy thermometer. You could go by your gut and the color of the caramel, but a thermometer makes the process more precise and much less stressful (for us, anyway). We love turning this into salted caramel sauce, but the addition of salt is completely up to you.
Makes approximately 2 cups
You Will Need
1 1/4 cups heavy cream
1 teaspoon vanilla extract
1 1/2 cups granulated sugar
1/3 cup water
1/2 teaspoon lemon juice
1/2 teaspoon sea salt, plus more as needed
Directions
Prepare Caramel Sauce

1Combine cream and vanilla, set aside.

2Add sugar and water to a very clean medium heavy bottomed saucepan. Gently stir so that the sugar is just moistened by the water. Cook the sugar, water, and lemon juice over low heat until the sugar dissolves and the mixture is clear, about 10 minutes. Do not stir while the sugar cooks.

3Cover the pot with a lid for one minute. (This adds steam to the pot and washes any sugar clinging to the sides of the pan down into the sugar syrup, preventing crystallization). Remove lid and attach a very clean candy thermometer to the side of the pan. Increase heat to medium and cook, without stirring, until the sugar reaches 350 degrees F; 5 to 10 minutes. (You can occasionally and gently tilt the saucepan from side-to-side to distribute any hot spots, but do not use a spoon).
To Finish

1Once the caramel reaches 350 degrees F, remove the pan from the heat and slowly pour in the vanilla cream. The caramel will splatter and bubble violently, just stand back and be careful during this step. Don't worry if the caramel hardens, it will melt back into a silky smooth caramel in a minute.

2Place the sauce back onto the burner over low heat and cook for 2 minutes, constantly stirring until the solids have dissolved and the caramel is silky smooth. Stir in the salt then cool to room temperature. As the caramel cools, taste to see if you need to add additional salt — be careful, though, it might still be very hot! Check that it's cooled enough first.
Adam and Joanne's Tips
To Store: Cover tightly and keep in the refrigerator up to two weeks. It will drizzle cold, but is even more wonderful warmed slightly.
Keep a bowl of ice water near or make sure you've got access to cold water from the sink. Caramel is very, very hot and will burn you if it gets on your skin. It's also a good idea to use oven mitts when moving the pot around, just in case some caramel spits or splashes in your direction.
It is essential that everything used when making caramel is clean. We're talking the pan, thermometer, measuring cups and even the water-sugar mixture. Impurities can turn perfectly good caramel into a crystalized mess. So disheartening! Double check before you start – it's worth it.
Once the sugar dissolves don't stir until the cream is added in the end — the most you want to do is to gently tilt or swirl the pan from side-to-side to ensure everything cooks evenly.
Use lemon juice. This is optional, but we highly recommend it. You see, if you add lemon juice to the water and sugar in the beginning of the caramel making process, it can help prevent crystallization. Not everyone uses this, but we do — it's a little failsafe we're happy to include. No one wants a failed caramel, right?
Nutrition facts: The nutrition facts provided below are estimates. We have used the USDA Supertracker recipe calculator to calculate approximate values.
If you make this recipe, snap a photo and hashtag it #inspiredtaste — We love to see your creations on Instagram and Facebook! Find us: @inspiredtaste
Nutrition Per Serving
Serving Size
2 tablespoons
/
Calories
138
/
Protein
0 g
/
Carbohydrate
19 g
/
Dietary Fiber
0 g
/
Total Sugars
19 g
/
Total Fat
7 g
/
Saturated Fat
4 g
/
Cholesterol
25 mg
/
Sodium
80 mg