Pan fried snapper cooked in a spicy tomato sauce with olives, citrus and lots of herbs. Jump to the Snapper Recipe with a Spicy Tomato, Citrus and Herb Sauce or read on to see our tips for making it.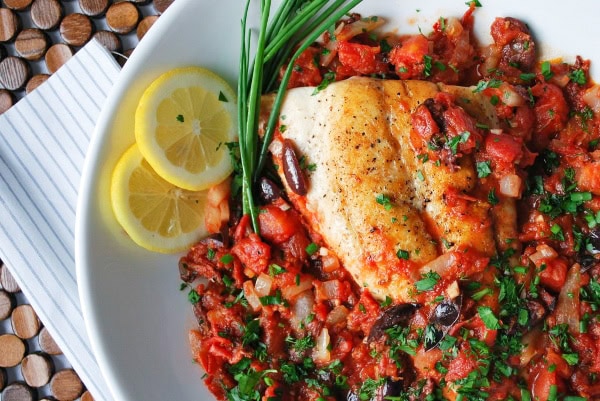 I love how fresh, light and zesty this fish recipe is. Oh and it's all made in one pan, which is always a win in our book.
YOU MAY ALSO LIKE: How to make pan seared salmon burgers with a spicy chipotle mayonnaise in under 30 minutes. Jump to the Pan Seared Salmon Burger with Chipotle Mayonnaise Recipe.
We keep the fish simple and leave the flavor bomb up to the spicy tomato sauce. The trick is to season the fish well with salt and pepper then pan fry until it is almost done. I say almost, because we actually remove the fish then make the sauce in the same pan. When the sauce is done, we nestle the fish back into the pan with sauce and allow it to finish cooking. This keeps the fish moist and gives it a chance to soak up all the flavors from the sauce before serving.
The sauce is actually quite simple and calls for some of my favorite ingredients. The base is made with onion, garlic and red pepper flakes. It's the red pepper flakes that gives some spice so use as much or as little as you like. When the onions and garlic are softened and fragrant, we pour in a can of tomatoes with all the juice. Then we stir in a handful of briny olives, lemon and orange zest and a generous amount of fresh herbs. When it comes to the herbs, I really don't think you can over do it. Seriously. They add so much flavor, just go for it.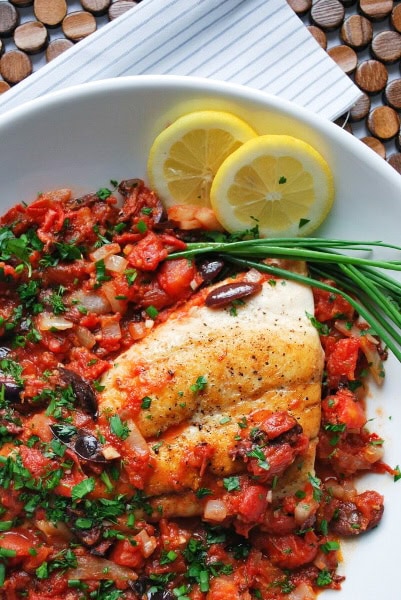 YOU MAY ALSO LIKE: This fish is best when served with bread for mopping up the sauce. Here's how to make focaccia bread that's perfectly crisp on the outside and soft and chewy on the inside. Jump to the Easy Focaccia Recipe.
Recipe updated, originally posted April 2010. Since posting this in 2010, we have tweaked the recipe to be more clear. – Adam and Joanne
Pan Seared Snapper with Spicy Tomato and Herb Sauce
In our recipe we call for snapper, but this recipe can be made with any firm white fish. Pacific Halibut is excellent or look for Pacific Cod, Black Cod or Sablefish. Adam and I are pretty serious when it comes to buying the best choice when it comes to sustainability and seafood. I love checking in with Monterey Bay Aquarium's Seafood Watch to make sure we are making the right choice. (It's really easy, just enter the fish you are buying and they share the best choices for where it should come from).
You Will Need
1 pound snapper
2 tablespoons olive oil
Salt and fresh ground black pepper
1 medium onion, chopped (about 1/2 cup)
2 garlic cloves, minced
1/4 to 1/2 teaspoon crushed red pepper flakes, depending on how spicy you want the sauce
1 tablespoon lemon zest
2 teaspoons orange zest
1/3 cup kalamata olives
1 (14-ounce) can diced tomatoes
2 teaspoons chopped fresh dill, plus more for serving
2 teaspoons chopped fresh chives, plus more for serving
1 tablespoon chopped fresh parsley, plus more for serving
Lemon wedges for serving
Directions
1Heat the olive oil in a large skillet over moderately high heat. Season both sides of the snapper with salt and pepper then carefully place into the olive oil. Cook until lightly browned on both sides, but leave the fish slightly undercooked, about 5 minutes. Transfer the snapper to a plate.

2Turn down the heat to medium, add the onions and cook until softened (add a little more olive oil if the pan is dry). Stir in the garlic and red pepper flakes then cook for 30 seconds. Stir in the lemon and orange zest, olives and the can of diced tomatoes with juices.

3Use a wooden spoon to scrape up any pieces of fish stuck to the bottom of the pan. Bring to a simmer then cook for 5 minutes. Stir in the herbs, taste then season with additional salt or pepper if needed.

4Nestle the fish into the sauce, allowing the sauce to come up and over the sides. Continue to cook until the fish easily flakes with a fork. Serve family style with fresh lemon wedges and more fresh herbs for scattering on top.