How to make marinated olives with fresh rosemary and sliced clementine. Jump to the Rosemary Marinated Olives with Clementine or read on to see our tips for making them.
YOU MAY ALSO LIKE: How to make lemon confit plus a simple recipe for marinated olives. Jump to the Marinated Olives with Lemon Confit Recipe.
These olives are absolutely delicious and can be made in about 20 minutes. Enjoy them straight away or store them in the refrigerator for up to 5 days. The olive oil the olives are roasted in is just as delicious as the olives. Save it and use for dipping bread or for cooking vegetables and meats throughout the week.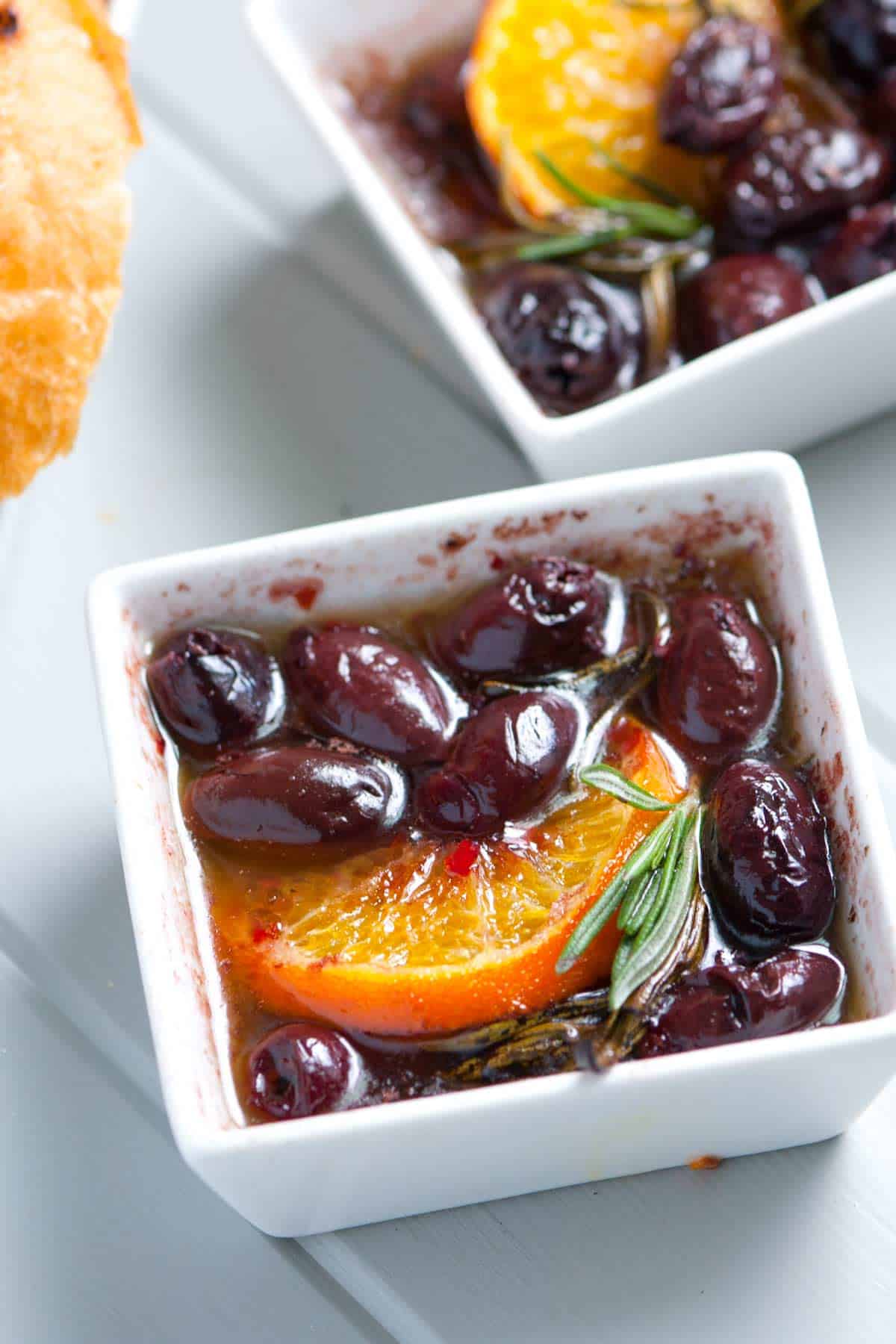 YOU MAY ALSO LIKE: Briny Kalamata olives and a vinegary feta cheese dressing make this potato salad extra delicious. Jump to the Green Bean Potato Salad with Feta and Olives.
Recipe updated, originally posted February 2012. Since posting this in 2012, we have tweaked the recipe to be more clear. – Adam and Joanne
Rosemary Marinated Olives with Clementine
These easy marinated olives come together in under 20 minutes. You can enjoy them straightaway or keep them in the refrigerator up to 5 days. We love these served warm. The olive oil is also delicious — use in homemade dressings or when cooking vegetables and meats.
Makes approximately 2 cups
You Will Need
2 cups mixed olives
1/2 cup extra-virgin olive oil
1 sprig fresh rosemary
1 clementine, sliced
1/4 teaspoon crushed red pepper flakes
Warm baguette, sliced, for serving
Directions
1Heat oven to 425 degrees F. Add olives, olive oil, rosemary, clementine slices and red pepper flakes to a baking dish or divide between small oven-safe dishes. Bake 15 minutes. Set aside for 5 minutes before serving with bread for dipping or store up to 5 days in the refrigerator.