How to make creamy vegetable soup with onion, carrots, garlic and potatoes.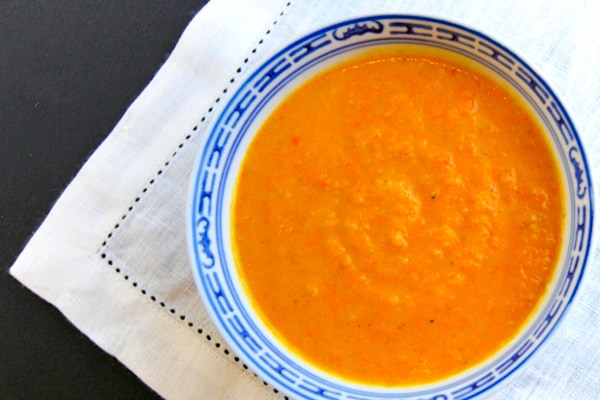 We've been making this soup for ages. In fact, we love it so much that we shared it a second time on Inspired Taste with updated photos (including step shots).
If you want to take a peek, click here for the Quick and Easy Creamy Vegetable Soup.
We truly love this soup. It's healthy and so simple to make. Cut vegetables into similar sizes and cook them in a small amount of olive oil or butter. Add chicken stock (or use veggie stock) then simmer until everything is tender. After blending, we usually add a splash of cream or half and half, but leaving it out or swapping it for non-dairy milk works, too.
Creamy Vegetable Soup
This creamy vegetable soup can be refrigerated up to 3 days and kept in the freezer for up to 3 months. For a vegetarian or vegan version of this soup, replace chicken stock with vegetable stock. For the best flavor, we recommend one that's heavy on mushrooms. Instead of the cream, use non-dairy milk.
You Will Need
1 large onion
1 pound carrots, peeled (4 to 5 medium)
4 celery sticks
1 tablespoon olive oil
Salt
1/4 teaspoon crushed red pepper flakes
1 pound thin-skinned potatoes (3 medium or 6 small potatoes)
3 garlic cloves, peeled and halved
3 cups chicken or vegetable stock, see how to make chicken stock
2 bay leaves
3 sprigs fresh thyme or substitute 1 teaspoon dried thyme
1/4 cup half-and-half, cream, or non-dairy milk
Directions
Prepare Soup

1Chop the onion, carrots, and celery into 1/2-inch chunks. Chop the potatoes into 1/2-inch chunks, but set aside from other vegetables.

2Heat the oil in a large pot over medium-high heat. Toss the onion, carrots, and the celery around in the oil. Sprinkle with a 1/2 teaspoon of salt and add the red pepper flakes. Cook, stirring occasionally, until the vegetables sweat, soften, and smell sweet; 5 to 10 minutes.

3Stir in the potatoes, garlic, bay leaves, and thyme. Cook for 5 minutes. (Add more oil if the pot seems dry).

4Pour in the stock and bring to a boil. Reduce to a simmer and cook until you can easily pierce the potatoes with a fork; about 15 minutes.
To Finish

1Remove the soup from the heat. Take out the bay leaves and thyme sprigs and discard. Use an immersion blender, stand blender, or food mill to puree the soup until smooth.

2Stir in the half-and-half. Taste for seasoning and adjust with more salt and pepper if necessary.