Blueberry Muffins made with fresh ginger, fresh or frozen blueberries and oats. Plus a spoonful of vanilla glaze to make everything that much better. Jump to the Ginger Oatmeal Blueberry Muffins Recipe or read on to see our tips for making them.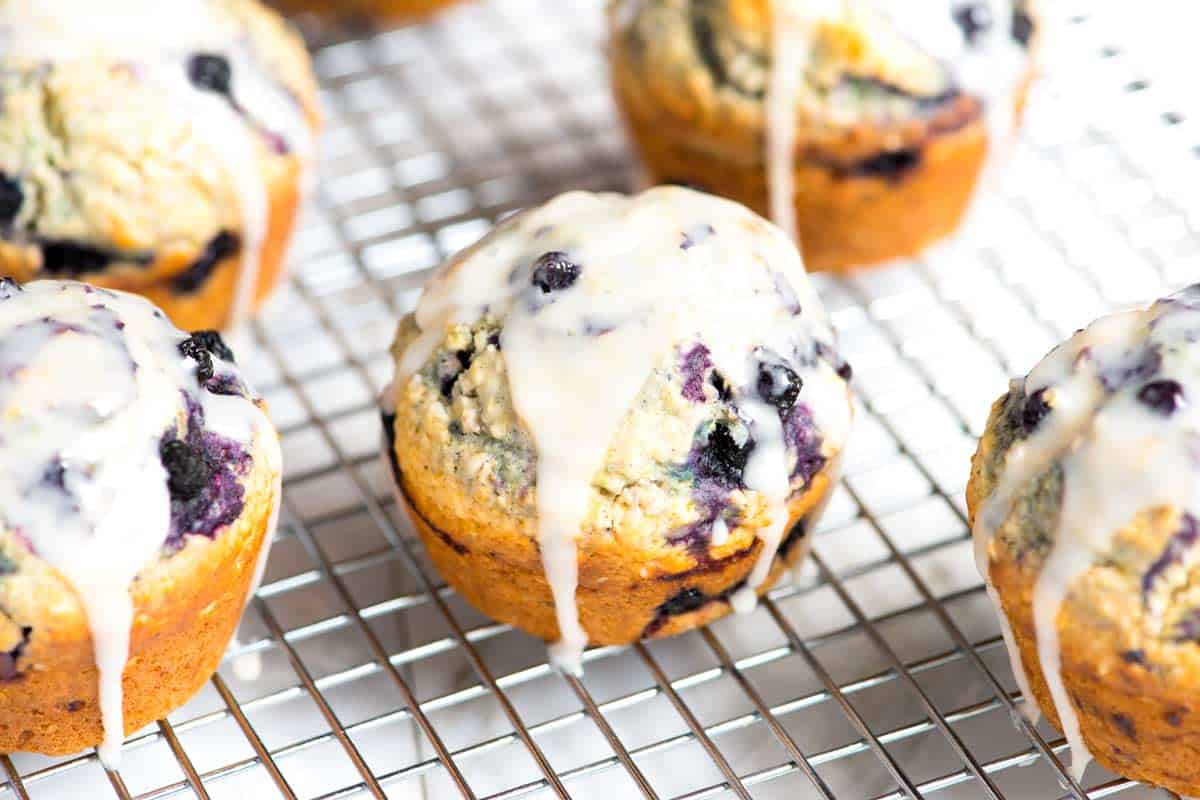 We can't get enough of these muffins — the ginger and vanilla make the batter insanely delicious. There's a nuttiness from a couple tablespoons of sesame seeds as well as oat flour — don't worry, it's easy to make at home. These are not your average muffins. They are perfect for breakfast or snacks — we actually find them to be more filling than your usual muffin.
You might want to check out our most popular muffin recipe on Inspired Taste — Ridiculously Easy Blueberry Muffins Recipe. You only need one bowl to make them! We've even included a quick recipe video showing you how.
How to Make Ginger Blueberry Muffins
I mentioned we add oat flour to these. Oat flour adds a mild nutty flavor, but still takes a backseat to vanilla, ginger and the blueberries. It's soft and behaves nicely, just like wheat flour.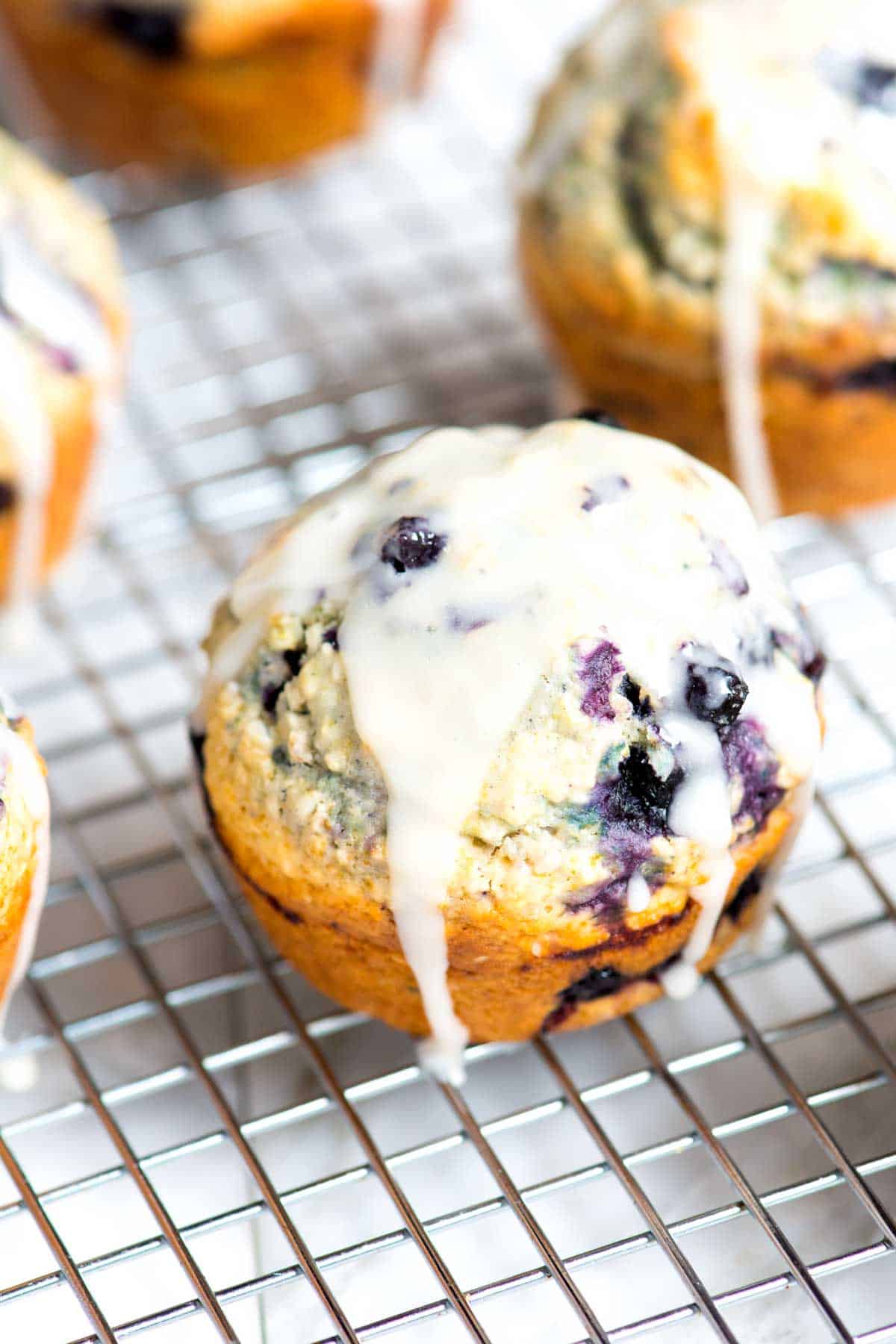 To make it, simply throw it into your food processor or blender and pulse until finely ground. It doesn't need to be ultra fine — ours usually isn't and it works perfectly fine in these blueberry muffins. I should mention that you can buy oat flour — we like Bob's Red Mill. Anything you buy will most likely be finer than homemade. That's okay.
We add the oat flour to some all-purpose flour, baking powder and salt. We throw in sesame seeds, too. I know not everyone loves them, so feel free to leave them out. They do add a really nice nuttiness, though.
We always have sesame seeds on hand and make our own homemade tahini often — that's just a paste made from sesame seeds. It's a key ingredient to this popular hummus recipe.  
The wet ingredients are just as simple. Sugar, oil, an egg, vanilla and 2 whole teaspoons of freshly grated ginger. If you can find fresh blueberries, use them. If not, do what we did and use frozen. We really like the frozen wild blueberries (Wyman's — in the blue bag). While the muffins are still warm, we add a simple glaze made from powdered sugar, milk and vanilla. It's mouthwatering to watch it slowly drip down the muffins.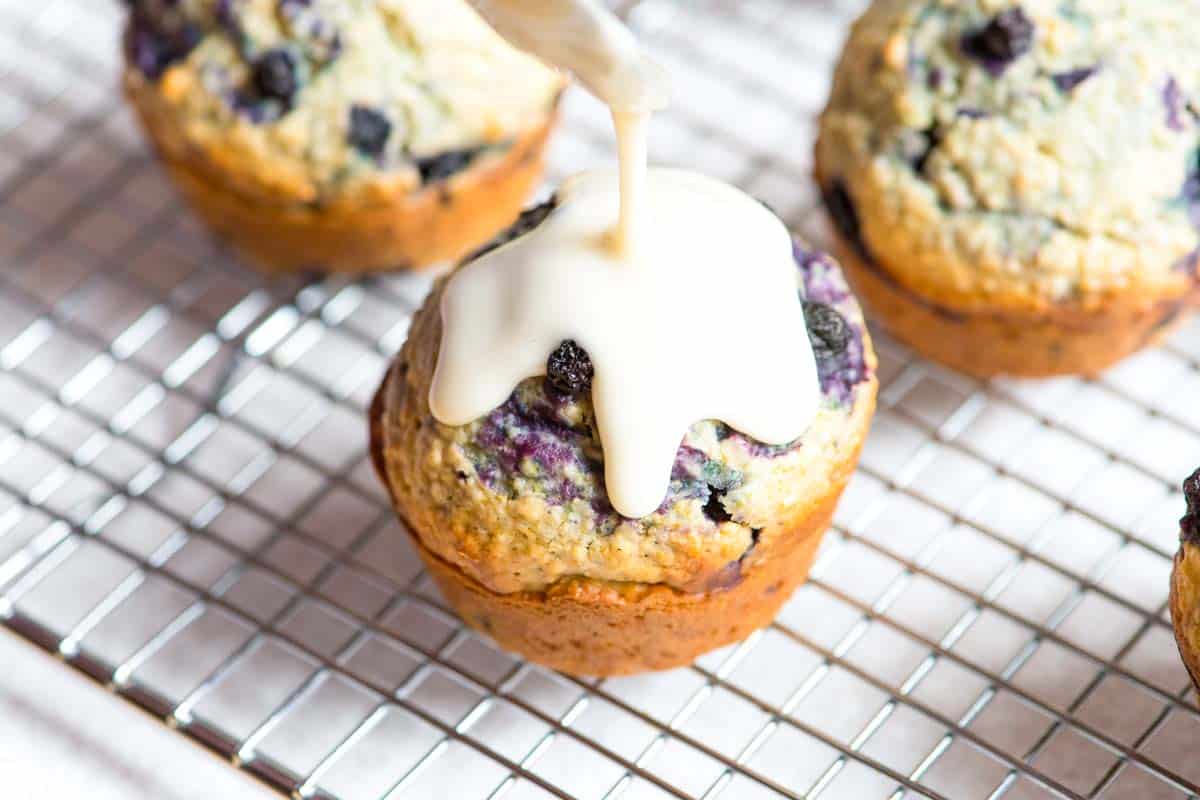 After glazing it's up to you when you eat them. They are great warm, but do last a while at room temperature. I'd suggest leaving them out a day or two at room temperature, but if you need them to last longer, store them covered in the fridge. When you're ready to eat one, it doesn't hurt to microwave for a few seconds to warm it up again.
Recipe updated, originally posted August 2015. Since posting this in 2015, we have tweaked the recipe to be more clear. – Adam and Joanne
Ginger Blueberry Oatmeal Muffins Recipe
These blueberry muffins can be made with fresh or frozen blueberries. We throw sesame seeds into the batter, I know not everyone loves them, so feel free to leave them out. They do add a really nice nuttiness, though.
You Will Need
Muffins
3/4 cup (65 grams) rolled oats
1 cup (130 grams) all-purpose flour
2 tablespoons (20 grams) sesame seeds, optional
2 1/2 teaspoons baking powder
1/2 teaspoon kosher salt
1/2 cup (100 grams) granulated sugar
1/3 cup (80 ml) neutral oil like grape seed, canola or a light olive oil
1 large egg
2 teaspoons finely grated fresh ginger
1 1/2 teaspoons vanilla extract
3/4 cup (180 ml) milk; dairy and non-dairy both work
8 ounces fresh or frozen blueberries (about 1 cup)
Vanilla Glaze
1/2 cup powdered sugar
1 tablespoon milk; dairy and non-dairy both work
1/4 teaspoon vanilla extract
Directions
Prepare Batter

1Center a rack in the oven and heat to 400º F. Lightly oil (or spray with cooking spray) a standard 12-cup muffin tin or line with paper or foil baking cups.

2Make the oat flour by adding oats to the bowl of a food processor or into a blender. Pulse until the oats are finely ground. You should have a generous 1/2-cup of oat flour.

3Whisk oat flour, all-purpose flour, sesame seeds, baking powder and the salt together. In a separate bowl, whisk the sugar, oil, egg, ginger, vanilla and milk until well blended. Add the dry ingredients to the sugar mixture, in two batches, stirring between each addition. Carefully fold in blueberries.
Bake Muffins

1Divide the batter between muffin cups, filling 3/4 full. Bake until the muffins are light brown and spring back lightly when you press the middle, 15 to 18 minutes. Let the muffin tin cool on a rack for 5 minutes then transfer muffins from the tin to the rack.
Glaze Muffins

1While the muffins are still slightly warm — after about 10 minutes of cooling — you can glaze them. Place a few paper towels underneath the cooling rack then make the glaze.

2In a small bowl, stir powdered sugar with milk and vanilla until smooth. Spoon the glaze over muffins, allowing it to drip down the sides — some of the glaze will drip all the way through the rack and onto the paper towels.
Adam and Joanne's Tips
Gluten-free Muffins: If you're wondering if you can replace the wheat flour completely with oat flour in these muffins, you can. The muffins will not rise as much and will be on the drier/heavier side. Adding a mashed banana or some grated zucchini is a good idea. If you're doing this to go gluten-free, make sure you look for gluten-free oats.
Ginger: If you don't have fresh ginger on hand, use 1/2 a teaspoon of ground ginger.
If you make this recipe, snap a photo and hashtag it #inspiredtaste — We love to see your creations on Instagram and Facebook! Find us: @inspiredtaste