These easy golden brown potato pancakes are spiced with garlic, paprika and thyme and are perfect to make for breakfast or brunch. Jump to the Spiced Potato Pancakes Recipe or read on to see our tips for making them.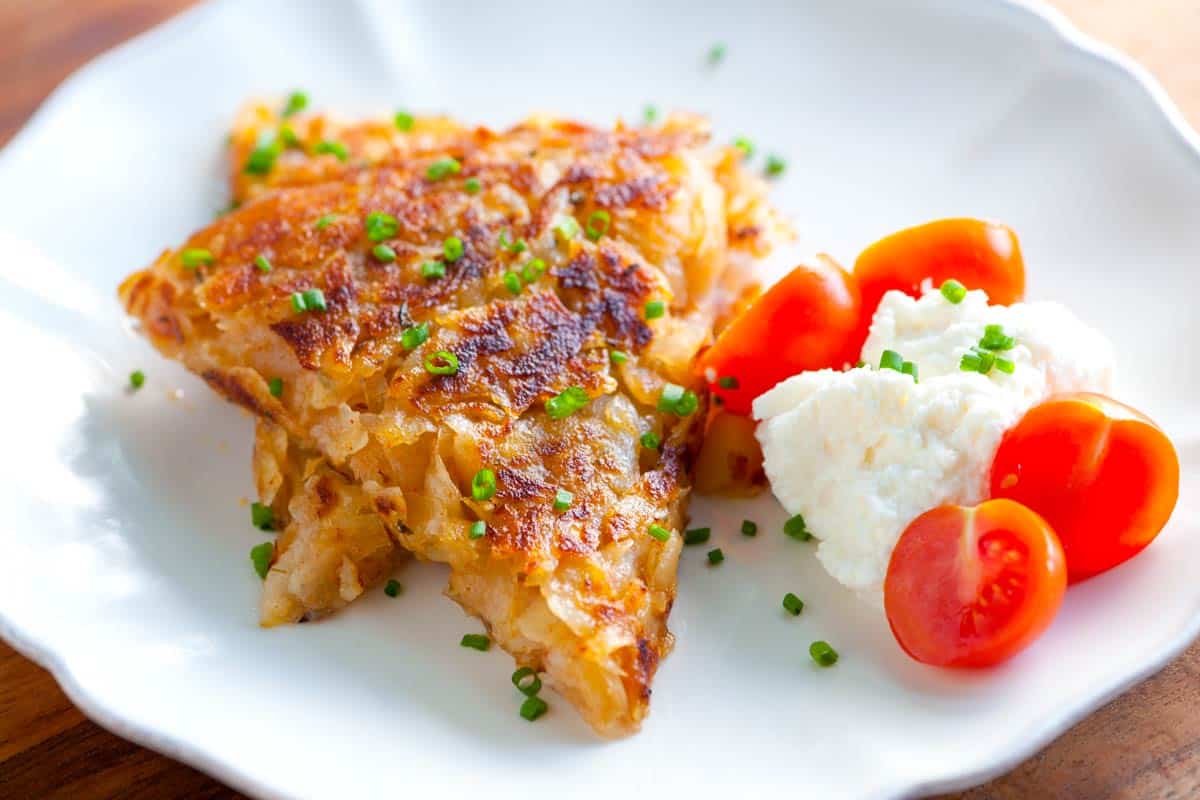 YOU MAY ALSO LIKE: How to make oven-baked potato wedges that are perfectly browned and crisp on the outside and tender on the inside. Jump to the Baked Potato Wedges Recipe.
The Secret to Crispy Potato Pancakes
You really don't need too many ingredients to make these, just potatoes and a few spices.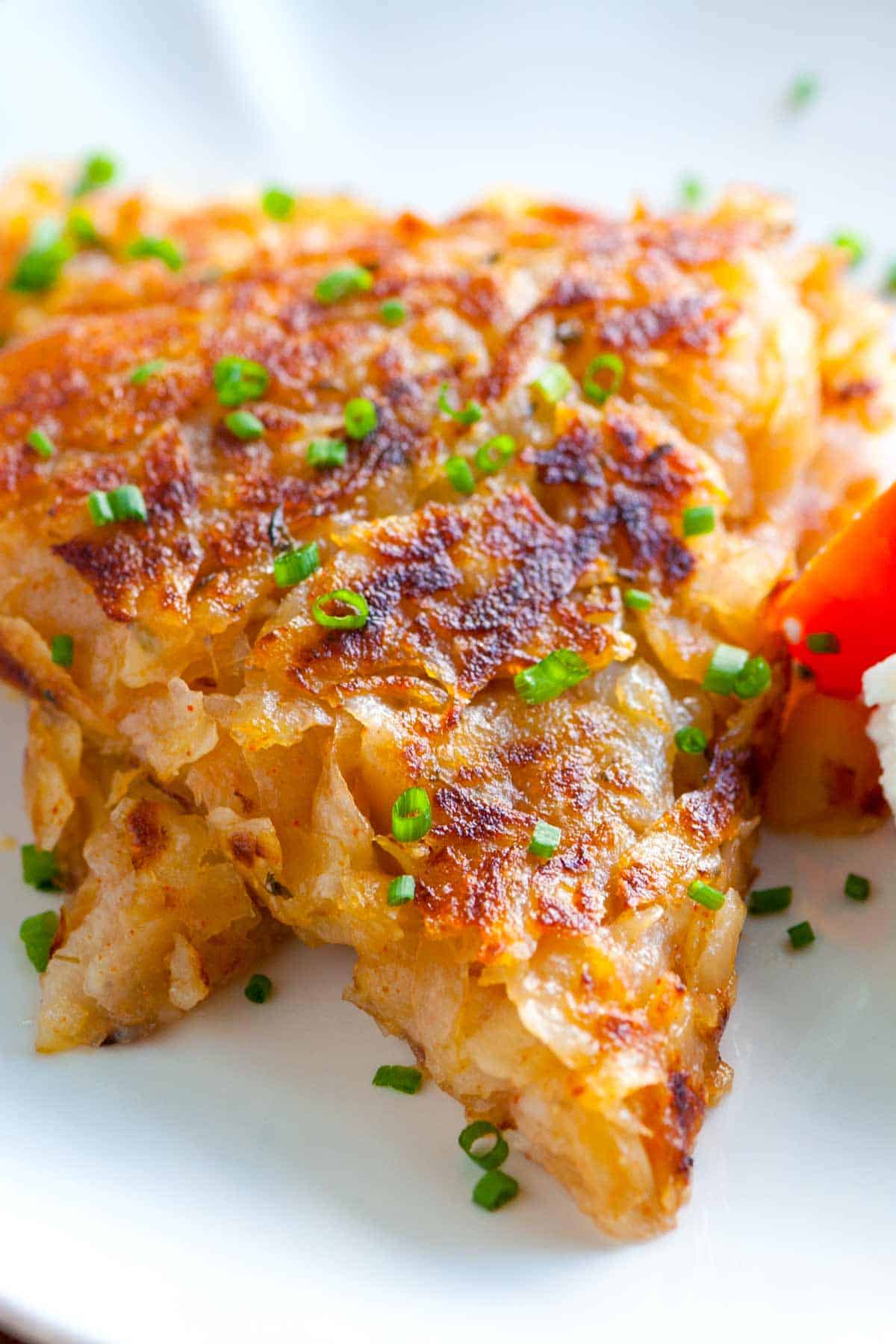 Potatoes have a lot of moisture, which can really hinder that crispy golden brown crust. The secret? Squeeze them dry. Use a clean dish towel to squeeze freshly grated potatoes — see how much liquid comes out?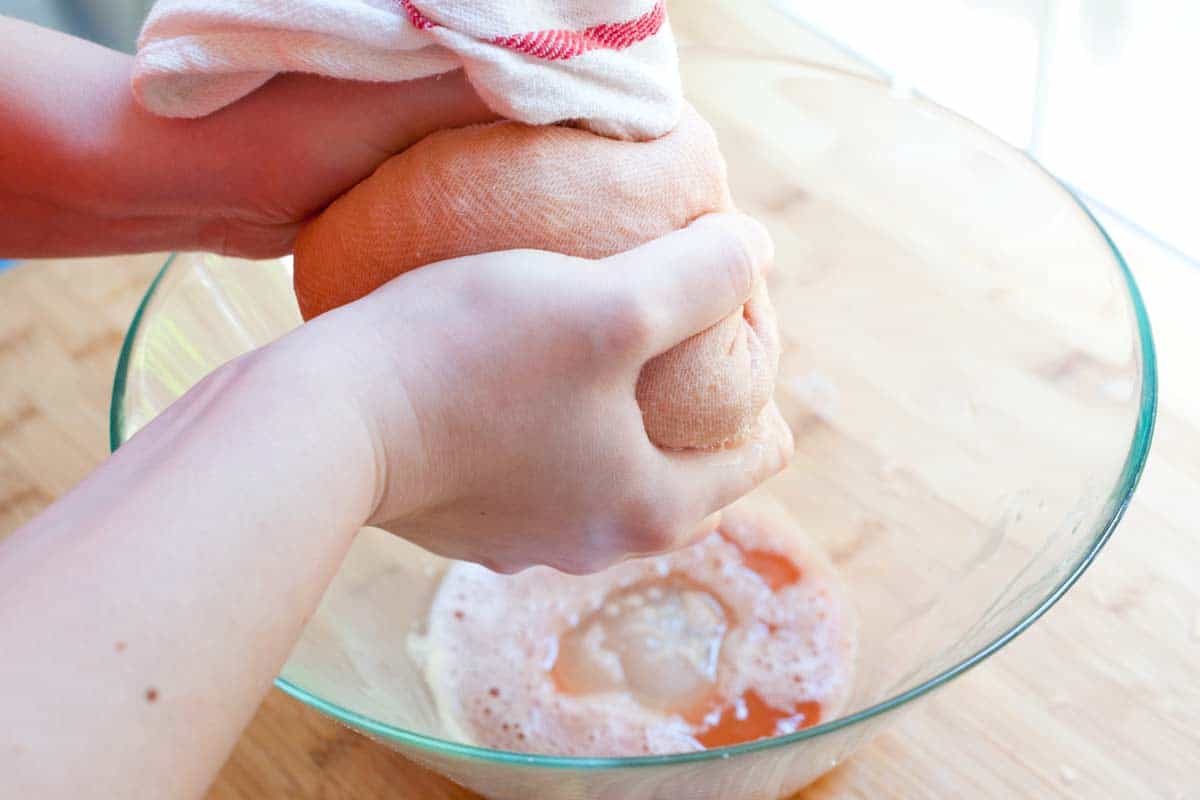 After squeezing the potatoes dry, we toss them with a little garlic powder, dried thyme and sweet paprika, which not only adds flavor, but also adds some color. A little salt and pepper goes in and we're ready to cook.
Add some butter and olive oil to a frying pan then pat the potatoes down into the pan. Cook until golden brown, this will take about 6 minutes.
Now that one side is golden brown and crispy, you need to flip. Place a baking sheet over the pan. Then, in one motion, invert the pan. This will allow the potato pancake to fall out onto the baking sheet.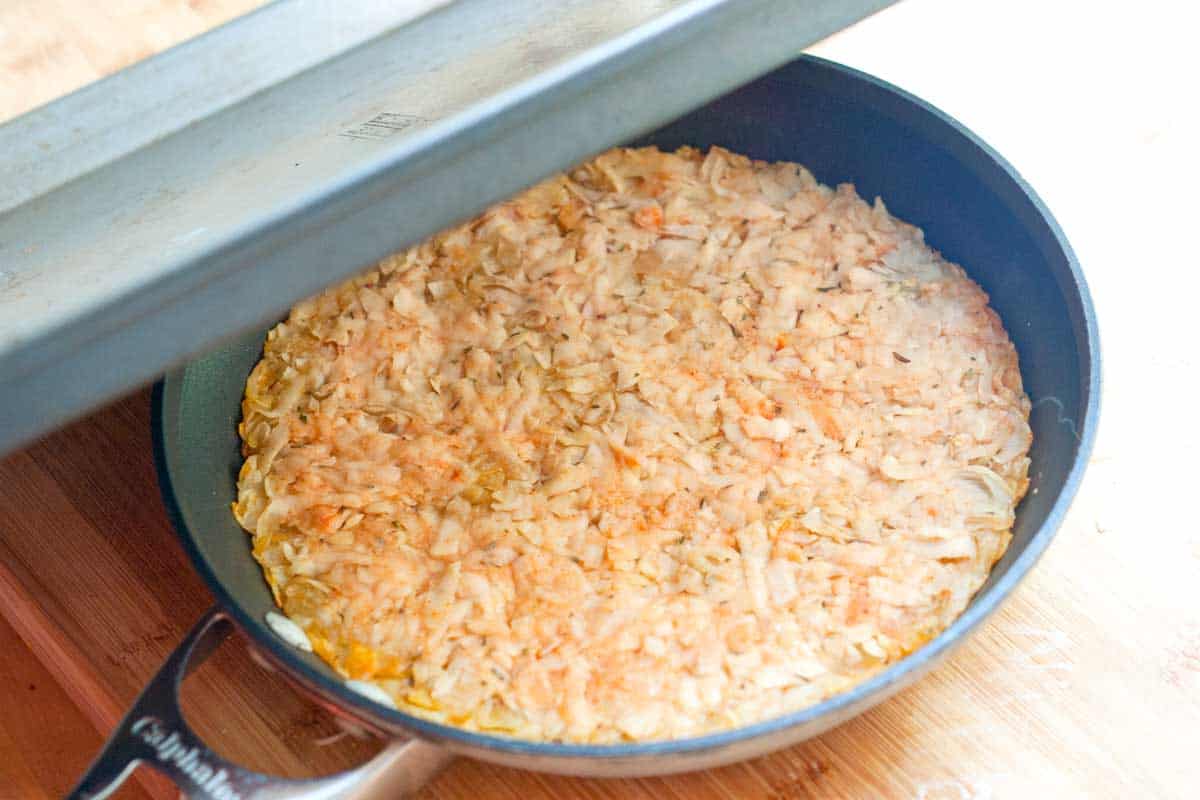 Add some more butter and oil then slide the pancake back into the pan. Don't worry if it comes apart a bit — just use a spatula to press it back together then cook until the second side is golden brown.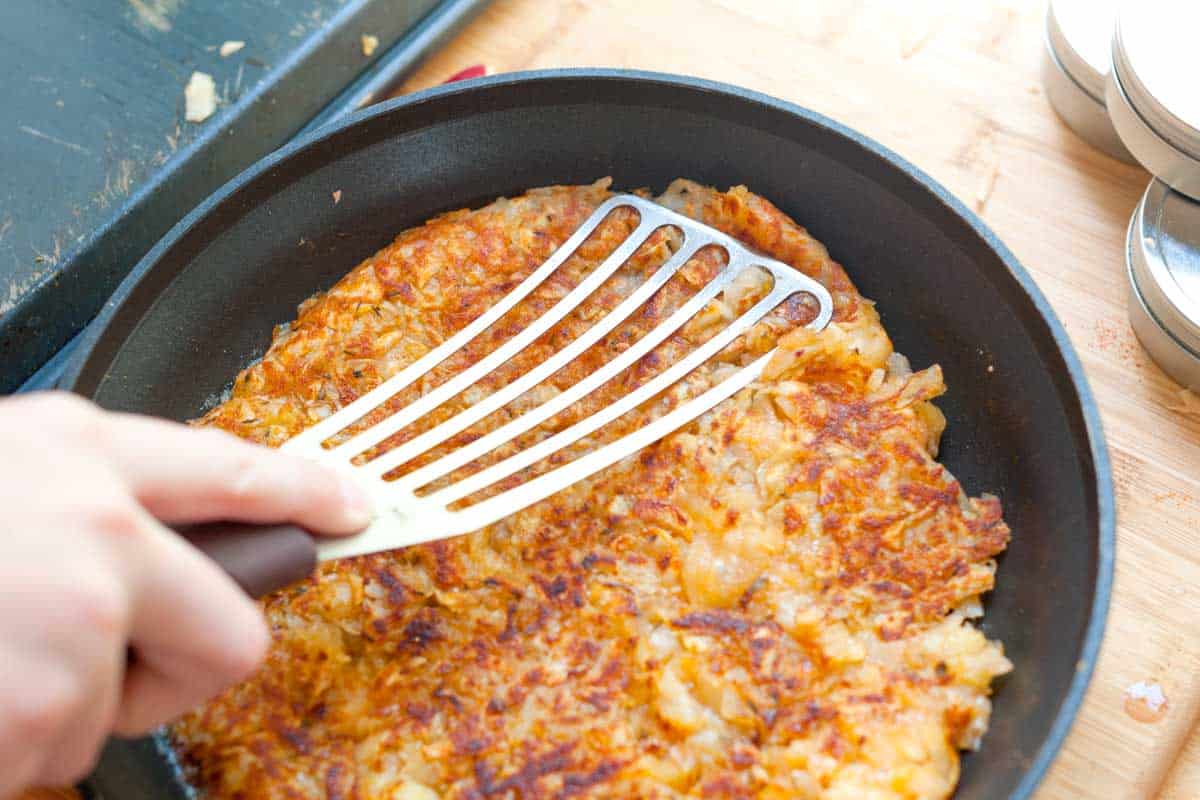 We love eating these as is, especially next to some eggs. Although that is certainly not the only way to eat them. Try adding a spoonful of ricotta cheese and some fresh sweet tomatoes on top. Or, top with some smoked salmon, capers, thinly sliced red onion and a little sour cream or creme fraiche.
Recipe updated, originally posted May 2012. Since posting this in 2012, we have tweaked the recipe to be more clear. – Adam and Joanne
Crispy Spiced Potato Pancakes
This lightly spiced potato pancake would be perfect for breakfast or brunch. You will need to peel and grate 1 pound of potatoes for this. We love to serve a wedge of the potato pancake with eggs or bacon, but also serve them as the main event with a small scoop of ricotta cheese and fresh cherry tomatoes. Thinly sliced red onions, capers, smoked salmon and creme fraiche or sour cream would be delicious, too.
You Will Need
1 pound potatoes (5 to 6 medium)
3/4 teaspoon sea salt
1 teaspoon sweet paprika
1/2 teaspoon garlic powder
1/2 teaspoon dried thyme
2 tablespoons olive oil
2 tablespoons butter
1 tablespoon chopped chives
Directions
1Peel then use a box grater to coarsely grate the potatoes. Add them to a clean dishcloth and squeeze dry. Transfer potatoes to a clean, large bowl.

2Heat a 10-inch nonstick skillet over medium heat for one minute.

3Meanwhile, add the salt, paprika, garlic powder, and thyme to potatoes and toss well. Add 1 tablespoon of butter plus 1 tablespoon of olive oil to the pan. Let melt, and then add the potatoes. Use a spatula to press the potatoes down. Cook until golden brown on one side, about 6 minutes.

4Place a baking sheet over the skillet and, in one motion, carefully invert so that the potatoes fall away from the pan and onto the baking sheet. Add 1 tablespoon of butter plus 1 tablespoon of olive oil to the pan. Let melt, then slide potatoes back into the pan so that the uncooked side is facing down.

5Use a spatula to press down and cook until golden brown, about 4 minutes. Slide onto a cutting board, cut into wedges and serve with a sprinkle of chives.